Chris Coco has been DJing and making music since Acid House first gripped the UK. In those near thirty years his career producing a timeless dance floor Classic in the form of "Feel It", before undergoing a moment of "Chill Out" conversion at Ibiza`s Cafe Del Mar, and taking in a residency at the BBC before starting his own Melodica Radio & Recordings. Chris is about to embark on a short tour of Japan to promote the physical release of his recent "How To Disappear Completely" album (remixed by the likes of A Vision Of Panorama, Ultramarine, Ruf Dug and Jonny Nash)and also the first volume of his new "Sea Of Green / Cafe Que Sera Sera" mix CD series, so since I`m out here I thought it`d be rude not to ask him a few questions.
How / why did you get started DJing? Who / what would have inspired you?
Ahh, I think DJing was a natural extension of growing up listening to tunes, obsessively buying obscure 7" singles, listening to John Peel on the radio, then wanting to share my discoveries with people. It was also about the only way that I could find to make some money from my addiction to music, and a way of communicating with people without actually having to talk to them.
How / did you start making music? Again, who / what would have inspired you?
Of course, the next step was trying to make music inspired in equal measure by the Punk "anyone can do it" ethic and the new music making machine technology that actually turned that theory into a real possibility.
How did you meet Steel & Lovebomb?
Coco Steel & Lovebomb was really a made up name for a loose group of collaborators put together at my instigation. So there never was a real Steel or Lovebomb except in our imaginations.
Records like "The Crucifixion Of Donny" and "The Sound Of Europe" were getting played on the early London Balearic circuit. "TSOE" was charted by Boy`s Own. What / when would have been your introduction to Balearic Beat and Acid House? Which clubs / parties were you going to?
I did a club called The Coco Club at The Zap in Brighton. That's where I got my DJ name. That was every Saturday and it ran consecutively with a Thursday nighter called Frenzy which was Brighton's answer to Shoom and the others, so that was the main place. We had Rampling and Oakenfold down as regular guests but the best nights were the ones with the locals and the resident DJs, who were me and Craig, who was also one of the original Coco Steel & Lovebomb crew. The Coco club was epic. It feels like a very different time now. We didn't let anyone in with a camera, we turned away "celebrities", I DJed all night, no guests. It was, really, for us. All about the people and the music. It finished at 2 AM as well so each week was a mad crescendo at the end.
How did you get the Zap Club residency?
It was another of those organic things. Because the Thursday night was such a success they decided to make Saturdays into a House night, it had previously been a sort of mixture stuff, Hip Hop, Alternative, a little House. I was the obvious choice to take on the job and the Coco Club was born!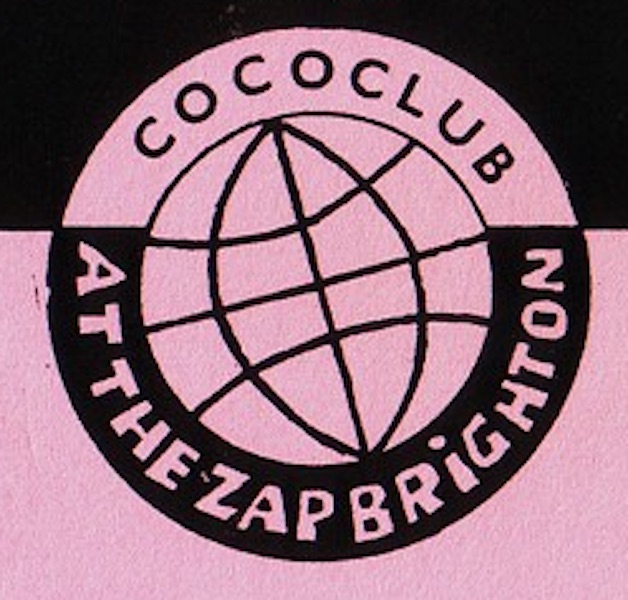 "Feel It" is a massive record that I still play out today. How did this get signed to WARP? Did WARP arrange the Kid Batchelor remix or was that something you sorted out? Did you go to Confusion? Are you still living off the royalties?
"Feel It" was the tune that came out of DJing at the Coco Club. It was the sound of that night. The big bass, the slightly tribal groove, the soulful vocals. We put it out independently and about a year after it had been around, and sold loads, Warp picked it up. Kid was a pal at the time, we used to DJ together a lot in Italy, so yes, I did go to Confusion.
No, I'm not living off the royalties. It does still sell, and it's an honour to have made at least one bona fide House classic.
"The Sunsets E.P." is another early-ish classic of yours. What prompted the move from banging peak time House to more chilled fare? This was released on A Man Called Adam`s Other label. How did you hook up with Sally & Steve from A Man Called Adam?
It was a fateful visit to Ibiza combined with a taste in music that was much broader than just banging House. "It", the album that we made for Warp, was half Dance stuff and half more weird Ambient things. I don't remember how I met Sally & Steve, but it was somewhere in Ibiza. The usual casual thing of getting along and then things just falling into place.
You`ve featured on or compiled a range of releases that target the White Isle, "Real Ibiza", "Cafe Mambo", "Visions Of Ibiza", "Ibiza By Day". When was the first time you visited Ibiza?
I first visited Ibiza some time in the early `90s and it was a bit of a game changer. I did the sitting watching the sunset at Cafe Del Mar thing, listening to Jose Padilla play this crazy range of music, making this really spiritual, magic atmosphere and I thought, wow, this is the way to go with DJing, playing a soundtrack to nature, "God's own cinema", as we used to call it.
Do you still visit every year? How has the island changed in your eyes?
Yep, I'm still there every summer for the special atmosphere. Of course the island has changed and become more commercial but there are still beautiful places to visit and magic moments to be had on beaches and at sunset bars.
Regarding Jose, have you ever DJed at the Cafe Del Mar?
Yes, I have been lucky enough to play there a few times, there are some mixes from there on Soundcloud that still get loads of plays.
You were editor at DJ Magazine. How did you get that gig and are you still writing about music now?
I sort of fell into the job of being DJmag editor, which sounds a bit nuts now but at that time the Dance music world was like the wild west, nobody in charge really knew what was going on so they had to get people like me, who did, to run things. I'm not writing about music now because times have changed, there are different ways of doing it, like my Melodica radio show, where you can listen to the music that I am talking about.
Why did you start Melodica?
Melodica is my current weekly radio show. It does really well on Mixcloud and it's syndicated on various stations around the world. It's a way of sharing all the music that I love. There's so much great new Balearic and other stuff coming out that I need to do it every week. It's a love project. I love music, and I love sharing music. It`s a sort of on going conversation with my listeners. Proper old school style with no restrictions.
What was it like remixing Giorgio Moroder, The Orb, The Doves, Jose Padilla and Robbie Williams? How did these opportunities come about?
I'm not a big fan of doing remixes really but those ones that you have mentioned were probably the most interesting. You always get excited about your version and want to keep it for yourself, but of course you can't.
You were Robbie Williams` warm-up DJ on his 2006 world tour. How was that?
That was a result of doing the Blue Room then playing at Rob's manager's daughter in law's wedding at a beautiful villa outside Florence in Italy. Despite drinking far too much champagne I obviously made a good impression! It's weird thinking about that now because what I did was so basic compared to today's mega DJ shows with dancers and pyrotechnics, it was just me and a couple of decks in the middle of the stage, in these massive stadiums. Still it seemed to work well.
You`ve also remixed Future Loop Foundation, Mark Barrott`s previous incarnation. Are you still in touch with the International Feel boss?
Yes, and I love what he's doing with the label. I haven't found anything suitable of mine for him to release yet but I am sure it will happen soon.
How did you meet Rob Da Bank? Did you attend the Sunday Best sessions at Cafe Des Artistes?
Yes, I used to DJ down there for him. I think those little parties really helped to develop the London take on the Balearic sound that you still hear today.
How did the "Blue Room" radio slot come about and what happened to "Blue Room"?
"Blue Room", the show I did for BBC Radio 1 from 2002-2006 with Rob Da Bank came about when Chill Out became a thing and the station felt they needed to reflect that with a late night show. They got two of the best in the business to do it and let us loose on the the brains of late night ravers and early risers. We created a sort of surreal, anarchic atmosphere that I don't think they really understood. My favourite moments included playing Mogwai, just before the 7 o'clock news, before things went all Pop; and spinning "God Is In The House" by Nick Cave on Christmas Eve.
How did you hook up with Playboy? Have you met The Hef?
Ah, I made an album called "Chillin' At The Playboy Mansion". Unfortunately it was put together in London, not in situ. To be honest I didn't think it was a good idea, I don't really like the Playboy brand but all my "cool" mates and confidantes thought it was, so, foolishly or not, I did it. It was a great selection of lounge tunes though.
You, Phil Mison and Moonboots, who have all championed the sound of the Cafe Del Mar in the UK, but seem to be operating in different worlds? You worked with Phil at DJ Magazine, but are you all in contact with one another?
Yeah, Phil is a mate, we DJ together sometimes and play each other's records. I've never met Moonboots to my shame. I would love to though.
You`ve had music included in successful TV shows like "Sex & The City", "Nip & Tuck" and "House". Did you approach the production companies or did they approach you? Are these placements as lucrative as they might seem to someone like me on the outside? Do they bring in more placements and / or DJing gigs?
Generally the music supervisors approach you. Yes, they do pay, but not as much as you would imagine. And no, one thing doesn't really lead to another. Still, it's great to be included in those shows when it happens.
Where is your favourite place to play / party / other?
My favourite places to play and party and other are Glastonbury Festival, Ibiza, and Japan of course.
Who are you currently working with?
I am working closely with Lol Hammond. He used to be in a band called Drum Club. We're making a series of "Film Music" E.P.s,. Atmospheric / soundtrack music, in collaboration with various artists. The latest collaborations are with Roger Eno (Brian's musician brother who played on Apollo among other things); James Brooks, who records for Mute Records as Land Observations and Paul Hartnoll from Orbital.
What are your plans for the rest of 2016?
I have a busy summer ahead, DJing in Ibiza for Hostal La Torre and Mambo and in Italy at Singita, a beach bar near Rome. Release-wise there is the Balearic compilation that I`ve put together with DJ Jim Breese, we are doing one a year, featuring the modern Balearic sound. This year we have made some Balearic beer to go with the release too. There's also the compilation I`ve made for Sea Of Green and Cafe Que Sera Sera in Sakai City, Kyoto. They`ll also be more singles from the "How To Disappear Completely" album, released in Japan by King Cobra, and more "Film Music" E.P. s. That's a lot, isn't it.
Those Japan dates:
05 / 07 / Sunset The Marina Vol. 7 / Dimare Yumenoshima
05 / 10 / Home Party / Grand Gallery
05 / 11 / Black Water & House of Bonobo presents Chris Coco
05 / 13 / Hot Buttered Club
05 / 14 / Balearic Far East Sunset / Caban Hayama