Interview / Esa Williams / Highlife
Prompted by Andy M`s excellent recent "Postcard From Africa" (I liked it so much I stuck it in our banner and you can find it here: http://testpressing.org/2015/05/postcards-from-africa-3-santuri-safari) we spoke to Esa Williams who alongside Auntie Flo`s Brian D`Souza is an integral part of the Highlife party and label.
Where are you from?
Cape Flats, South Africa
Where are you based?
Hackney Wick, London
What made you start?
Influences from my childhood and the realisation that life is short. I lost my father at 16, which turned my life upside down. It wasn't until visiting my uncle in Germany back in 2002, he was the one who exposed to electronic music, and the prospects of perusing something in music were discussed whilst I spent the summer there. I then returned to Cape Town where I studied sound engineering up until I left for the UK back in 2004.
What makes you continue?
The unconditional passion and love, I don't see myself doing anything else ever, and the support from my amazing mother and family.
How would you describe your sound?
For now, Global but I'm still discovering new sounds and experimenting all the time.
How did you meet Auntie Flo / Brian D`Souza?
I`d moved to Glasgow mid 2007 and I remember meeting Brian at a cake baking competition, he made Scones, boring, and I made a Chocolate Smartie Cake. I also remember him asking me to play some percussion and help with mix down on his first album "Future Rhythm Machine", that was around the same time I joined Highlife the club night and now recent record label.
When and why did you move to London?
I moved to London back in 2013. I needed a change as Glasgow was becoming a bit too comfortable for my liking. Brian had moved and so had my girlfriend, so I had no choice really. Since the move it has been a most productive and exciting time.
How did the hook up with Burek happen? Are they based in Croatia?
Burek is a label based in Zagreb. Back in 2012 one of the label owners Mario contacted me through Soundcloud as he had heard some music of mine and asked if I had any new tracks. At the time there were none but I managed to complete some new ideas and he was really into it, these developed into a release and since then I've put out 2 EP's and consider myself part of the Burek family.
Do you have any regular gigs?
I play regularly with Auntie Flo, Huntley's & Palmers label showcases and Highlife residencies Bi-Monthly in Dundee, Edinburgh and Glasgow.
Where is your favourite place to play / party / other?
Glasgow has always been amazing but Edinburgh has been a favourite since my bi-monthly residency at Sneaky Pete's.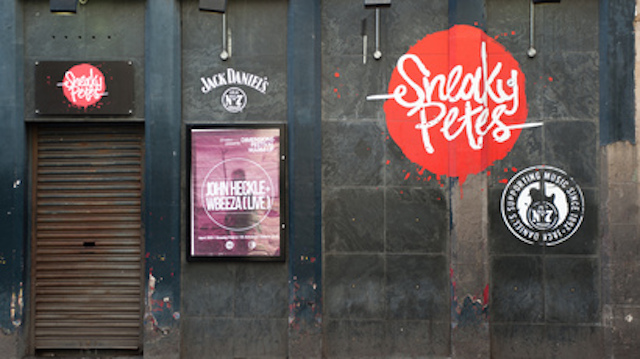 Do you see yourself primarily as a producer or DJ?
Over the past 18 months, production has become my main focus, which has allowed me to open up my mind to so many different sounds and also an opportunity to learn new techniques and further my knowledge. Don't get me wrong though, I still love taking people and myself on a journey.
The Highlife series alone suggests that you spend a lot of time traveling. Is this the case?
Over the past 18 months I've travelled a lot, through Cuba, Africa and Europe but also within the UK. I`m currently enjoying bit of a summer break in London.
I love the Highlife series not just the music but the concept; both keeping traditional musics alive and allowing them to develop, evolve through workshops and funding. What was the spark for this project?
In 2012 Brian and I were asked to perform at the Lake Of Stars festival in Malawi. I suggested also visiting South Africa and we managed to secure gigs in Joburg and Cape Town before the gig in Malawi which was put together by ongoing cultural initiatives between SA and the British Council. This then started a relationship with the British Council who we partnered with on Cuba and Uganda, and which allowed for further destinations and connections. This is also where I met Santuri an East African music initiative that also works with organisations and charities in the region. Big respect and love to David Tinning and the Santuri crew for giving me these amazing opportunities.
You`ve released sessions from Cuba and Kenya and Uganda is next. Are the Uganda sessions ready to go? Can you say where is next? How many installments / destinations will there be in the series?
Uganda is ready to go and some of those recordings are featured in the exclusive Highlife World Series Mix which`ll give you some insight into the sounds and people I`ve met who form part of the Highlife World. There are some exciting destinations in the pipeline, more on this to be revealed soon.
What are you most proud of?
Being able to present some of the work I've done in collaboration with the British Council, Santuri, Soundthread and Highlife in Cuba, East Africa and recently South Africa to the world. I've recently launched a website (http://esawilliams.com) which I'm aiming to use so that I can keep in touch with many of the young producers and sound engineers I meet on my travels and for my one on one session in the UK.
Who are you working with?
I've just returned from my second trip to Uganda where I've worked on a new Live show with two amazing musicians, Makadem – Kenya and Gio. The first show will be on the 18th July for the Barbican's Garden Party in Walthamstow and there`ll be more dates to follow. A new Auntie Flo album is also at the ready and preparation for its release underway.
What are your plans for 2015?
Loads of touring and preparation for the new Auntie Flo live show which will be debuted upon the release of the album later this year, some more projects in East and Central Africa.
When you visit these places do you get a chance to go record shopping?
Yes, I've been lucky enough to get some free time to check out local record stores and flea markets.
Can you tell us about anything amazing that you might have found?
I found Letta Mbulu`s "In The Music The Village Never Ends" in a Music / Sport store in Dar-es-Salaam, It`s one of the most sought after African records and it just so happens that she is also South African. My copy is on Discogs if any one would like to make an offer, or you could pick up the new re-issue out now on Be With Records.
If you could take the Highlife project anywhere, where would you go?
I would love to capture the sounds of outerspace! I recently discussed potential plans for South America as I've got a few friends scattered around the continent, more on this to come.
Stay up to date with the developments on the Highlife World Series here:
http://highlifeworldseries.tumblr.com