Interview / Francesco De Bellis / Edizioni Mondo
The four Edizioni Mondo E.P.s were released over the course of last year, somewhat anonymously, somewhat mysteriously, to mark the passing of their respective seasons. The vinyl only set of 13 tracks has now been collected on one CD ("Collezione"), which should be in shops on Friday (August 7th). We`ve supported the project from the start with reviews and plugging the music into our Youtube channel and so took the opportunity to ask label founder Francesco a few questions about where "Mondo" comes from and where it`s going next.
Where are you from?
Italy
Where are you based?
Lately I've been travelling between Rome and Zurich.
You`ve been making and releasing music for over ten years on Final Frontier off-shoots like Nature & Pigna, 20:20 Vision, Eskimo and more recently Slow Motion. What`s been your involvement at these other labels?
I started working for Final Frontier ages ago, after having met Marco Passarani and Andrea Benedetti and for the first ten years of my career all of my productions were released on Nature and Pigna Records (Mat 101, Jollymusic, Francisco). It was a strong partnership. We had a label we could release our music on, and we were hosting a radio show and organising parties as well. We even got a studio together. That has always been my ideal environment and I actually felt part of the label. Also watching Marco work helped me to realise what's behind the making of a record. Over all these years we met and became friends with people like Serge at Clone, Steffi & Dexter at Klaxon and I-F at Viewlexx, which led to releases on their labels. The collaborations with 20:20 and Eskimo where of a different kind and both came in a time when Nature was slowing down its activity, whereas the one with Franz Underwear and his Slowmotion label is something that has been growing steadily, much more like it used to be with Nature in the past.
What made you 1 / Start making music? 2 / Start Mondo and shift to more downtempo sounds?
I started DJing a long time ago and after some years I felt the time had come to start making my own music. Back then I was playing mostly Electro, and I mean the real '90s Electro, things like Aux88, Adult, I-F, and obviously Warp and all the electronic stuff coming from the UK. After several projects together with Mario Pierro aka Rotla (Mat 101, Jollymusic), I started my solo career as Francisco and Mr. Cisco, heading more and more towards less Electro dance sounds. But it wasn't long after "Music Business", the first album as Francisco, that I realised I was already sick of all of the rules dance music carries. You know, things like BPM, breaks and so on. I needed to ease off and part with the scene and took the opportunity to go back to the soundtracks and library music that I had collected for years.
At the same time I was putting together some compilations for the car with a friend. One CD per month, 100 tracks, ranging from '60 Psychedelia to Disco, from New wave to Italian soundtracks, all genres were accepted. It wasn't that easy to always come up with the right piece and eventually I started producing few. After six it was quite clear there was a project developing, one in which I could finally experiment freely and refresh my creativity. Of course the name could have only be one, my friend's name, Luca. I knew it was tough to have this kind of music released, but I reached out anyway to some labels, unfortunately with no success. So I took it to the next step and decided to create my own one: Edizioni Mondo.
The first I heard of Mondo was when Running Back`s Gerd Jansen sent me a preview. How did you meet Gerd and what`s Running Back`s role in Mondo?
I had this project in mind for a while. I wanted to set up a label that wasn't focused only on my music and I was seeking the right space for L.u.c.a. But above all I needed something with a common theme and graphics. It didn't take long to have everything: music, artists and concept were ready, the only problem was ….Money. At first I tried to find funding, but Italy it's not the best for this, especially if you do not know "someone". Later I looked for some sponsor, you know, the kind of brands that put money into events but it didn't work out. One day Mr. Gerd Janson was in our studio and heard some of the tracks from the project and I told of him a bit about my difficulties. He called the day after offering to do this together.
I`ve seen the press releases, but could you explain the concept behind Mondo?
These first four releases describe a place that has a special meaning to me. It's a place where I used to go on holiday when I was young and where I still go to and, some more than others, all of the artists are somehow linked to this place. Every release represents a specific ambience and season: from the start of spring with "Precipizio" (L.u.c.a.) to the early autumn rains with "Selva" (ODEON).
I really like the artwork on the series. Who`s responsible and are there particular old records that it draws its inspiration from?
It's the result of my work with Camara. The idea was combining the communicative immediacy of road signs with the typical graphic style of Library music LPs.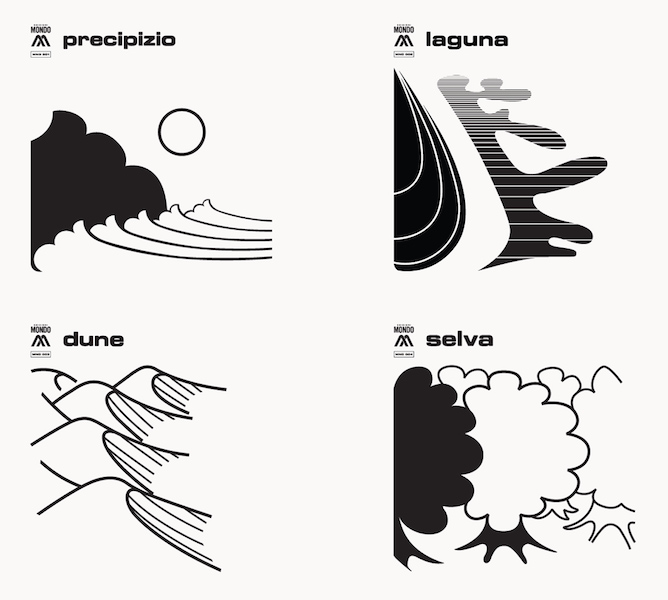 L.U.C.A. is you, ROTLA is Mario Pierro, and Studio 22 is a collaboration with Federico Costantini (Luminodisco). How did you meet Mario and Federico?
I've been working for a long time with Mario, first as Mat 101 also with Emiliano Tortora, then as Jollymusic. When I began this Mondo affair he was the first person I thought of as the label was the perfect way to get back to making music together. I met Federico in Rome. We shared a studio for one year and it felt quite natural and easy to involve him as well.
I can find no information on the artist behind the latest Mondo release, Odeon. Can you give us any clues to their identity?
Odeon are Luciano & Valerio Raimondi, Michele & Giacomo Righini. Two sets of brother and long time friends of mine. We met when we were children in the same vacation spot I was speaking of before. We kind of grew up together, Luciano and Valerio also helped out with Jollymusic. Besides we've been sharing the same studio over the last year. They have different backgrounds, but we shared a big passion for movies & soundtracks and that's where their taste for arrangements comes from. Odeon are among my favourite bands and it was very important to have them on Edizioni Mondo.
When you aren`t working or partying where do you like to go, what do you like to do?
Cinema is another great passion I have and I spend hours watching movies. I'm constantly drawing inspiration from this art. What it takes to make a movie, it's not so different from what I do when I'm making a record: finding a subject, delving deeper into it, setting up a working team. Also, when I can, I try to go the beach: I've always felt a special connection to the sea.
With four E.P.s, one per season in a little over a year, now collected on a CD, what`s next for Mondo?
The CD rounded off the first series of Edizioni Mondo. Now we're ready with "Serie Due". There will be singles, an album and versions, and the artwork will change as well.
Will there be any more releases this year?
The first release is "Niagara" by L.u.c.a. It anticipates the album, and will feature some versions, I'm not a big fan of the word remix, from Rotla and Polysick, as well as a quirky version from L.u.c.a.
Musically will the backdrop to be soundtracked move away from "seascapes"?
It will be a bit different to the first series, in that the second won't have a common subject and will focus more on the musical characteristics of each artists. L.u.c.a. will keep a bit of a mystical naturalism feel, Odeon will embrace their inner New Wave side and Rotla will get closer to the electronic library style.
Will there be new artists?
Polysick and Panoram will join the Mondo family for this next series.
Will Mondo continue to be an Italian affair?
It's always been more about believing in the potential of people that I have been working with and known for long time, but yes, you could say it will continue to be an Italian affair.