Interview / Joe Davis / Far Out Recordings / Part 2
In Part 2 of our interview with Joe Davis, Joe talks about his trips to Brazil, and the formation and future of Far Out Recordings.
When did you first travel to Brazil?
I first traveled to Brazil in 1986. I`d met a guy Eric, English but based in Brazil, in 1984 at the record fair in Croydon, and we`d already started exchanging music. Actually even in The Wag I used to play some Brazilian stuff. I had some 60s Bossa Jazz records that I used to play quite a lot alongside all my Blue Note stuff. I went to Brazil in 1986, in September, through Eric who has a shop in Sao Paulo called Eric`s Discos. It`s still there today. After meeting him in Croydon we kept in touch. I`d send him music, he was looking for British Beat music. There was a big scene for that in Brazil. Eric`s a legend, he`s a massive record collector. His shop was so well organized, like a library of music. Basically I used to go there, go through his stock room, pull out records, and then come back to the UK and ask my friends, like Gilles, "Do you want this?" "Do you want that?" and then go back to Brazil pick it out of Eric`s shop and bring it back. I am still in touch with Eric, he`s a fantastic bloke. If you ever go to Sao Paulo you must visit his shop.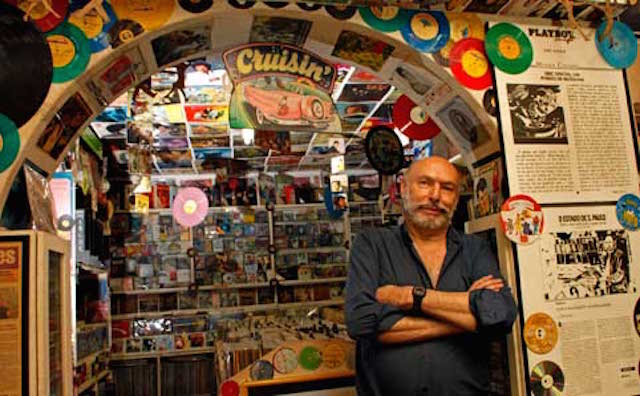 What prompted that first trip?
I`d realized that, after Eric had sent me a few records, that there must be an amazing catalogue of music out there, and that there must be a lot of Jazz out there. A lot of the Brazilian Jazz artists had recorded in America for American labels, so I thought that those artists must have also made recordings in Brazil before they went to the States. Artists like Airto, Marcos Valle, Azymuth, Flora Plurim, Manfredo Fest. I thought Brazil would be a good destination to go to find unusual music.
Did you travel about or stick to Sao Paulo?
I didn`t really travel around in Brazil. There were records everywhere, but it was dangerous, and I was really young, so the first few times that I went I was kind of stayed in Eric`s shop. I did go to Rio on that first trip, but Sao Paulo was really something anyway because it was so different to London, which was all I knew. The only thing that I could see that was similar were the cars. Everything was so so different.
What were your initial reactions to Brazil?
Literally "Where the fuck am I?" There was a market outside Eric`s shop and it was quite something. It was really hot and really humid. I`d been to India with my family a couple of times, so I felt it was kind of like a cross between India and London. A humid smell in the air and a polluted thick smell in the air. I remember that it was quite hard to breathe. But yeah my first reaction was that it was a really nice place because it was warm and the people that I stayed with were amazing. Eric had kids that were about my age, even older actually, so I`d hang out with them quite a bit and I felt really really comfortable there. More so because in England, I didn't really want to say this but, it was, I`m Asian, my background, very racist in England and London when I was growing up. I used to bloody hate it because I was born in England, so I felt that I was English and that I had every right to be here. It was quite difficult for me growing up here and one of the things that I felt in Brazil was that there were people with lots of different backgrounds, colours and creeds all mixed, so I felt instantly at home. I remember that being one of my first internal soulful connections with the country.
Has Brazil changed over the years that you have been visiting?
Brazil has changed over the years, positively and negatively. It has got so much more Americanized, globalized. There are so many chain stores. They`ve got the best coffee in the world so why would they need millions of Starbucks charging three times the amount for coffee? And the same with burgers. There are McDonald`s everywhere, when Brazil has the best beef. But anyway I think that's the same everywhere in the world. One thing that appealed to me on that first visit was the fact the culture, art, food, seemed to be so unique, but now it seems more influenced by what`s happening in Europe and America.
Can you remember where you found the first copy of Pedro Santos` "Krishnanda"? Or Jose Prates` "Tam…Tam…Tam"?
Jose Prates, I do remember exactly where I found that, in the basement of this little book shop. A tiny little dirty basement that had a few records in it. I paid one real for it or something or maybe even a cruzeiro or something, less than a dollar anyway. The Pedro Santos I found on my friend Bruno`s stall in Rio De Janeiro. That was probably 20 years ago now. I just picked it up because I really liked the cover, then I noticed Perdo Santos` name and I knew his work as Sarongo. He`d played with people like Klaus Doldinger and Passport.
I`ve read that you were visiting Brazil up to nine times a year between 91-93.
I would go that many times. Each time I would bring back sometimes 300 records, two bags in the hold and 100 with me in the cabin. I never really thought about shipping loads more. I only used to bring back stock that I knew I could sell and keep it to my friends only! I didn`t really want to start doing proper lists, and proper record dealing `cos that was never what I set out to do. I was more into DJing, and doing the production work, but I had to go to Brazil because I was making good money. I used to go there really to discover new music. I could only sell a record to a DJ or a collector once, but then other people would come and ask me if I had more copies. I ended up with other dealers selling records for me.
How did the "Blue Brazil" and "Brazilica" compilations come about? I can`t believe that "Brazilica II" sells for pennies second-hand. Everything on there is gold.
Basically Dean Rudland and Kevin Beadle approached me about having a meeting with Blue Note, `cos they wanted to do a Brazilian compilation, and they felt it right that I should put it together. I think I came up with the name "Blue Brazil" and had a meeting with Blue Note / EMI. I don`t think Blue Note really believed in it but thought let`s do it anyway. I didn't get paid, and they went to do another 2 or 3 in the series and they didn't even acknowledge me, my name or my work. That was the end of me and major record companies. It sold extremely well and until recently was available everywhere in the world.
The Brazilica compilations came out on Talkin` Loud, and it was Gilles` idea obviously `cos he was running Talkin` Loud. Gilles had a lot of the records, mostly from me, but he was really responsible for championing that sound on radio and in clubs. He came to me and said let`s do some compilations based on stuff we could license from Polygram, I cant remember if it was Polygram or Universal then, but they had access to Phillips` back catalogue. They also had A&M. Gilles came to me with a list of catalogues that we could use. Quite often there were complications with tracks so we had to change selections, but that`s how they came about. Again I probably didn't get paid, but it was a lot of fun anyway and we both decided on the track lists. I think those records are very special as they have some alternative sounds on them.
Were you DJing at lot at this stage, around 1994? Where were you playing?
I`ve never done too much. I`ve always restricted what I would do, but in 1994 I was probably doing the Rheingold Club with Gilles in Bond Street, and mainly one-offs `cos I`d ended doing my own residency, so I was just getting hired to play. I was travelling quite a lot by then. I was doing events with people like Nicola Conte in Italy, and my mate Simone Serritella, who owns Arision Records, he was doing a lot of tours for me in Italy. I was doing things in Germany. I was doing a lot of things in Japan. I was going to Japan a few times a year. Maybe once for myself, to sell records, and a couple of times to go and DJ, once with Gilles and Patrick Forge. The scene in Japan was massive. They had Jazz and Jazz Dance music before they had House music. All the kids and students were into that and it was a big market for us, for what we were doing. It was not an elite thing but more of a main stream thing there. I think that's what Gilles wanted to do was to bring cool music or eclectic music into club land using Jazz as his base and that went down really well there.
I`ve read that you got disillusioned with the Jazz Dance scene sometime before the Dingwalls Sunday Sessions ended. Can you tell us why?
The Dingwalls Sundays started and I think it was supposed to be Bob Jones, Sylvester, maybe Kevin Beadle and I, us four. The first two months on rotation down there, and then Janine (Neye) got involved and somehow Patrick Forge came along and took our slot. So I kind of stopped going to Dingwalls. I was playing a lot of football on Sundays anyway, so I couldn`t always get down there. I got disillusioned with the London Jazz Dance scene because it was very elitist, and you`d hear the same records to be honest, over and over again, and after several years of it, it was just like fucking hell, enough`s enough really. Sadly, with the greatest respect to everybody, you still hear the same records today from the same people and see the same dancers. You know it`s funny.
I`ve also read that you were more into House and Techno at this point? Can you remember the first House and Techno records you heard, which ones made you take notice?
I`ve always tried to be open-minded about music, which is why that Jazz Dance scene got boring for me. I never was into Acid Jazz. I was more into House and Techno. I was going to places like Ministry Of Sound, when it was really something, with Justin Berkmann and people like C.J. Macintosh, Todd Terry, Kenny Dope, Louis Vega, when people like that used to play. There was only one room then. I was much more into that. I thought it had a lot more links with experimental Jazz music and I was listening to labels like Trax, obviously, and NuGroove was probably my favourite label, I think Strictly Rhythm was a bit more commercial. Underground Resistance, Murk, a lot of producers from Detroit, Chicago, New York, the keyboard player Peter Daou I was checking out everything he`d do, Ronnie & Rheji Burrell productions, Kenny Dope as well some of the stuff he was doing earlier on, Todd Terry.
Do you still listen to House and Techno? Which artists do you currently rate?
I`m really checking the obvious stuff when it comes to House and Techno. I still really like the odd thing that people like Louis Vega and Kenny Dope do, Kenny Dope I still think everything he does is really good to be honest, but like everyone else I`m checking Moodymann, Theo Parrish who we`ve done a few things with, Andres. They`re all Detroit artists, but there are also a lot of artists from the UK that I check out. Even some of the people that are more Dubstep, like Mala, Martyn. I`ve been into all those people over the last few years. There are new artists emerging every week, every day, often one off things.
Would you say that some of the artists on Far Out, such as Kirk Degiorgio, reflect this future Fusion thing?
I`ve always liked Kirk. I`ve gone to a lot of stuff he`s done and he`s gone to a lot of stuff I`ve done over the years, and basically yeah people like Kirk we`ve done a few projects together, namely the Offworld one and the SambaTeK thing, but I want the label to be very much based on the team of artists that we have like Joyce, Sabrina, Marcos Valle, Azymuth of course, so we`re really still focused on those people. We`re always looking for new people to sign, but it`s quite hard actually, even when we kind of change the musical landscape a little bit, it becomes a little bit more difficult to sell and for our public sadly.
What made you start Far Out?
I started Far Out because I realized that a lot of the artists that I loved so much, and I still do to this day, no matter how many rare records you discover, the work of bands like Azymuth, Joyce Marcos Valle, Os Ipanemas, all those kind of artists that we`ve brought back, or helped reignite their careers outside of Brazil perhaps, I realized that they weren`t really recording, Joyce probably was and Azymuth were a little, even though they`d had really successful careers in music. Slowly I built up relationships with them. I did a production with Soul Jazz actually, the album`s called "Brazil", and I thought well I could do this, I want to do this. I`d done a course in sound engineering. I went to a lot of major record companies, and to Japan, to get some funding, and nobody was really that interested in having a five year, or a long term plan. Because once you invest you don`t get much money back. You have to invest so much in production, especially in those days. To record records it was a nightmare, it was so expensive, especially in Brazil because the equipment was all contraband, and the studios were really expensive per hour. I basically started the record label because I was fed up with record-dealing. I`d pretty much discovered the landscape of music that I wanted to discover over in Brazil. I was just going over there, buying records, bringing them back, selling them. It had become less creative for me. I should have carried on because there was a lot of money to be made but I left that to others and I started the label and committed myself to that. It was difficult to see great artists not really doing much.
Can you tell us more about Solaria and Five Fold and how they differ from Far Out?
I`ve always been a fan of dance / street music, checking out new forms of music, and Solaria was a label I ran with Simone Serritella. We did projects with 4Hero, Flytronix, Venom. Five-Fold is a similar kind of thing with another Italian who used to work here at Far Out and we really want to put out good electronic music, `cos I love it, so we are trying to find artists for Five Fold all the time.
Through Far Out you work with a host of legendary Brazilian musicians, Azymuth, Marcos Valle, The Ipanemas, Joyce Moreno. How has this been?
Working with the musicians in the Far Out team has been a really tough ride. Initially I was producing their records, well I still am really apart from Joyce, so there`s the whole 360, where you go over there pay for a recording, the studio, guests, do everything, bring the stuff back, mix it, package it, market it, sell it, distribute it…it`s quite a tough job it has to be said and unrewarding financially often for the work you have to do especially today when you see the salaries people earn. I`ve just been surviving each year, in monetary terms, but we shouldn`t always think about that, you know as a measure of success. My success is really being able to do what I`ve done for so long, even if my pockets do feel a bit light. You know to have actually worked with those people, it might be easy to take it for granted now, but really it`s a dream come true.
Weren`t you responsible for Azymuth reforming?
I was responsible for Azymuth reforming, although they had done a production together for another record company, but I was definitely responsible for putting them back together as a trio with Bertrami. I worked on that with a friend of mine, Jamie Allen. Basically my partner Roc Hunter and I wanted to recreate their original sound, with the Fender Rhodes and all the original instruments, which Jose Roberto still had. So I got them in the studio with Bertrami and all his old kit and I really wanted to make records like they`d made in the `70s and `80s. They were kind of feeling that idea, and that was really cool for me. They`re such amazing musicians.
Far Out seem focused on new music rather than reissues. This is obviously important to you. Why?
We`re definitely more focused on new music and promoting new music rather than doing re-issues, simply because I think its important to do that. Even today with a record like "Amplificador", which we`re about to release, to show more of the current things that are happening in Brazil. It`s as much a cultural experience not just a musical one. Also the artists we`ve talked about are still playing, still being creative and I`d rather encourage that than re-issue their old work. Although I have to say it's a challenge because it almost impossible to make records to the level, the standard, they made back then. I could do lots of re-issues on the label but today they`re everywhere. There are some interesting things when "lost" catalogues become available, and stuff that`s never been released. We`ve done a lot of unreleased projects, which are a bit more interesting.
Do you still visit Brazil?
I do still visit Brazil. I haven't been for a little while because I`ve been doing most of my work from here, but yes I do still visit Brazil, I love to go, and I can`t wait to go again. I will go when I do another production soon.
What are you looking for in a new Far Out artist?
What we`re looking for in a new Far Out artist is somebody who`s got real good musical integrity and somebody who`s got a possibility of selling records. That's all we`re looking for. We`re looking for somebody that can fit within our musical hemisphere. Somebody who`s got potential. Somebody who wants to work.
What`s forthcoming for Far Out in its 20th year?
We`ve got the "Brazilika" 20th anniversary record coming out, the new album called "Amplificador". We`re working with some British artists as well, people we`ve put together with our Brazilian artists, like Omar with Sabrina Malheiros. We`ve got a record by Sean Khan coming out. We`ve got some unreleased stuff from the `70s, and we`ve got new albums coming from Azymuth, Sabrina, Maurico Mastero with Nana Vasconcelos, Os Ipanemas. And I`m trying to get the funding for a new Marcos Valle record. That`s what I`m working on.
Do you still DJ? If so what sort of music are you playing at the moment?
I am DJing, definitely. I kind of got sick of DJing Brazilian music because I got slated by that scene if you like, mainly by Brazilians, so I`m playing more dance music at the moment, like Disco, `cos we`ve done this Disco project, so I`m still trying to promote that, the Far Out Monster Disco Orchestra. I did that with Bertrami and Alex from Azymuth, Daniel Maunick and David Brinkworth and we`ve still got loads of unreleased music. I had the idea to go out DJing that kind of stuff, as I`ve got a massive collection of House, Techno and Disco. I`m slowly doing some kind of Latin things as well like a Brazilian style party we`re doing at the Bussey Building. I can play anything anyway so it doesn't bother me. I just have fun. The monthly nights we`re doing there with John Morales and Paul Trouble Anderson are called "Bump and Hustle". And I`ve started to be asked to DJ abroad again which is really nice.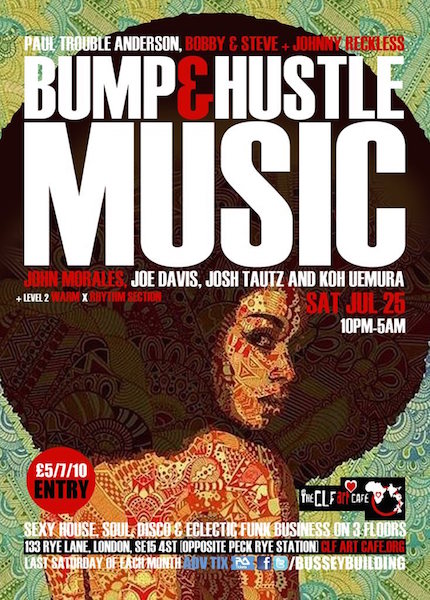 Do you have any regular gigs? A radio show? Since you collect across the board I think a radio show would be great.
I don`t have a regular radio show. I`ve been asking NTS to give me radio show for ages, but I`m probably amongst a load of old geezers asking them. I`m doing a Marcos Valle special for them. It would be good to do radio.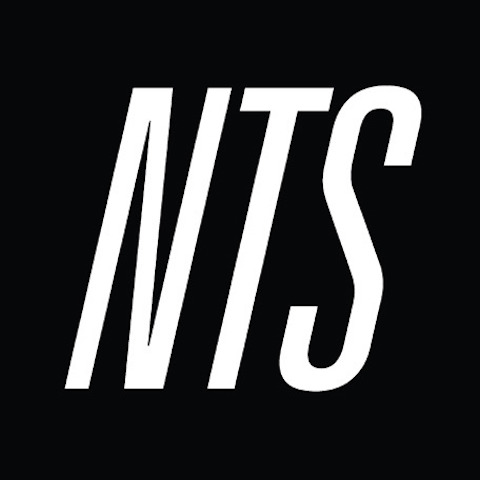 http://www.ntsradio.co.uk/marcos-valle-w-far-out-records-1st-july-2015
In preparation for this I watched the "Collection" interview you did with Boiler room, and the thing I love about it is your enthusiasm, it`s that thing of putting a record on / recalling the story behind it / where you bought it / why you bought, that is just never going to come with a file. This would be great on the radio I reckon. It would end up being an aural history.
I agree. It`s quite funny. People change when they`ve got vinyl in their hands don't they. There`s a lot of mileage to do bigger things with that. I know a lot of collectors, probably people that are quite famous, that are big collectors. I actually asked a few of them to do something on NTS as a special but they didn't want to do it because they`re too well known, but maybe one day.
During the Boiler Room interview you mention being offered half of Larry Levan`s records while in NYC`s Dance Tracks. How much of his collection did you buy?
The guy was being really discrete he was saying, "They`re in the loft, have a look in there", and it was so dirty and dingy. I opened the loft hatch and there were records everywhere and dust and shit, I remember putting my hand inside and a pile of dust fell all over me. It could have been fucking asbestos as far as I knew. There were tons and tons of records in there. I really should have gone through it. I just grabbed a couple of piles. I found a couple of SAM 12s, that "Melting Pot" edit and a couple of other things, but yeah I should have really got a mask on and gone up there and dug everything out. They were basically giving them to me. I didn`t go through them because we were only in New York for a couple of days and it was too nasty for me man.
As part of their mission to promote new music from Brazil Far Out have just released "Amplificador", a collection of nine tracks that takes its name from the website run by Marcelo Monteiro, Eduardo Rodrigues, Mateus Campos & Ricardo Calazans (http://blogs.oglobo.globo.com/amplificador). Both website and compilation serve to throw a spotlight on a growing Brazilian musical underground, Novissima Musica Brasileira. The Music comes from Rio, Belo Horizonte, Vitoria, Sao Paulo in the South and Para, and Paraiba in the North. The majority of it joins Brazil`s traditions of candomble, guitarradas, carimbos, congado, maracatu, coco, ijexa, frevo, forro and samba with those of Africa. Not just the Afrobeat of the Western continent, but also the fusions of the Tuareg towards the North and Algeria. Like Fela & Tony jamming with Tinariwen, Os Mutantes, and Tom Ze (https://farout.greedbag.com/buy/amplificador-1).