Interview / Marvin & Valentino / Tambien / Public Possession / Under The Influence
First up can you tell me more about your label, and shop, Public Possession?
We started both the label and the shop in the spring of 2013. The shop is open 6 days a week. Almost every Saturday afternoon we have in-store sessions with local and international DJs playing records and beer supplied by www.publicpossession-catering.org. We also just started to broadcast these sessions via dub lab Radio Germany (http://dublab.de/news/dublab-public-possession-join-forces-for-pp-instore-broadcasts). A collaboration we are very happy about. With the label and the sublabel "Under the Influence" we have released 17 records over the past two and a half years, with a lot more in the pipeline for 2015.
We like to think of Public Possession as a platform for all our interests which go way beyond music and graphics. So what's gonna happen with it in the future is pretty open.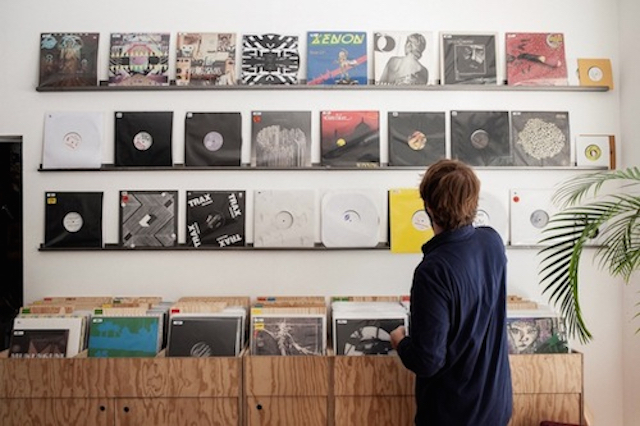 (http://www.publicpossession.com)
Photo courtesy of Empty Sleeve (http://emptysleeve.com)
Where are you from?
Both born and raised in Munich, currently based there too.
When did you start and what made you start?
We (Marvin + Valentino) have been DJing together for almost ten years now. Over that time the idea to open a shop increasingly grew on us. Once we found the right location in 2013 fast decisions were taken and have not been regretted so far.
How easy has it been to set up and establish a physical store?
Well there are probably easier and more profitable things than running a record store. Also in Munich it is very difficult to find spaces to do things like this. But we've been lucky with finding the shop. And we`ve also learnt a lot over the last couple of years. Right now we are pretty happy with how everything goes. But there is always room for improvement.
Can you tell me more about the artists on your roster? Rohan Bell-Towers, Obalski, Anton Klint, Samo? How did you meet these people and what is it that you liked about their music enough to put it out?
Valentino met Rohan a couple of years ago when he was travelling and DJing in Australia. That was long before PP existed. But they kept in contact and once we started the label, he was one of the first we asked for music. Since then we`ve hung out quite a lot. Rohan has a pretty unique and emotional style when it comes to producing music. There should be much more Pop music in a Bell Towers style. He`s currently setting up an agency called "Dolce" together with Jeanette Olivia Little. You should keep your eyes and ears peeled for this.
Obalski is a long time friend from Munich. His new EP "According to Obalski" will be the next record out on Public Possession. He comes from a theatrical background and still works a lot in that field. He keeps surprising us with his music and just started recently to do dance tracks. His live set gets better and better, too. There is a lot still to come.
Anton Klint was one of the first guests we had at our old residency here in Munich. We've shared a DJ booth many times since then and beer is a common friend. He`s got that Scandinavian vibe going full on. There will be an Anton Klint EP on "Studio Barnhus" this year and he`s working on more for Public Possession. Even an album is planned!
Samo was originally introduced to us by Bell Towers, when he did the remixes for Rohan`s "Territory" EP. Later we invited him to play our monthly "Charlie" residency and we connected very well. He keeps sending us crazy stuff – two minute long snippets that he lost the tracks for, that will probably never see the light of day. He has a lot of imagination and a very good sense of humour. There will be more Samo DJ stuff on Public Possession in 2015.
Tiago, who we did the Public Possession-Interzona collaboration with us, is currently working on an album for us, which is very exciting. Tiago is also another perfect example of what we can say about all the artists on our label in general, that they are good guys who have become good friends. It is very important to us that the vibe feels right once we start working with somebody. This is a big part of our label philosophy.
How did the two of you meet?
We went to school together for two years when we were around the age of 11. Then lost track of each other until we were re-introduced by a common friend years later. Pretty soon after we started DJing together.
How did you end up working together as Tambien?
Tambien started as an edit project with our friend Beni Brachtel aka Bartellow, who used to have a Jazz Band together with Valentino. Eventually it grew to become a production trio.
Who does what?
We meet irregularly at the studio to make music in a pretty free process where everybody has influence on the composition and is playing instruments at some point. Bartellow is definitely the head when it comes to all technical things. It is also his studio and equipment that is used for all the Tambien stuff.
How would you describe the sound of Tambien and the sound of Public Possession the label?
That is a tough one to answer really as we don't wanna put any labels on the music we produce and put out. You are very good with words maybe you can do this better justice.
How did you hook up with ESP Institute? Do you plan to release more with them?
Valentino met Andrew via Tiago when they were all DJing together in 2010. At some point we sent him some music and the collaboration started. There is a Tambien remix of a Land of Light track that should hopefully come out soon. Andrew knows better about this though.
Where`s your favourite place to party?
We have some favourite clubs, but in general it is better to say that it`s way more about the people you party with than about the location.
When you aren`t working or partying where do you like to go, what do you like to do?
Spending time with the family, eating good food. The river Isar here in Munich, Viktualienmarkt for some sausages. Other record stores when traveling, etc…
What`s in the immediate future for Tambien and Public Possession? Gigs? Releases?
Tambien has two remixes for Jose Padilla coming out on International Feel. For Public Possession there`ll be releases by Obalski, TMO, Konrad Wehrmeister, Mechatok, Samo DJ + Baba Stiltz and more. All in the making and set to come out this year.
The Public Possession DJs (Marvin + Valentino) will continue to travel throughout Europe and beyond. In October we will visit Australia for the first time together to play Melbourne (Animals Dancing), Sydney (Picnic) and Perth (Good Company).