Interview / Michael Kucyk Talks To Braden Schlager
Noise In My Head launched their reissue label, Efficient Space, with the "On The Moon" E.P., a record originally self-released by Melbourne-based musician Braden Schlager in 1990. Here NIMH`s Michael Kucyk talks to Braden about his music and the birth of Melbourne Rave. With so many names unfamiliar to those outside of Australia, and the abundance of activity and talent in Melbourne at the moment perhaps a book detailing the development of the area`s dance scene is in order (Michael?).
Am I correct in saying that theatrical Post-Punk group Human Backs was your first band?
Yes, my job was percussion and changing the patches on all the analogue synths between songs. I learned the drums from Nina Bondarenko. She was a great character, a Circus OZ emcee, who bred Rottweilers and lived in an underground studio off Smith St, Collingwood with a drum kit and wall-to-wall analogue gear. My live baptisms were mostly GLBT gigs in inner city Melbourne. Ash Wednesday was around that area too. All the people who were into synths knew each other. Ollie Olsen was in St Kilda, a bit further away. When we weren't practicing, I was trying to record electronic stuff. The Human Backs material is sort of post-punk, disjointed, industrial. I tried putting these cruise-y four to the floor tracks down but they weren't interested. It was around this time that I met Miles Du Heaume. We set up a small studio above a shop in Hawthorn.
Is it a coincidence that both you and Ollie (Whirlywirld, Third Eye, Psy-Harmonics) had roots in the Post-Punk area or was this shared further through the club scene?
The search for good electronic music led me to Daniel Janacek's Pipe Records, a Mecca for Melbourne synth heads where Ollie apparently worked. My mind was blown in that tiny shop and through Kraftwerk, Eno, Roedelius etc, I could finally see what was possible with music. Post-Punk and Krautrock were stepping stones to a new purely synth driven sound and along with Michael Agar we started EMC (Electronic Music Club), a weekly night with live and recorded music at the Central Club Hotel in Richmond.
How did things evolve into the dance scene from there?
While out at the clubs, towards the end of the night you'd hear these odd tracks being dropped, whether that was at Chasers, Chevon, Inflation or Cadillac Bar. Once you heard some, you would actively seek it out. Miles and I were at a party and Dr Jon dropped 808 State on us. That was the trigger moment for me. I had a girlfriend in St Kilda, Tatiana Doroshenko, and we came across Jason Rudeboy and Ian Spicer who were opening this new club. They liked the look of the banners drying on the back lawn so in we went.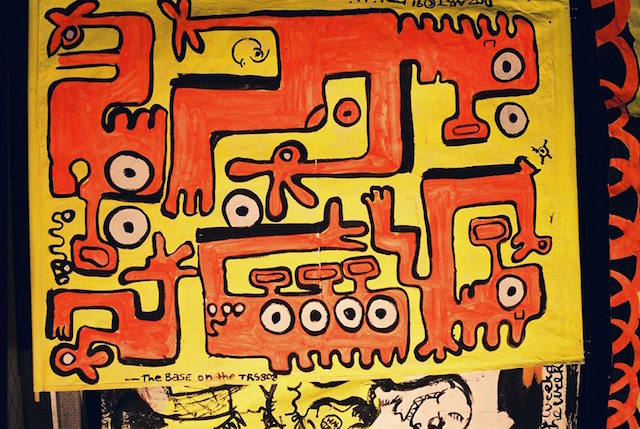 So these banners existed even before the club?
Some of them yes.
What was the intention of them?
At the time I didn't know. We had a factory in Richmond. There was a music studio in the corner and Tatiana was painting in the same space. The music I was doing influenced her painting and vice versa. I could feel something coming…the music was changing and this is reflected in Dozza's art.
Were you the recurring character in these paintings – the "Acid Smurf"?
Yes (laughs). Her art fit the movement that was coming and was relevant through the 89′-91 period. So that led to Commerce, which was absolutely mental. Everybody came through that club's filter. Between Terence Ho, Jason Rudeboy and Ian Spicer, the night's music was covered.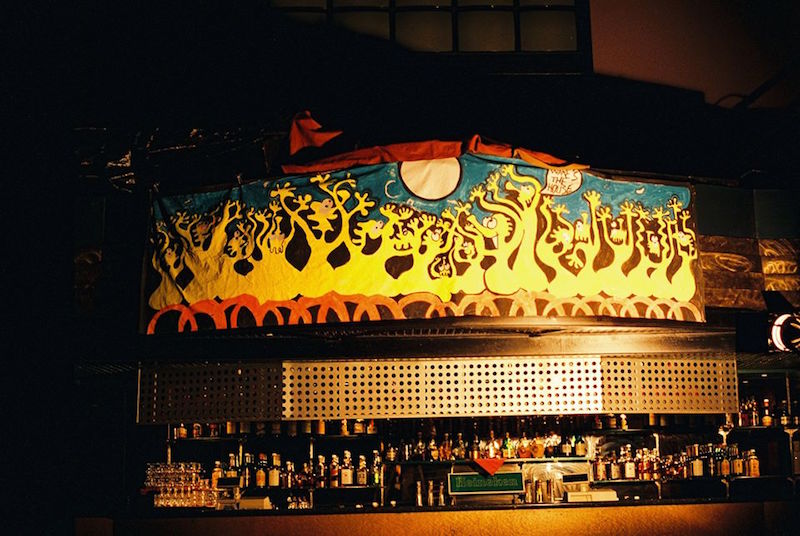 Music aside, walk me through a typical night at Commerce. Who was the crowd? What was the fashion? Was there much more spatial design beyond the banners?
Being a private club, Commerce could stay open longer than the other nightclubs in Melbourne and along with Razor offered a more intimate vibe. It was run by us for us and the anything goes dress code meant that the budding fashion designers could go wild, and they did! Trainers were taboo at most places, but not at Commerce. Upon entering, there was the chill out room to the left, the bar and pool tables in the middle and the dance floor and DJ kitchen, an actual kitchen, to the right. Apart from the banners there was very little decor, it was "Heaven on a budget". The sound system only just coped, a few lights and a smoke machine, but to the people that went there it was paradise.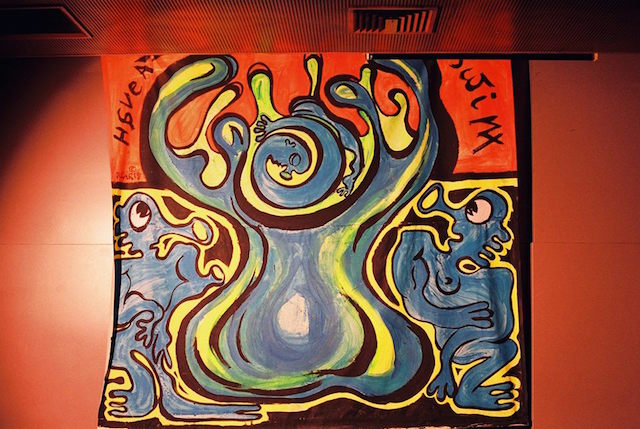 How did you become the resident live act?
I was in the right place at the right time and Jason and I had a good musical connection. That's where I developed my style. Before everyone put drum tracks at the start and end of records to make them easier to mix, I took a sampler in there and some outboard effects. I'd listen to the track Jason was playing and the next one he had cued up, pick the chord and dial up some sounds. Sometimes I brought stuff in from home that I was working on, that might even take off and start to be its own thing, with Jason still jamming records on top. That was amazing, the 6 months we were there. It was full on live and those interludes between tracks became more and more. One night the power blew and armed with a battery powered keytar and a small 50's robot, I stomped around the stage playing Adamski's "Killer", with the robot shooting sparks to the hoots of a club full of trippers. This all led to more gigs including my first big party Kemistry.
What were the audience reactions to your live set, compared to the DJs?
At the big parties it went off. Miles and I wrote 50 mins of music for Kem 1. Just one long piece, really trying to take people on a journey.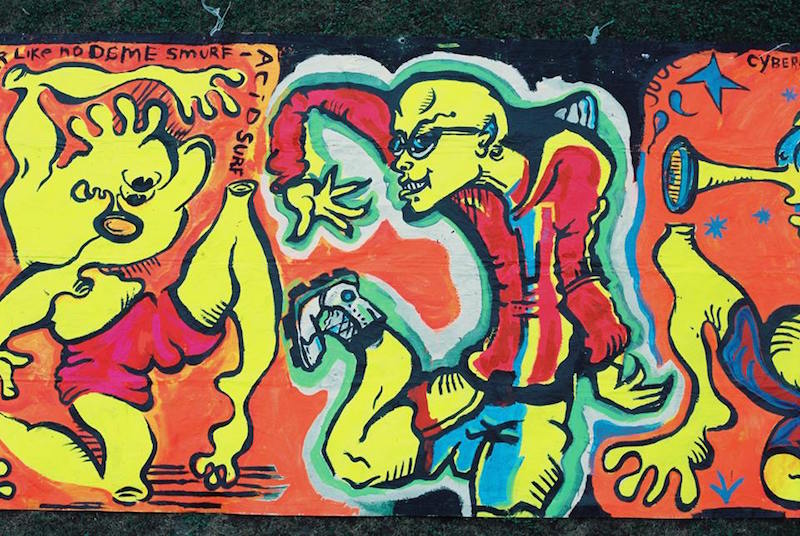 Were the parties ever disrupted by police or was everyone generally able to trip in peace?
Commerce always seemed to have a good relationship with the police. I don't ever remember them inside. The new music and drugs did not lead to violent outcomes so we flew under the radar. However there was a fire escape just next to the entrance which allowed people in no fit state to walk along and perch on the roof overlooking Flinders St. I believe it was these aerial activities that led to the clubs closure.
I'm guessing the precise origins of the Melbourne shuffle are hotly debated. What were your recollections of its early formation?
I think the scene spread as people travelled and evolved as it went. The English crew that ran the Kemistry parties through 1990 definitely had a big influence on the dancing. I don't know the origins of the shuffle, but the Melbourne locals put their own spin on the Stomp and it was in the incubator that was Commerce which I first saw it.
Was "On The Moon" a composite of existing recorded material or did you set out to make something from scratch?
"On The Moon" was from scratch, I wanted to contribute a record back to the scene.
Did the EP ever receive any international attention?
Not until now!
What hour was your music operating in?
I wrote "Morning" as a morning track and it got played mostly in the back rooms. I wanted to write the banger, the 3 AM shuffle track, but it was very difficult for me.
Is that how Rummage came into play?
It was an attempt but it never came near what it should have been.
What was the live configuration?
At first, tape with two samplers. Basic stuff on the tape and then all of the samples and leads played live over the top. Towards the end, a full electronic drum kit with Myles on samplers and Baby Lemonade Lamar and Jason on vocals.
"King of Comedy" was produced for a Monash University theatre show. How did that come about?
I had known Josh Abraham's for ages. We worked well musically and were even in a cover band. He had a fine artist friend who wrote this theatre piece, "Cyberbia" and wanted a soundtrack. I just used it as an opportunity to write another house track that would be pressed on vinyl.
What was the premise of the play?
I had no idea what the play was about and still don't! I remember it was fun though.
Did you continue to record after this?
No, after 3 full on years on I was burned out. I decided I had to get a haircut and a job. That was it for me.
You've name checked a lot of influential DJs. What other local producers and performers were having an impact?
Vertigo Hypo were an outfit that played around from the beginning and Ollie's Psy-Harmonics label was incredible. FSOM, HMC and Voiteck took things to the next level.
Were any of their tracks reaching anthem level notoriety?
FSOM, Ritchie Rich, Will E Tell and HMC all had big underground hits, but I'm probably missing a few as I was out by then.
Did you ever check out the scene in other states?
The guy who ran the Kemistry parties did one at the Lion Theatre in Adelaide in December 1990. We took three cars and all the banners. The venue was amazing, an incredible sound system. The set went down well. We were using these trippy samples from science fiction films with this groove and really freaked the kids out. HMC played straight after me. Carmelo dropped an unbelievable set, oh my god. From Melbourne we thought we were it and a bit, and he just blew us all away. Stuff I'd never heard. The kids were doing this very early stomp. Craig Mitchell, who was one of the best dancers of that time came with us. He went out with these star spangled banner fat raver pants and tore the dance floor up. A thousand kids were just sitting there watching him. It was just a master class. By the end of the night it was taking off.
Braden Schlager`s "On The Moon" E.P. is out now on Efficient Space.