Interview / Nicolaas Oogjes / No Zu
Where are you from?
Melbourne, Suburbia, Australia
Where are you based?
Coburg, Brunswick, Collingwood, Melbourne City, NYC, The Globe.
What made you start?
Frustration and an urge for expressive freedom.
How did you all meet, and how long have NO ZU been together?
NO ZU has existed since 2007 when I began experimental recordings without any training/history in doing so. I was inspired and totally fixated on the idea of creating deadly simple percussive grooves with drum machines, samples and voice, without the need for any other elements to "complete" it. After local radio stations, RRR, PBS and JJJ, showed interest in the recordings I decided to involve friends around me that were playing in bands I liked / had played in bands with me / or I just got along well with to begin the collaborative live life of NO ZU.
What makes you continue?
A drive to capture the mirage that is "Heat Beat" (self-coined genre). Whether that's in physical experience / live show or trying in vain to sum up that orbiting ZU-cosmos in a tangible recording. The result is getting addicted to the process which is just as dangerous / exciting.
How often do you get to play live? Are you restricted to the Melbourne area, or do you get around Australia, the globe?
We play live quite a lot, though I find myself saying "no" to more opportunities than anything these days. In Melbourne, for a band like NO ZU, I think you can play too much, and also, because of the amount of people I like to involve in the group and because with each show I want to push things "further" and "better" into different territory it takes a lot of work. It's better to play less and ensure that the show is really special… a ZU XXXtravaganza! Also, I think it's important to keep NO ZU as a healthy lifestyle choice. There's no point in tiring ourselves out with every show we can get. We only play exactly what we want. I want all the members of the extended ZU Family to feel like it's a fun and transcending experience whenever we get together and not an obligation or a job. They all have their own interesting lives outside of the group and that's just as important.
We've been playing in Sydney quite a bit… once a month for the last while, but that's it for other OZ places at the moment. The globe. Yes. In January, I took NO ZU CLUB through a few countries in Europe with band-mates, Andrew Noble and Adrian Tregonning, playing in a more electronic set-up, with our set based on the "Medusa Music" EP that has just been released. Last year, an 8/9-piece NO ZU played Festival NRMAL dates in Mexico and performed in New York and LA.
How would you describe your sound?
Heat Beat. Heat Beat is Lifestyle. Also, I would say that it is essentially, idiosyncratic-percussive-dance-Funk music.
What artists / pieces of music would you say influenced "Heat Beat"? I can hear stuff like Liquid Liquid, Pig Bag, The Woodentops` "Live Hypnobeat Live" mixed with early Chicago House, particularly on the new 12, "Medusa Music".
Yeah, I would say all of the above, in a sense. Any subconsciously absorbed groove-music moods and feelings. In fact, Sal Principato from Liquid Liquid has just spent two weeks living with me in my Melbourne suburb of Coburg and played Sugar Mountain Festival and a "Heat Beat Party" at Goodgod in Sydney with us. Needless to say, the reason for this is because Liquid Liquid were a huge formative inspiration on NO ZU and because Sal P and NO ZU share common ground in our approach to music. He was actually saying that we remind him of Pig Bag, to tie it back further to your question. Despite all of this, as Sal and I were discussing in an interview one day… influences are music / life that is fully absorbed and present themselves back in a unique way through the artist. Not reapropriation or cherry picking from your favourite songs or artists. By saying this, I'm just aiming to illustrate that Heat Beat is not a conscious thing and I wouldn't hope to intellectualise it. A jam is "Heat Beat" once I feel enough of mine and / or the band's fingerprints over it, a connection to what we have done previously and a certain type of energy or mood.
Is anybody else out there "Heat Beat"? You seem to have quite a lot in common at least sonically with groups like Golden Teacher, perhaps Ibibio Sound Machine.
No, I don't imagine that that's possible. I haven't heard either of those acts, but it is impossible, as Heat Beat is really a tongue-firmly-in-cheek play on outsiders, with various other reference points, deciding on who you are and what your intention is. Why not decide that ourselves? We were driving to Adelaide to play one of our early shows when I came up with it – right at the peak of new genre names springing up out of thin-air each week like "Witch-Haus" and "Chill-Wave" — Heat Beat was funny, and fitting, at the time. I still get a kick out of other people using the term.
Where is your favourite place to play / party / other?
Anywhere / anytime that is among new / old friends that are willing to give themselves away to their bodies.
What are you most proud of?
Expanding the ZU family with so many amazing performers that are willing to be another ingredient in the greater Heat Beat cause. We have on / off members located all around including NYC (Adrian Tregonning, Sal Principato) and in our hometown of Melbourne our core group of Andrew Noble (drums), Adrian Vecino (bass), Mitch McGregor (percussion), Daphne Shum (vocals), Becky Freeman (AKA Sui Zhen) (vocals), Kieran O'Shea (synth) and Cayn Borthwick (sax). Each member is truly an accomplished artist in their own right and the more we experience together, the more it feels like family. I'm now taking submissions for NO ZU franchises around The Globe at [email protected] or by phone 1300-HEATBEAT.
Have you played in NYC?
Yeah we played there in March last year. Really, as an add-on to Festival NRMAL shows that we were invited to play in Mexico City and Monterrey. We played Trans Pecos with Maria Minerva, Baby's All Right with James Chance, Cake Shop with Hidden Fees and a loft party with some Aussie mates, Shorts. It was an amazing time, apart from a crippling bout of back pain and other various sicknesses throughout the group brought on by the NYC weather and too much fun in LA and Mexico. Sal Principato played percussion with us at the first three shows and sang a song, "Wah-Wah", by his post-Liquid Liquid group, Fist of Facts, with us too. It was truly surreal.
How did you meet Sal Principato?
I was listening to Liquid Liquid for about the 42,000th time while working in a basement as a stock-room manager when I just decided to find him and reach out on Facebook. What I wrote was probably embarrasingly gushing, inspired by too much time alone in the basement, too much coffee and a completely genuine gratitude for inspiring me early on.
I`m sure that Dan from Cut Copy told me a story about you jamming with James Chance. Is this true?
No, not quite. Unless, by jamming you mean engaging in polite email conversation with James. Haha. No, but we did share the stage, or same bill, at Baby's All Right. Yet, another surreal NYC experience. He sounded fantastic that night.
Who are you working with?
We were recently involved with Cut Copy's Cutters label for the "Oceans Apart" compilation and I expect we'll team up again in the future. We are just now releasing a new 12″ EP via Michael Ozone's Home Loan Records label called, "Medusa Music". There are some other things in pipeline for 2015 between us and this new-era-cyber-world of global-groove-music-people too, for sure.
How did you meet Michael Ozone, and how did you become involved in the "Oceans Apart" project?
I believe it was in that same very basement that I first emailed Michael Ozone, while listening to a mix he had done for someone, just after he released "Perfect Systems" on ESP and that epic, aesthetic achievement of a video he made for it. Once again, I think we just saw something of ourselves in each other`s approach and the relationship grew and I noticed he would stealthly pop-up, out of nowhere, at any gig / club I was at!
Dan Whitford (Cut Copy) asked me for a new NO ZU track for "Oceans Apart" last year, just after we saw each other by complete chance in NYC and had had too much fun at show he was DJing at actually. I remember, that he sent me a really sweet email (more emails!!) saying nice things after we performed at Melbourne Music Week back in 2012. Since then we have been on each other's radars more so, I guess. I think it's really great what he did with that release and we were really honoured to be included.
Why do think such a healthy music scene has developed around Melbourne?
I think there are so many factors… from boring ones, like the fact that small clubs and bars have access to accommodating liquor licenses and willing punters, to more interesting ones to hypothesize about, like our crazy up-and-down weather, an importance placed on our own cultural / musical history because we're not a "tourist" / "landmark-picture-perfect" city, and that maybe being isolated geographically from the rest of the world spurs us on somehow, or at least allows us to evolve in a slightly different way?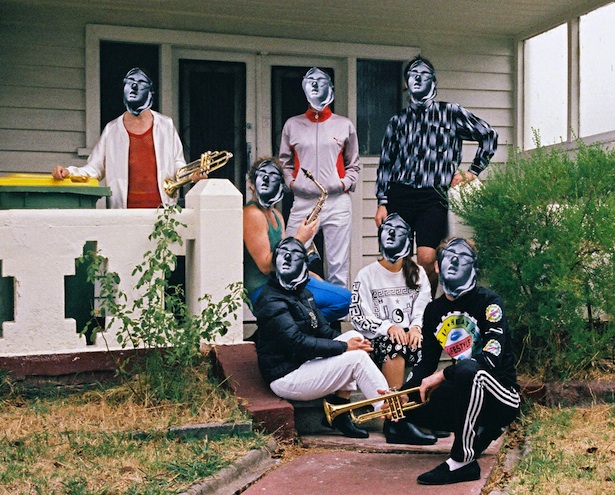 No Zu`s "Medusa Music" is out now on Michael Ozone`s Home Loan Records. Featuring a more stripped down, electronic, incarnation of the band, over the course of the E.P. they manage to combine the strings of Philly Soul, via Frankie Knuckles` at The Warehouse, with Golden Teacher, have Liquid Liquid meet Denise Motto, and run C Cat Trance`s eastern overtones past K. Alexi Shelby`s Risque Rhythm Team. There are clips here: https://soundcloud.com/homeloanrecords