Interview / Noel Watson / Part 3 / Post-Delirium!
In the final installment of our interview with London Hip Hop & House pioneer Noel Watson we travel through Heaven and the Camden Palace to the present day.
Why the move from Heaven?
We moved mainly because of the financial restrictions of the deal we had with the management of Heaven, it was then owned by Virgin Records, and our deal was scary for a Thursday night. We had to guarantee £3000 in bar takings as well as a hire fee for the Venue. Some nights Robin (King) and I would come home with nothing…after hosting a full club event that was on every other level a huge success…it was a bit soul destroying…
Why Camden Palace?
We couldn't find many venues size wise that fitted with what had gone on before with DELIRIUM!, and we stupidly thought we could get back our Saturday night crowds from The Astoria and re-live past glories. Camden Palace was struggling at this point, it had become jaded and its best nights had gone. I guess we thought we could inject the place with some much needed credibility and put on some cool events, and we did with some of the bigger nights we put on in conjunction with Spencer Style. These were the MTV-endorsed Metamorphosis and The Beat events featuring the likes of DJ Mark The 45 King, Soul II Soul, The Orb, Andrew Weatherall, but there were also many nights where we'd have DJs like Derrick May as a special guest and we'd struggle to fill the place to even a third capacity…it was tough…Plus we had Patrick Lilley's High On Hope competing with us on the same night, and Patrick had been a big part of DELIRIUM! as our PR. So Robin and I struggled, but when we did get it right, especially with Spencer Style as part of the team it was amazing. We still put on nights that were way ahead of what everyone else was doing and we had the venue packed.
What other events were going on at Camden Palace at the time?
It had become a bit "bridge and tunnel" by that stage. Saturdays had turned into tourist-like nights. I remember we'd booked our usual Thursday slot and turned up to find Radio One's bloody Kid Jenson and his cohorts hosting the early part of the evening for some naff Charity / Radio One event…I thought, Oh shit..we gotta get out of here soon!…
What night was it on?
Same as Heaven…Thursday Nights
Was it weekly?
Yes, we did it weekly…in hindsight it was crazy. Robin King and I practically did everything, flying, bookings, hosting, Djing, manning the door…it was a huge undertaking for the two of us to try to fill a venue that size on a Thursday night especially as the DELIRIUM! vibe was dying.
How long did it run?
We kept going there for around six months, but eventually it all caved in on us and we decided to pack it in. Shoom, High on hope, Land Of Oz, etc., these clubs had taken the House crowds, and had developed the scene we'd started into the Acid House scene. The press they got was phenomenal. Robin and I felt cheated and angry, but really looking back on it we had just run out of steam and had made some poor decisions. We also weren't as business orientated as some of the new promoters and characters, the people behind "Acid House", plus our original DELIRIUM! team had now departed. Maurice was now living in New York. Nick Trulocke had gone to pursue other ventures. Rachel Auburn got fed up with it and Patrick Lilley was actively competing against us and it just fell apart…only Spencer Style had stuck with us from our original team and Spencer was a God send at that point.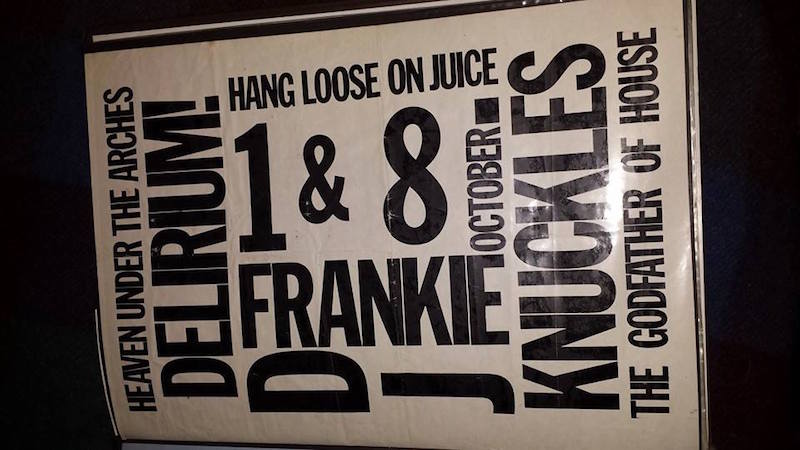 How big were the crowds?
Well, usually around 300-400, but on special nights we fill it, I can't remember what the capacity of that place was, around 2000 I think, so it was stressful!
Had the crowd changed from Heaven?
Yes, our Heaven crowd had turned into the Spectrum / Land Of Oz crowd. We lost quite a core of our crowd to them, not all of them though, and to be honest I didn't really care that much about that, I felt we'd already been there and done that to a certain extent, the House music policy, etc., the whole of London shifted though at this point. It started to become much more polarized, our nights and DELIRIUM! as an original club concept had been about diversity and underground ethics and attitudes. Everything was now caught in a media hyped storm of Rave Culture and fake hedonism. Gangsters and undesirables were now populating the House scene, running huge commercial events, the filthy lure of cash had brought the scene to the mainstream. I ain't into that. It had all become naff. I think that's why me and Robin decided to close the nights and go our separate ways.
Were you still featuring live acts and PAs?
Yes, we did nights featuring The Jungle Brothers, Fingers Inc, DJ Mark the 45 King, Adeva, The Orb, Ballet, Art events etc., but the nights at Heaven where we'd the likes of Divine, Cash Money, Jellybean, Chuck Brown and The Soul Searchers, Marshall Jefferson, Tokyo's Melon and Major Force etc, those nights had gone, and most of the bigger nights as I said earlier were jointly run with Spencer Style.
Did you still have guest DJs over from the States?
Only people like Derrick May whom Robin had close ties with as we'd originally brought Derrick over for his first ever gig in the UK.
At Heaven you would play Tony Humphries and Merlin Bobb Kiss FM tapes to warm-up, what sort of stuff did you play to warm-up at Camden Palace?
Well, I would sometimes ask friends who'd supported us from our early days to come play some warm up sets, the likes of Phil Asher from Restless Soul, Hamish McDonald, but usually I just did the whole night by myself. Other DJ's annoyed me. They all thought everything was now about bangin' House, techno and Acid. It was to some extent, but I still enjoyed taking little journeys and playing whatever the fuck I wanted: proto House, soulful House, some instrumental Hip Hop, classics, Disco and Funk…maybe that's why it changed!…
Was there still a Hip Hop room?
Upstairs was the supposed VIP room, where Rachel Auburn and her guests would come play. There was a great little vibe up there though, especially when it was busy, but it was so detached from the rest of the club.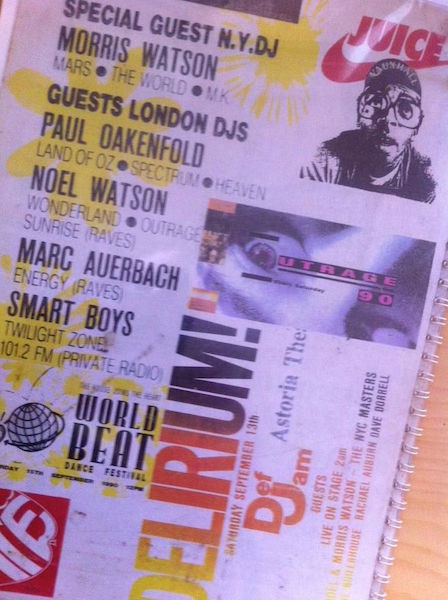 Where would you have been buying your records at this point?
Well, I worked in Black Market Records at this point, nearly all week, and my job was to spin and mix the best parts of the weeks imports and new white labels for the DJ clientele and to sell product. Black Market from 88-90 was like a club in itself. Everyone who was anyone came there for their grooves. I'd deal up to Chris Lowe from the Pet Shop boys, to Danny Rampling, all the visiting Americans including Dave Morales, Derrick May, Little Louie, Kenny Dope. Etc., plus some of the UK's finest DJ's, Harvey, Matthew B, Danny D, Graeme Park, etc., so I had access to everything first, and I took home hundreds of records a week. I'd also go round other shops in London like Bluebird and go see Oscar in Trax in Soho to pick up Italian and European Records that Black Market didn't really stock. In those days record shopping was a dream.
Were you still playing at larger events, raves, or had the Criminal Justice Bill put an end to these by this stage and moved things back to the clubs?
Yes, after DELIRIUM! closed Robin moved to Paris and I stayed and carried on DJing. I played everywhere, all over the World at one point. Metaphorphosis was Spencer Styles night, so I did all those nights, and Westworld, Shoom, Boy`s Own events, Back to Basics, Cream, Enter The Dragon, The WAG's House nights. All those events and even some of the Sunrise illegal raves. Even though I didn't particularly care for some of the nights and people. I did them because I knew for me it wouldn't be something I was going to turn into a "Superstar DJ" type of career. It wasn't my style, but I had a blast and an amazing time. It really was a great time in clubbing history.
What are you doing now?
Well, now I still play out occasionally at small events and the odd party and club night. I did Glastonbury last year as a guest at Bez's Acid House night with Todd Terry and DJ Sneak, and I've played most of the major Festivals, Latitude, Wilderness, Secret Garden Party, as a guest with the Feast Of Fools crew, plus I curated the DELIRIUM! Film and Vitrines at The ICA's OFF-SITE SubCulture Show at the Old Selfridges Hotel building. Plus events and Interviews for RED BULL and Ireland's Oh Yeah Building. I've just soundtracked a Film for the Director John Carver called "Starvecrow" which will be premiering this autumn and I am playing as a guest at Justin Berkmann`s Larry Levan Event, celebrating Larry`s birthday, featuring legends David DePino, Joey Llanos, and Francois Kevorkian at the Ministry Of Sound on July 19th (http://www.ministryofsound.com/events/calendar/club/2015/05/28/15/35/150719-levan#BZ0og4WwwVbBHISJ.97). Plus there`s the Full Circle Reunion in Bognor in August. I`ve been editing the "Starvecrow" Soundtrack for release on a small independent and I'm currently producing and writing with some of London's best young and old underground Jazz Musicians, for another Film Project. So I keep creative as much as time allows. I'd like to also take the SubCulture Event further with perhaps Vinyl Factory or the ICA…we'll see…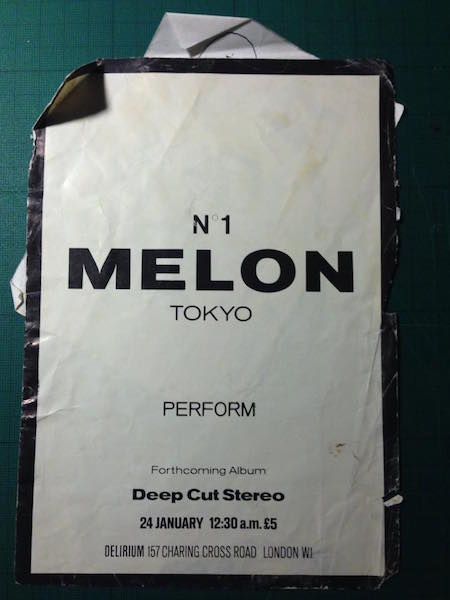 What are your thoughts on the current House / Dance scenes?
Hmmmm…well, I think there's so much new music and so many different genres crossing and pollinating each other now it's like new forms of Dance music are invented every other week!…which can only be positive. I love new producers like Move D, Alex Bradley, Ame, Dixon and Todd Terje. The history of Club Culture and Dance Music is being re-invented by new guys like these. I like those guys because they have knowledge.
I did a private party recently with Sean and Femi the heads of NTS Radio (http://www.ntsradio.co.uk), and they played only vinyl, and not Serato linked to a computer, but actual physical releases, old and new. It was great to see young guys showing such care and attention and actually going out and looking for these tunes, and spending money too. I hate the new MP3 generation of DJs. People who'll rock up and go "here mate, plug in my iphone, I've got my set on that"…There's no Soul, or love or attention, and ultimately respect for the likes of what us older guys went through in the past if you've got that attitude. I know it's hard these days to play a vinyl only set. Some of the 12s I played back in the `80s are too worn and sound shit now if I try playing them, so I have to use Wav's and MP3's too occasionally, but I honestly would never touch them if I could have everything on Vinyl. If I do I put them in Logic, re-edit them, and add sound effects, etc. so I've been creative with them before playing them out. With vinyl it's so much different, the sound quality and the love, that's irreplaceable.
Earlier in the interview you said that drugs play a part in any musical revolution. Is this true of what`s going on now?
Oh God yes!!…very much so. It always will be. Ketamine has had such a massive impact on the House scene, especially places like Ibiza. Plus old heads are still popping their E's, and of course Cocaine's absolutely everywhere. But that's the way it should be. You ain't going to Church to listen to heavy deep shit. You're going to a basement or a party with hotness everywhere. They're young kids, leave them alone, let them take their drugs and get on with it…
Has a change in drug, say the increase in ketamine use, the abundance of cocaine, affected the music being made and played?
Yes, I think it definitely has. Drugs like Ketamine are designed for environments were people are fully immersing themselves in the effects the drug has. Their perception of everything changes as they hit the high; sound, light, space and textures all become placed in a different consciousness. These drugs are pretty strong, they're not for the weak minded. I've seen some people who shouldn't really be taking them, because they can't handle the effects. Even recently I watched a crowd melt in front of me because the drugs they were all taking were severely potent. I think at that point I asked the next DJ, due to play after me, to jump on early `cos I didn't know what to do, or play, at that point…it's weird…as a DJ you have to be fully in control of what's happening on the floor in front of you, or you might as well not be there. So you need to be confident and happy with the vibes. Don't get me wrong, I was perfectly happy with the scenario but I wasn't on those drugs and it didn't feel the right time for the vibe I was trying to create, soooo…..
What are your plans for 2015?
Stay healthy, happy and positive. Life's a beautiful gift. Let's all try to help each other and make this World a better place…I'm just an old hippy at heart!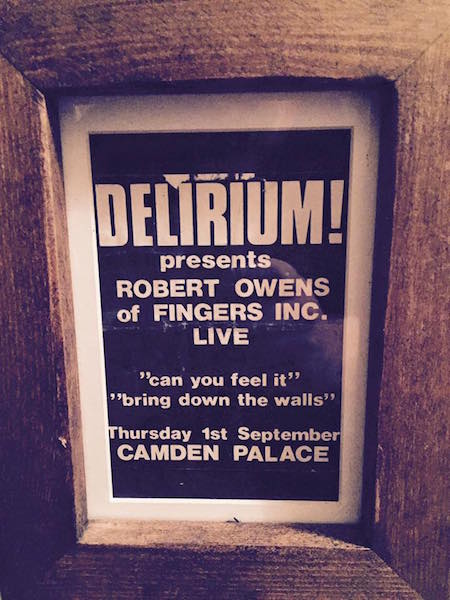 As Noel mentions above, he`ll be one of the DJs helping Justin Berkmann celebrate Larry Levan`s birthday on July 19th at the Ministry Of Sound. Justin obviously responsible for creating the Ministry, a two year planning process that began in 1989, based on his experiences at Levan`s Paradise Garage. New York will be represented by legends Francois Kevorkian,
 David DePino & Joey Llanos. Noel joining fellow London House heroes Heller & Farley, Jeremy Newall, 

Ricky Morrison and Justin himself.