Interview / Pete Buckenham / On The Corner
Pete Buckenham`s On The Corner Records manages to mix his own East African concerns with the true spirit of Jazz, combining live players with forward thinking production. In his own words mixing "the old, the new and the mental".
Where are you from?
A tiny village called Blackfordby, near the town of Ashby de-la Zouch in the centre of England, known for it's pimp Norman-invaded name, ruined castle, Adrian Mole and Hula Hoops. 
Where are you based?
Mostly South London, SE4 on and off over the last decade, with as much time in the Sahara or East Africa as I can get away with.  
What made you start?
I'd been exploring music in shops for years and somehow during a campaign career in social justice and human rights I was working late and heard Steve Reid's "Daxaar" drop on Gilles' BBC graveyard mid-weeker. I'd been over the border in Mauritania when that album was recorded in 2007 and it sparked some new dreams. I was telling the worst stories born of our lack of humanity on a daily basis, supposedly for strategic campaigning you know, to affect change but unfortunately became more about zeitgeist and fetishized donor fundraising. Jaded by bureaucracy. What Steve and Kieran were doing was genuinely positive, forward thinking and with the greatest of artistry, passion and integrity. 
Can you tell me more about what you were doing in "social justice and human rights"?
Well I studied Anthropology and thought about a career in human Rights. Didn't have the cash for a Masters and wondered what my motivation was for doing it so thought I'd put my intentions to the test. Refugee and migrant rights were under threat in the UK so I spent some time working, providing welfare and educational support, to isolated families from Kosovo here in London. I then spent time at The Refugee Council writing appeals against Government decisions denying asylum seekers subsistence support. I still erred over the elitist and expensive approach via a Masters degree and thought about cycling to Dar es Salaam. I spent a bit of time in the British Library's dusty old map room and started planning a route to see if it was possible. Those maps revealed the border issues in the Western Sahara / Morocco / Algeria / Mauritania that I was ignorant of and decided to pop out there. So I ditched the cycling idea, though I have covered most of that journey overland during various journeys in the decade since. All this led to a campaigns and communications job at Amnesty. Being on the front line of the Urgent Actions was invigorating and I became a pseudo story teller. I didn't realise at the time but that continuous flow of five or six tales of daily horror have an affect. I wanted to tell stories I suppose that were affirming. That's just one dimension…I could natter on about this for yonks. I ended up taking a sabbatical in 2010 to checkout what the contemporary music scenes are like in various cities in Africa and vibing with musicians along the way. I ended up creating a few stories of my own too but that's what happens when you go out there and get involved man.
I intended to travel overland to my friends in Zanzibar via Timbuctu. The intent was to go and listen and catch the festival of the desert at what would of been my second attempt. That Sun Ra quote about "travelling the right road but going the wrong direction" summed up my day-to-day on reflection. I had a head full of peer aspirations that weren't mine, my only prerequisite from the trip was wipe that slate clean and put myself into the unknown, though I've applied that purpose retrospectively. 
Highlights from my year city hopping across Africa include: finally, on the third attempt, making it to Timbuctu though it was just before the City fell to the Sahelian Al Qaida so it was a bit tense and difficult to get away from; DJing regularly for the first time in paradise locations across Zanzibar; vibing for a week with a drumming and dance troupe in Lome, Togo; Garage bands in Nairobi; night clubs in Addis; street culture; Jollof and Shito; and the verbal flair of Accra and the swelling music and film scenes of Ouagadougou and Bobo Dioulasso in Burkina Faso. I ran into a few border issues from time to time, got arrested for murder boarding a flight in Kampala, got dramatically refused re-entry to Mauritania and became a local celebrity in St Louis, Senegal after accidentally imitating the national wrestling hero Balla Gaye. Since that trip I've been focused in particular on returning to the Saharan Pysche sounds of Group Doueh and Group as Salaam and the amazing collaborations happening in East Africa.
 

After an eventful journey I returned and wanted to get started creatively but totally totalled my knee which meant my course was changed with a hop and hobble rather than a sprint. I went back to work, cobbled together a radio show and started to play out on occasion and also started writing music related pieces. I heard emanative's SRF rework and pitched a mental video idea at him. If I remember right I wanted to film his ensemble all kitted out in tinfoil and martian dust as though they were being filmed by the Mars Rover as it lasered rocks and took samples for it's mission… they were to appear in miniature jamming it out from the zapped bits of Mars. That never happened but we hung out as he brought some quality collaborations together for the album of deep jazz covers on behalf of the Steve Reid Foundation that came out on Brownswood. I was also helping Dom Servini with his weekly radio show where my studio juice and Jaffa cake game was strong. I've known Sir Servini a while and he's such a prolific man of music, I've always been inspired by his journeying 5 hr sets too. So yeah, I wanted to make documentaries about music as I love the stories and ended up waxing lyrical at Neal Birney (SoTU / The Carvery / NTS) about Emanative's edits and he posed the question of "why don't you put them out?". I didn't have an answer so here we are backing new music having started a label. Those edits wouldn't of gotten cleared, so were never released. The first 12" on the label came out just as I finished my other job after seven years, and a lengthy lead-in period. That release featured Rocket Number Nine, Collocutor, Jessica Lauren, emanative and Earl Zinger. 
What makes you continue?
I`m a stubborn asshole that doesn't know when to quit. Responsibility to the amazing work of Collocutor primarily. I've brought several of my slightly esoteric interests into the label and it feels right. To continue long-term something has to give financially so I'm working on making it sustainable. I'm open to ideas on this one so don't be shy. Thinking in this way wasn't possible until now so we're grateful to have got this start, I had no intention of running a label just for the sake of it. It turns out that it really is that tough, especially without budget or knowledge of the industry. When confronted with the "it or me" ultimatums that can be thrown into a relationship I'm always going to vie for the "it". I don't do ultimatums. I also have a chip on my shoulder so when running into old cynical industry naysayers claiming it can't be done a certain way I drop anchor. I didn't think I was a promoter until hearing the excuse for one of our first release's not selling being due to "a lack of interest", from that point I became more savvy over what people really knew to be true and what was just covering jaded incompetence or archaic principles and percentages. As these first couple of years rolled on I felt if I backed myself and gave it focus then you never know. I'm glad that we can look at it that way now. I couldn't go through that again.

How would you describe your sound?
As a DJ or a label? As a DJ, lots of tropical grooves though I really like being able to create an atmospheric journey over several channels of disparate sound….not for the dancefloor! For the radio, I think I've got a way of joining my taste for old, new and mental. As a label, I hope listeners hear the connections between the eclectic sounds. Music moving forwards whilst referencing tradition, and as with all quality art there's plenty of risk.

Where is your favourite place to play / party / other?
Any where that people dance and get it. A receptive crowd is invaluable, both when you're starting out, trying something new and not being the most technical DJ it helps. Favourite place generally, argh where ever I am should be the answer. I particularly enjoy the back of dark beat dens, and record shop basements. With all the schlepping around and jumping from gigs it can intrude on my need for hermit time where I could be consuming days on end at home listening and writing. My creative bones draw inspiration from digging into the unknown, and getting immersed in the Sahara as well as basements and isolated days of desk time. It`s a wanky dream to get paid to be yourself, yet as a DJ some of that is possible. The true alchemy is trying to balance it all and staying paid. 
What are you most proud of?
Not quitting, I'm a really good quitter and I've not walked from "The Corner" yet. I hadn't envisioned building something that would get more than a little notice. It's an uphill battle but I do think we've got a start. Being asked to do the cultural side of things is another true blessing; playing at a lady Imam's Birthday Party, convening a Q&A at the ICA, and being part of inspiring and innovative cross-cultural programs like Santuri Safari an Soundthread are a dream. With or without On The Corner, Collocutor will appeal to a wider audience and have creative success. I'm glad to have been this chapter and I'm proud of what we've done as a team in getting here from out of nowhere. I was embarrassingly emotional / proud when Jessica Lauren outed me as an inspiration for the sublime "Kofi Nomaad" at her Naga Five's debut last summer. And just today it dawned on me fully that I'd been involved with Worldwidefm's first week. It was a week of firsts with two new DJ residencies and guesting on a NTS Show so had no time to think about it. There was a Radar Radio show too. I was so busy packing for five hour sets, doing things for the "Versus" release and pre-planning the other radio that I didn't have time to think about the decades spent listening to Worldwide, chasing Straight No Chaser and following a record store trail with post-it notes with track names scribbled during Gilles' show to think about it when Gilles asked me over for a "chat". In today's tiredness and full moon it hit me, very similar to ringing my Mum with my exam results back in the day. 
Can you tell me how you ended up DJing at a lady Imam`s party?
So last summer I started attending these Numbi arts workshops. Being involved with these guys has actually invigorated my activism. For a long time, being a part of the bureaucracy of a BINGO let apathy cripple that energy. Numbi invited me to DJ, loved my stories and music and got me on their bill for events at venues like Rich Mix and I'klectic. It's run by a team of amazing people. Charity and Kinsi really make things happen and bring people together. They publish a magazine called "Scarf" and it looks at diaspora culture, issues and art. It feels like being back at the coalface with real politics, opinions and culture. Kind of like how I imagine Straight No Chaser was back in the day, though obviously with a different focus. I read and used Chaser but was very much a tourist back then. Record stores and the Chaser scene was a solitary, analogue pursuit as I was living in a provincial city out at the Earth's end.
Can you tell me more about Santuri Safari and Soundthread?
 
I met Dave from Santuri out in Zanzibar in 2013. I was back there to cover the music festival Sauti Za Busara and catch up with old friends. Me and Dave met when a Dalla Dalla driver was delivering my Traktor S4 to me in Lukmans canteen in Stonetown. Dave had worked for NI so found the scene incredulous to say the least. He was working for the Tanzanian Heritage Project at the time and so the conversation started from there. Within a year he'd helped to found Santuri and I'd started On the Corner. We've both done our own thing and I've watched on as he has helped connect generations of musicians and artists across several countries in East Africa, amazing work. He approached me about releasing some material from the sessions they've recorded out in East Africa. So far the array of musicians involved from the region has been inspiring and they've involved the right heads from Europe and South Africa too. Check the Nile Project or the Santuri website and social to get an idea. Jesse Hackett, Esa and of course Sam from Soundthread have brought a lot to the projects. I met Sam just a few months ago and again he's making some dream projects come about in the right way. Check Soundthread for more details and of course the On the Corner Facebook (website coming soon) to stay on top of the projects. I'm excited to be working around such engaged and invigorated peers.  Which, fingers crossed a collaboration between us will be reaching ears and hitting shelves in the summer.
Soundthread blurb:
"SoundThread is a non-profit cultural and creative economy development organisation working within emerging music markets globally. They believe music to be one of the most powerful expressions of culture and exist to provide opportunities for young creative communities to benefit from their musical and cultural wealth. They develop and implement creative industry capacity building projects to directly benefit young emerging talent. These programs provide opportunities that build cultural infrastructure through facilitating skills exchange programs. They encourage cultural business innovation and entrepreneurialism and identify sustainable routes to employment. They partner with public and education sectors and governmental departments. They design and deliver grassroots bespoke programs, which are locally market relevant, that focus on building on what is already growing by working with a network of industry specialist stakeholders."
 
Santuri:
"Santuri Safari is a network of DJs, musicians, producers and cultural activists with a vision to create a contemporary underground East African sound. Recognising, but not limited to, the emerging House sound and DJ culture in the region, Santuri creates innovate recording collaborations that mix the traditional with the cutting edge. Existing in a spirit of open exploration and artistic freedom, and working with festivals across the region, the project builds recording studios, cuts tracks and presents them via showcase DJ events and parties. Santuri Safari editions have already hit Zanzibar (Sauti za Busara 2014) Uganda (DoaDoa festival) and will soon touch down in Kenya. Stay tuned for record releases, Santuri Society parties, festival workshops, production courses and more. Santuri Safari has so far worked with: Saint Evo The Myth, Lulo Café, Wumni, Ambrose Akwabi, Esa Williams, Tendwa, H The DJ, Dark Meme, OY, On the Corner, Gebruder Teichmann, Haja Madacasgar, SoundThread, DJ Rachel, DJ Ivo, Joy Floetic, and many more."
Who are you working with?
Bloody talented people. That thing about being the dumbest ass in the room is true. I've belligerently given something a go and my obstinate work has been picked up and weaved into something better than I could dream of on my own. There's the core On the Corner team now of J-Buck (esteemed DJ) Andrea Galaxy (Brains), Tamar Collocutor and Victoria Topping (Talented Aces) and myself, then there's the artists we're supporting: Collocutor, Magnus P.Y., Byron Biroli, Black Classical, Daisho, and all the remix producers and DJs that we've fluid relationships with to our precious supporters at radio stations and in shops. The headz are a big part of it, I came into this by being a part of the unique Wah Wah 45s family. I've been hanging around with (Dom) Servini for years. I've never had a formal role, except for nine months assisting with his radio show. I loiter with intent at his office whenever the North / South trek can be punctuated with a gig. I am proud that OtC is growing due to its supporters. This, like a lot of that we're trying to do has been organic. It's not something you can engineer. I react to opportunities with strategies as they arise but integrity is really important and you never know when the next opportunity may come or what it will be. Luckily we've had a few. Here's hoping they keep coming. If the integrity goes then it's time to learn from the mistakes and move on. I really appreciate people telling me that they aren't getting certain sounds…. most of "us" are on an adventure and it's good to keep perspective, understand how we got here and bring people with us.  
Victoria Topping has taken the divergent strands of tentatively related On the Corner sounds and art and brought it to life. That's a common theme we're blessed with. Frank at The Carvery takes tracks, hears the vibe and quietly breathes life into them. Chris Menist from Paradise Bangkok, what a dude man. I was making it up as I went along and he listened to me clutching at unknowns and pointed me in the right direction. J-Buck and Andrea are the core team at On The Corner and Tamar has continued to trust me with her works of art. Otha Buck (J-Buck) has usurped me with his recent mix for OtC, he's a brilliant DJ. He got what I'm trying to do with the vibe and then cooked something up of his own and delivered it seamlessly. He's raised the bar and I need that push as my focus can drift towards the next thing, I do the same with writing and editing, my cardinal zest doesn't like endings. We are in the initial stages with Magnus Mehta and some truly humbling artists; Collocutor, iZem, Ishmael, Contours, Black Classical all the headz on the "Versus" 12, Group as Salaam, Al Dobson Jr, Petwo Evans, FYI Chris, BodyMoves, Santuri and a distant promise from a couple of heritage projects too.
What are your plans for 2016?
"Versus" is up first. We're aiming for a Collocutor album, a few cassettes and 12s, Daisho debut, Magnus P.Y. and pushing on with Group as Salaam, watch this space… 
Favourite book?
Alice in Wonderland, The Little Prince, If This Is A Man, Allah Is Not Obliged, Silas Marner, Heart Of Darkness, Underworld, Crime and Punishment, Coming Through Slaughter, Utopia, Down and out in London and Paris, The Outsider, Sabbath's Theatre, Thursbitch, In The Shadow Of The Sun, Midnight In The Garden Of Good And Evil, Lucky Jim, Junky, Kindred, Waiting For The Wild Beasts To Vote, Leaves Of Grass, Huckleberry Finn… i've probably missed a shed load.


Favourite film?
La Haine, The Third Man, China Town, American Werewolf in London, Withnail and I, Laurence of Arabia, The Saragossa Manuscript, various Woody Allen, Requiem For A Dream, Life Of Brian,  Cache, Beasts Of The Southern Wilds, Woman Of The Dunes, The Big Lebowski, The Conformist, The Passenger, Loneliness Of The Long Distance Runner, Knife In The Water, On The Waterfront, American Movie, Battle For Algiers, Society.
Our Sound / Key Influences?
Steve Reid, Jessica Lauren, Colman Brothers, Helios, Arthur Russell, Group Doueh, Owiny Sigoma Band, Dollar Brand, Barney Willen, Miles Davis, Ali Farka Toure, Fela Kuti, Theo Parrish, Firecracker Records, Gilles, Ninja Tune, Straight No Chaser


Current Listening?
Doug Hream Blunt, Brian Ellis, Cara Stacey, Nat Birchall, Saul Williams, Auntie Flo, Sarah Williams White, Kate Tempest, Dur Dur band, tisDass, Group Doueh, Fatima Al Quidira, Dele Sosimi, Renegades of Jazz, Sons of Kemet, Owiny Sigoma Band, Miles Davis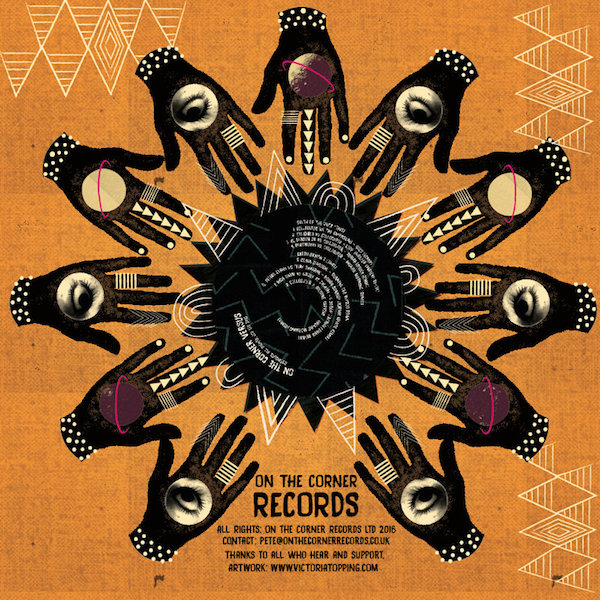 The "Versus" E.P. featuring contributions from Collocutor, Emanative, Al Dobson Jr., Black Classical, FYI Chris, Richard Thair, Group as Salaam, The Expansions, BodyMoves and Fiium Shaarrk is out now. You can order a copy directly from On The Corner`s bandcamp.