Noel Watson / Interview / Part 2 / Peak Delirium!
I guess the dominating theme for "Part Two" is gonna be the switch in music policy from Hip Hop to House, but before we get going on that, I have a question that I forgot to ask last time. Did you know Matt and Jonathan from Coldcut? Were they active as DJs in the Substation days? Were they Substation or Battlebridge regulars?
Yes, I knew Jonathan well back in the early 80's. We'd hang out together, and Jonathan was also involved in the Shows for Comme Des Garcon. I think he sound-tracked their shows in New York, and he was a regular at the Rosebery Avenue Speakeasy's and all the underground nights, plus a constant face at Delirium!. He was a quiet type, but serious about his music, and played out at many of the fashionable one off nights that happened in central London. I recently met his partner, Matt, at a friends party. He's a nice guy, but I don't think he was part of that scene, he's kinda cut from a different cloth. I have nothing but respect for them. What they've achieved with Ninja Tune is amazing.
You started mixing House with the Hip Hop and Disco at The Astoria, and it was infamously badly received, with a cage built around the DJ booth to deflect the flying bottles. What made you stick at it? I do find it really interesting that there were these little pockets of people, in the capital at least, who were total converts, evangelical about bringing this music to the masses. You and Maurice, Mark Moore & Baby Ford, Colin Faver & Eddie Richards, Bang The Party. Why, when it would have been easier to keep giving the people what they wanted?
Well, Maurice had met a girl in New York through the Comme Des Garcons shows, so he was going back and forward to New York and buying records, and he'd been the first to turn me onto House. He'd already started only playing classic Disco records at the Delirium! nights at the Astoria. He'd drop the odd Hip Hop track, usually because he'd brought them back over from New York and nobody had heard them in the UK before. Just Ice`s "Cold Gettin' Dumb" is a perfect example, but after BATTLEBRIDGE Maurice suddenly wanted to only play Disco, things like MFSB and tracks like Sylvester's "Over And Over" and 'Bad Luck" by Harold Melvin and The Blue Notes. Big tunes that he was hearing Larry Levan play at the Paradise Garage, where he would go constantly whilst in New York. These records at that time, in London, were very unfashionable. Very few DJs at that time had the balls to drop music like this, especially as we had 2000 kids in there. Remember all these kids where coming to the Astoria on a Saturday night to hear Public Enemy playing live, or Schooly D, and suddenly my brother`s hitting them with out and out Disco which, for some of them, was too much to take, they thought of it as 'Gay" music and they did get vexed. I'd usually be the one to come on and placate them with a cut-up of Hip Hop breaks, but Maurice was like "fuck them"… and then Boom!..he heard House…that was it…He loved the Gay overtones of the music, and Hip Hop for him was dying. House was a new genre of dance music that was so fresh and innovative we had to play it. House was like space age music, with weird drugged out vocals. "Bring Down The Walls" by Robert Owens. Uplifting soulful vocals too, mixed with the harder House beats. Because in it's earliest forms a lot of the house producers made records inspired by the classic Disco that they danced to at clubs like the Garage, and the loops that DJs like Ron Hardy and Frankie Knuckles were dropping in Chicago live on reels. I saw Frankie Knuckles play the most amazing all-night set at The World in New York around the late eighties and nearly all of it was coming off of reels, loops. It was amazing.
So this was the future, and London needed a change to try and get away from the stagnant Rare Groove / Hip Hop scene, which at that point me and Maurice disliked. The Rare Groove scene had sucked all the urgency and energy away from the early Warehouse Scene. It was boring, and so we then tried to create a night with an atmosphere that was more akin to New York, where the focus was on House and Disco. That's why we moved Delirium! to Heaven, to a completely new environment, and off course it was a gay club, period. At that point, we were one of the first to see if bringing a straight-ish club crowd into a gay environment to complement the music would create something different. Of course it did, and we then started seeing people like the Ramplings at our nights, and the kids who would then go on to create Spectrum and Land of Oz. I'd just like to add that there was quite a seismic shift in London's Club culture at this point. You either stuck with the Rare Groovers, or you followed the likes of ourselves and the like minded DJs you've mentioned, especially the Bang The Party boys, into a new world. A lot of the so-called big "House" DJs" and people who now see themselves as some sort of House godfathers weren't even there at that point. They stuck with their Rare Groove. I'm not going to be negative or get down on people for it, because its the past, but it wasn't as simple a transition as how certain people and the media now describe it. It took time. The clubs I've mentioned like Land of Oz, etc., wouldn't have happened if we hadn't curated the Delirium! nights at Heaven, and changed the music policy to House. Paul Oakenfold held his nights at Heaven after we'd left, and basically the crowd and vibes we'd built morphed into the Acid House scene he inherited, but we created the House nights first, in a sense giving birth to them, and then they went out into the world on their own two feet!…It was a great time, and Paul, Danny, Trevor Fung, Terry and the Boy`s Own crew took it to a whole new level, and the rest as they say is history.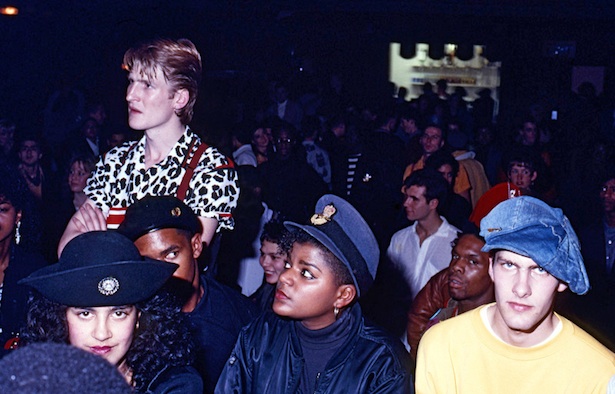 Do any other London-based DJs need to be added to this list?
Yes, obviously a lot of the smaller underground nights around the capital had begun to incorporate House into their nights, but it was such a small scene. To be honest at that point only a handful of DJs were playing House, but the likes of Jay Strongman, Dave Dorrell, Ben and Andy from the Boilerhouse, as well as the people you`ve mentioned, were all on it.
For you, yourself it was quite a change from a very combative music, all about battling, to something that generally focused on love and called for understanding and tolerance.
Yes, that's true, I loved Hip Hop and the funky breaks that we'd spent years hunting down in record stores all over the world. The emergence of House did change things. Perhaps that's why so many DJ's at that point wouldn't accept it. Suddenly it was all about having the latest import record coming from Chicago, and Todd Terry and the New York producers were also creating and honing new genres within House itself, so the focus on having rare old Soul and Funk records became obsolete at that point, for us anyway, but that was great, because it brought in the new. New people, new DJs, new fashions, and the vibe we'd try to create was about everyone dancing together, getting high, being peaceful and loving towards each other. There wasn't much trouble to be honest ever at Delirium!, but there was sometimes an underlying atmosphere at Hip Hop and even Rare Groove nights which made one sometimes feel uneasy and uncomfortable, and that shouldn't happen when you're at a nightclub. You're there to enjoy yourself and let go. Aggressive people spoil any enjoyable experience, so it was great to move away from that and see a new energy come into the clubbing scene.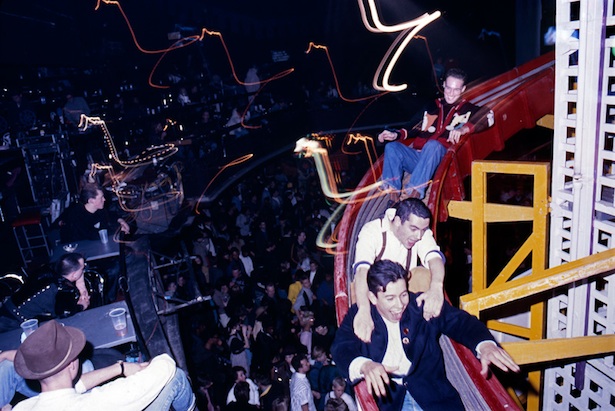 If Maurice converted you to House, where would Maurice`s conversion taken place?
His conversion had taken place in New York, clubs like Area and the Dance Factory, MK and The Limelight. They were all playing some form of House. Plus of course the Paradise Garage. Maurice became obsessed with Levan and how the roots of classic Disco and Gay culture had re-invented themselves and along had come this new music…Acid House, Techno. I remember playing Derrick May`s "Strings Of Life" at Heaven, and the feeling in the room was extraordinary. The crowd loved it. And then we started seeing the effects the drugs were beginning to play, as things progressed…
What brought about the audience`s change in attitude? Was it all down to ecstasy?
I wouldn't say it was all down to ecstasy, though ecstasy was the catalyst and without that drug there's no way the whole Acid House scene would have happened. Drugs have always been a major part of any musical revolution. In the `50s with Jazz it was pot and heroin, the `60s acid, the `70s cocaine, and in the `80s ecstasy. It was a natural progression. The drug complemented the music. People were completely changing their personalities and becoming a lot more tolerant and accepting of different types of people. You know, it took me a while to get with this. To me this new influx of sweaty little South London and suburban kids dressed in smiley baggy T-shirts and dungarees wasn't particularity my cup of tea!…I was a Soho / West London boy. I loved my Comme Des Garcon, Yohji Yamamoto, and I was choosy about who we'd let into our nights. Some of these people were former thugs and casuals, and I didn't like them, I have to be honest. But then it progressed and took on a life of its own. I think that's why Boy`s Own became so important within this scene at that time. They honed it into a movement, giving it style and substance. They also moved it forward, bringing in different flavours, with Italo House, slower beats, Balearic Beat, and I loved that too. It was innovative. The London DJs and producers had taken what was an American music invention and made it British, their own, because it's important to create and develop a scene and movement. Without that it'll die.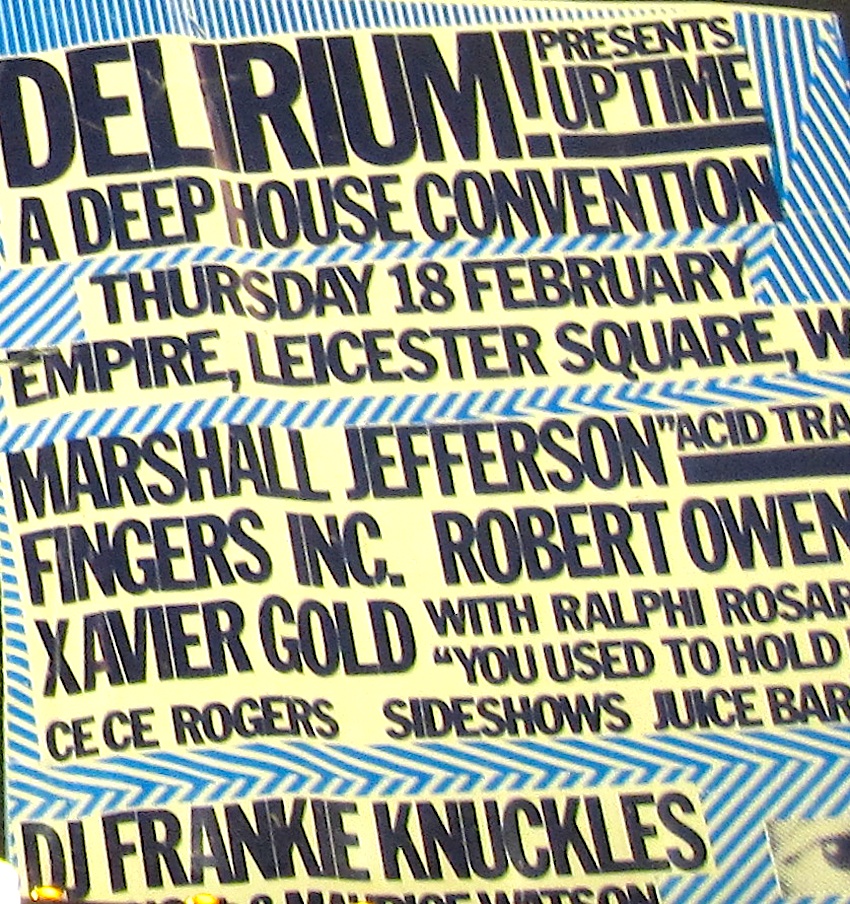 You had a lot of House acts guest at The Astoria in the end; Darryl Pandy, Fingers Inc, Adonis, Marshall Jefferson. How did you make those connections, since up until this point your US contact was mainly New York?
Robin King, the man responsible for creating and starting Delirium!, had worked at St Martins Art College and had already hosted club nights and events for the students there in-house. Robin loved the whole House movement, he totally embraced it. He had a good network of contacts and so booking these people was easy. They also desperately wanted exposure, and the chance to come and hang out in London. Robin had also designed some sleeves for the early House releases on the UK arm of Trax. Also Maurice had helped set up Black Market Records whilst working in New York. He'd even gone to visit Chicago to license tracks for Rene Gelston (founder of Black Market Records) and to explore the Jacking scene there. But it was hairy. He was chased and threatened in places because he was a skinny white boy. But that's how it all happened. Plus we had a good PR man in Patrick Lilley. So it all just fell into place.
Why did you move Delirium to Heaven in `87? Was it simply a capacity thing?
Okay, this is the truth. We had 2000, or whatever the capacity was, people in the Astoria every Saturday night. We'd turn about 500 people away. The club was packed. A fortune was being made at the door. In those days people actually paid to get into clubs!…There was a lot of tension between all of us involved in the club. Maurice felt we weren't being paid a fair share. He didn't like Nick Truelocke, Robin's then main partner, and we realized as DJs and helping to create such an important vibe we were being ripped off. Then, just as all this was beginning to ruin our relationships within the group, we were summoned to the manager`s office for an afternoon meeting. When we all arrived and sat down we were told by the Astoria's manager that there were too many Black people coming to the club, and in his words "They don't spend any money behind the bar. They all drink fucking Ribena. We want them out"…After hearing this me and Maurice told Robin we wanted to leave, we didn't want to be associated with, or help put money into the pockets of scum like this. We were disgusted. It was so vile and racist. So, Robin and I also decided we'd had enough of certain people within our group taking all the money and making no effort with the club. We dumped nearly all of them and me and him took over Heaven on our own. At this point Maurice quit London and moved to New York permanently.
Why on a Thursday night?
Well, Heaven was a top gay venue then, rammed every Friday and Saturday with a 100% gay crowd. Thursday was the only real decent night available, but we also thought it would be a good way to kind of get rid of unwanted weekend bridge and tunnel-ers who'd come on Saturdays to the Astoria. They were the types who were complaining about the music not being commercial enough, and not Hip Hop enough towards the end. So in order to re-invent the night, and attract a new crowd with a different attitude, we chose Thursdays. It was tough though. We had to guarantee to the terms set out by Heavens` management, and they insisted that the bars must take £3000 on the night, plus we'd paid £1500 to book the night, plus paying all our DJs, staff and helpers. Many nights Robin and I went home with nothing…We put all our money back into the club. It was a labour of love, but it was worth it. We had some amazing nights in there. We brought over DJs like Derrick May, Jellybean Benitez, Frankie Knuckles. DJs who had never played in London before. We put Afrika Bambaataa and other Hip Hop DJs like Cash Money in the upstairs Star Bar, which was quite a gay area of the club still at this point, and it was all a bit surreal, but it worked. During the early part of the night as the crowd used to come in I'd play old Tony Humphries and Merlin Bobb Kiss FM NY radio shows off cassettes, adverts and all, as a warm up rather than a support DJ, to create that New York club / Disco vibe, and give the punters a taste of what was to come.
The main room at Heaven was only House, while the other room was Hip Hop. Who else did you have DJ in the Hip Hip room? What alternatives were there for people looking for a Hip Hip night out at this time? Were you still listening to Hip Hop and checking out Hip Hop clubs?
To be honest I can't remember too many of the Hip Hop DJs who played in that room. As well as Bambaataa, Cash Money, we had the B Boys crew from Vintertainment, Rob Base, and there were others who would also play, Rachel Auburn and some of her friends. I'd do it a lot while our guest would be on downstairs sometimes, because, yes I still listened to Hip Hop, and I'd go out to the Wag Club a lot during the week, or Limelight on Shaftsbury Avenue, and most of the DJs at those clubs played Funk, Hip Hop and classics. The Language Lab in Soho was one of the best clubs in London for Hip Hop at that point. It had a trendy West London crowd as it was run by Tom Dixon and some of the Funkapolitan crew. There was actually a really good night on most places during the week, where you still heard a good mix of music, much better than now. I don't think many young kids in London go to Hip Hop nights per se these days, because of the negative vibe it has, and the fact the artform has been obliterated by American commercial bullshit. Though in saying that my son loves Odd Future and Tyler The Creator. They excite me too, though I don't like the homophobic aspect. So my boy`s already on to the cool stuff, and I love Madlib and Flying Lotus. Still innovative and fresh.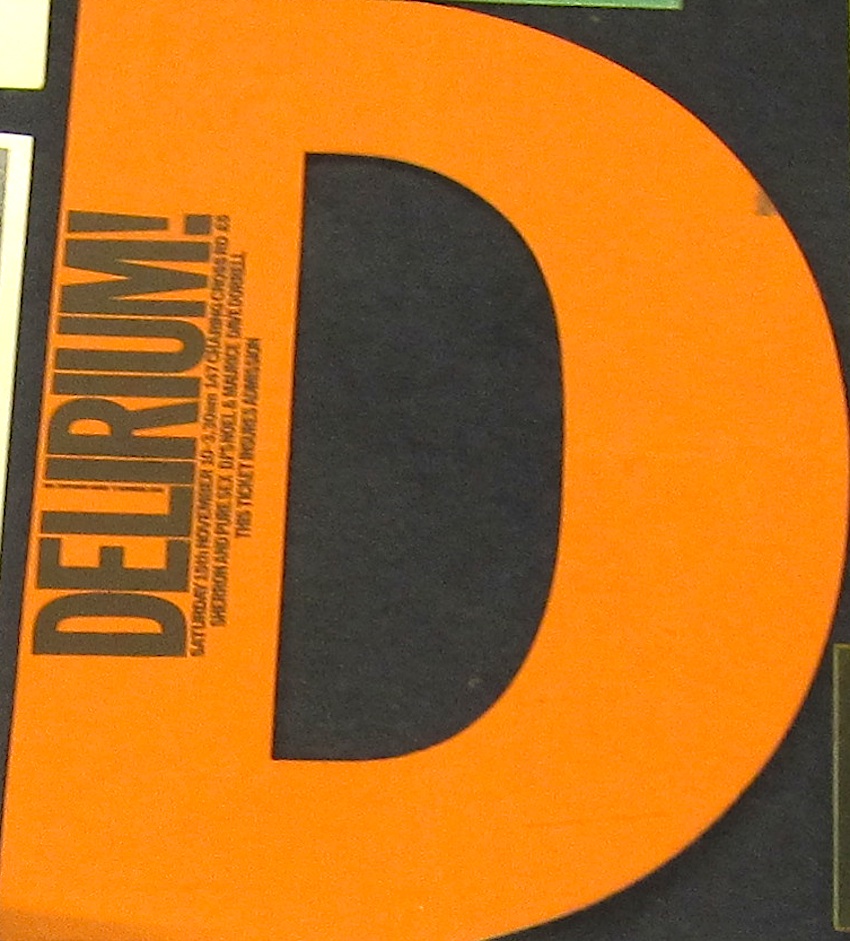 Maurice moved to New York in `86, so were you playing to the main room at Heaven all night on your own? If so, how on earth did you manage to keep the level of mixing, as demonstrated on the mix you`ve made for us, up, and how many records would you get through in a night?
Well, at that point DJing was my main love, and having been part of a team with Maurice, it was nice to be able to play for four hours or so on my own and take the crowd on a journey. I still believe that sometimes it's good to just hear someone really dig deep into their soul and play music that they think you're going to love, and to build it gradually, like a drug. In those days remember we, DJs, had records that you could only hear if you came to our nights and we played them. There was no internet!… The whole UK tendency to have 20 DJs a night, or something ridiculous like that, and each of them then coming on and playing their "bestest hardest tracks" to compete with whoever's just come off, it's shit. I hated all that. We had a studio set up at home, with four Technic turntables, and I'd practise all my mixes, get to know what worked with what, what pitches were best together. After Delirium! I worked during the day in Black Market Records in Soho. I'd be the guy behind the decks all day dealing the clientele their tunes. I could mix anything. I basically had all day to practice in that shop, and then most evenings off somewhere as a guest DJ, and I would play my allotted 1 or 2 hour set, and I'm not complaining, it was incredible, but I was happiest behind the turntables at Heaven and able to do what I wanted for as long as I wanted. Record wise, everything was on vinyl, so we had to carry huge boxes. I'd bring at least 500 records. My back`s still bad because of it, but that's how it was then, and as I said earlier I'd play American Radio cassette tapes of Kiss and WBLS to get the night started. The sound system in Heaven was also amazing. I think it was a Richard Long System. One of the best in London.
Were you still trying to out do the competition as far as finding records nobody else had is concerned? Where were you getting your House from?
Yes, I was very competitive. I was going back and forward still quite a bit to New York. Back then it was difficult to find a lot of the House 12″s in the UK, especially original undamaged copies. As the House scene started breaking and getting bigger and bigger lots of shops started selling and bringing in imports; Bluebird, Catch A Groove, and little independent shops hidden away in basements, like Quaff. These places all started selling House imports, but to be honest we still spent a lot of our time and money buying our records from shops in New York. They were so much cheaper. You could buy two copies for less than the price of one here in the UK, and they were easier to get despite the fact you'd have to jump on a plane.
A lot of the records on the mix that accompanies this interview are now considered classics, but were you the first to get copies in London at the time?
Well, among the first, cause Maurice was a very avid collector, and it was important if we were playing the bigger and essentially coolest clubs and parties to have the records. Also for me working from around 1988 to 1990 in Black Market meant I had access to all the newest and best promos first. I dealt out all the music to DJs from that shop, so I had to make sure I had copies first, and played them first. Back then having unreleased promos from record companies and PR companies was really important and essential, because in those days you couldn't go download or Shazam a DJs set, so people only heard the tunes if they were part of your set. DJs were highly competitive over these promo 12″s…They gave you the advantage and the edge.
If tapes of Flash, Afrika Islam, Jazzy Jay and Red Alert influenced your Hip Hop DJing, who would have been your influences when it came to House?
My influences were Ron Hardy, Tony Humphries, Todd Terry, Masters at Work, Merlin Bob. Frankie Knuckles also had a huge impact as I said earlier. Playing alongside him for 6-8 weeks really influenced me, but there were many other New York DJs who I really admired. Jellybean Benitez for example. I didn't get into Junior Vasquez or David Morales though, they kinda came after all this. I visited the Sound Factory and it was amazing, but the real influences for me were before `88, `89. The first wave of NYC DJs.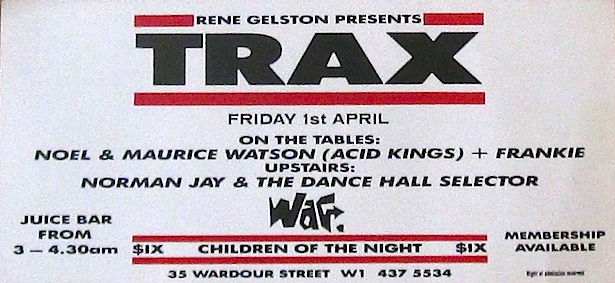 Were you DJing anywhere other than Delirium at this time?
Yes, we played everywhere, or I did anyways. I did the Westworld parties at Brixton Academy for Graham Ball, the Metamorphosis events for Spencer Style, Grey Organization events, TRAX at The Wag, Tuesday nights at The Limelight on Shaftsbury Avenue, Solaris at Grays Inn road with Harvey, etc. Loads of different nights all across the country.
Oakenfold and Rampling were at Delirium!. Were Shoom and Future running in parallel to Delirium! at Heaven?
No, they started after we had nearly left Heaven, or just as we were moving on…I think Paul took over our Thursday night spot at Heaven, and I remember Jenny Rampling coming asking us to play at Shoom one night when I was DJing at Heaven. They'd just started their club, they were on it though. It was all exploding at the time. Ecstasy had really begun to hit the scene big time and the kids were looking to go out and hear House music as much as possible, especially Paul and Danny's crowd. They had created a new underground movement combining their love of Ibiza's Balearic scene and the newly discovered American House sound. It really was a great time in clubland's history.
What would have been the other key House parties at this time?
Rene Gelston's TRAX night was good at the Wag, the Bang The Party nights, and the beginnings of House one-offs down in Clink Street, where it was a bit rougher and sleazier. Pyramid at Heaven with Mark Moore and Colin Favor, Philip Salon's Opera House Nights with Fat Tony, Spike and Neville's MFI nights at Legends. These were all nights and events where House was being played and gradually taking the music away from the Rare Groove and Funk, to Disco and House.