Paul Murphy / Bison At Innerspace
Paul, can you remind me how you met Holger?
I went to see him at the Roundhouse in Camden in 2009 and it all started from there.
How did you end up releasing his back catalogue on Claremont 56?
When he performed at the Roundhouse, he played 5 minutes of "Ode To Perfume" that was cut from the original release as EMI thought it was too long. It sounded incredible and I knew I had to release it, so I emailed him to see what he thought. He sent me the email address of his record label at the time and 3 months later they told me they no longer carried his catalogue. I approached him again and he put me on to his partner Ursa, who grilled me for 45 minutes on the phone about my intentions. I was honest and explained that I didn't think it would make them much money, but that it would be a quality release, with good album artwork and she said OK.
The release went pretty well and we started to form a trusting relationship in which she drip fed me one record at a time to see how it went. I think they were happy that finally someone wasn't in it to just make money out of Holger and as an artist, Ursa was happy that we could talk about how the projects would look.
How did you progress to working with him?
As our relationship grew, I suggested that we could maybe do a track together and Ben and I had been working on some ideas that didn't quite fit the Smith & Mudd bracket. We sent a track over to him and he was keen to work on it, that's when "Way To LA" was born.
Why did the LP take four years?
Ben and I both have other commitments and rarely get to see each other these days. Holger is pretty busy himself and lives in another country, he doesn't like to rush anything and has been sitting on two completed solo albums since 2003. So I knew it would take a while. We were also struggling with the last couple of tracks, maybe because we had just listened to them too much and it was only when we got Conrad on board to work on the "Night" mixes, which we were really happy with, that we finally realised what we needed to do to finish the original tracks we had created.
I am surprised that Holger let someone else mix the album.
Holger stood back from the mixing as that was my job. Ben and I were a bit stuck on a few tracks and asked Conrad, who we both admire, to step in. Conrad introduced me to Holger's sound originally and so it felt right to include him in the album. The inspiration we took from Conrad's "Night" mixes enabled us to finish our "Day" ones.
How many times did you visit Innerspace?
Twice, once with Ben and once with Conrad.
Where is it?
It's in a very small village, 40 minutes drive from Cologne.
What were your first impressions?
I was completely blown away and some. I can honestly say that I've never seen, or will do again in my life, anything of that nature. It's almost indescribable. You have some of the photos, but they can't convey the feeling of the place. It's very calming and spiritual.
What is Holger`s home like?
Holger lives in the studio, but also has a flat above where Jaki Liebezeit lived, which is where I stay.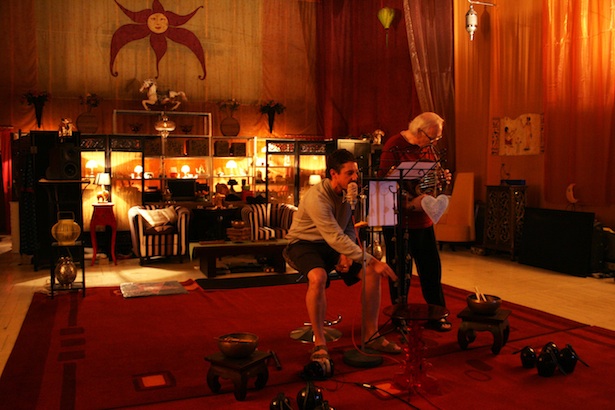 What was Holger like to work with?
He is very inspirational. For example, I was about to record some acoustic guitar and I told him I wasn't very good, but he said that it is impossible to make any mistakes and that everything you play has a value. I think you can hear that in Holger's music, some of it doesn't make sense or it's not in the right key, but it works. The most magical moment was when we pressed record and Ben, Holger and I jammed on different instruments for 18 minutes. This, as yet, has never developed into a track, but he said to us both that was how CAN used to do it and Ursa later told me it made him very happy, as he hadn't done anything like it for a long time.
How did the collaboration work? How did it develop?
I was very nervous at the airport before our first visit and worried about how it would go, but as soon as Holger saw us at the airport he gave us both a huge hug and all the nerves disappeared. He made us both feel very comfortable and it felt like we became friends instantly, so the music flowed naturally.
Were tracks composed in the studio, or did you have stuff mapped out beforehand?
Apart from what we recorded at the Innerspace, the majority of the music comes from Ben and I, which we send on to Holger. They then record the vocals and the odd instrument and send it back. We started every track in either mine or Ben's studio.
Did you and Holger play each other other artists music for inspiration?
No, he must have his inspirations but likes to just see what happens rather that plan anything. It's a good way of working. From us, we didn't want it to sound like anybody else but Holger.
The thing it reminds me of most is The Doors. The "L.A. Woman" and "An American Prayer" LPs.
That's my fault… whenever Ben and I get together and he's on the keys, I say "make it sound more Doors'y". Ray Manzarek is a huge inspiration to me.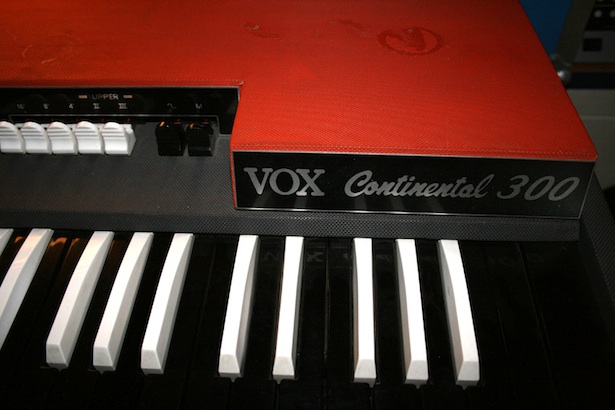 Who is the male voice on "Way To L.A."?
It's an American guy called Drew. He contacted Holger, much like I did and made music with him that hasn't been released yet. Ursa tells me it's very dark and that I wouldn't like it.
Is there a narrative to the record? It feels like it wants to tell a story.
They mostly are stories of Ursa and Holgers' past. For example, "New Moon Boy" is about a park that they both used to take a walk in at midnight, which I'm told was pretty rough. Even the police were scared to go in.
What kind of hours were you recording in?
In the Innerspace studios you're not really aware of what time of day it is, so we worked right through. We often ate dinner at 2 A.M.
What did you do when you weren`t recording?
Ben and I would generally be in the pub next door or getting the recordings sorted in the flat upstairs. They told us that we were not to spend any money and gave us €100 each to spend on whatever we wanted. They're like very kind grandparents. On the second trip Conrad and I tidied up their garden and did some housekeeping.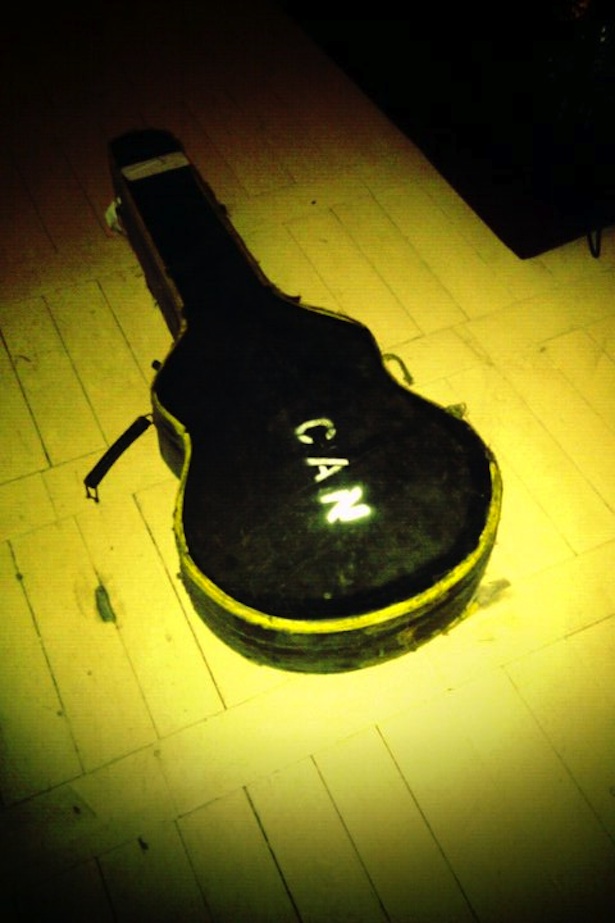 Was Holger full of stories?
Yes, from the word go. He told Ben and I pretty much his whole life story, starting in the car from the airport to the studio and then this continued on through the whole visit. He's led a pretty crazy life.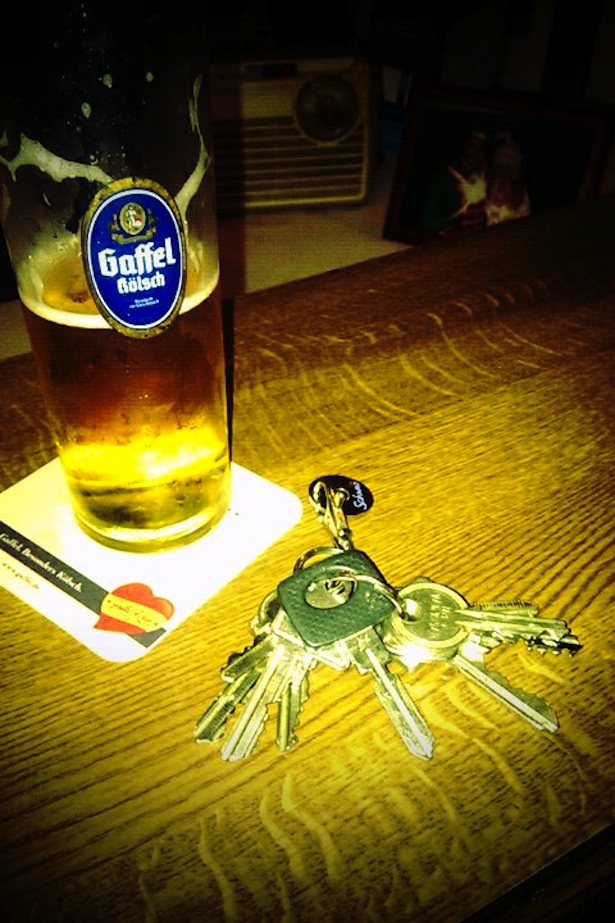 There`s a photograph of a glass of beer. In Jah Wobble`s autobiography he mentions that Holger is wary of beer drinkers, associates them with hooligans and trouble. Has he relaxed this stance?
I think so, but we didn't drink any beer in front of him, just lots of very nice wine and whiskey.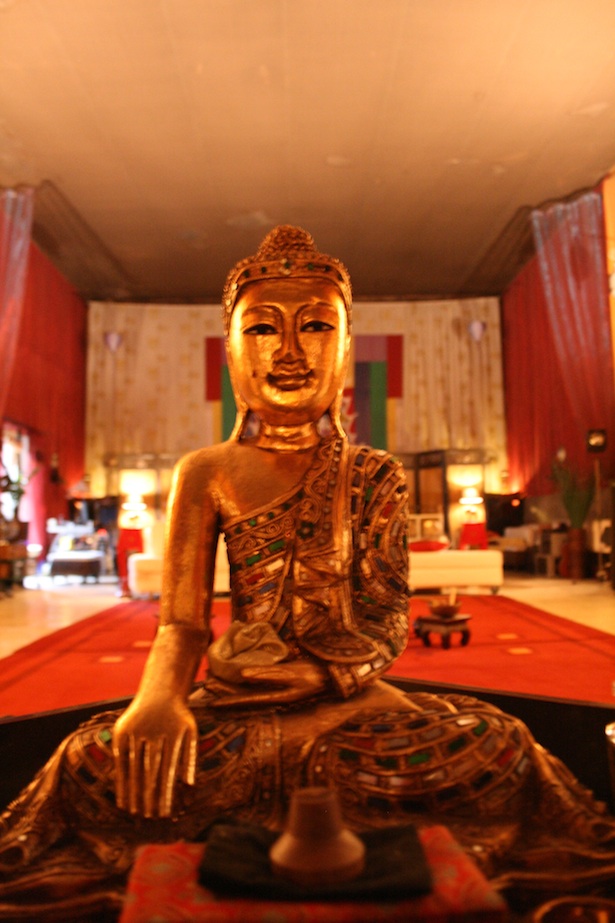 There are a lot of Eastern deities around Innerspace. Do these reflect Holger and Ursa`s beliefs? If so, do you know how they got into Eastern religions / philosophies?
Yes, Holger travelled around the world a lot with CAN and found inspirations in the Eastern countries, especially Japan where they adore him. A Buddhist monk drew him a symbol that represents him and if you look closely on the records you'll find it. I read somewhere that "Canaxis" became the first world-music crossover recording.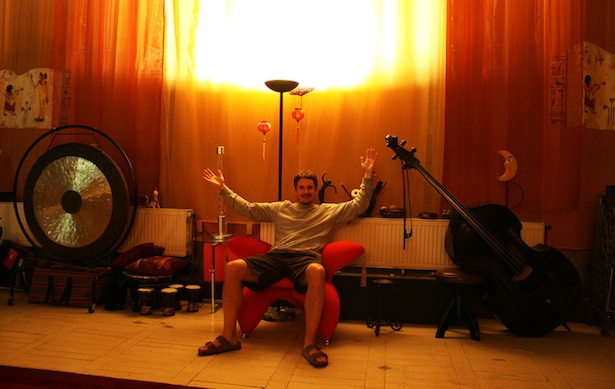 There are quite a few photos of you and Ben posing in a red chair, almost like kids on a headmaster`s seat when he is out of the room. Is there a story about this chair?
Not really, it was just a funny chair which was begging us to sit on it and make stupid poses.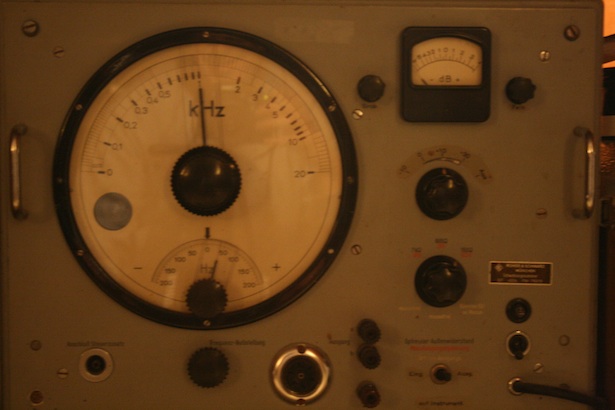 What kind of recording equipment is in Innerspace? Is it all analogue?
He doesn't have a lot there anymore, so it's pretty minimal. If you walk round the place though, you'll find keyboards given to him by Conny Plank, Wolfgang Maus's guitar and all sorts of weird and wonderful percussion instruments he has collected over his life. He has four monitors pointing into the centre of the space and he told me that if you stand in the middle and walk to each speaker slowly you can spot mistakes in the levels of instruments.
Holger`s solo work was characterised by the use of shortwave radio. Does he still use this in his compositions?
The one on the album "Full Circle" is still at Innerspace, but I think it's more of a decoration now.
Also on recordings such as "On The Way To The Peak Of Normal" he would record guitars at half speed and then speed them up to get "alien" tones. Does he still employ such playfulness / inventiveness?
We didn't do anything like that when we recorded, but he works in a very natural way, so I guess if he felt that was what was required at the time, he would've still done it.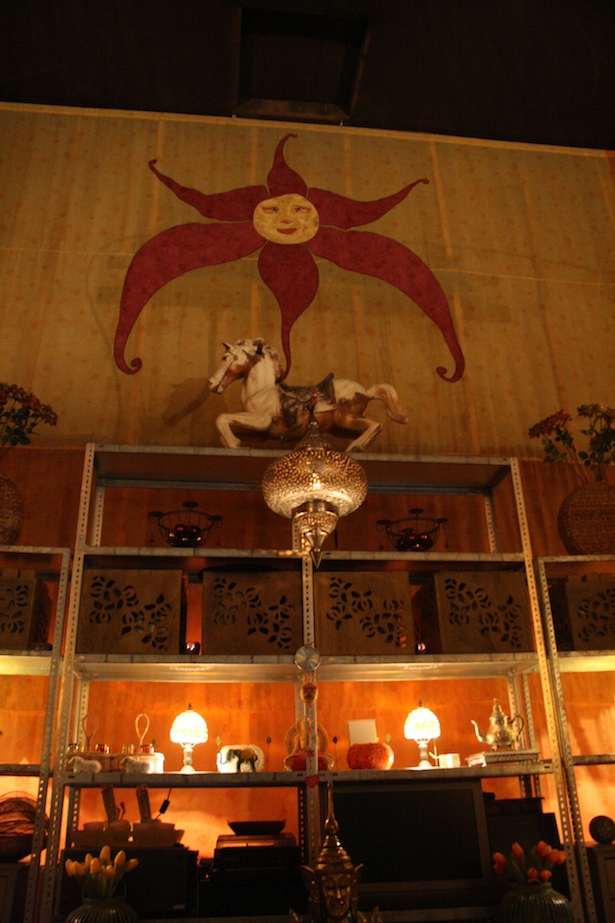 The studio looks like a magical place. Is there a story behind the "star / flower"? It looks similar to the one on the cover of "Hit Hit Flop Flop".
I don't know actually, Ursa made it when she decorated the place. I know it means a lot to him though. I should ask.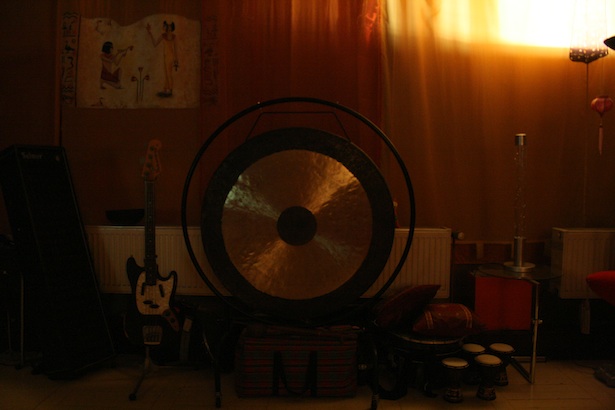 How about the gong? Where did Holger find it? Did you use it on any of the Bison tracks?
We used it on the track where we jammed for 18 minutes but, I'm not sure where it originated from. It sounds immense and really adds to the ambience of the studio, almost like a background "Om". If I had room, I'd own one myself.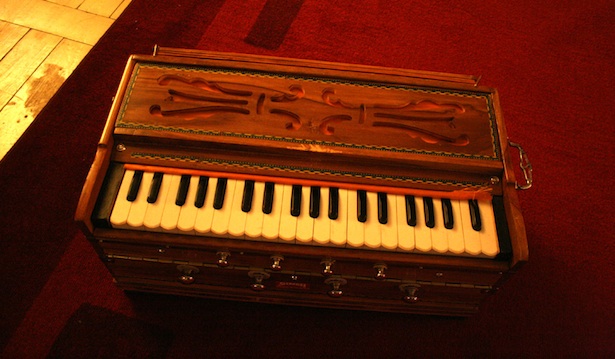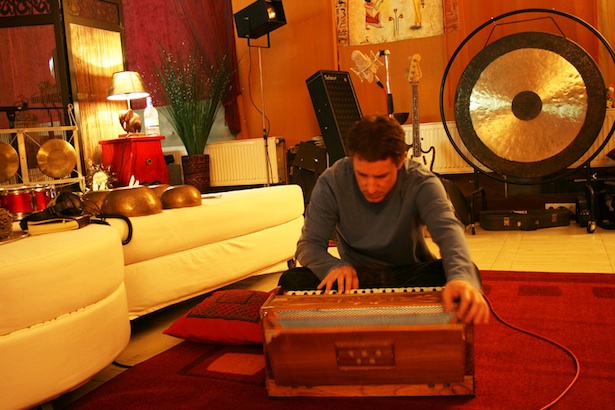 What`s in the box (the box with keys on top that looks like half of an accordion)? Where did it come from? Again, did you get to use it?
I'm not sure what you call it, but I couldn't leave it alone, it has such a great sound. We did record it and Sal P sang over the track we did, but it's not on the album as it's not finished yet.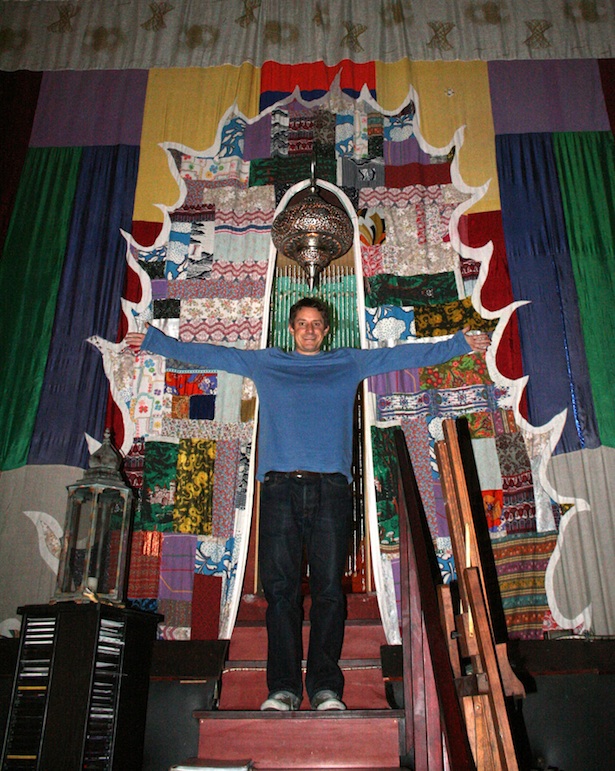 Part of the studio looks like a shrine, Black Ark-like. Is it a shrine?
I guess the whole space is in a way, it certainly should be kept as it is, as a museum piece after Holger has left this earth. It's got so much important musical history associated with it.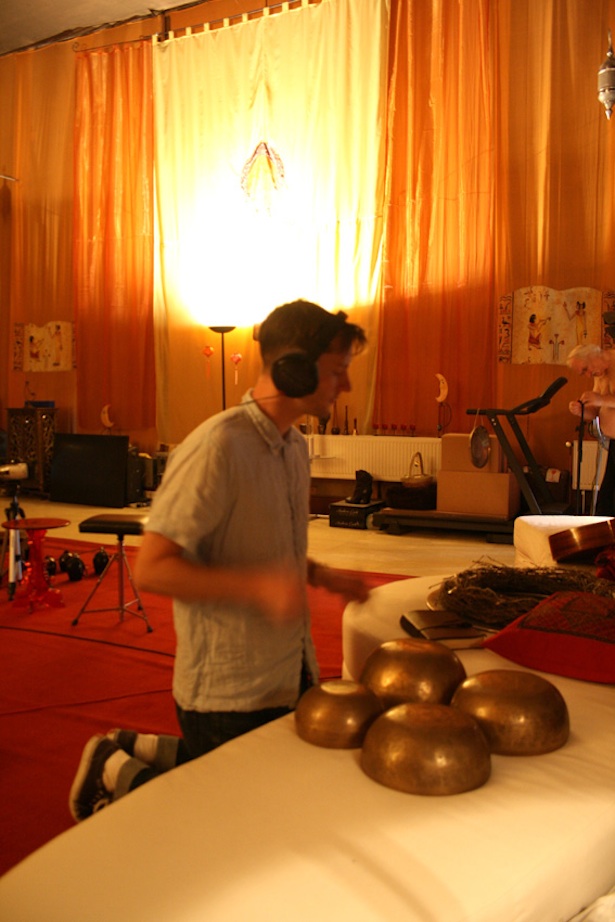 Are they gamelan bowls? Which track do they appear on?
They are and Ben played them with brushes on the jam we did, which might work its way into a track at some point.
Is Holger still recording his own music? Is he sitting on an unreleased archived mountain?
He is, there's the two albums I mentioned. They are quite private about their lives, but every now and then Ursa will tell me about something else that he has been working on. He recently played Conrad and I a track that blew us away. Hopefully I'll be releasing that at some point.
Does he perform live? Are there any plans for Bison to play live?
I get the feeling that he's done now, which is a shame as we've had some offers of live gigs. Bison will continue though and one idea from Conrad was to make every album with an artist that we all respect. We have some ideas, so hopefully it will work out.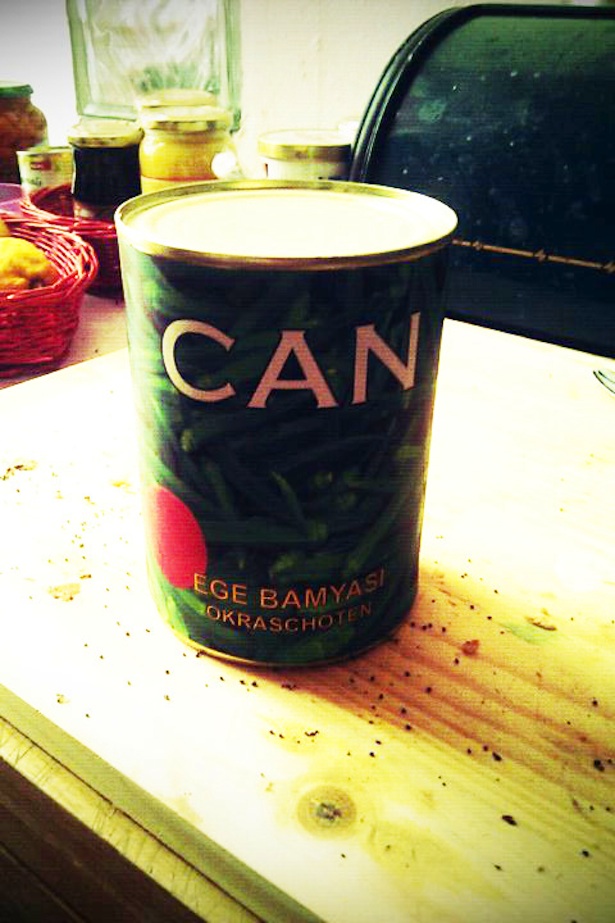 Is he still in touch with any of the other Can members?
He was with Jaki until a few years ago, but I think they've all gone their separate ways now.
Will you be doing more music with Holger, as Bison, or otherwise?
Not sure really, we have a lot already recorded, so they'll be more releases in the future and I have a few more releases of his music planned for Claremont 56.
How has working with Holger influenced you? What did you learn from the experience?
It's given me a huge amount of confidence with what I do. I'm not a classically trained musician and so I have my limitations, but he made me feel comfortable with the limited skills I have. I also learnt a lot from Ursa about protecting my music and not going for the quick buck. There were a few compliments from Holger about the music Ben and I made that will stay with me forever. He's one of a kind and we feel honoured to have this experience as part of our life. We love you Holger.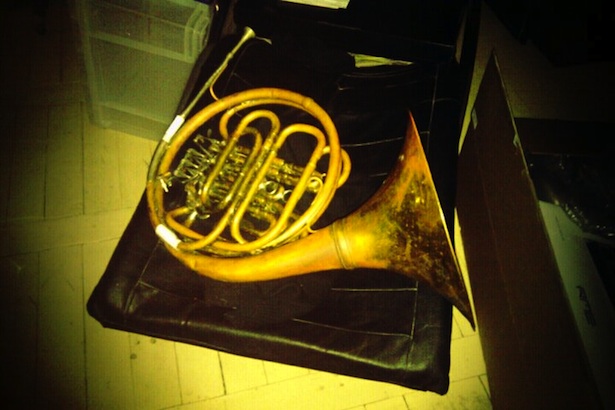 Bison`s "Travellers" is out on Thursday. You can listen to clips over at Soundcloud (https://soundcloud.com/claremont-56/bison).