Salvatore Principato / Liquid Liquid / Fist Of Facts
Where are you from?
I spent the first eighteen years of my life in Perth Amboy N.J. I lived a couple years in San Francisco then moved to NYC in 1979 and have been living here ever since.
What is your first musical memory?
Listening to "Pepino, The Italian Mouse" by Lou Monte on this little portable record player, my four year old self mesmerized by the spinning record.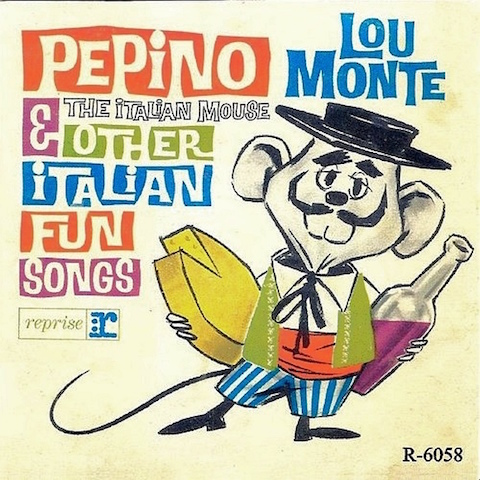 Can you remember the first record you bought?
Sheesh, that's a tough one, but it was probably more like something I won playing a wheel of fortune at the Jersey Shore.
What drew you to percussion?
The directness of stick on skin, stick on stick, stick on metal. It's the most elemental musical form.
How did you become involved in Liquid Idiot and Liquid Liquid?
Well Richard McGuire, the bass player, was from the same hometown so I met him there. And later on when he attended Rutgers University, we organized a loosely knit performance group that included such notables as Scott Hartley Liquid Liquid's drummer and Ken Man Caldeira an early Liquid Idiot member and my partner in Fist Of Facts.
After a while I left for San Francisco where I went to a lot of Punk Rock shows and started making music with William McGuire, Richard`s brother. Meanwhile those guys were on the East Coast starting to play improvised musical events as Liquid Idiot.
Then I came back to New York for a two week visit. Richard and Scott had moved to Manhattan after graduating and I went to stay with them and it was like "you have some material and we have some material let's get a gig a CBGB's before you go back" We were the 5th band on a three band bill on a hot August night. I never even went back to S.F. to get my stuff and that was the start of my involvement with the Liquids.
Who would have been the band`s key musical influences? What kind of records would you have been buying and listening to at the time?
Well there were quite a few of them always shifting. Fela has always been a huge influence on me as well as the others in the way he blends the musical with the political with the spiritual in a seamless, unselfconscious and very intense kind of way. But in general we'd listen to Can, early Hip Hop, Iggy Pop, Curtis Mayfield, Augustus Pablo some No Wave things but after a while I didn't want to listen to anything too close to what we were doing lest it unduly influence how we present ourselves. And of course NYC was awash in Disco and Latin music that seemed to be wafting out of every window, every car. Also any Folkways field recording that presented itself to us.
Where would you have been buying your records?
Why 99 Records of course that was a favorite but also St Mark's Sounds, Rocks In Your Head in Soho. Oh yes! And good ole Bleecker Bob's in the Village.
Where were your first gigs?
Well I already mentioned CBGB's. After that mostly loft parties. There was this wonderful weekly event at a loft on Broome St & Bowery called "Wednesdays at A's", where Arlene Schloss would organize a multi-media extravaganza.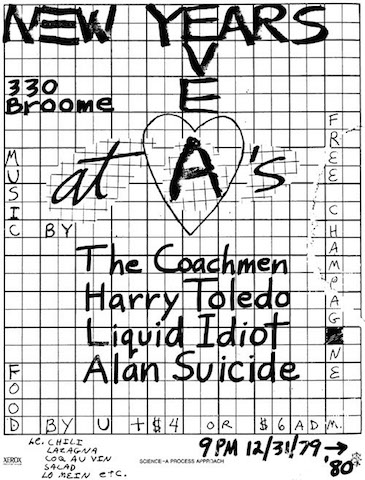 There was also a cool little club in Tribeca called TR3 that we would often frequent and occasionally play. After we hooked up with 99 Records and Ed Bahlman and began making records we started to get more high profile gigs.
I`ve read that you used to invite the audience to bring their own instruments. What were those gigs like? When did you stop doing this?
Oh! That was in the Rutgers Liquid Idiot days. I was in S.F. at the time but I heard Dennis Young brought his marimba to one of those. That's how he hooked up with the Liquids.
Where did / do your lyrics come from? Were you writing or influenced by poetry?
Definitely. Before music I aspired to be a poet and was reading a lot of poetry and prose but at the same time I didn't want to be too literal. Impressionistic was how I felt. Language to convey form more than meaning. It was the post-modern area and everything was becoming so commercial so branded. I didn't want to have anything to do with any of that.
Which authors / poets were you into? Were you hanging out at City Lights in San Francisco?
Hell yeah! I'd have a couple of espressos in North Beach and go to City Lights to browse and read for hours, it was easy like that. I loved all the Beat writers also poets like Author Rimbaud and Walt Whitman and the Russians. I would say that instead of having a university education I read all of Dostoevsky's novels. Lots of classic literature from the late 20th century, Emile Zola, Theodore Driesder. A bunch of dead white men I know but some really soulful and insightful writers. I did diversify my reading list as time went on….
Did you see yourselves as "Punk"?
No not really. Punk got tired fast but even in the heyday of my fascination with it I always felt like an outsider to it or any "scene". That being said, after coming of age in the early-mid seventies I felt the punk spirit very liberating, especially after the whole hippie / New Age thing failed to deliver its revolutionary promise.
Were you hanging out at places like the Mudd Club?
Yes indeed. Places like the Mudd Club represented the promise of NYC. Free form, diverse, very cool. A certain kind of club culture started to take root. About the same time we started making music that would make sense in those kind of venues.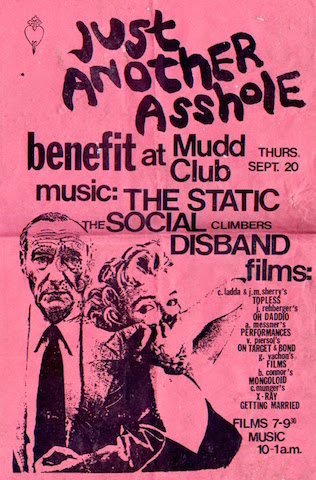 How did you hook up with Ed Bahlman and 99 Records?
I kind of remember us bringing Ed, who working at the store, a demo tape of five live tracks of ours and then coming back and him saying "I like your sound but I'd like to see you perform" and we were like "Well get us a gig". Also I think Glen Branca might have put in a good word for us..
Can you tell me anything about the fall-out from "Cavern" being used for "White Lines"? Was "Cavern" being widely used as a break before "White Lines" was released?
Yeah "Cavern" became this oddball hit. It was being played a bunch on "Urban Contemporary" stations in New York especially as part of master mixes but also in clubs like the Roxy, Paradise Garage, The Funhouse and Club Zanzibar then one Sunday afternoon I'm in Tompkins Square Park in the East Village and someone comes up to me and asks me if I heard the new Grandmaster Flash track and I say no I haven't and they say "Well it sounds like Liquid Liquid".
Was Hip Hop Culture an influence at all on what you were doing?
It was an influence, both for its percussive approach but also it had a fresh attitude.
Liquid Liquid`s last single (prior to the reissues) was "Dig We Must" in 1984. Did the band break up at this point?
Things definitely were at a breaking point and we found ourselves in Zurich, Switzerland, under the stress of "White Lines" and without Richard. Ed Bahlman got some recording time, locked us in the studio and said, in the most supportive, friendly way, "You don't come out until you create a track". Hence "Dig We Must".
What happened between 1984 and the 1988 release of Fist Of Facts "Fugitive Vesco" E.P.?

Re-evaluation / re-organization of course. I don't jump from one thing to another. I try to take stock of what just happened and formulate what's coming next, all the while making sure your personal self is solid. Sometime around 1983 I rented a studio on the Lower East Side with Ken Man Caldiera. It was there that we started the next musical project, Fist Of Facts.
How did Fist Of Facts differ from Liquid Liquid musically and in purpose?
Well, in so many ways. All bands have different personalities. At some point in 1985 or `86 Ken Man showed up in the studio with this IBM AT computer. It had a 1/2 MB of RAM and some Voyetra software that could sequence music and it became our back up band. Although at various points we were a nine-piece band with a horn section. Contributors included Mark Cunningham from Mars, Felice Rosser, Genevieve De Monvel Boutet, Carlos Vivanco, Scott Hartley from the Liquids and a whole host of others. Also at that point, for better or worse, we had a strong political perspective. I did attempt to convey a message along with the usual abstract soundscapes. I'm still refining that approach.
What`s the story behind Helvete Underground Records?
We had this connection in Geneva, Switzerland. Catherine and Nicolas Ceresole. Look them up. Helvete Underground had a record store there, still does, along with a label at the time. Fist Of Facts did a lot of recordings in our studio with a TASCAM 4 track recorder synched with the computer. We made a bunch of demos, one of which we passed along to the label, which they liked a lot. So we re-recorded the tracks for audio quality purposes and released it. Then in 2010, Claremont 56 in London released another Fist Of Facts E.P., compiled from various archived recordings.
What was the connection to Paul Murphy and Claremont 56? And how did this extend into working with Bison?
I know Paul Murphy through some close, mutual friends and I'm a fan of Mudd. There's been a bit of back and forth between us over the years resulting in the Bison release and the Fist Of Facts record. I continue to follow what he's up to and I suspect he might be doing the same.
Why only the one Fist Of Facts release (at the time)? How long did Fist Of Facts continue playing together?
Well, Ken Man left NYC to work at Stanford University in 1991. He's a well-regarded atmospheric scientist, a heavy weight in his field (http://www.npr.org/blogs/thetwo-way/2013/03/13/174208535/scientists-use-antacid-to-help-measure-the-rate-of-reef-growth). Anyway after he left I kept the project alive for a time. I had that IBM AT computer that I mentioned earlier to back me up. I added other musicians and did some touring but eventually I moved on to other things.
Is there any more Fist Of Facts music in the archive that could see the light of day?
Just in. The other day I received a record from my friends in Geneva. It's a compilation that includes Fist Of Facts, released by Helvete Underground, the label that put out the first FOF record.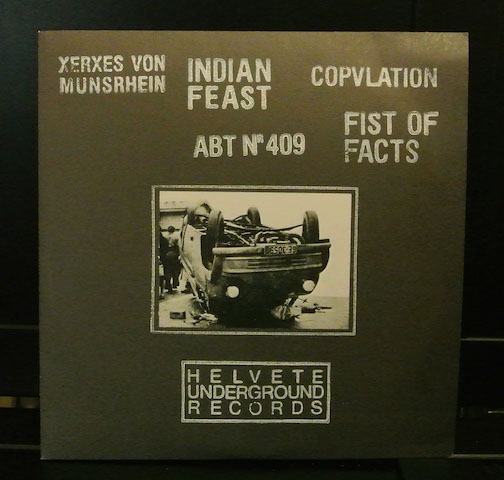 But as far as more releases, let me just say I have a lot of discs and tapes but I need to find a machine to play them on. We are playing a one off show on May 1st at Union Pool in Williamsburg that should be fun….
Did you play a lot of live gigs as Fist Of Facts?
Yes all the time in the various configurations. I became a promoter while trying to get venues to let me book the bands who played along with us. I would ask the to book the band before and after us, then I would ask to book the whole night. I started booking acts to compliment the band when we performed. Eventually I just started organizing events regardless if I played or not. I presented a whole series of events during the summer on the piers on the Hudson River in Manhattan when things there were still a little sketchy. We had a great time though. An eclectic crew of musicians, dancers, poets, performers of all kind. There was a large contingent of African and Caribbean artists and when an acquaintance from Ghana, Kiki Kwesi Morris, came to an event and approached me about promoting a night of African, Reggae and roots Caribbean music I was definitely down. I threw myself into the role of promoter and facilitator for many years. It was challenging, fun and expensive. Not many of the people who I worked with knew I had a musical history.
How did the Liquid Liquid compilations on Grand Royal & Mo`Wax come about? Did you know the Beasties?
James Lavelle and Mo' Wax came first. Then the Beasties were bought on board. That was our first encounter with them, but I suppose it was a good fit.
Did the compilations prompt the Liquid Liquid reunion?
Not really. We hadn't played as a group in a very long time then in 2002 there was a feeling that we should get together and see where we were at. Play the material.
I saw Liquid Liquid play in Tokyo in around 2008 / 2009 and the gig was amazing. You played "straight" versions of tracks but followed each piece with a slower dubbed out take. Are there any plans to release any of these alternative versions, or any of the live recordings?
Thanks! Yeah that was a special gig. We have lots of nice video footage from both old and recent shows. It's possible we'll release it on some kind of platform or format. Also Superior Viaduct is doing another vinyl re-issue of the E.P.s.
Will there be any new material from Liquid Liquid?
Since 2004 we made of couple attempts to record but nothing really satisfactory came out of it and we haven't gotten together to play since that fateful night in 2011 when we opened for LCD Soundsystem at Madison Square Gardens. So I`m not sure what the future holds.
You`ve collaborated with a lot of people over the last ten years or so; Dennis Kane, DJ Kaos, Brennan Green, Rong & DJ Spun, Ecotmorph / Brendan Gillen, Inflagranti and recently with No Zu. Could you tell me how these collaborations came about and if there are plans to produce more music with these people?
Well I'm definitely still on the scene these days in various capacities and I appreciate and am in touch with some really great musicians, producers and DJs, so I feel honored when some of these luminaries suggest a collaboration but also I've contributed to projects simply because I was approached properly, liked the work and was available at the moment. I do get approached for an occasional remix or commissioned track. I work with my buddy Sean on those (https://soundcloud.com/sal-p-sean-b).
Is the New York music scene still vibrant?
Sure in certain aspects. There's a lot out there and there's a whole lot of fun to be had. Is it groundbreaking or specifically unique? That's another question. One thing I can say for sure, there's a critical mass of truly creative individuals here so the possibility of an earth shattering musical, artistic and cultural movement dwells just below the surface. Will I recognize it when I see it? I hope so…
What are your plans for 2015?
Well 2015 is off to a good start. I spent January into February in Australia playing gigs with No Zu and DJing. Now I guess my main priority is to put a record out from our most recent project, 178 Product. We recorded at Red Bull Studios last August. The music is all made up on the spot with some heavy duty NYC players, very dynamic and unpredictable. Deeply rooted in the music we all love: Disco, Dub, Punk Funk, it's even a little jazzy. The challenge is to take those 10 hours or so of recordings and shape them into coherent tracks. There`ll definitely be more collaborations this year. Some are already currently in the works. Also I'm way into cooking and have this vegan cooking podcast Singing With My Mouth Full (singingwithmymouthfull.tumblr.com)