Down To The Sea And Back Volume 2
The Continuing Journey Of The Balearic Beat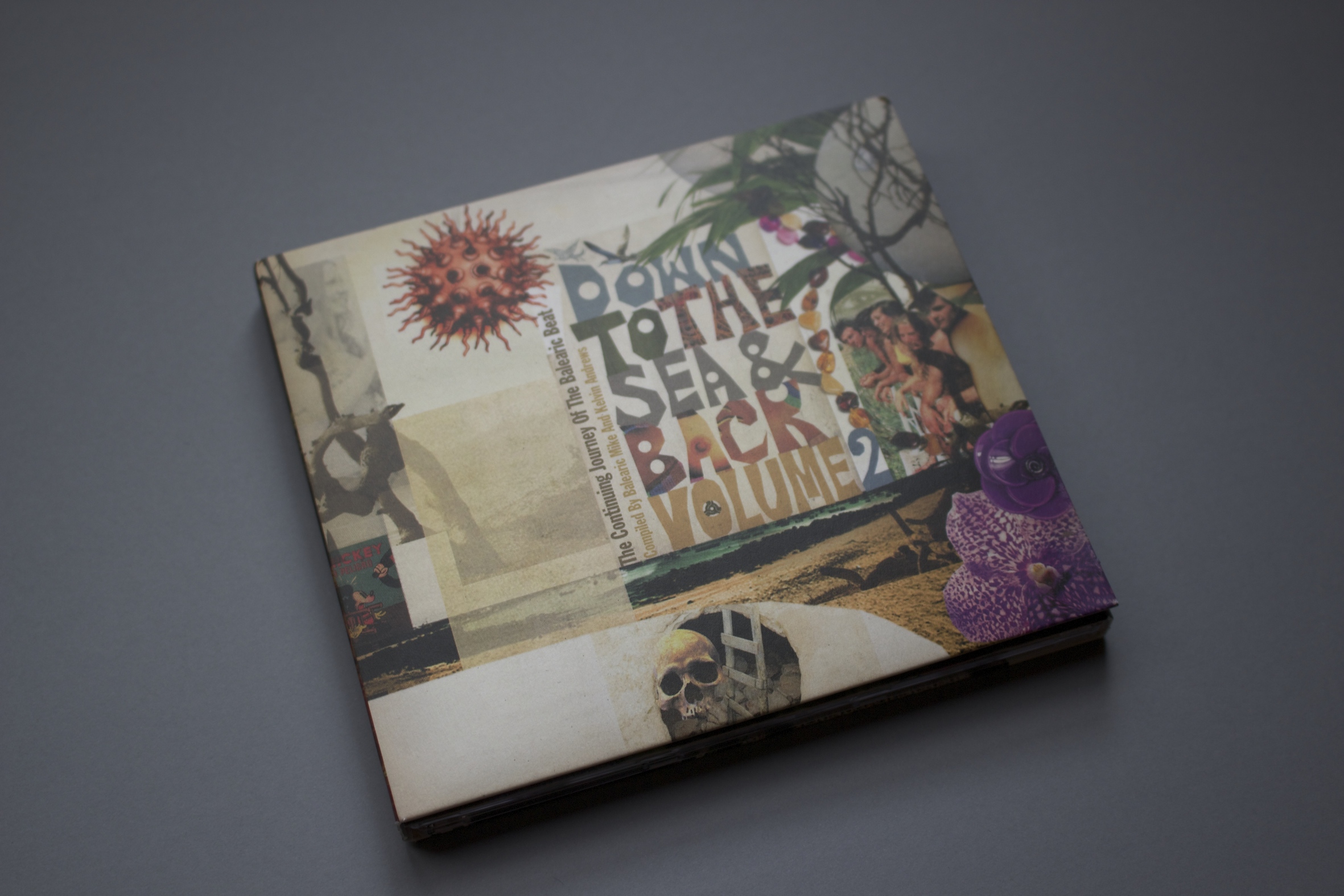 The second of the 'Down To The Sea & Back' compilations is nearly here so we spoke to the chaps behind the compilation - Graeme Fisher, Balearic Mike & Kelvin Andrews - to get the sleeve notes that are within the booklet that give the tracks some context. This is music they have discovered, loved, played to death and have presented in the new compilation. Each time a labour of love and clearly fantastic from a musical perspective. As a round up of the "Balearic" world these compilations hit the nail firmly on the head. Fair play chaps.
Hong Kong Syndikat - Samba Olec
Balearic Mike...
This is one of those records that helped join up all the dots (I hate that phrase) between Balearic and cosmic, and a European dance culture in general.
It had always puzzled me in the aftermath of the Balearic Beat explosion that most of the records we were getting were from Italy and not Spain. Sure, if you go to Ibiza there are loads of Italians enjoying themselves on holiday, but it just didn't translate that they would all go home and make music inspired by their stay. Of course they had their own incredibly creative, vibrant club scene to draw inspiration from. A scene that was having a massive influence on what was being played in Ibiza, and until recently, no one in the UK had heard of.
The first time I encountered this record, it was actually an Italian cover version by Ethereal Beat renamed 'Underboard'. I didn't really know it was a cover version at the time. It was only when I heard a slightly different version of it on a Baldelli tape, dated a year before it came out, that I began to wonder about its origins.
Hong Kong Syndikat are from Germany, and aside from this, they created a further Balearic classic in the track 'Too Much', which is also brilliant. Their biggest hit was with a cover version of 'Concrete and Clay', which Moon and I have both really forced ourselves to try and like, but have failed.
Michael Shrieve - Transfer Station Blue
Kelvin Andrews...
As far as DJing goes, I prefer the ones who dare to be different.
For me, a DJ should play from the heart and be brave with his/her selections and if they can skillfully mix/blend/segue and program with style then I like them even more. One of the absolute best and certainly one of my favourite selectors is DJ Harvey. The very first time I heard him play was years back at the Ministry of Sound not long after it first opened. I'd say about 5am, after whipping up the crowd brilliantly in an NYC/Chicago house style, he dropped Kool & The Gang's uber-slow Summer Madness in it's entirety and just as that high synth at the end soared over the system, in slammed Disco Inferno by the Trammps! And then somehow, as I danced, eyes closed, completely gone in a 'Check me out I'm on the dance floor at the Paradise Garage in 79' crystalline moment . . . I'm on a totally different groove . . . The Magnificent Seven /Dub by The Clash!! Almost knocked me clean over. I was in dancer heaven. Well, you had to be there. Half the floor cleared but I thought this was the best DJing I'd ever heard in the UK. This kind of free expression meets gunslinger approach appealed massively to me so whenever I got the chance to catch him do his thing I'd make the effort. I've danced to his sounds many times and it's always worth the trek.
Back in 2001 Harvey recorded a mixtape CD as a limited giveaway for the Sarcastic Clothing shop in Tokyo. A super- limited hand made LP sleeve with artwork that hardly anyone had a copy of. It's a masterful sleazy slo-mo blend that includes sex change synth legend Wendy Carlos, Linda Di Franco and The Beach Boys, An even slower Love For The Sake Of Love by Claudja Barry, two from Can's Holger Czukay and a Bryan Ferry B-Side! Eclectic and tripped out for sure. It certainly captured the imagination. Pretty soon copies of the mix were inevitably doing the rounds on the net. The guesswork on titles and artist began furiously, fuelled by the fact that Harvey had changed the titles to clues only. At the time, it was great fun to see dozens of bearded forum dwellers and tuned in disco hipsters all flapping and frothing into their laptops over the tracklist. It had captured the zeitgeist perfectly and no doubt about it, was most worthy of such passionate fevered antics.
Track 7, between Ginny & Antena, was this, probably my favourite tune on the whole thing. Santana's drummer and percussionist Michael Shrieve with brother Kevin and genius Ash Ra / Tangerine Dreamer Klaus Schulze experimenting wildly with a fusion of percolating synth sequences and sophisticated sleazed up guitar funk. The album version, away from the Sarcastic Disco mix is over 11 minutes long and about as far away from mainstream mediocrity as possible.
Oh you lucky souls, it's here in full. How cosmic can it get?
Clout - Sunshine Baby
Kelvin Andrews...
A 1979 b-side, to the unremarkable single Save Me and lost in piles of forgotten vinyl in a hundred second hand record shops all over Europe until very recently, Sunshine Baby is one of my favourite discoveries in recent memory.
Clout were a South African all girl group who scored a top 20 hit in the UK with a song called Substitute in 1976 and went on to disappear completely as far as Top Of The Pops was concerned after that brief dalliance with British pop fame.
About 5 years ago, a man called Moonboots nabbed me for a pint at Aficionado (Manchester's long running and stubbornly Balearic Sunday institution).
"You heard about this Clout b-side? A bloke in Belgium played it to me… it's absolutely f****** amazing!"
Now, Moon doesn't say stuff like this unless it's absolutely true so my digging instincts kicked in immediately and by Thursday I had a copy on a 12inch. Oh my! He was SO not kidding! It's a kind of reggae (not reggae) popcorn sleaze bomb (which sounds dubious I know!) and it drops with a serious vengeance. I can imagine the studio session where the record company have sent a fax requesting a b-side for release, subsequently the band get funky and unleash Sunshine Baby.
It's a lost classic of a unique kind and the world is a better place with it here on this compilation.
Linda Di Franco - TV Scene
Balearic Mike...
There are records that sound Balearic, and there are Balearic records. This is most definitely the latter.
I first heard this track on a tape from Pacha, Ibiza in 1985, which Phil Mison brought back from one of his many visits to La Isla Blanca. The tape itself went from the sublime (Linda, Slave To the Rhythm, etc), to the ridiculous (Howard Jones), was absurdly Balearic, and contained this, as yet, unknown gem. In these post-internet days, it must difficult to believe just how daunting a task discovering the who and what of this track was. I forget the details of the detective process, but between Phil, Moon and myself we set about the task of unraveling the mystery. I recall an article on Animal Nightlife (who recorded a cover of the track) playing Ku in Ibiza being a piece of the jigsaw puzzle, but I think the mystery was solved when Moon quizzed Cesar De Melero (Pacha resident during the 80s/90s, who also recorded a cover of the track) as he shopped in Eastern Bloc. I might be imagining that last bit…
So, we now knew our quarry. But pre-internet, where the hell were you going to find a single by an Italian pop star? Italy might be a good bet!
September 1999, and my friend Oscar (from Trax) is going to visit his "nonna" (grandmother). She lives in a tiny village called Pratola Serra, in the province of Avellino. The nearest city is Naples and by a stunning coincidence Italy are playing a vital European Championship qualifier against Denmark in the Napoli stadium, on the day after my birthday. "Why don't you come with me?" he asks. I couldn't think of any good reason not to, especially as Italy was the home of Linda.
Everything about the trip was magical. I'd never been to Italy, and here I was, deep in Sopranos country, filling my time with pizza, obscure records and international football. Pratola Serra was a tiny village, high in the hills. At night, it's one main street played host to the entire population, as its handful of bars and cafés spilled out into the warm night air. Our favorite watering hole sold Peroni Red for the lira equivalent of 25p and had Mike Francis records on the jukebox – how Balearic do you want it?
The match was a classic - a top of the group decider - with Denmark coming back from 2-1 down to steal the game 2-3, the biggest cheer of the night coming when Peter Schmeichel was booked for time wasting. And while in Naples we visited the first ever pizza restaurant in Italy. I highly recommend it.
The nearest town to Pratola Serra was Avellino itself, which although fairly small, still managed to contain a couple of tasty little record shops. So, with Oscar as my translator, the search for Linda began. And straight away we struck gold. The first shop we went into, we were directed to the 'Italian singers' section and there she was, in all her enigmatic, mysterious, twelve inch glory. And nestling snuggly next to her in the dusty, neglected rack, was another record by Linda. Well, I thought, I may as well give it a listen, there was a listening deck after all. My joy turned to ecstasy as the opening bars of 'that tune from the Look De Ibiza video' spilled forth from the speakers. It was 'My Boss'!
So, not a bad haul really. I also picked up a couple of seven inches of 'TV Scene' for Moon and Phil. The record shopping was surprisingly fruitful for such a small, sleepy countryside town. Although we were both aware of Italo-disco and had been buying Italian records fairly regularly from the end of the 80s through the early 90s, we had yet to hear anything about Italy's cosmic-afro scene, so we were perplexed by some of the weird Balearic oddities we found, not realizing until years later that they had been big records on that, as yet unknown (in the UK) scene as well.
Many years later I decided to use the name Linda Di Franco as my nom de plume on the DJ History forum, and soon after, the real Linda Di Franco emailed me to ask me why. The internet really is quite good sometimes, isn't it?
Jago - I'm Going To Go (Instrumental Plant Remix)
Balearic Mike...
Summer 1989, and the clubs and raves are filled with this new, dreamy lighter sound: the sound of Italian house music. It was one of the longest, hottest summers in memory, and my first living away from home. After the grim Northern wastes of Warrington, Brighton in the sunshine seemed, to this young gun, like the Italian Riviera.
The Zap Club had been closed for most of the winter, undergoing a major refurbishment and extension, which took it from two rather small arches into four, encompassing a huge, cathedral-like dance floor. I went as often as I could. The week after it opened I remember Soul II Soul DJing there, which was amazing, but all summer long they had a terrific roster of regular nights, with Harvey & Choci's Tonka Soundsystem on a Monday (I think it was?), an insane new gay midweek night which I can't remember the name of, and of course Chris Coco's Coco Club every Saturday night. I heard this record at all of them. I can't remember exactly how I found out what it was called or who it was by. If I asked a DJ it must have been at a Tonka night. The Zap Club's DJ booth was high on a balcony above the bar, overlooking the main dance floor, and so it was a pain to get to, but at Tonka, Harvey and co set up the decks on the stage, right in the middle of the dance floor, so you were literally dancing around them. Much easier to pester them.
I bought it from Rounder records in Brighton some time that summer - the reissue with the brown label. I remember at the time Mark (I think his name was?) and the other staff in there all thought that it was a new Italian house record and that the Frankye Knuckles (miss-spelt) mention was just a cunning ruse to get people to buy it. None of us had any idea that it was actually an old Italo-Disco track from 1983, or that it really had been remixed in Chicago by the godfather of house three years later. That's part of the enduring appeal of this record for me. It sounds like it could have been made at any time over the last thirty- plus years, right up until today. Hence no surprise when I relocated to Manchester and found everyone I met here loved it as well. It's also one of the reasons why it rarely, if ever, leaves my record box.
Back in the early 90s when I first met Kelvin, we were back at an after party in the house in Withington I shared with Adrian LuvDup and Chris Sheep. As usual we were hunched over the decks, deeply involved in a game of musical top trumps. When I played this track we both decided we should release a compilation LP, with this on it. It only took us twenty years to get round to it.
My friend Oscar's son is named Jago.
Kelvin & Mike dropping it at the Electric Elephant Boat Party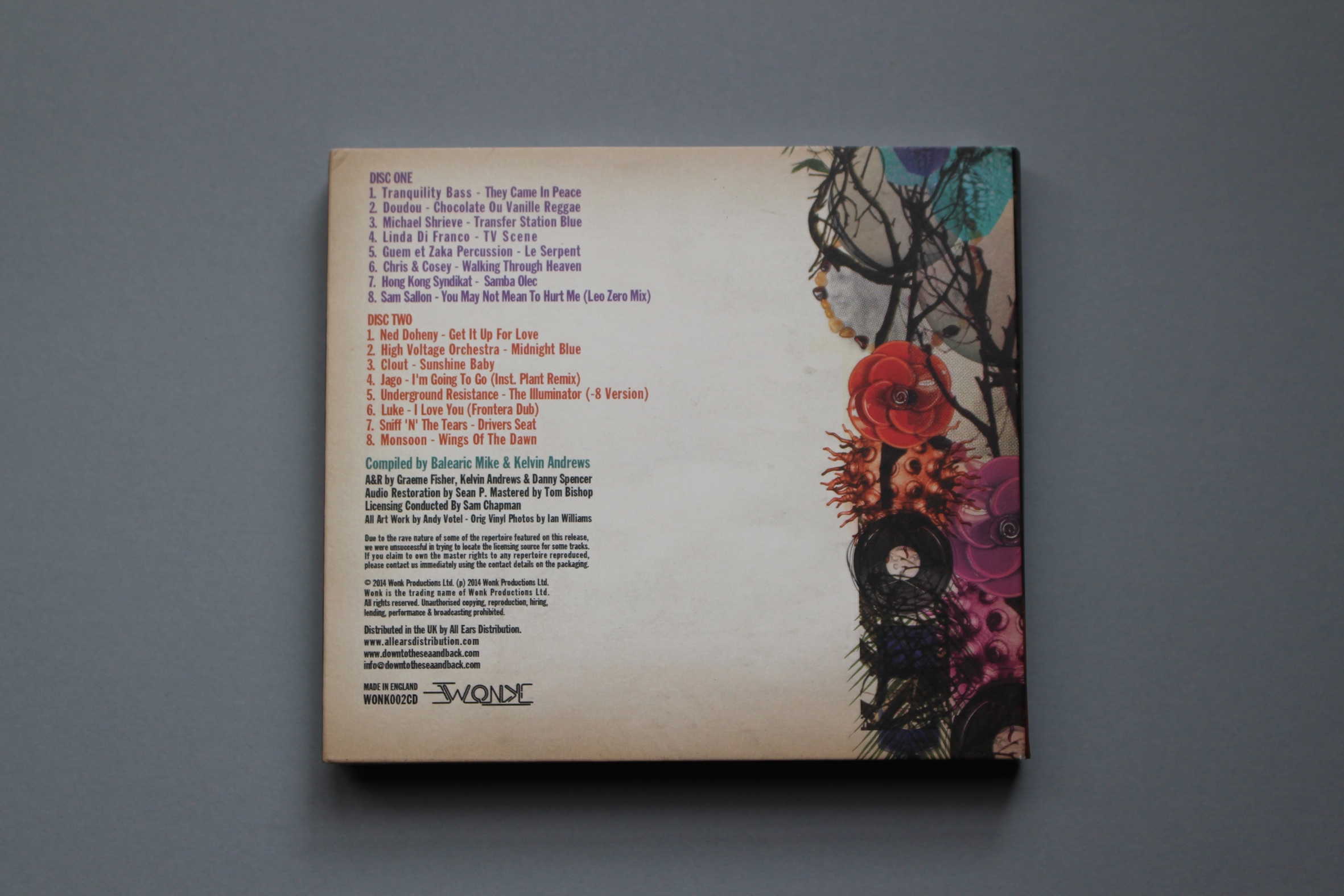 Down To The Sea And Back Volume 2 (The Continuing Journey Of The Balearic Beat – Compiled By Balearic Mike and Kelvin Andrews) is out on Wonk Records on the 1st September.