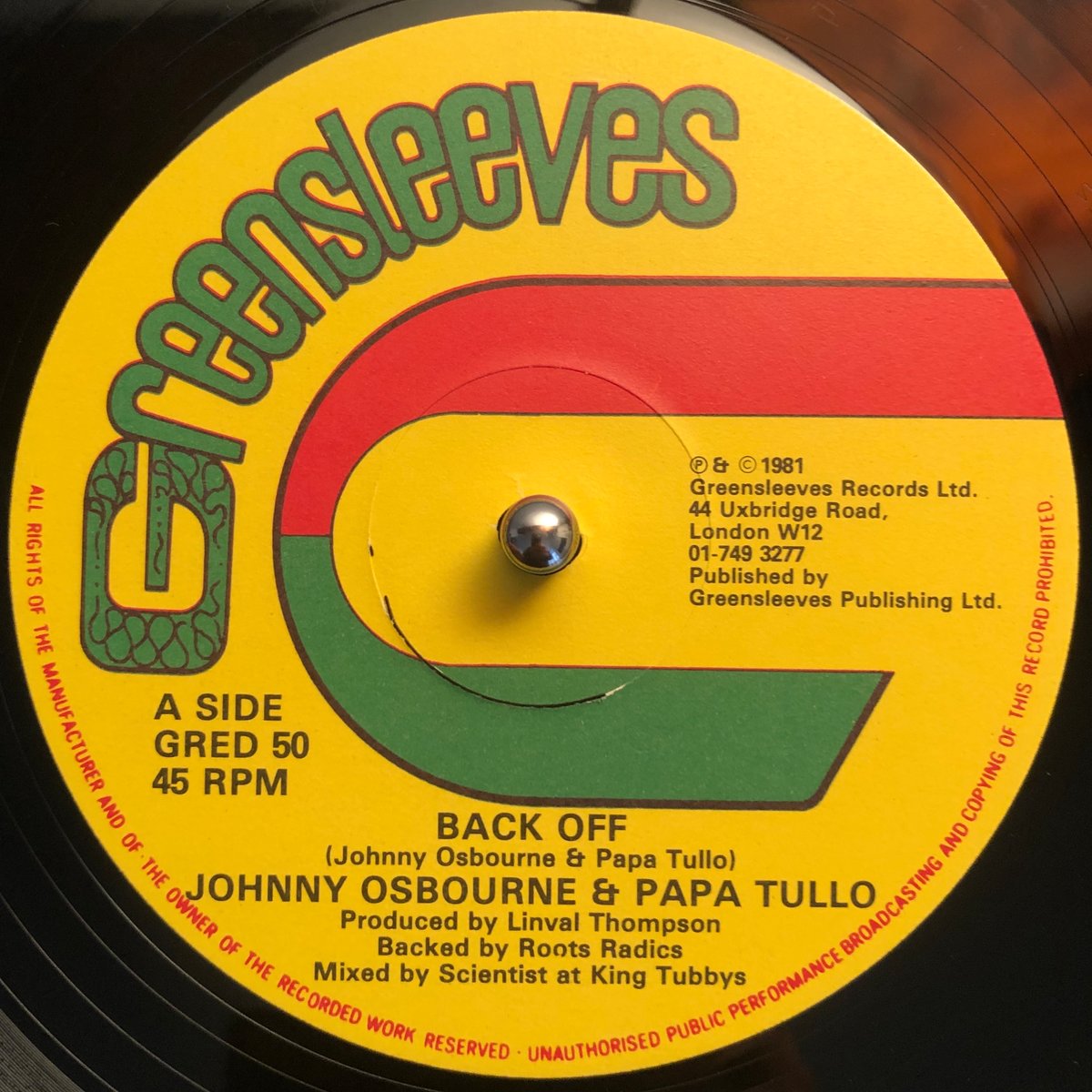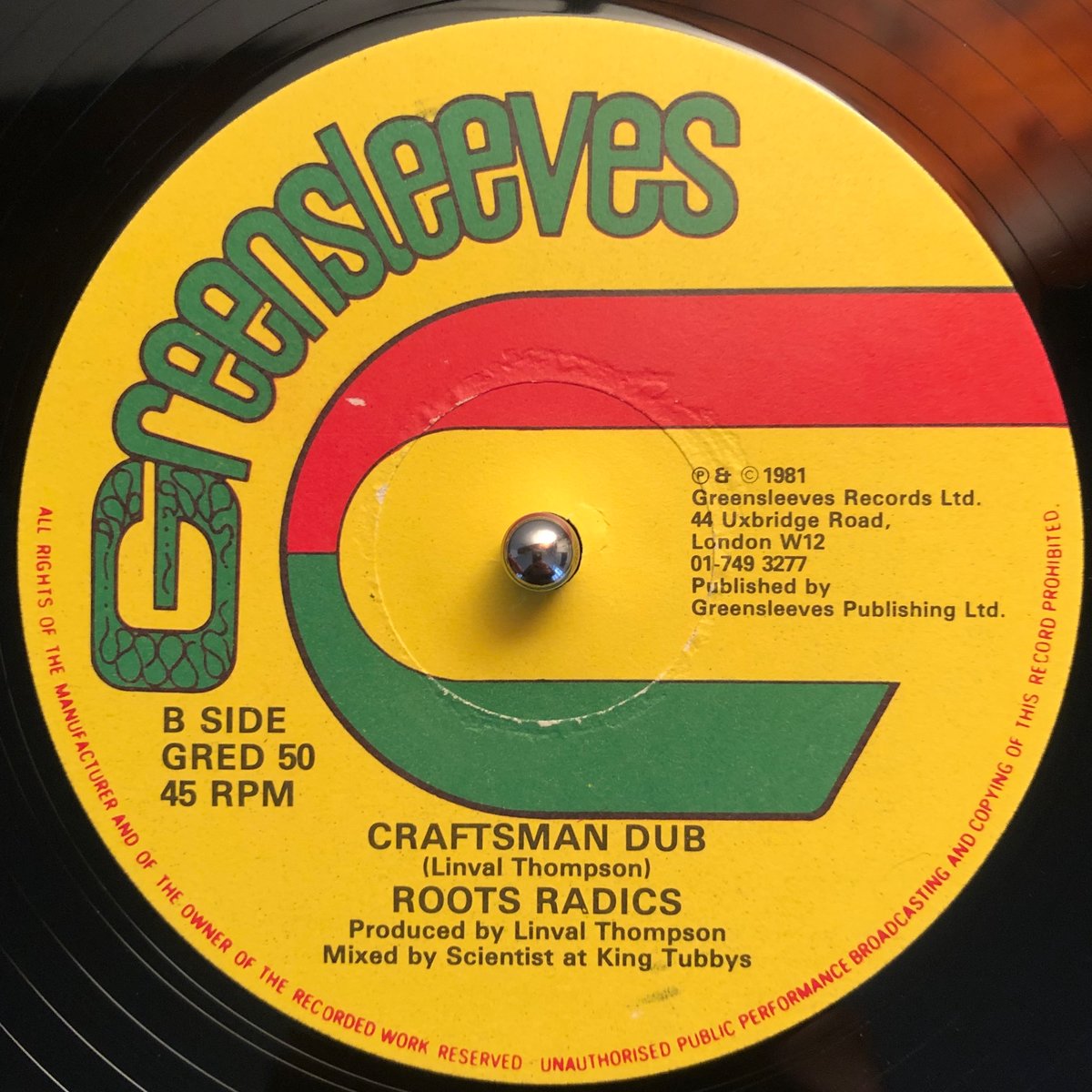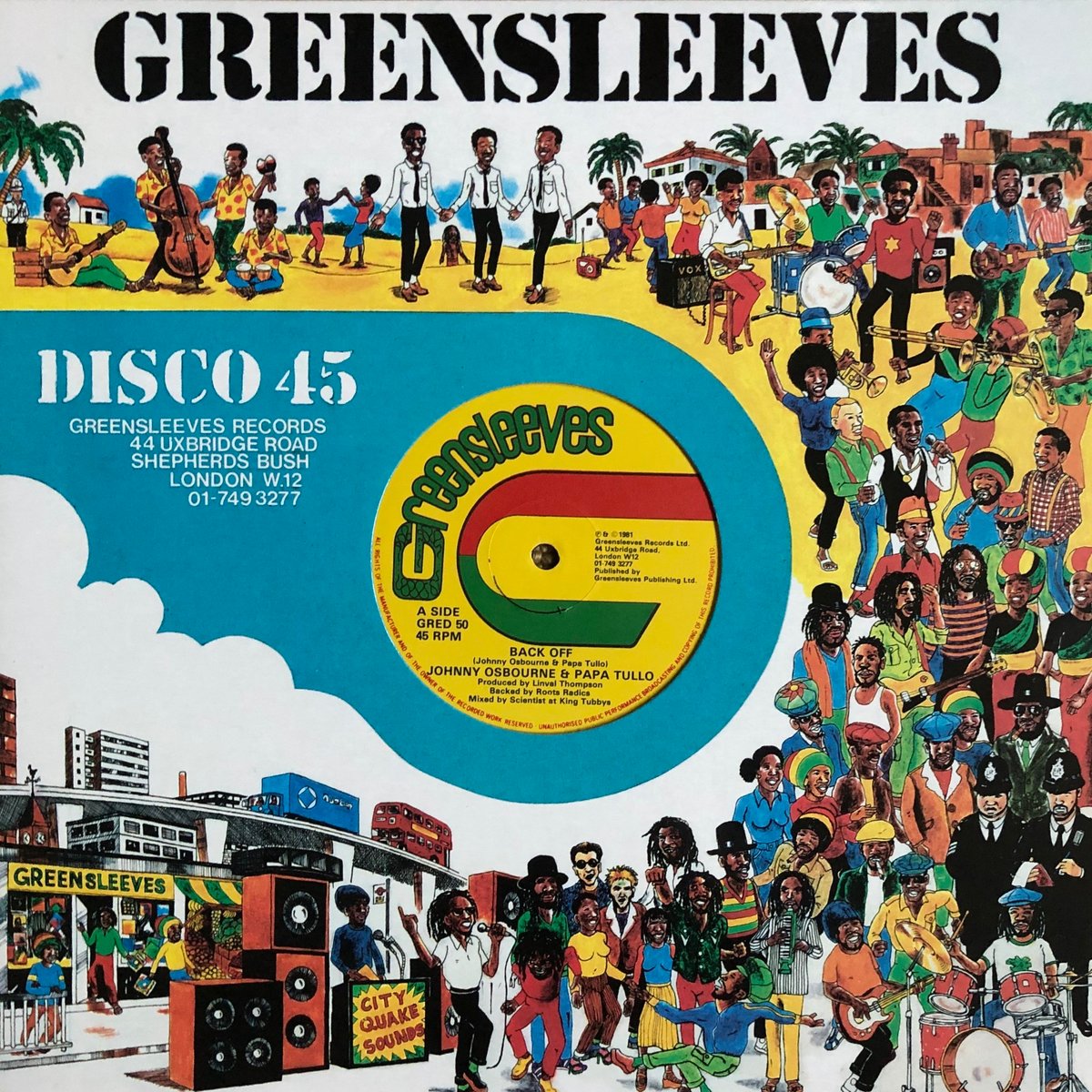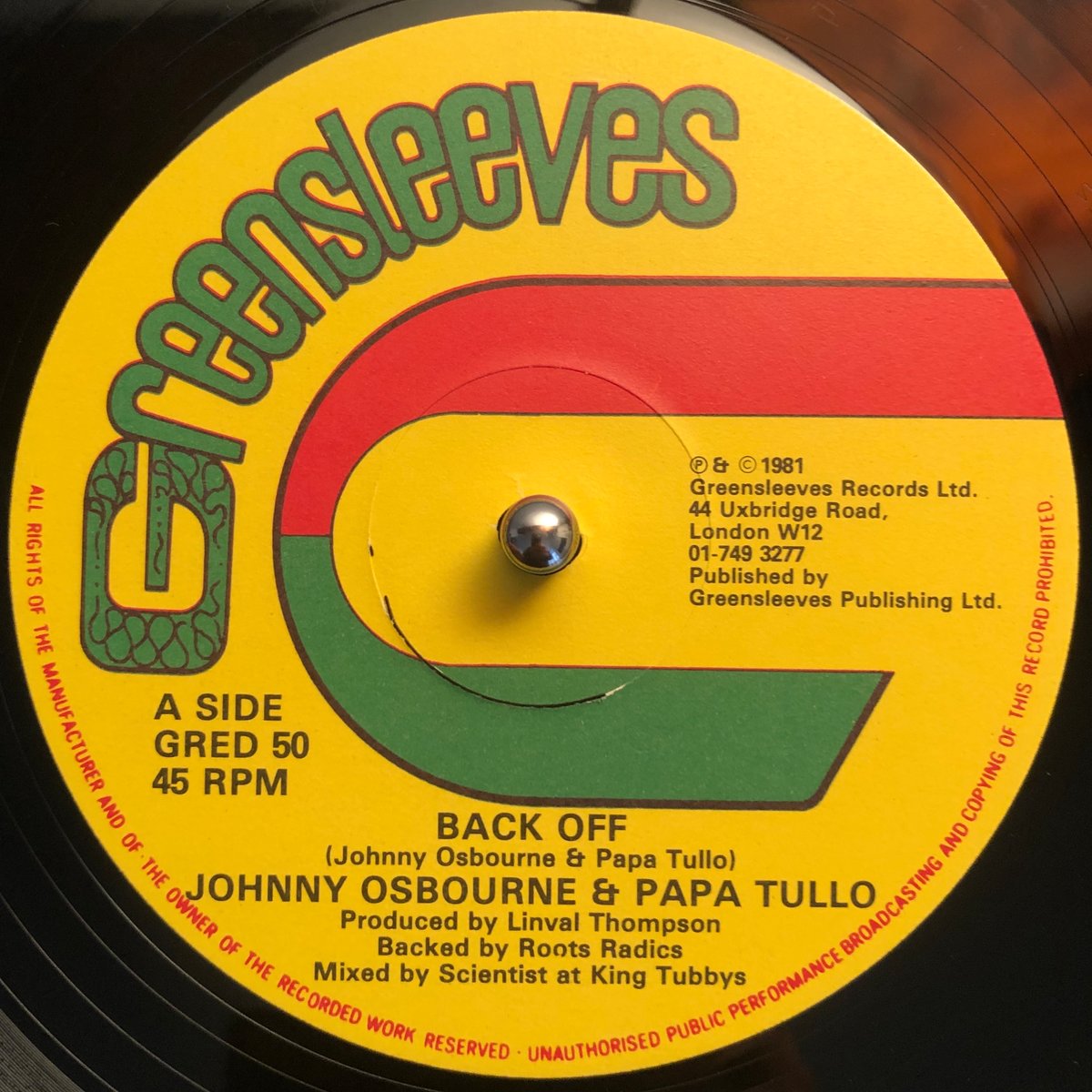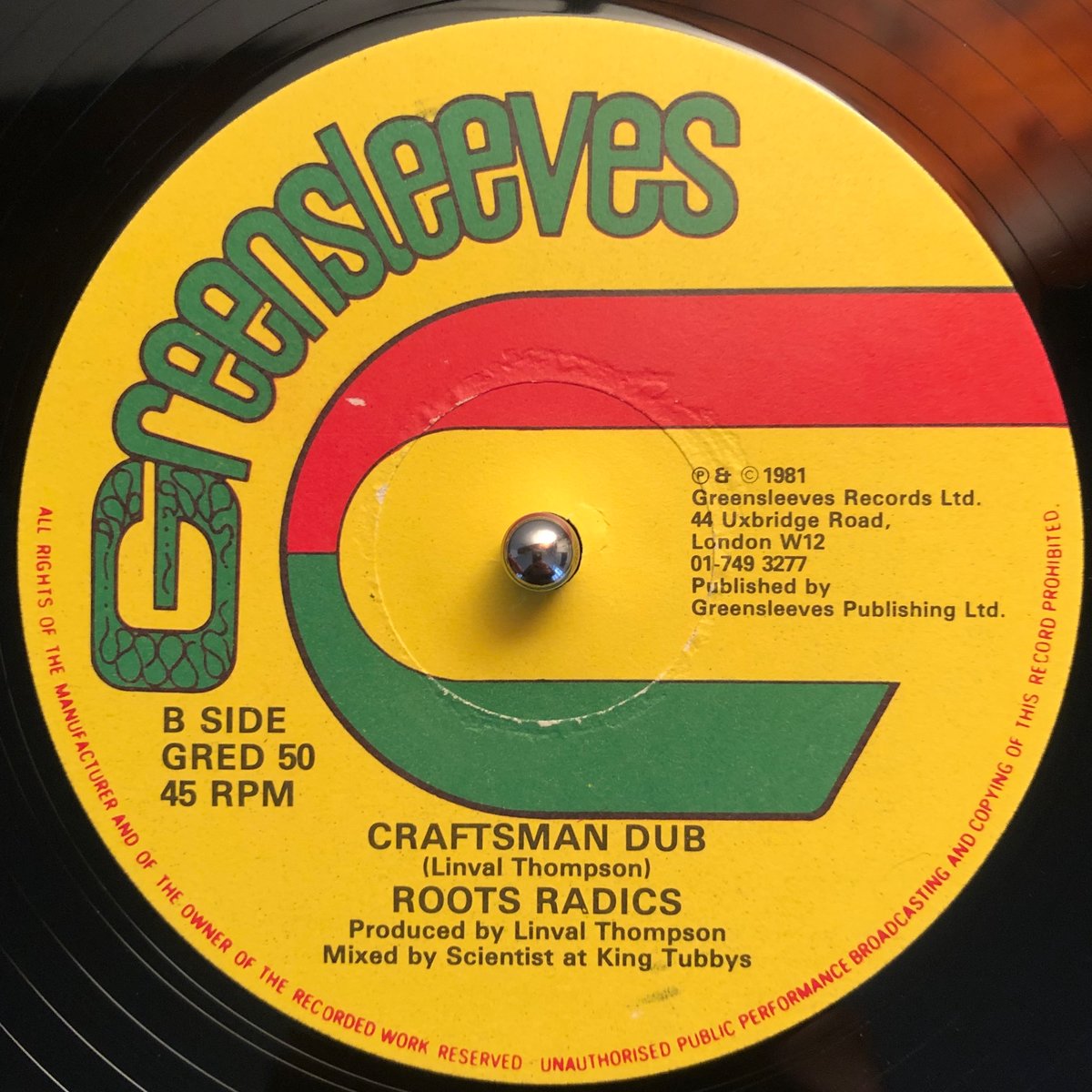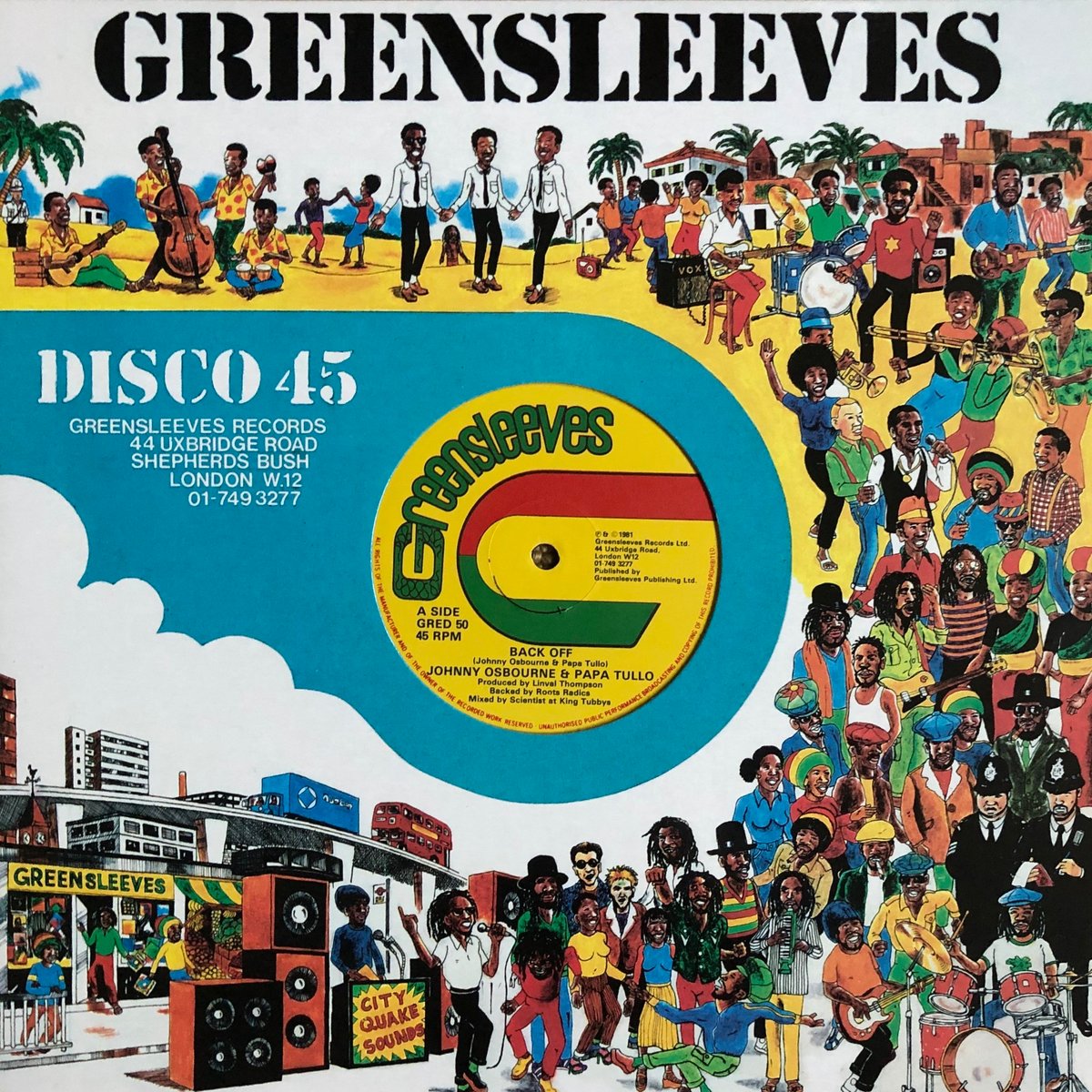 There's a lot to love about this record. Just reading the list of production credits gives you an idea on the kind of the reggae royalty involved – Johnny Osbourne, Papa Tullo, Roots Radics, Scientist and Linval Thompson. To top it off it was also released on one of the UK's most iconic reggae labels – Greensleeves.
Starting life as a West London record shop Greensleeves started releasing music in 1977 licensed from the leading Jamaican producers to cater for the growing demand for reggae in the UK. It is now owned by VP Records (run by the family of legendary record producer Vincent 'Randy' Chin) and has the largest reggae publishing catalogue in the world totalling an impressive 30,000 songs. For any British based reggae enthusiast the distinctive Greensleeves company 12" sleeve designed by Tony McDermott is a welcome and familiar sight in the racks of record shops which always demands further inspection.

The foundation of Greensleeves records in the late 70's also coincided with the increased popularity of the reggae 'disco' 12" format. Moving onto the larger format from the traditional 7" singles allowed for louder volumes, more bass weight (perfect for the growing interest in dub) and also longer durations. The result of this was the birth of the reggae 'discomix' which was a version of the song specifically mixed to suit the new 12" format. Typically this would include the original vocal cut followed by the dub version (which on 7" would have been split across the A and B sides). Producers also began to experiment with the format to create bespoke extended mixes that, by the late 70's, also often included additional vocals on the dub section delivered in a toasting style by a deejay. This became more popular by the early eighties as the reggae world began to transition from roots to early dancehall and this record is a nice example that contains both elements.
The main vocal cut is delivered by Johnny Osbourne (at the peak of his powers having two years earlier delivered Studio One roots anthem 'Truth and Rights') with deejay Papa Tullo taking control of the second half with lyrics delivered in a rub-a-dub style over a pounding bass heavy rhythm from the Roots Radics that's been dubbed up nice and heavy by Scientist at King Tubby's studio. The contrasting style of the two vocalists works beautifully with them both delivering the defiant message of the song but in completely different ways – Johnny Osbourne's soulful delivery full of bittersweet threat in the first half compares nicely with Papa Tullo's no-nonsense in-your-face directness in the second. In addition the B-side of the record is given over to enjoying the Scientist dub in all its uninterrupted glory in the shape of 'Craftsman Dub'. A wonderful piece of reggae history presented by the best in the game operating at the height of their powers.