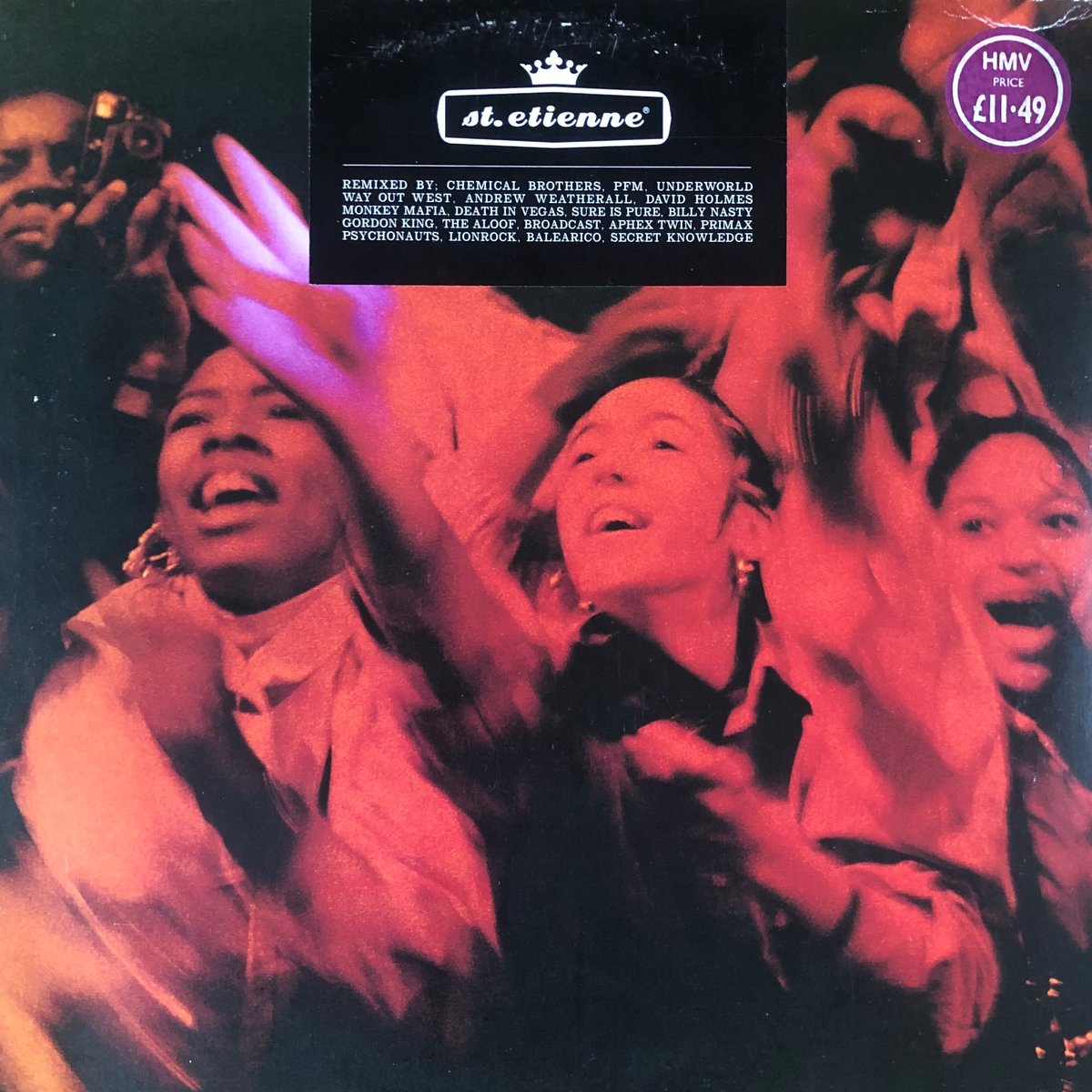 Given that Saint Etienne were one of a handful of bands who paved the way for a generation of indie kids (myself included) to discover the wonders of dance music it's maybe no surprise that they were also adept at picking some cracking remixes for their own tracks. This triple LP from 1996 (which judging by the price sticker I must have bought from my local HMV for princely sum of eleven quid) does a great job in providing a comprehensive overview of these from the early to mid 90s as delivered by roll call of 90's dance and electronic music heroes. It's an album that I find myself going back to on a regular basis and there are two remixes in particular that still get many repeat plays and can therefore I think (after 25 years) justifiably be awarded the all-too-often overused status of 'timeless.'
The first is PFM's remix of 'The Sea.' The terms 'Balearic' and 'drum and bass' aren't often heard alongside each other but I would suggest (maybe somewhat controversially) that if a theoretical musical Venn diagram existed between the two genres then this tune would be one of the few found in the narrow area of overlap. PFM were early exponents of what went on to become termed 'intelligent' drum and bass and found a happy home as part of LTJ Bukem's legendary Good Looking Records. This tune nicely captures the classic Good Looking sound, opening with an expansive intro complete with the soothing sound of crashing waves on a distant beach which, as the track progresses, get replaced with the (still surprisingly soothing) sound of crashing drum breaks and lush sub bass. The whole tune's a proper trip and one best listened to on headphones, at high volume with eyes closed to fully immerse yourself and be successfully transported to the idyllic coastal paradise referenced in the snippets of Sarah Cracknell's lyrics which appear ghost like above the dreamlike ambience.
The second remix really needs no introduction and I don't think anyone would question its Balearic credentials. It is of course Andrew Weatherall's masterful remix of 'Only Love Can Break Your Heart' which achieves that rare accolade (for me anyway) of surpassing Saint Etienne's original, which is high praise indeed as I also absolutely love their version too and it soundtracked much of my teenage years. I think as the years have gone by and my own personal tastes have moved more towards the dub echo chamber it was inevitable that Weatherall's version would end up winning my heart as it is basically a dub version of what was already a pretty dubby indie dance tune. But then you can never have too much dub right? And that's basically the Guv'nor's approach on this one – it's packed with an extended duration of dubwise goodness, stretched out to a pleasingly languid eight minutes and in the process achieving the somewhat unique feat of what can only be termed 'the reverse discomix.' Rather than placing the dub after the vocal version (as is common practice on reggae 12" discomixes) he flips this on its head and serves up the dub first before dropping in the vocal half way though. Whilst a somewhat unconventional approach to the 12" dub remix it works a treat here – helping to build expectation before the familiar vocals drop in preceded by the now famous sample of 'the DJ eases a spliff from his lyrical lips…' which, thanks to Chris Soft Rock's excellent Weatherall tribute mix, I now finally know the source of. Cool and deadly.