Masanori Ikeda
Afro Tipsy
Palms & Charms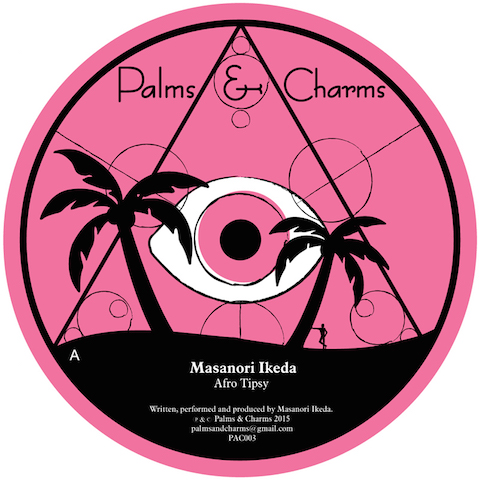 A sequencer takes two patterns and ties them in knots like an LCD Soundsystem version of Kosmische. A bass line twists itself into the colours of a microdot flashback. Improvised bongos get excited. A kick hits midway and attaches the interplay to a purposeful Disco engine. Keys call and call back in duet. Think Todd Terje remixing Bjorn Torske without the awkward bit. More ammo for that takeover of the terrace at Space.
Almunia add Gottsching guitars flickering at dusk. Midnight blue, marina lights and a forceful House thud. Imagine The Eagles, Joe Walsh with Still Going. Scenes of affluence, decadence, hedonism, in Hollywood`s hills. Pool parties and an undercurrent of vice.
Masanori was a resident at The Wag in London in the `90s. Moving back to Japan he produced music as Mansfield and for Flower Records (covering William Pitt`s "City Lights"). I first met him when he had also been coerced into Marbo`s "Tokyo Balearic" thing in 2007. In recent years he`s displayed his eclecticism, edited 808 State and Haircut 100 (for Jetset), done over William Orbit for Snaker, and in the last few weeks reworked Jazz and Funk for Puff Puff, extended The Mystic Moods` "Cosmic Sea" on his own 075-Wax label. The last time I Masanori he was DJing at Aoyama`s Oath, while I was downstairs with Max Essa at the supposedly more sedate Tunnel, when he was nice enough to say he always listens to "The Remedy", which was lovely of him even if he doesn`t. In seven years I have never seen him frown.