Psychemagik
Ritual Chants
Eskimo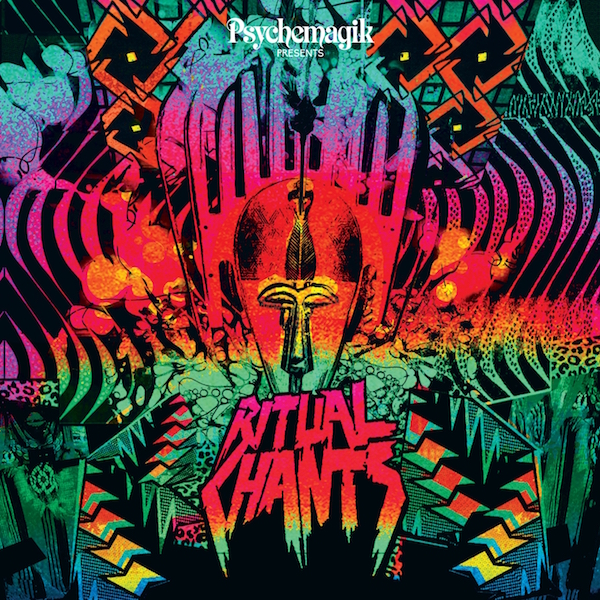 Psychemagik`s latest selection, for Eskimo, is divided into three "movements", sequentially soundtracking and assisting a listener`s smooth journey into night.
"Love" starts with Man Parrish (of "Hip Hop Be Bop" fame) swapping the Boogie Down Bronx for a Californian ashram, and segues from Mexican Kosmische to Germanic Pop, taking in Folk, Alan Parsons / Pink Floyd-esque A.O.R., Latino Jazz, soulful synth solos, a Bollywood ballad, some Italo-Not-Italo (in the vein of that Avant Garde 12 recently reissued on Danny`s Spacetalk) and a French Funk gem that could easily pass for something from the canon of Vannier, Gainsbourg & Birkin.
"Beach" takes the baton from "Love" with El Sueño De Hyparco`s synthesised strings before handing over to Tony Wilson`s Electro-Blues (a Soft Rocks tip), a spooky Can / Czukay-like groove, and Boogie from France and Japan. Adrian Gurvitz plays steel pans. Cover Girl could be the next "Au Pays Des Merveilles De Juliet". Amini`s "Habibi" sounds like Tackhead belly-dancing. The second act closing with more faux-Italo from Danny Boy.
"Dance" mixes heavily orchestrated Euro-Disco - guitar licks, electronic B-lines, and choirs - three minute Gallery operas with punchy brass-packed Soul, Zouk, Vocoders, P-Funk and Planet Rock. Mansour Sallama`s "Love And Happiness" is irresistible Afro. Dionne supplies a House classic, and our mate Justin Strauss samples Salsoul amidst (Acid) raining machine percussion. The party commencing "re-entry" with Cosmic Prog Morning Music, a la Supermax, and leaving you with a cover of "A Horse With No Name" in a non-American tongue.
Across the three CDs (or twelve sides of vinyl depending on your bent) there are forty tracks, all of them rare / obscure (I recognised four), and, at a quick scan of the `Cogs, all, bar a couple, pricey. But painstakingly / obsessively dug, dusted and programmed, the sum here is so much more than the parts.