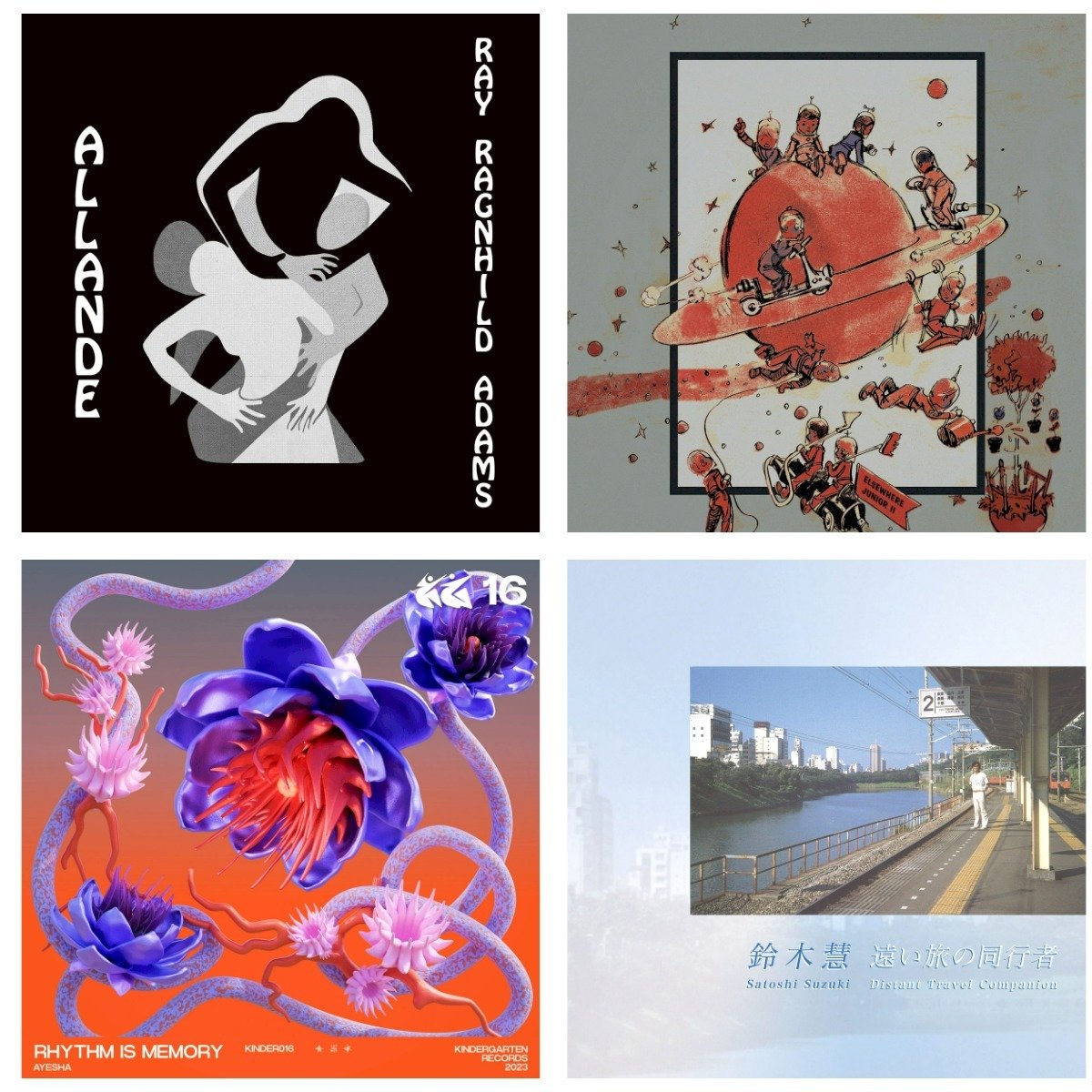 Here's some quick notes on a few bits and pieces I've been enjoying lately. If you like the sound of late 90s fourth world dream pop from small town Sweden, interplanetary music made with children, New York body music, or one-man-band city pop from 80s Japan, I might very well have something for you.
In 1997, the singer-songwriter, composer and producer Ray Ragnhild Adams was making some absolutely bonkers music in Torna Hällestad, a small town in southern Sweden. The fruits of her labour was "Allande", an independently released eleven track album where she used her childhood memories of traditional African musical styles and early RnB as the foundation for her own haunting fourth world version of dream pop. Armed with a Yamaha DX7 synthesizer, a homemade polymer transverse flute and a full- size Paraguayan harp, Ray let the music transport her. Twenty six years later, thanks to the efforts of Frederiksberg Records, it's back in circulation, ready and waiting to transport us.
This one is a lot of fun, for the Antipodean Strangelove Music label, soFa continues his "elsewhere junior" compilation series with another volume of bizarre and joyful tunes from his leftfield musical community and the children in their lives. "elsewhere junior vol 2" isn't children's music, it's music made with children, and that's an important distinction. Bigger hitters here include The Empress of Nature & t-woc's space-aged robo-boogie version of 'The Message' and as well as Felix Kubin and daughter Bela Elektra's neon-toned glitch-waltz psychedelia, but once you start digging in, the tunes all have a lot on offer.
With her debut album "Rhythm Is Memory", New York producer and DJ Ayesha delivers a masterclass in body music. Over the course of ten tracks, she combines hard-hitting techno meets bass music sensibilities with a psychedelic inner space journey, all rendered with jaw-droppingly sound design and percussive patterns that just keep on giving. It's taken Ayesha a long time to get here, as documented in our friend Bruce Tantrum's excellent profile of her for DJ Mag, but across "Rhythm Is Memory" Ayesha draws so much strength and depth from that journey. For my money 'V7' and 'Buzz' are two of the more remarkable club tracks of the year. This one is for the dancefloor, and the places you go in your mind afterwards.
The first line of the sales notes for this one say it all really. "Satoshi Suzuki (鈴木慧) described his musical practice perfectly on the OBI strip of his 1987 privately pressed LP - Tokyo Contemporary! consisting of 40% Jazz, 30% Soul, 20% Brazil, and 10% Kayokyoku - a musical mixture not too far off from what is now referred to as City Pop." Across "Distant Travel Companion (​遠​い​旅​の​同​行​者​)" a compilation album of blinding brilliant music, Suzuki-san give us a window into the D.I.Y, home-recording side of music during Japan's storied bubble economy-era. No big budgets or major labels for this guy, just one man working away at home with drum machines, synthesisers and other bits and pieces of affordable gear, in the process summoning up a lounge boogie sound that wouldn't feel out of place in virtually any late eighties/early nineties side-scrolling video game. It's all well worth drinking deeply from.