Tullio De Piscopo
Suonando La Batteria Moderna
Archeo Recordings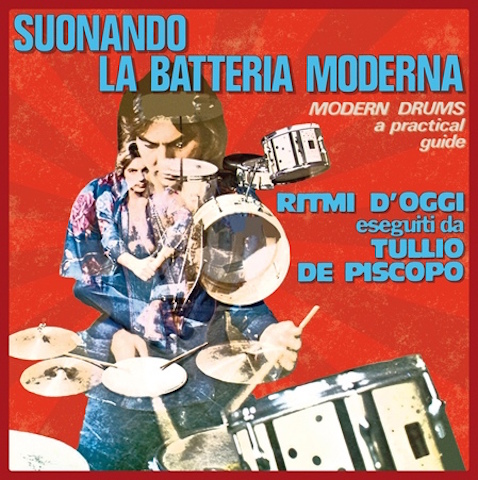 Everyone who has danced on the beaches of the small musical township called Balearic will have heard the name Tullio De Piscopo. Everyone will know perhaps one of the most Balearic records ever made, "Stop Bajon" (a Chicago "House" classic to boot). If you`ve ever hung out with Moonboots or Max Essa then you might have also shaken a leg to "Radio Africa" or "E Fatto E Sorde! E" once or twice.
De Piscopo is a Neopolitan drummer, the son of a drummer. La Batteria it is in his blood. A constant in Italian Pop and Jazz circles, he has played with a host of Balearic luminaries, such as Tony Esposito (also reissued by Archeo Recordings), Pino Danielle, Mina, Lucio Dalla, and Astor Piazzolla. When I asked Manu at Archeo, "Hey, Manu! Why this record? What`s the story?" He smiled and replied, "I studied drums when I was very young and Tony Esposito and Tullio De Piscopo have been from always my idols and my masters!! The "Suonando La Batteria Moderna" LP has been in my wants-list for years... when I finally found Mr. Sergio Sciascia from the famous now defunct Vedette Records (responsible for the original release) and agreed a deal with him for a licensed reissue on Archeo I was so happy and could not believe it. I then met the Master, Tullio De Piscopo, and Tullio very much wanted to be in on finalizing the new graphic for the sleeve and the re-mastering of the audio (the re-master was performed by Giacomo Lampugnani from De Piscopo`s NAM Academy in Milan). It was fantastic to work and talk with him! He's such a generous person and a genius! He himself was astonished at the idea that he could have recorded such music in 1974. He said to me, "Manu, remember... this album È FUORI DAL TEMPO (is out of time / has no time)!"
When I went looking for more information I found a host of rave testimonials from Gas Lamp Killer, who mentions "Suonando La Batteria Moderna" every time he`s interviewed ("It's a drum instructional record that has some of the most amazing, best recorded, best played drums I think I have ever heard.") going so far as to name it as one of his two favourite records. I discovered through GLK that DJ Shadow was also more than familiar with its charms (see below). As I proceeded on-line it quickly became apparent that "Suonando La Batteria Moderna" and its 14 tracks of open drums is a beat-diggers holy grail (can you have more than one holy grail?), with none for sale right now and a Popsike price tag of $200 upwards. With this market considerably bigger than our Balearic island / niche, I think that Manu may have scored a real coup here, and have a proper "hit" on his hands. You can pull a crude illustration of this reissue`s potential from Discogs. Whenever I`m selling stuff on there, I look at the differential between "Have" and "Want". For something from "our" world like say Begin, you might be scoping 107 versus 139, with more vintage gear like Byron`s "Too Much", 54 versus 233. In the case of "Suonando La Batteria Moderna" it`s 45 versus 1117. I hope Manu`s pressed enough.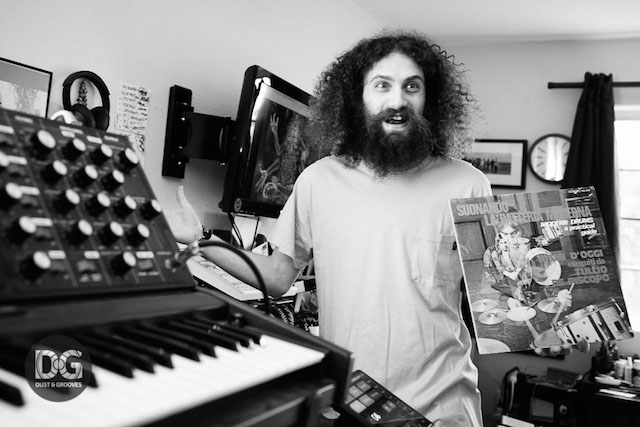 Gas Lamp Killer with an OG "Suonando La Batteria Moderna", courtesy of Dust & Grooves.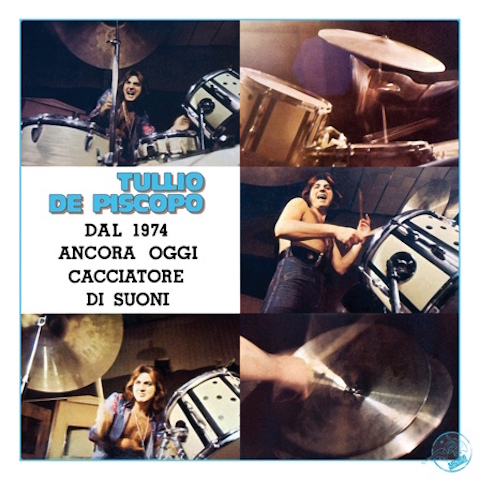 As a "P.S." to this, my youngest son has been learning drums for the last year, but is currently talking about jacking it in (now that his kit fills my record room), so I`ve been rocking this loudly all weekend in an attempt to get him to change his mind. Thank you Manu!
Manu`s in London right now. You can catch him and his smile on the Terrace at Oval Space, as the guest of Be With Records, on July 23rd, at London Fields on Friday 24th and at Brilliant Corners on Saturday August 1st.