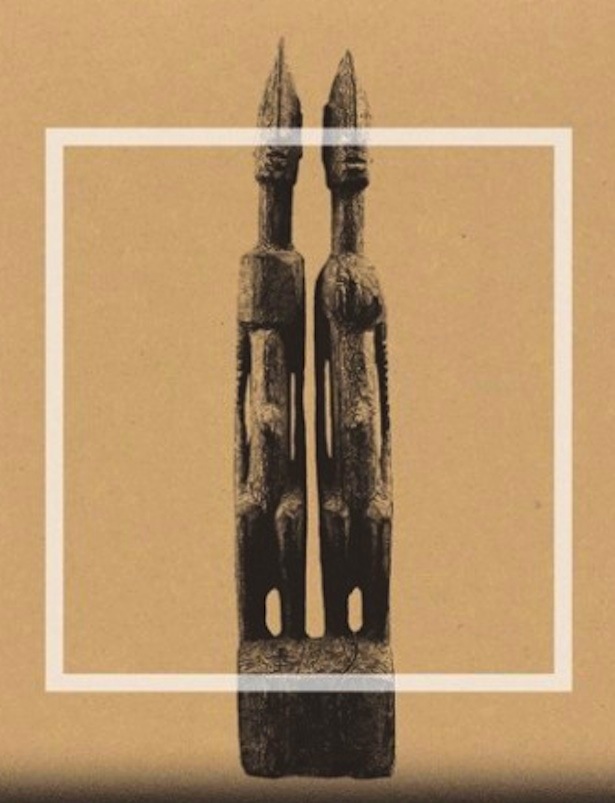 Craig Leon`s "Nommos" is a record unlike any other. Usually when I write a review I pull in all sorts of reference, in an attempt to describe how something sounds, trying to avoid clichés (and hopefully not repeating myself too much). None of that here. "Nommos" doesn`t sound like anything else. Minimal drones, and New Age harmonies, interrupted by stately tribal rhythms, that resonate, taut, with the frequency of mercury spinning. Cathedral-like ceremonies, machine lullabies, carried by church organ swells. Funky handclaps and dancing sirens. Agitated computer chatter, synthesized flute, and didgeridoo. An insect tension builds, as if approaching a clearing to discover an opera lost in a jungle. All noisy, metallic, but meditative. Peaks, rushes and calm.
Craig Leon, and his partner Cassell Webb created "Nommos" inspired by a 1973 New York exhibition of sculptures by the Dogon of the Republic Of Mali. The Dogon believe that the Nommos, from Sirius B (a star that was only discovered by western astronomers in 1862), visited Earth thousands of years ago and left gifts of great knowledge. Leon and Webb set out to use the latest available technology to create an imagined music from Sirius B. Produced over a week, locked away in Austin, Texas, using an Oberheim OB-X, Roland JP-4, Arp 2600 and Roger Linn`s prototype LM-1 drum-machine (more on the LM-1 to come on Test Pressing), the track titles on the LP are all taken from the names of the Dogon sculptures that the couple saw. Leon was no stranger to the new, or alternative. His career in production saw him handle the debuts of Blondie, Richard Hell, The Ramones, and Suicide (there`s a nice interview with The Wire here, where he talks about producing Suicide under the influence of Can and Lee Perry)(I`m pretty sure that Leon was on the same Chris Blackwell / Island financed junket to Jamaica that Lester Bangs describes in "Psychotic Reactions and Carburetor Dung"). When he relocated to the UK in the `80s, Leon went onto work with The Fall, Shane Macgowan, The Primitives, The Bangles, The Triffids, and The Gun Club`s Jeffery Lee Pierce. He produced over 150 "Pop" albums before focusing on Classical production and composition in the late `90s. He has worked with Luciano Pavarotti, Andreas Scholl, The Royal Philharmonic Orchestra, and the London Symphony Orchestra. He is also involved in the opening and closing ceremonies of the current World Cup.
"Nommos" is of course, a seminal, possibly essential, record, played by Italy`s Afro and Cosmic DJs, and a staple in the warm-up at Ibiza`s Amneisa. I picked up a copy back when everyone was trawling the "Baldelli tapes", almost a decade ago now. I had no idea how rare / collectable it has become. Ownership of the original recording seems to have been complicated by thirty years of company acquisitions (again please see The Wire piece for more detail), and as a consequence RVNG Int. are releasing Leon`s re-recording of the album. The arrangements have not changed, it now simply sounds like it was recorded in 2014: bright, clear, loud and strong.
If "Nommos" is like nothing else, then "Visiting" is obviously like "Nommos". Both were conceived, as they are now presented, as Volume One, in an Anthology Of Interplanetary Folk Music (named in homage to Harry Smith`s occult folk collections). But on "Visiting" there are also echoes of Germany`s Motorik, and the experimental synthetic Pop of pioneers like Chris & Cosey, in the sweet summer melodies, and Yello, in the introduction of Latin rhythms. The title track adds steel strings and tin can percussion. A mandolin wind that battles with a desert heat haze, blows tumbleweed though a dust bowl ghost town, perhaps in a nod of recognition to the American Primitive guitar of "Nommos"`s original sponsor, John Fahey.
Craig Leon`s Anthology of Interplanetary Folk Music Vol. 1 is released on RVNG Intl. today (June 24th, 2014).