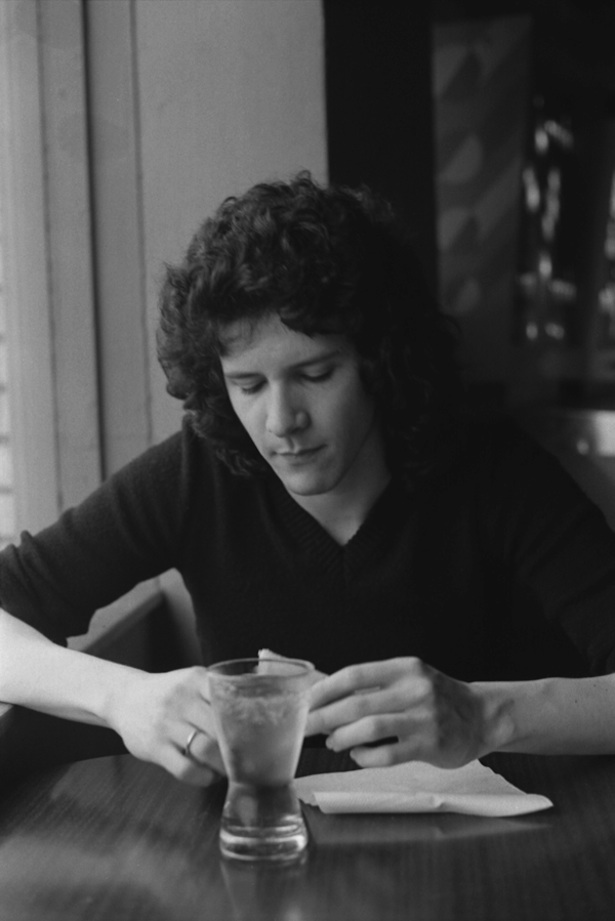 A Seattle art student immersed in Dadaism and Surrealism, primarily painting, but with an interest fired by the sonic experiments of Can, Neu!, Faust, Cluster and Eno, Kerry Leimer sourced instruments from pawnshops, shortened his name to K. in a nod to Kafka`s Josef, and took to music.
Rather than copy any of these influences, inspired as much by their inference of possibility, Leimer`s focus was on pushing the capabilities of his machines, subverting their purpose. He found his compositions therefore relying on accident, and key in the process was the art of collage, transferred from his painting, and the use of loops, created by an Aiwa reel-to-reel.
Like the Leon Lowman compilation, and the New Age re-issues by Light In The Attic (I Am The Center) and Numero (Iasos) put out last year, "A Period Of Review" captures curiosity and musical invention expanded and accelerated by the introduction of affordable technology, in Leimer`s case, the TEAC multi-track and the Micro-Moog.
It is the diversity here that sells this collection rather than individual tracks. Though the music could be divided broadly into the "New Age" and the "Avant Rock", those divisions are blurred, into a whole range of "Ambients", as ping pong rhythms, like a faulty TV game, pop beneath church organ swells and clockwork melodies, and warm jets take tiger mountains.
On the New Age side of the line you get Iasos` celestial harmonies, Claire Hammill sighs, Eno & Michael Brook`s "Distant Village", pianos tuned like dulcimers, synthesized bells, and drones heavy in the air, like mist at dawn. Dew waking wildlife, Saharan plains stirring to exotic electronics. The minimal modulations of "Malaise" convey a descent in the devil`s elevator, a climb of Miles` / Louis Malle`s scaffold, while "Acquiescence" carries a sense of mourning, of letting go. Resignation is still a forward motion. A heart shrugging off heavy. Maybe packing, moving on.
The "Avant Rock" numbers make like the improvised Post-Punk Funk of Steve Beresford (more General Strike and Akabu, than Flying Lizards), and Gareth Williams & Mary Currie`s post-This Heat Flaming Tunes. The songs here are a kind of "Anti-Pop". They have a child-like quality, a simplicity, an un-studied honesty, that is shared by Williams & Currie`s seminal album. "Lonely Boy" is completely unguarded, and as such is "Moonrise Kingdom"-esque genius. Song unfettered by convention. Meant as a tribute to Syd Barrett, so accurate is Leimer`s accent that I assumed he was English until I got round to reading the sleeve notes.
Elsewhere Clara Mondshine meets Peter Namlook, tape manipulations and phase effects creating a Digidub skank. Tribal drums and squalls of guitar that could be Vangelis Katsoulis, or equally Stuart Argabright`s Black Rain. Uku Kutt`s Electro Soul finds Sleeping Bag`s Bonzo straight out of Washington and hiding in Eno & Byrne`s bush of ghosts. Bill Laswell`s "Upright Man". A sound that would fit in sets for both Cosmic and Liaisons Dangereuses / Ancienne Belgique. A sound that Leimer would explore further with his group Savant (another RVNG Intl. collected works is on the way).