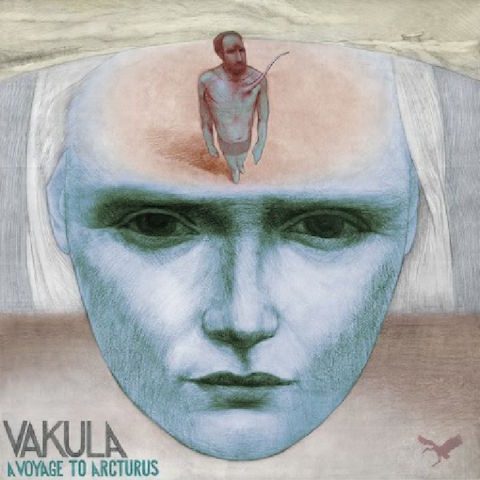 A voice from the cosmos, out of the void, and under the skin. Flight from a shore of static, life supports blinking, hearts beating, luv dub luv dub luv dub luv dub, to a `70s kosmische-imagined space, painted Kubrick 2001 images of creation, worlds in the mists of Andrei Tarkovsky`s "Solaris". Drums, the clatter of a trans-universe express, still a sweetness to the synths. Sequencers chatter and back arcs of metal guitar, propeller blades chop at the air. Flitting between alien frequencies on short wave, crash-landing in a tropic of two suns. Tribal awakenings, peaceful utopias. Lands of light and love. Then a dance, a tarantella spins. Timbales and shredding solos. A fevered bacchanal, calmed by a choir of synthetic angels of crystalline purity. Strange heavens, paradise machines. Then submerged, immersed in the gurgling of a primordial swamp, gasses bubbling and moving the clay, emerging to an empire of chirruping non-carbon-based insects and a menacing throb, following sparse fluorescence, travelling a barely lit tunnel. Towards the light, away from the light, this is uncertain, but definitely forwards.
Ukrainian Vakula`s "A Voyage To Arcturus" takes its name and inspiration from a Science Fiction novel written by Scottish author, David Lindsay, in 1920, the book cited as an influence on thinkers as diverse as philosopher Colin Wilson and horror writer / director Clive Barker. The basic plot concerns the interstellar adventures of a protagonist named Maskull, and a journey to a planet called Tormance, in the orbit of the two suns of Arcturus.
Maskull sets out from séance in Hampstead, chasing ghosts, departing an observatory called Starkness in a crystal ship powered by bottled solar rays, weighed down by gravity and prophesy. Crossing Tormance, his goal is a secret, knowledge, a theft of fire from the gods, and his encounters bring sacrifice, lust, absorption, transformation, and rebirth. His heart becomes a limb, reaching out. A third eye follows a new light to a sinking sea, the deadly music of an instrument called an Irontick, and a new sex. Existence, relation and feeling are separated into three worlds. Life sustained only by love.
Musically, the album is a revelation from someone I had naively pigeonholed as a Deep House producer. It begins with inner space, Tangerine Dream`s "Zeit" tempered with Peru`s "Continents". Snake & The Duke chased through a John Carpenter soundtrack by Gilmour and Gottsching. Romantic island Funk, Carribean Two-Step Jazz seduced by flutes at sunset, then taken dancing by Santana & Jon Hassell. There`s a Cerrone-scored jungle orgy, a County-flavored lullaby. A jam as heavy as Herbie Hancock`s "Headhunters", electric Miles on the corner, Weather Report`s "Sweet Nighter", and John Mclaughlin. An inner mounting flame (one for the Bassett brothers). Put simply, it`s a return to the maligned Progressive Rock concept album, the alleged spark for the Punk wars, and a brilliant one at that. The rotating cast of 14 players manage to make everything sound like tight improvisation. Nothing here, even the more electronic pieces, sounds like it was put together on a computer. I didn`t think people made records like this any more. Most conventional bands sound less like a conventional band. I hope that others outside the "genre" get to hear "A Voyage To Arcturus" and Vakula subsequently gets recruited to further test his considerable production chops.
"New Sensations", perhaps the one concession to "House", is massive. With the current interest and re-issue of classic music by Ben Cenac (Push / Pull, Dream 2 Science) and the Soichi Terada, this track alone is enough to make "A Voyage To Arcturus" essential. By track 14, "Crystalman`s Empire", of the 16 in total, the trip has turned full circle with an ominous dark drone that could be taken from Patrick Cowley`s "School Daze". The credits roll to `70s space age bachelor pad wah wah, Peter Thomas orchestrated clavinets and brass. A big band finale. Re-entry achieved, but one word of warning, if you get stoned while listening then you might not make it back.