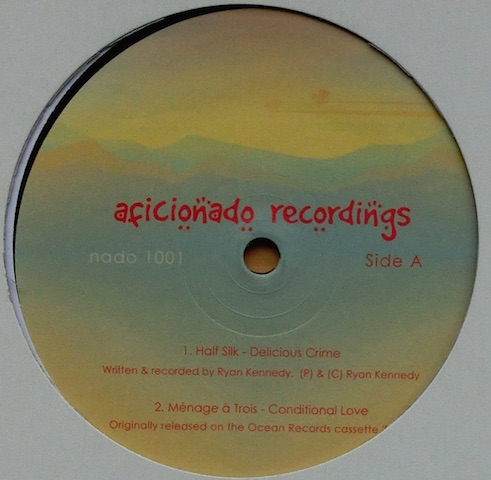 Record Store Day seems quieter this year, or I at least appear to have missed the hype. The only emails I`ve received concern a Grace Jones 12, Rogue Cat`s OPM re-issue and Medical re-releasing this gem. As a consequence my "wish-list" has been much easier to draw up: 7"s from Loose Joints, Frank Wilson and Nolan Porter, a 10" from ON-U, an LP from Willie Nelson, and no accompanying moaning about The Beatles. I could also be tempted by some Waterboys demos (can someone please put both versions of "Too Close To Heaven" on vinyl?) or Weatherall having his way with Noel`s High Flying Birds.
Aficionado have a "V.A" four track E.P. ready for Record Store Day, talent from Malmo, Perth, and Manchester`s own. Menage A Trois name check that most fragile of sexual shapes, the triangle, and Isaac Hayes` libido and volunteer a Hank Marvin serenade. Echo and vibrato from The Shadows to sunset. Eleventeen Eston take a sleepy reggae lilt through twilight. Fasaan`s Prins Emanuel loops an acoustic psychedelic raga, sitar drones, tambura buzz, that makes me think of The Bunnymen upstairs at Eric`s (but clearly isn`t). On Villier`s Terrace all you need is love. Roll around on the carpet. Do it clean. Half Silk is Ryan from Horsebeach. If "Faded Eyes" was more night bus than beach, then "Delicious Crime" is more sun, sea and sand than Piccadilly city centre rain. Bongos and Mark Barrott`s "Baby Come Home" get added to the Horsebeach indie guitar heroes mix to create a Militant Balearic Red Wedge cocktail sipping beatnik Jazz shuffle. The Style Council spending a long hot summer in George Michael`s Club Tropicana tangas.
When sorting through promos, to select music for radio play and review, I burn all the new stuff anonymously on to CDs and spend a couple of weeks running my kids around with them as the soundtrack. My kids the guinea pigs, the fortunate / long-suffering jukebox jury. The transient nature of modern music means that after a couple of run-throughs we might be skipping 25 (or more) out of 50 tracks, but listening "without prejudice" means that lined-up and on repeat, quality leaps out. This last month I kept coming back to Half Silk, so much so that, while I believe that I have beaten my addiction into its closing stages, I ended up hitting Moonboots for a copy, sweating in the knowledge that location and guinea pig care mean that I`ll be nowhere near a record shop on April 18th.