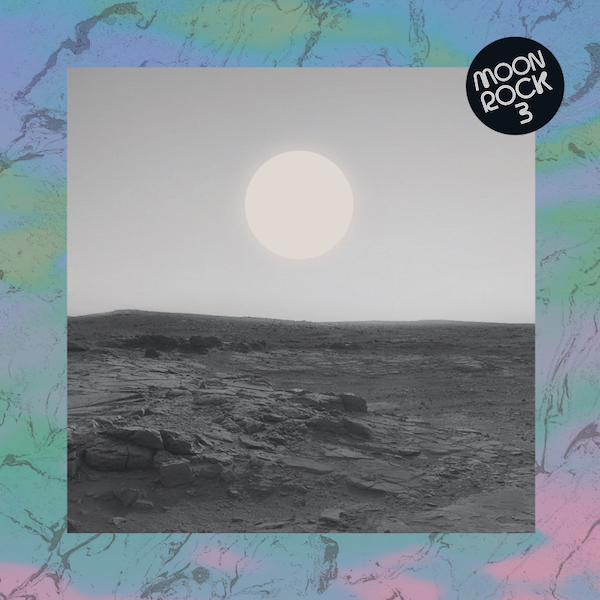 Harps chase dulcimers over synthesized swells. Wood block percussion suggests the start of another day in paradise. Anzano have Karamika`s electronic march take a moment to relax, take an analogue bubble bath in synapse massaging sinewaves. Apiento & Co.`s "ESP" is transported through mists to dawn atop one of Wally Badarou`s mountains. Angels sigh, vistas smile back.
A needle crackles, caught in the groove. Sleep goes skittering as an alarm sounds and vivid and complex dreams lead to confrontations with Monsters of the Id. Chrome Canyon`s "Light" has life forms emerging in the green of Musiccargo`s "Harmonie". Buds shoot in time-lapse, young leaves unfurl and claim a once lonely planet`s surface. Tempelhof`s sirens sing like electric pylons ringing a requiem for the modern age. Machines remembering the last days of man. The legend of the Human Race.
In places this is almost a non-music. In others it is a Kosmische that borders on New Age. A New Age where Californian sunshine has been replaced by a psychedelic step outside of consensus reality. Auditory hallucinations. A burning of senses heightened. Whispered hymns penetrating a growling fog. Fingerprints in the ether.
Now on their third volume the Moon Rock compilations always manage to curate a cohesive sound from a diverse range of contributors. Despite its patchwork nature the listen always seems a themed trip. Impressed I asked label founder James Friedman a few "hows and whats".
How do you select artists for the project?
Typically I choose artists based on who I know well enough to ask for a tune. With a few exceptions everyone on the compilations is a friend or acquaintance. The folks I don't really know so well are at least "friends" on Facebook. In large measure that's how Throne of Blood has worked as well. There are few incentives to releasing electronic music, particularly stuff that isn't precisely on trend for the moment. It's not a money maker and it`s a lot of work. I find it`s most fulfilling to work with folks I really like. On those occasions where I have released somebody I don't really know, they have become a friend through those interactions. In terms of selection for each compilation, I go by the tunes not the artists. While it`s thrilling to have folks I deeply admire and respect participate in these, I program each compilation from a pool of tracks I solicit in the hope of building coherent sides. I want the overall album listening experience to work, but it is especially important to me that each side of each LP work well. Songs that don't quite fit are set aside for consideration for the subsequent edition. My tastes are evolving and changing and whatever my current focus is in terms of sound or vibe seems to colour each successive edition.
"What`s the "remit" you give the artist, `cos this is ambient of a darker shade. Do you do a Captain Beefheart and say something like "Give me a sunrise but I want it grey with a luminous green glow"? Or "Give me heart broken static"?
As far as the remit, I tend to use the same kinds of verbiage that litter the promo copy for Moon Rock: cosmic, ambient, space, crystalline, drone, arpeggios… I have also steered people towards more old school sounds: more Eno than Orb. But largely I have left it up to the artists to interpret what Moon Rocks sound like. If their submissions have been off brief, that's ok.
Which artists would you like for Moon Rock 4?
I've already started gathering stuff for Volume 4 actually. I have some great music from Magic Mountain High, Gilb'r, Craig Bratley and others. I really would like some core Throne of Blood folks like my label manager, Max Pask, and my art director, Andrew Potter, both of whom have made records for me in the past to contribute. I would also love to wrangle stuff from a few artists I really like, such as Roman Flugel, Young Marco, Suzanne Kraft, Brain Machine. If I could, I would also love to include some older music if it were possible. Some unreleased Fripp and Eno outtake or B-side would be so amazing to unearth…