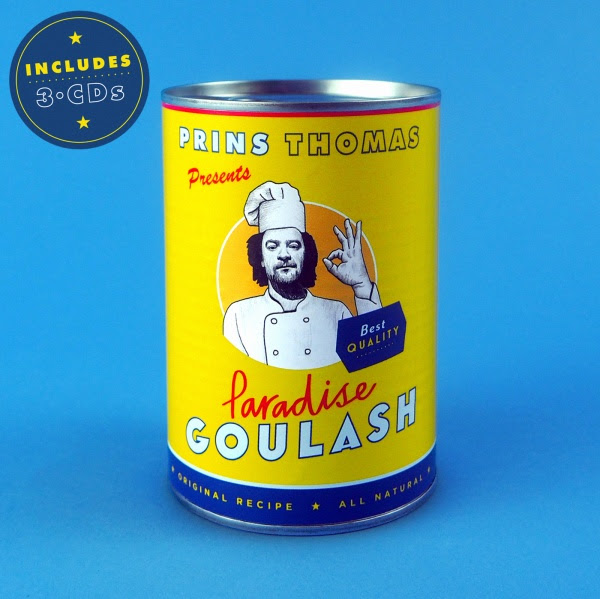 Prins Thomas gives a little nod to the Paradise Garage with his new 3CD compilation, 'Paradise Goulash'.
Prins says, "The music contained within is a willfully diverse collection of music that I hope you'll find pleasing to your ears. Much like a bowl of goulash, not all the ingredients might be to your liking. It is undeniably more rustic roadside tavern than refined dining but I hope you already trust me behind the pots and pans. I have been spoilt for choice by the many fine ingredients available to me and have become somewhat blinded in compiling the final tracklist. However, the end result has now been tested on my nearest and dearest to approval. I present to you, my own special "Paradise Goulash."
Check the tracklisting on this bad boy. x.
1/3CD
1. Turns – Forever More Pt. III
2. Gabor Szabo – Galatea's Guitar
3. Brian Bennett Band – Drum Odyssey
4. Aqua Bassino – Ibiza
5. Claude Speeed – VIN
6. Sun Araw – Ma Holo
7. Richard Schneider Jr. – Samba-Trip
8. Mistral – Starship 109
9. The Durian Brothers – Weggeputscht
10. Zazou Bikaye & CY1 – Lamuka
11. Berliner Ring – El Amarna
12. C Cat Trance – Dalbouka
13. A Split – Second – Scandinavian Bellydance
14. TM404 – 303/303/303/303/606
15. RVDS – Nerds
16. Len Leise – Dance Of The Ghosts
17. NSI. – Nikita
18. Wally Badarou – Voices
19. Jan Akkerman – Tranquilizer
2/3CD
1. Bjørn Torske – Nestor
2. Actress – Xoul Particles
3. Son.sine – Upekah
4. Hakimonu – Cadence 1 / Native A
5. Donato Dozzy & Tin Man – Test 7
6. I:Cube – Falling
7. Hieroglyphic Being – Imaginary Soundscapes 9
8. Forever Sound – Glowworm
9. Odd Numbers – Riviera
10. Dreamatic – I Can Feel It (Enzo Elia GFR Edit)
11. SW. – Untitled
12. Pev & Kowton – Low Strobe
13. Joachim Holm & Alejandro Mosso – Tre Melodi
14. Robert Hood – Drive (The Age Of Automation)
15. Abdulla Rashim – Moral Blinds
16. Dirty Jesus – Don't Fuck With My Shit (RV Cock's Black Cock Mix)
17. Marcos Cabral – Sweet & Sour
18. Box Saga – Zen And The Art Of Deadlines
19. Bjørn Torske – Nitten Nitti
20. Les Big Byrd – Roundhouse Blues
3/3CD
1. Ü – The Subdubba Beat (Stockholmia Glue Mix)
2. Petar Dundov – Sailing Off The Grid
3. Louis Haiman – Ghosts Of Gratiot
4. Evigt Mörker – Högre
5. Morphosis – Silent Screamer
6. Sebbo – Watamu Beach (Moritz von Oswald Rework)
7. Young Marco – Biology Theme
8. Luke Abbott – Modern Driveway
9. Ricardo Villalobos – Defixia
10. Zadig – Quiet Orbit Around Gladia
11. Marcellus Pittman – The Mad Underdog
12. Stefan Vincent – Fool Me Again
13. Blacknecks – Don't Dream It Be It
14. Siriusmo – Liu
15. Il Guardiano Del Faro – Ma Ci Pensi, Io E Te
16. Johanna Billing – This Is How We Walk On The Moon
17. Krater – Labyrint
18. Kurt Vile – Baby's Arms