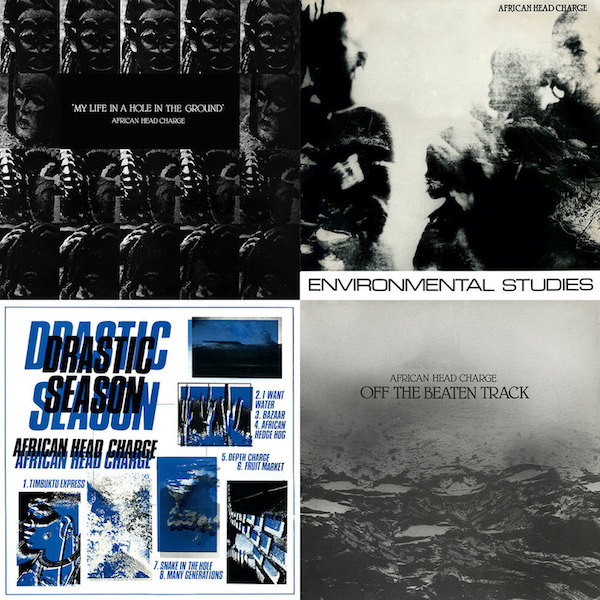 African Head Charge was famously born in Berry Street Studios` "Hole In The Ground". A Punk face pulled at the pretentions of Eno & Byrne`s "vision of a psychedelic Africa". Taking the piss yet still fascinated by the possibilities. The "group" centred on Adrian Sherwood, Kishi Yamamoto, drummers Charlie "Eskimo" Fox & Style Scott, Crucial Tony`s guitar, Doctor Pablo on a variety of keys, and master percussionist Bonjo Iyabinghi Noah, with the late night sessions, as with collectives Singers & Players and New Age Steppers, pulling in a variety of orbiting ON-U sympathizers. "My Life In A Hole In The Ground" saw cameos from Prince Far I (as Prince Cry Cry), George Oban, Mr. Magoo, Maximum Joy`s Tony Wrafter and the Pop Group`s John Waddington. "Environmental Studies" added the horns of Deadly Headley, Dave "Flash" Wright and Steve Beresford. London Underground`s Martin Frederix sat in on "Drastic Season", while Jah Wobble and Ministry`s Al Jourgensen contributed to "Off The Beaten Track".
Recorded between 1981 and 1985, pre-samplers, all the "found sounds" that make up AHC`s musical collage had to be cut and spliced by hand. Sherwood`s intention was to push these "ambient" elements, such as the music of running water (hence "Environmental Studies"?), above the levels of the band. The march of distant drums was created in the studio`s stone-built toilet. "Stebeni`s Theme" (from "My Life In A Hole In The Ground") isn`t so much a psychedelic Africa as a field recording from an alien bush. "Latin Temperament" (from "Environmental Studies") might be "Stebeni`s Theme Part 2" with chants and song replaced by the whistles and mating calls of clanger-like creatures. "Dinosaur`s Lament" puts koto strings over cavernous bass echoes. Dub it is but Reggae it ain`t. A stoned ambience that could be playing in Turner`s Powis Square hideaway in Donald Cammell & Nick Roeg`s "Performance". Edgy and paranoid.
"Drastic Season" marked a move from Berry Street to Southern Studios. I`ve seen the words "wired" and "speed-fuelled" written in associated legend and Sherwood has described the set as "rhythms within rhythms", "edits on edits", and "a high-tech mix of human, animal and machine". No one`s gonna argue with that. "Bazaar" pits fragmented, wordless vocals against Middle Eastern spirals. Its groove stopping and starting as its drums zoom in and out of focus.
"Off The Beaten Track" was committed to tape in the wake of Tackhead, and the influence of Keith LeBlanc can heard in the melancholic Einstein sampling "Language & Mentality" ("Is there no thought without language?"). "Throw It Away" is the Funk of tribesmen stomping from foot to foot. "Over The Sky" has New Orleans funeral Jazz ride beats in collision. For every action an equal and opposite reaction. Buildings reverberate. "Some Bizarre" thuds forcefully, as dogs are made to bark in tune and guitars are welded like chainsaws. Buzzing into infinity.
All four classic African Head Charge LPs are scheduled for vinyl reissue early in the new year. You can find out more details and pre-order here.