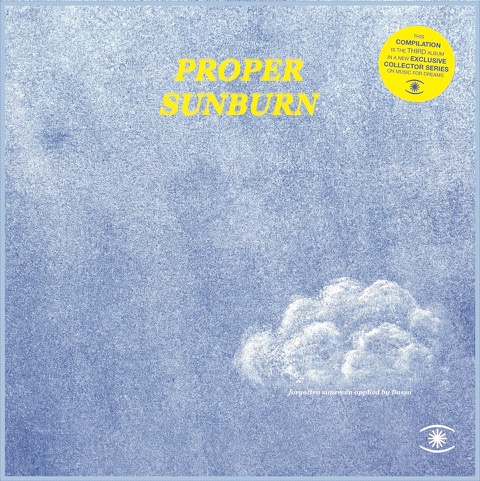 As we all know, the phrase "curated by" is sorely overused today. However, when it comes to Proper Sunburn, the latest edition in Copenhagen label Music For Dreams immaculately assembled collectors series, it rings true. Subtitled Forgotten Sunscreen Applied by Basso, Proper Sunburn sees Growing Bin Records honcho Basso digging deep for a collection of thirteen even deeper cuts.
Mostly drawn from Germany in the 80s, the bulk of Proper Sunburn pivots around a spacious, fourth world ethno-synth fusion theme. That said, the sort of psych-tinged yacht rock you might catch Connan Mockasin, Mac DeMarco, or Unknown Mortal Orchestra covering shows up at points as well. Around these markers, Basso threads things together with a selection of spectral post-punk ballads and dubby new rave swing numbers, with shuffling drum machine bossa nova and traces of laidback jazz-pop added for good measure.
There's a lot to take in, but let's work through some highlights. The languid 70s seaside flamenco pop of Australian singer Hans Hass's 'Welche Farbe Hat Der Wind'. The dusty break-up strut of Ghia's 'You Won't Sleep On My Pillow'. Straight out of the 90s, DJ Food's delicate tabla'n'synth juggling act 'The Dawn'. Mikey D's German street soul dub 'I Need You.' The shimmering steel-pan electronics of RVDS's 2016 cut 'Menuet De Vampire', and the pristine harp cybernetics of 'Light Of Darkness' by Horizont.
Immaculately sequenced and jam-packed with songs that can send you spiraling down a Discogs rabbit hole or grooving poolside during the summer months, Proper Sunburn is one of those compilations. The subtitle checks out – Forgotten Sunscreen Applied by Basso, indeed.
Proper Sunburn will be released in 2LP, CD, and digital formats on Nov 1 through Music For Dreams (pre-order here)