On labels like Twisted Nerve, Brutal, Stark Reality, and Poptones, hidden behind pseudonyms, groups and projects like Godsy, Prey, Jigoku, and Shallow Sanction, Cherrystones AKA Gareth Goddard has been releasing music since 1998, putting together compilations since 2002, and buying and selling records for goodness knows how long. Taken with both the concept (to switch on the uninitiated rather than alienate with rarity) and the music (a real alternative) contained within his recent "Critical Mass" collection, released on David Holmes` Touch Sensitive, I saw an opportunity to learn more about Cherrystones.
Where are you from?
London Born and Bred. Wales schooled and earthed.
Where are you based?
Planet Earth.
What made you start?
My Grandmother who was deaf. A kinetic unity.
What makes you continue?
As above combined with the desire to communicate outside of global boundaries.
How would you describe your sound?
A manifestation of varied emotions.
Where is your favourite place to play / party / other?
Anywhere that can facilitate the previous question, but Barcelona and Brussels have always been very receptive.
Do you have any regular gigs?
Yes, "Step Aside" at the Alibi (http://thealibilondon.co.uk) and "Earth Tones" at Brilliant Corners, Dalston (http://brilliantcornerslondon.co.uk).
What are you most proud of?
My perseverance in a world spoilt rotten by sudden access to a cultural full course audio meal.
How did meet and get to work with Dom Thomas and Andy Votel, Brutal Music and Finders Keepers?
I've known them both for over 17 years via a love of music and selling them both records during the formative stages of our friendships. I was at Jazzman records for a long period and they would come down from Manchester to London to play gigs and buy old records …the rest just was part of the course.
What`s the relationship between Finders Keepers, Twisted Nerve and Invisible Spies? How did you end up on Damon Gough, Badly Drawn Boy`s Twisted Nerve? Can you tell us more about Prey and Barry 7?
It was all mutual interests mixed with artistic groupings. A sort of jigsaw of musical families, some paired, some not. Strange orbits and dynamics. Andy signed me, as he liked what I was doing for Stark Reality.
I knew Barry from ADD N TO X so when they split I suggested forming a band i.e. Prey, named after the Norman J. Warren film which I showed Barry, and years later my best friend Joel Martin of Quiet Village released the soundtrack via Moskovitch Music.
I was not happy with the speed of releases via Twisted Nerve so as ever I took things into my own control, to keep a channel open, rather than sit and get down over it. This is the problem with labels. Often you can just get shelved and just become a pet in someone`s private zoo, to prevent others releasing your music, and I mean this is no way of a slur. I'm good with Andy. All this was so long ago it was just a learning curve in retrospect.
Again how did you hook up with Gerald Jazzman, and release music on Stark Reality?
I assisted Gerald for many years previously to that. I was buying and trading with him for a few years, which led me to the helping with the setting up of Stark Reality as a label / imprint for new music.
Can you tell me more about Alan McGee, Poptones, and "Word And The Sympathetic Sounds Of The Psychedelic Ghetto"? The only know artist in recognise there is Chrome.
Alan gave me the opportunity to do a compilation for him an I was already seeing or believing there was an interest in the harder and more obscure Rock, Psyche if you will, bands past and present so I drafted my dream compilation with a view to showcase bands that inspired me and that I felt needed more respect within that space. I also work on the principle that you should treat every compilation like it's your last. Never compromise. Some of the bands are obscure to many but now with the web giving cross-referencing to almost any pocket of now erased subcultures does rare mean anything now apart from a bid to elevate above someone else's ego on the same bullshit wavelength. It's all become disposable and throw away to point! The internet is just a trough people seem to feed and throw up into in equal measure. I find it demeaning that so many artists have fallen foul to this suck-it-up way of consuming. Luckily labels that have an ear and an eye and principals can showcase their talents years later, respectfully, as opposed to making a quick buck for kudos without any insight to the history of certain bands.
How did you go from the ex-head of Creation Records to Carlos Arias and Whatever We Want? How did you meet Carlos? Can you tell us more about Godsy? What were you trying to do with the project? Is Godsy still active?
I met Carlos through Joel, while he was making music for Carlos with Matt Edwards as Quiet Village. Carlos is a film editor and Joel played him the music I'd made for myself, as I always do, and Carlos and the office staff asked what it was. Carlos then contacted me and proposed two 12s but he wanted them as Godsy, my nickname, as it suited it more in his opinion plus the alias gave me a chance to divide my Cherrystones project which is more programmed and computer based than live, where as Godsy is all played via guitars and synths etc. As long as I'm alive Godsy exists as an energy.
Have you been approached for any soundtrack work, either compiling music or original compositions? Godsy is very "soundtracky" to my ears.
Yes I've made / composed music for a 3D film, and there will be more through working with Toy Drum, as well has having the original script for "Sexy Beast" at my flat from years ago. That is a long and weird story and a massive learning curve also.
Can you tell us more?
Well basically I was given the script with a view to have a trial at composing for it as a friend was very good friends with the director. I then started making some very preliminary cues and underscores based on segments in the script, obviously with a desire to present them as this and a view to move forward and expand if given the green light. However within those months I met a certain head of a record label at his office on a social level and he asked me amongst other things what I was working on. I replied with I'm doing some drafts for the aforementioned film. He looked puzzled and a bit aloof and the next thing I knew I was out of it, kind of pushed out, as the band on his label took over the score as he had had the same director make a video for another of his bands. Making it very clear to me in retrospect to keep your mouth shut in future, even in naivety or excitement. To be honest I was not ready for it anyway. The ideas were good but I've learned so much more as a listener and composer of sorts since then in relation to a score of that proportion. Every now and then I find the script and just laugh.
Who is Lovely John?
Jon is one of my best and closest friends and one of if not the most knowledgeable people I know on film obscurities, along with Tony Clarke of Psychotronic, old and new. He has dedicated his life to weird and wonderful movies, mainly VHS originals but also a whole massive archive of rare and imported DVDs. We started a project called "Jigoku" over 15 years ago, pre the now fashionable re-score, where we`d edit 45 minutes of highly obscure footage together and re-compose each segment with cues, instrumentals, underscores and beats or whatever. Rework the now assembled narrative /stories within the entire piece then perform live off the bat with no backing track or computers, Ableton or grid work, just timing. We flew Alessandro Alessandroni in (the famous whistler and guitarist who worked with Ennio Morricone) to do a sold-out show with us at the ICA in 2001 and to work with such a legend and for him to enjoy it was a great feeling. There was a mutual respect between us. Two ex-punks getting nasty with new mediums and also a legend and innovator that had inspired us both hugely. He still phones Jon now even in his 80s to see how we all are. The man`s got soul. Both of them.
How did the Shallow Sanction record come about for Dominick Fernow`s Hospital Productions?
The initial members Jake, Jesse, Rob are all friends of mine. I put them into Mike Burnham`s Love Buzz studio where we recorded the EP. I added some electronics and co-produced it with the band. Jake and Jesse are tight with Dominick and have been for years. He liked the demos so he released it. My only link with Dominick is via Wolf Eyes, who I know as friends, as they are also connected with his work.
Who are you working with at the moment?
David Holmes & Mark Reid at Touch Sensitive, Toy Drum, Psychemagik. I`m managing a band called MDME SPKR (https://mdmespkr.bandcamp.com; https://www.facebook.com/MADAME.SPEAKER). Plus a few other closer kept secrets.
Did David Holmes approach you to do the "Critical Mass" compilation for Touch Sensitive?
Yes, following giving me the platform to compile "Hidden Charms" David told me he was setting up a new imprint and would like me to contribute. "Critical Mass" was the result of me playing him these selections over two and a half years ago.
Where do you find these records?
Anywhere away from overpriced, self-instated, online, ego-driven, folded-armed, know-it-alls…. No, really I don't know. Most of the time they find me, and not in shops. I still hit secret places away from the masses.
How much time do you spend in record shops?
Not much. Probably more in new shops than old i.e. new music. I have enough of both to keep me inspired and to keep compiling and I'm a futurist rather than a fetishized vintage-for-vintage sake person. Most of the music I look for is old stuff that sounds modern or visionary and contemporary music that sounds the same, not steeped in the past, but pushing things forward via equipment or production values mixed with aesthetics.
What new music is doing it for you at the moment?
I like a lot of the better Hip Hop out there, a long with good Techno, Detroit-inspired, al a L.I.E.S., etc., and modern Punk / Hardcore. Small labels with energy. Lumpy & The Dumpers, The Impalers…Sonic Jesus and MDME SPKR are bands I`d endorse as unique and doing it their own futuristic way. In a different context Beau Wanzer is, for me, making some of the best modern electronic music at present. His LP was one of my favourites of last year, and seeing him live recently at Cafe Oto, using a set up of all hardware rather than Mac's and plug-ins was very impressive and refreshing, in the context of not to having to watch some one bob up and down behind an Apple logo for a change. Although I'm not really biased as how people make their sounds as long as they sound authentic. I just generally like spirited music with energy and integrity. Too much to convey really as it's a good time for new sounds as long as your filter is on.
Do you prefer DJing, producing, or record hunting?
They all have their merits to be honest. Individually highlighting one would make an experience devoid of any emotional placement, but all in all the best is making your own music as it's a real journey and you are against and up against yourself, your taste, your judgment and abilities, with a view to push those boundaries. So the most fulfilling is seeing the finished embellishment or product of your own sweat.
Are you producing at the moment?
Yes, I'm recording and producing with MDME SPKR, and remixing, as well as working some new projects involving film scores.
The press release for "Critical Mass" states that you have been unwell. I don`t know if you`d like to go into any details here?
Well I was dying when I had my first operation, a life saving 9 hour one. I was misdiagnosed by a lazy doctor and left in agony for two days and on the third I was advised to go to A&E where they looked shocked and just went in. I was supposedly, according to the doctor suffering from kidney stones, but in reality the Surgeon saw I had a perforated bowel, which led to Perotinitis, and I had part of my colon removed. I've been cut open four times and had fifty staples holding my stomach together over the healing process twice. It was pretty horrific. I had to do physio and all manner of emotional hurdles during it. This is a vague summary of it and I could go on but luckily I had a good friends close by who helped and cared a lot. Some fell off and that`s one thing I'll say about health, it's your wealth and you'll see who your real mates are, god forbid this should happen to anyone. It was a time of strength and woe. I did not eat or listen to music for nine days of my twelve-day stay. I just was too shocked. I decided to just think and leave any negative emotions there ready for when I left, and it worked. The mind is a wonderful, powerful tool if used properly and emotional recovery is key to this level of illness that I've been through. The masterful surgeon told me what I've been through is as big as it gets and it felt like it after around thirty hours at least under the knife. I live in honour and respect to that man and the NHS.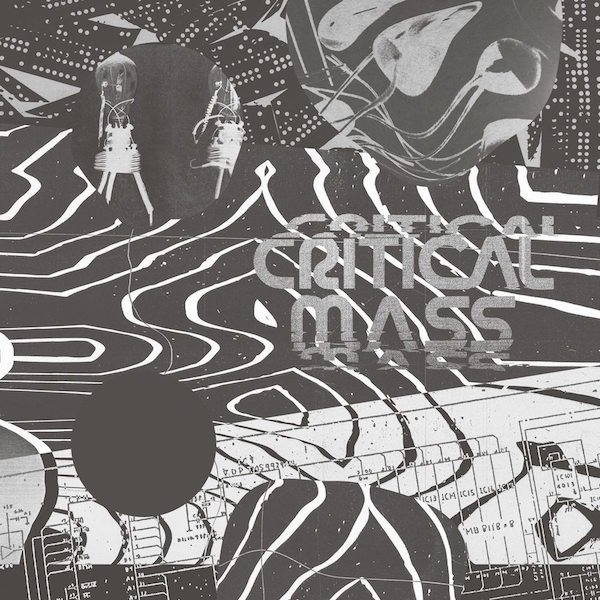 "Critical Mass" was released a couple of weeks ago on Touch Sensitive (http://touchsensitiverecords.bigcartel.com) and you can contact Cherrystones, and give him an electronic thumbs up, via his Facebook page (https://www.facebook.com/pages/Cherrystones/1442404816059604?fref=ts)