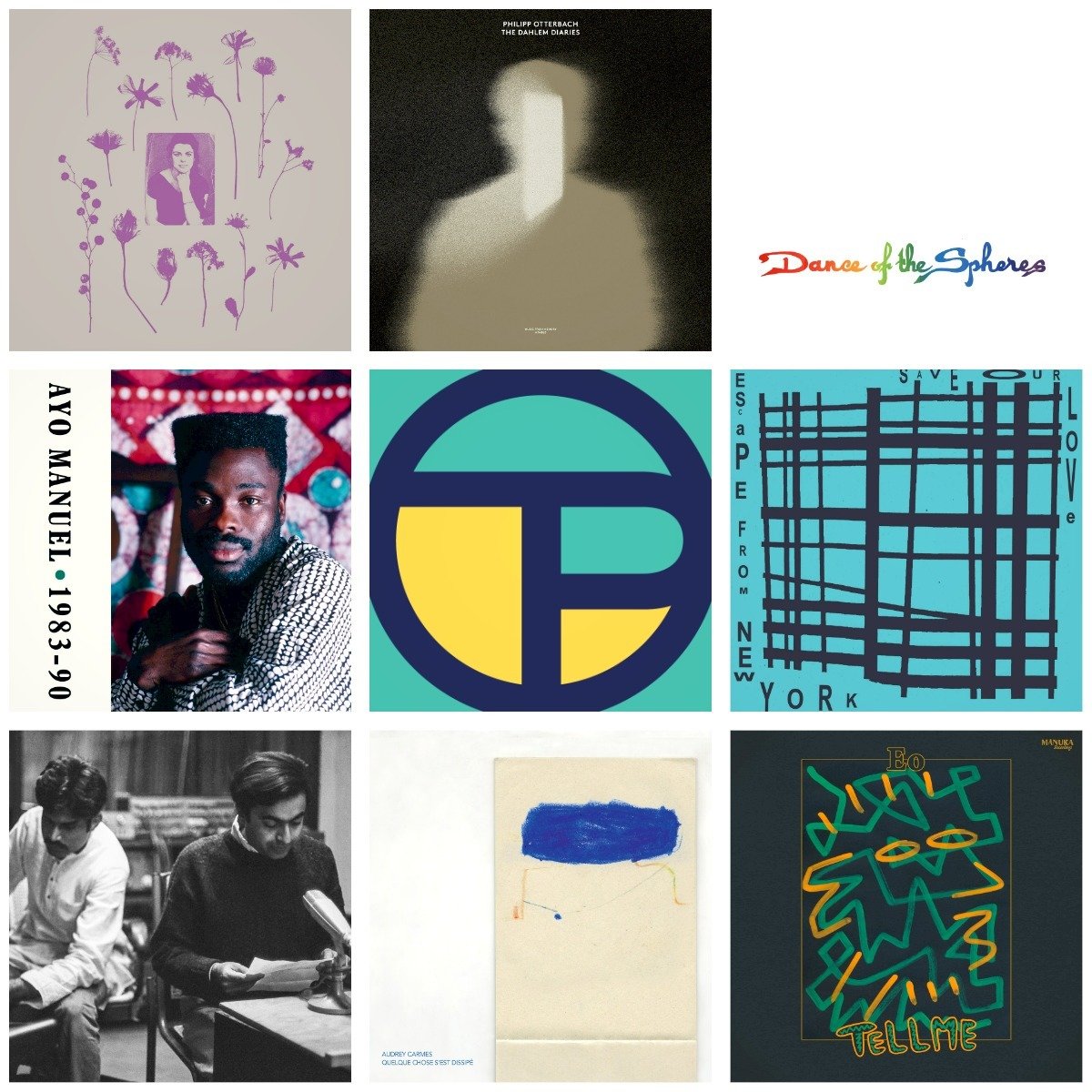 For those unfamiliar, Bandcamp Friday is a sometimes monthly event where Bandcamp waives its revenue share from sales to help support artists and labels affected by the pandemic. The next Bandcamp Friday is August 4th 2023, from midnight to midnight Pacific time. When I remember or have some free time, I like to put together a short recommendation list, and today is one of those days.
In the time I've spent writing about reissues, I've come to really appreciate when record labels invest some time and energy into releasing some contemporary music from artists they've previously reissued. And as far as I'm concerned, "Para Mi Madre" by Bélver Yin is a beautiful example of this, so kudos to Michael and the team at Efficient Space in Melbourne.
Efficient Space's relationship with the Spanish shoegaze outfit, now solely helmed by founding member Pedro L. Ortega, kicked off in 2020 when they reissued their 1991 debut album "Luz Bel." From the first listen, "Luz Bel" was an embarrassment of riches; the spare trio of guitar, bass and drum machines triangulated together into a humid, Balearic leaning take on instrumental shoegaze and dream pop.
Three decades later, Pedro found himself revisiting this aesthetic and sonic configuration while processing and documenting the deeply felt loss of his greatest champion, his mother. When I listen to "Para Mi Madre", I visualise Mediterranean sunsets, sunrises, and bittersweet summer days drenched in the golden light of gratitude, acceptance and reflection.
For the latest one on Music From Memory, Berlin-based artist Philipp Otterbach crafts a richly interwoven tapestry of sound effects, field recordings and ambient guitars, transforming ideas, sketches and tracks old and new into a cohesive and immersive introspective soundworld.
In place of the eerie atmospheres, electronics and drums that helped define his past works, "The Dahlem Diaries" strives to elevate light and hope above a hazy, psychedelic melancholia. Long story short, it's mood music for a fragmented, perhaps out-of-sequence story.
In Philipp's own words: "It could be an album about friendship and being at one with myself, whilst at the same time bringing a certain seriousness to my music, but not necessarily to myself; there is also a playful humour hidden in there. "
Walking between different genre-words and reality boundaries, "Dance of the Spheres" is a hallucinogenic melange of late 20th-century psych and folk, spoken word, and contemporaneous synthesiser and drum machine sounds from the birth of electronic music. Draped in didgeridoo, Indian raga and other miscellaneous elements, everything comes together as an audio document of a very specific moment in Australian musical history.
This moment, of course, occurred in the mid-seventies when David Labuschagne AKA Mojo, and Rob Greaves AKA Ras formed Rainbow Generator, which Left Ear Records consider Australia's first true experimental electronic music group. At present, you can pre-order "Dance of the Spheres" in digital and vinyl formats via the Left Ear Bandcamp page.

Amidst their usual flurry of releases, Soundway Records serves up Ayo Manuel's "1983-1990", a curated collection of trailblazing works from one of Nigeria's DIY music pioneers. A choir singer from the small town of Atijere, Ayo fell in love with nightclub, radio station and record store culture upon arriving in the megacity of Lagos.
A graphic designer by trade, he networked with local independent record labels before spending the next two years periodically booking recording time at Decca Studios and hiring the services of some top-shelf session players, culminating in the crunchy, sophisti-synth sound of his 1983 debut album "Love Candidate".
In the late 1980s, he arrived in San Francisco, where he plugged into the US circuit, soaking up inspiration before recording his 1990 Afro-disco/afro-pop follow-up, "Party Zone". Across "1983-1990", you can hear Soundway's picks for the best of Ayo's songs. It's a hyper-confident body of work where the influence of Fela Kuti collies with the explosive sounds of American disco-funk given a 90s drum sound polish.
In Ayo's words, "Everyone has a song inside them or a painting that should be put to canvas. Don't let obstacles get in your way. If you put your mind to it, you can achieve anything."
Our friends at Adelaide's Isle Of Jura label keep the pressure up with a reissue of shortlived early 1980s London band Escape From New York's original single, 'Save Our Love'. Originally released just one year before the classic 'Fire in My Heart', it effortlessly lays out their hard-hitting vision for a formidable fusion of new wave, disco, italo and post-punk. As well as the original, this 12"/digital reissue also includes an instrumental and the (dance music) of another one of their cult classics, 'Slow Beat'.

This is a big deal. "The NID Tapes: Electronic Music from India 1969-1972" chronicles previously unheard electronic works from Gita Sarabhai, I.S. Mathur, Atul Desai, S.C. Shama and Jinraj Joshipura. These Indian composers all worked at India's first electronic music studio, created at the Institute of Design in Ahmedabad, India, during the years following India's independence - a period of radical visionary experimentation and utopian dreams.
"The NID Tapes: Electronic Music from India 1969-1972" was developed from an extensive research project conducted by the British artist and electronic musician Paul Purgas who travelled to Ahmedabad over many years to explore the origins of electronic music in India. This resulted in the discovery of the electronic music archive at the NID and its eventual restoration and digitising, which featured in the acclaimed BBC radio documentary Electronic India.
To compliment the collection, Strange Attractor Press will also be releasing a book titled "Suncontentinental Synthesis: Electronic Music at the National Institute of Design, India 1969–1972". Pre-orders are up now, but September can't come too soon for this one.
As I noted on Twitter the other day, describing sound in sculptural terms or an environment can feel a bit cliche at times, but Parisian composer and artist Audrey Carmes' work on her debut album "Quelque Chose S'est Dissipé" is really special and truly does deserve to be described in the manners cited above. It reminds me of the classic French animated Sci-Fi film "La Planète Sauvage", but not for the reasons I would ostensibly expect.
Inspired by krautrock, ambient and avant-garde electronic music, she draws from a stylistically cohesive range of sonic elements while creating her own distinct and utterly gorgeous blend of sound design and composition. As she put it, "This album was conceived as a contemplative journey, a remedy spelt with whispers, hushed soundscapes and repetitive patterns; it hosts the wish to find both appeasement and peaceful strength"
Last year, my friends at the New Zealand hyper-boutique label Mānuka Recordings kicked things off with a scorching modern soul/boogie 10"/digital release titled "Key to All My Love/Judas" with the singer Summer Vee. In June, they followed up with an even more limited edition 7"/digital release titled "Tell Me / What You Need" with the rapper/vocalist EO.
On the A-side, Mānuka Recordings founders Dylan Biscuit and Kenny Sterling search for the Balearic beat through an Antipodean lens. Starting with an improvised drum machine and synthesiser jam inspired by Dylan's experiences partying across Europe in 2019, they brought in a woodwind player and Eo, who helped them shape their ideas into a dreamy flute house track, all dressed up in a series of emotionally conflicted half-sung, half-rapped refrains.
On the flip of Tell Me, Kenny Sterling takes the song through a different set of sonic doorways, in the process crafting a laidback remix featuring vibraphone from Cory Champion (Clear Path Ensemble/Borrowed CS). Nudging "Tell Me" into a lush jazzy lounge zone, it evokes a similar sensibility to recent works from the cult UK and Californian musicians Greg Foat and John Carroll Kirby.