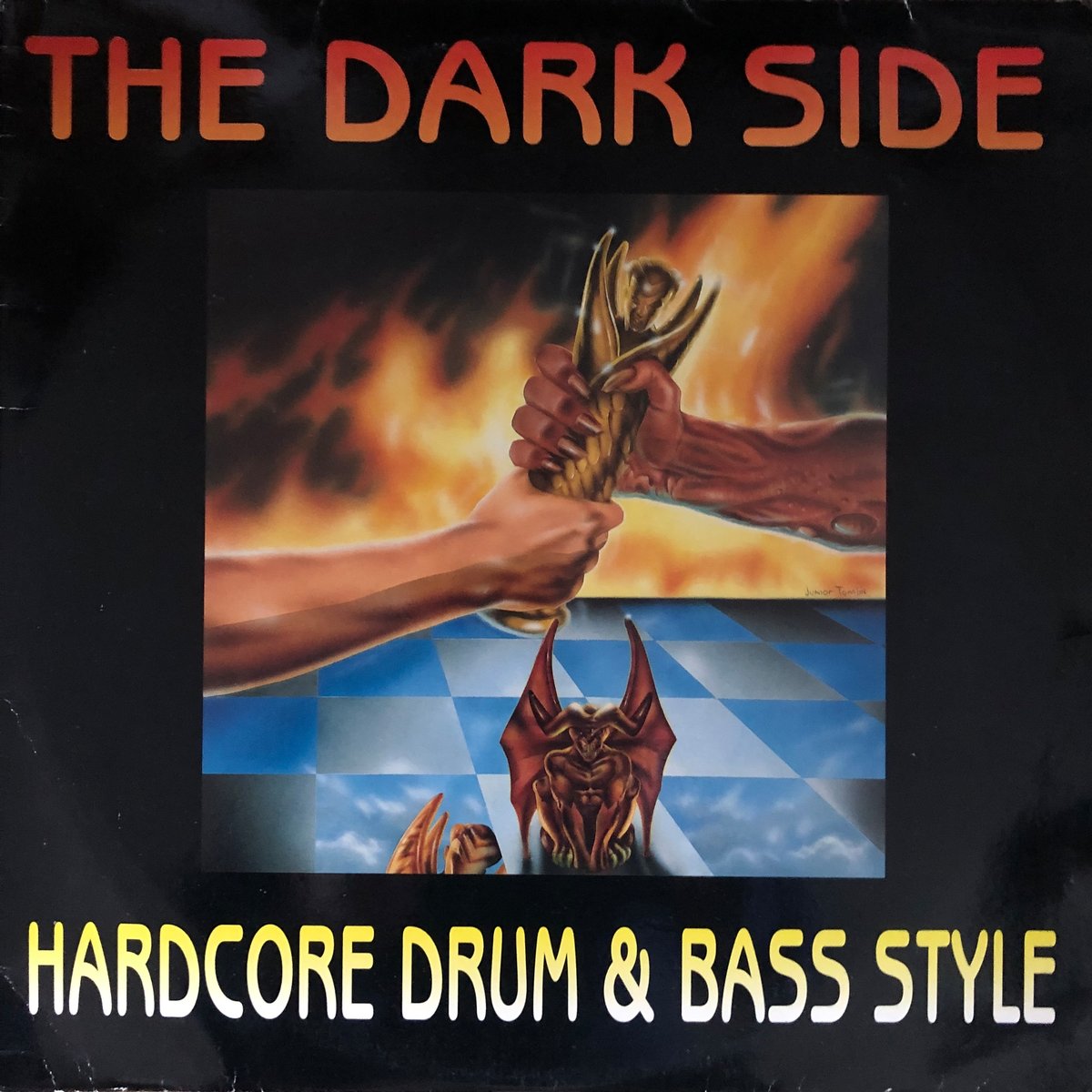 Compilations can pose a bit of a dilemma for some vinyl aficionados (seen as the easy option…) but they've always played an important part in my musical education and this one in particular has a special place in my heart. It's the record that introduced me to the world of jungle and drum and bass and started an enduring love affair with the genre that lasts to this day. It's also an interesting cultural artefact as it captures the moment in the early 90's when breakbeat hardcore split in two with one side going deeper and darker into what went on to become jungle and drum and bass and the other following a lighter more piano driven path that led to happy hardcore.
It is the darker more dubwise sounds that were always of more interest to me and one of the best examples of the successful introduction of dub and reggae influences to the classic hardcore sound can be found here in the form of Babylon Timewarp's 'Durban Poison.' Kicking off with a skanking dubbed out reggae intro which gives way to a furious onslaught of breakbeats and sub bass it provides a blueprint for the then emerging jungle sound. Interestingly the track got another lease of life 13 years later when it got a dubstep rework in the hands of Hijak as 'Babylon Timewarp (Root Dedication Mix)' released on Deep Medi in 2006.
Another stand out track is the truly incredible 'Terminator' by Metalheads. When witnessed in his now often frequent role as a primetime TV celebrity it's sometimes easy to forget just how much of a pioneering musical genius Goldie is. However if you are ever in any doubt just listen to this track and all faith will be restored. Despite being nearly 30 years old it still sounds like the future. Those chopped up, time stretched drum patterns are something else.
When witnessed in his now often frequent role as a primetime TV celebrity it's sometimes easy to forget just how much of a pioneering musical genius Goldie is.
The choice of Doc Scott's brutally brilliant Public Enemy sampling 'Here Comes The Drumz' as the opening track on the album is also a bold move. It's one hell of a track to kick things off with and I remember it certainly made quite an impact on my tender teenage ears when I first heard it. Stripped back to a relentless barrage of drum and bass it has an intense physicality that puts it on a par with some of the more challenging experimental noise tracks around nowadays. It's a properly mental track and has lost none of its ferocity over the years.
Maybe unsurprisingly it's the tracks that take the more traditional euphoric hardcore route such as DJ Seduction's 'Sub Dub' and NRG's 'I Need Your Lovin' with their focus on hands-in-the-air vocal breakdowns (provided by samples from The Korgis and Sandy Denny respectively) that have aged less well. They're both still pretty decent tunes if you're in the mood for a bit of rave nostalgia but set against tracks like 'Terminator' or 'Here Comes The Drumz' they just don't cut the mustard.
Then there are the tracks that seem to have one foot in either camp. These are also pretty fascinating as often they have elements of jungle (ragga vocal samples and dub basslines) sitting alongside elements of hardcore (sped up chipmunk vocals and synth stabs). "Survival' by Noise Factory is a great example of this in action and ends up sounding like a conversation between the worlds of jungle and hardcore as the two elements appear side by side with each other alternating throughout the track.
Finally I think some mention has to be made of the album artwork which is certainly very characteristic of the early 90's fantasy themed rave art found on flyers for mega raves such as Fantazia and Dreamscape. It has a futuristic sci-fi feel to it with a bit of old school horror thrown in for good measure. The main image depicts some kind of good versus evil challenge going on between man and beast for a giant chess piece which, with the benefit of hindsight, could be seen as representing the musical battle taking place at the time for the direction hardcore was heading in. The dark side of jungle and drum and bass on one side or the lighter side of happy hardcore on the other. As the tracks on this album show ultimately it was a battle that The Dark Side won.