In the second of our Harold Heath Top 10s the focus is on tracks that Harold taped from Norman Jay's Original Musiquarium Kiss FM Show. This show contained one of my favourite bits of radio which my friend has on tape somewhere. Rudolf Nureyev, one of the most famous ballet dancers the world had ever seen, had died at the same time as Dizzy Gillespie. In his cool tones Norman says, "...in the week that Rudolf Nureyev died we also lost the great Dizzy GIllespie - with all respect Dizzy meant a whole lot more..." then he dropped jazz funk classic 'Unicorn'. Perfect radio. And if you don't know 'Unicorn' you are in for a treat. Anyway, Norman's show clearly meant a lot to Harold too. Here's his Top 10 favourites taped from the show...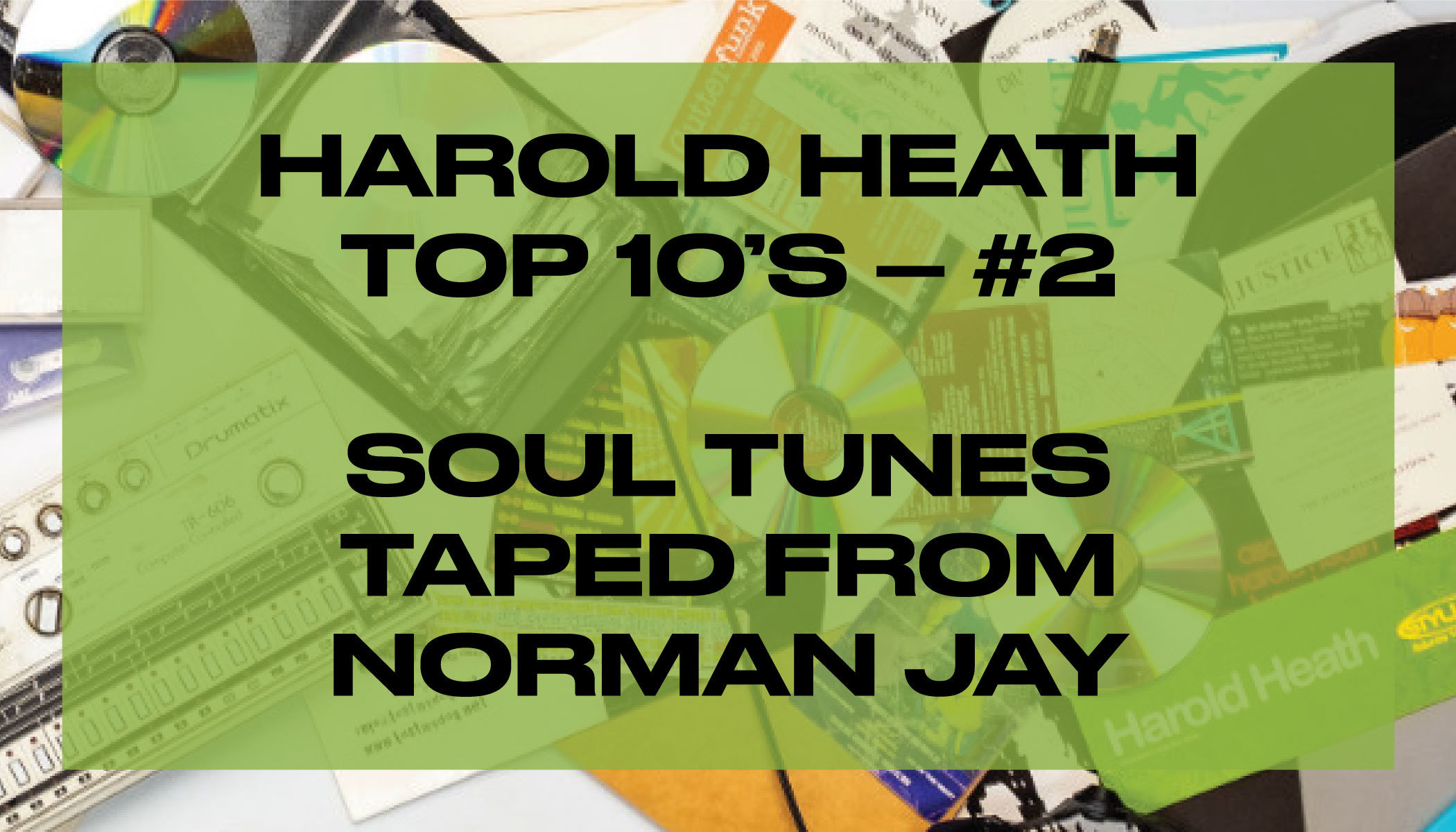 Edwin Star - There You Go
It's beautiful, it's funky, it's laid back, it's possibly Edwin Star's finest moment.
Eddie Russ - I Heard That
Absolute, guaranteed 100% floor filler or your money back.
Donald Byrd - Think Twice
Beautiful Blue Note jam from Donald Byrd's 1975 Larry and Fonce Mizell produced 'Stepping Into Tomorrow' album.
Natalie Cole - Annie Mae
Classic two step soul paean to Tina Turner.
Stevie Wonder - Black Man
From 'Songs in the Key of Life', life, an eight and half minute moog funk odyssey / black history lesson: inspirational.
Carl Davis & The Chi Town Orchestra - Windy City Theme
Featuring some of the sweetest strings in soul music.
Harold Melvin and the Blue Notes - Bad Luck
Norman always loved a bit of Philadelphia International Records, this might be my fave ever Philly track featuring proto-house piano, Earl Young's killer drum licks and peak-Teddy Pendergrass.
O'Jays - Used To Be My Girl
The more breezy side of PIR, thanks for NJ I will forever associate this track with London summertimes.
The Jones Girls - Will You Be There
High quality early Jones Girls from 1974, two step classic, just divine.
Gary Bartz - Music Is My Sanctuary
Layers of percolating percussion and interlocking guitars and keys provide a sublime background for Syreeta's crystal-pure vocals - gorgeous!
Fuck me. What a ridiculous selection of music. There's my 18 year old self high as a kite properly loving it. Back to the program. Harold Heath's 'Long Relationships – My Incredible Journey From Unknown DJ to Small-Time DJ' is available now via Velocity Press.