Out Of The Box
Orange Juice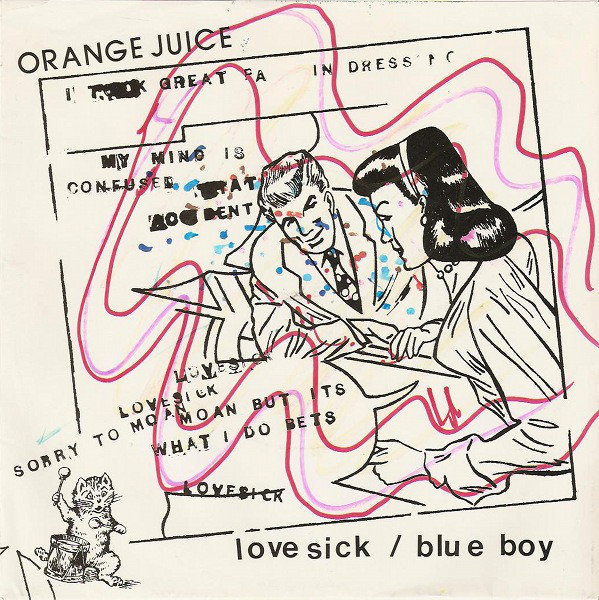 John had given me a tape. On its side, in biro, was written "Conspire To Inspire". The music it contained was a mix of "Pebbles" and "Nuggets", Mod-Psyche, Garage R`n`B. Bands like The Sonics, up against those they had influenced, The Prisoners, and new stuff like Martin Stephenson & The Daintees` "Little Red Bottle". Most of it I`d never heard, including a track by Orange Juice called "Blue Boy". John was a mate of Lee`s. Lee was a Theology student from Dover while John was a Northerner studying Biochemistry, which is how I came to meet him, but the two of them must have spotted each other immediately, since they were dressed in similarly unique garb. They had a vintage Rock & Roll thing going on, though rather than Rockabilly quiff, checked shirt, torn denim, they were slicked back, round collars, bootlace ties, waistcoats, and Teddy Boyish drape, all in black. They looked like Western gunslingers, Wyatt Erp & Doc Holiday, Lee`s namesake, Van Cleef, in a "For A Few Dollars More". That or undertakers. As a duo they escorted Jo. Promenading inseparably. Lee, who was far better looking, hand in hand with Jo, as they all but skipped around the grounds and to and from meals.
The Orange Juice I knew were the band in wetsuits and flippers bouncing around to the squelch of "Rip It Up"s pre-Acid House Roland TB-303 bass-line. They were a band I discovered in retrospect. Post-"Conspire To Inspire". Post-"Blue Boy". "Blue Boy" sounded just like The Wedding Present, a local band me & H had started to follow. We wouldn`t have recognised it then, but The Wedding Present would cover Orange Juice`s "Felicity". They`d do it live at two or three times the speed of the original. I guess out of respect, and I guess acknowledging that all of their songs were based on its thrash, The Wedding Present also named a song "Shanter", a "Star Trek" aside to "Felicity"`s author, James Kirk. By the time I heard "Blue Boy", Orange Juice were no more. For a gig at Leeds` Warehouse they were pared down to a nucleus of Edwyn Collins on vocals / guitar and Zeke Manyika on drums, with dub master Dennis "Blackbeard" Bovell on bass and Dick Morrissey joining them for smooth Shakatak-Jazz sax solos. By then the short, sharp, spiky poetry cut-ups that captured the ADS of growth spurts and hormonal confusion had been replaced by a slick, white Soul. Sung in a Glaswegian accent.
"Just like The Four Tops, I can`t help myself."
Clipped Jazz-Funk, where Edwyn`s shouts of "Take me to the bridge" I assumed were a wry, tongue-firmly in cheek, cap doffed to James Brown, which they probably were, but they were also a kiss blown to The Velvet Underground and Lou Reed`s own nod to Brown. "Just watch me now" as his solo takes the place of James` feet on "Real Good Time Together", a song that was there at the beginning of Orange Juice. A song they`d covered in 1979, as the Nu-Sonics, on the opening bill of a Steel Pulse gig at Glasgow`s Satellite City. Edwyn`s arm in a sling, they`d caught the attention of Alan Horne. The meeting resulting in traded insults of "John Boy Walton" and "Fat Boy" and the creation of Postcard Records: "The Sound Of Young Scotland".
The Nu-Sonics were more teenage school friends who`d picked up guitars after witnessing The Clash`s "White Riot Tour", though it was support acts, The Slits and The Subway Sect, who`d interested them most. The Slit`s because they couldn't play, The Subway Sect, because their school uniform via Oxfam attire was far removed from Punk`s leather and studs machismo, and because they seemed to share the odd guitar angles of NYC`s Television as a key point of musical reference. The Nu-Sonics became Orange Juice, thumbed their noses at Glasgow`s hard-man image, and courted chants of "Fucking Poofs", "Poofs, Poofs, Poofs", publicly wishing for a "wee bit of pixie luck" and camping it up as much as possible. As enthusiastic about Donna Summer as they were about David Bowie, they dressed in cuban heels, turtle necks, and tight denims, in celebration of The V.U. They wore their hair in Roger McGuinn fringes, and musically they played exploding plastic inevitable Ragas in minature, Punk in their coda, with the Country twang of The Byrds` "Sweetheart Of The Rodeo" and a bit of Stax thrown in. They covered Al Green,
"I started to write a song about you, then I decided to write it all about love."
and made that thing of the song referencing the song their own.
Alan Horne had fast become legend for his acerbic wit, and in Collins he`d found a perfect foil. Label "brainstorming" sessions would be speed-fuelled put-down competitions and they formed an impenetrable intellectual / music snob inner circle, pouring their practiced withering one-liners on all. While Postcard did inspire a generation of Scottish artists, even though it only lasted a year, between `80 and `81, it has been said that it certainly didn't "Conspire to", and that quite the opposite, Horne`s perverse nature set out to "spoil it for everyone else".
Solely a vehicle for Orange Juice, Postcard pretended to be a label. When it signed fellow Scots, Josef K and Aztec Camera, it subsequently ignored them. Any demos they received were dismissed as "rubbish", "classic rubbish". After a fourth single, "Poor Old Soul", Orange Juice moved to a major, Polydor, fed up with Horne spending what profits there were on ice-cream, and Postcard essentially ceased to exist. Orange Juice however disappointed at Polydor, where they were out-performed by contemporaries, like Lloyd & his Commotions. Perhaps in hindsight this was because, despite Edwyn`s clever clever, often romantic lyrics, which looked back to classic pre-Punk, pre-Rock & Roll songwriting, consciously corny Sinatra-like standards, they didn`t seem to take themselves seriously, mugging and corpsing at their own cutes. And so perhaps, Edwyn`s words never held the "gravitas" necessary for "Freshers" diaries and plagiarised love letters. By `84 they`d been dropped, with Edwyn label-less and Zeke signed to a solo deal. But Edwyn was funny. A sarky, smart arse, hell, he even looked like Matt, with a Jagger bruise of a mouth.
"Here`s a penny for your thoughts. Coincidently, you may keep the change."
We ripped off his "chic", stripped Breton shirt, out-sized shorts, and cub-scout anorak. Hair overly shaved at back & sides, overly floppy on top. And fake Ray Bans. We were clones in the queue when he played Kentish Town. Edwyn / Orange Juice`s humour tied into the student TV of "The Young Ones", "Filthy, Rich & Catflap", and later "Vic Reeves` Big Night Out". If you bought the records, picked up on the references, read Salinger, then you were in on the joke. They weren`t laughing at you. You were falling and laughing with them. If they had a motto then it should have been "Enthusiasm Over Ability", and their music was almost exclusively all joy and light.
"Upwards and onwards."
"Love is a walk down mainstreet."
Happiness, not a thing to be knocked.
The first first time I saw her, I was letting my concentration wander, out of the window of the small, dark, damp, green box that I'd been given in the halls of residence. My window overlooked the playing fields and the road from the front gate that ran beside it. Sat at my desk I was easily distracted by my fellow students, strangers, coming and going. Wednesday afternoons were left free of lectures to let you take part in the sporting activity of your choice. Mine was to sit here, writing letters home. She had fashionably short, black hair, a bright red mouth, and a big nose. She was struggling under the weight of a battered, old leather satchel stuffed full of books. She obviously cared a great deal about her appearance. Trendsetting on a shoestring, but it wasn't her dress sense that struck me, so much as her attitude. She had this look of mocking arrogance, like
"I'm better than the whole fucking lot of you."
She later confided, blamed, this air on her short sightedness. Said she had to stare, concentrate, frowning, to be sure that it was you. I was never convinced.
The next time I saw her was at the National Express depot as I waited to embark on the six hour journey back to London, Leeds` cold and wet homeless for company. She arrived as a coach from Liverpool pulled in and then left with her boyfriend. When her boyfriend wasn't visiting, she of course had John & Lee in tow and they were never at the places I would go. They were too cool for that. You'd find them at low-key gigs in grotty, little clubs, witnessing short live sets by bands like Primal Scream, at events run by local fanzine writers with Warhol obsessions and cheap sulphate habits. I'd be in the student union bar with Five Star on the jukebox, jostling engineers and rugby players, on coma-inducing sessions fuelled by whatever drink was being promoted that evening. 60p a double. You couldn't argue with that, apparently. These fanzine writers would come over selling their wares, bemoaning the lamentable soundtrack, and while I`d be agreeing with them, my associates would be telling them to fuck off. Tracey loved Five Star. These were the people I`d fallen in with, these were my friends. What could I do? Coming back from such separate, disparate, nights out I saw her again, sitting alone on the upper deck of a No. 31.
"Al, I'm going to talk to the bird in the stripey top."
I went for the stairs, but Al, I don`t know why, wrestled me back to the bottom, before I could be introduced.
A few weeks later I was on the road behind the halls, late, hungover-idling towards the bus stop. I'd missed the best part of another morning, but at least I wouldn't have to fight for a seat into campus. She was ahead of me. Quietly on toes I ran to defeat the distance between us, quickly switching back to a walk to cover the last few yards, should she turn around. Her battered, secondhand shoes had fringes on them and I made a lot of crap gags about going to play golf, but she was neither frosty nor aloof. Affable and approachable, she actually encouraged my stumbling, awkward attempts at conversation.
"When he spoke she smiled in all the right places."
She didn't laugh though. That would have been asking too much.
With respect to the fine words and research of David Cavanagh and Richard King.