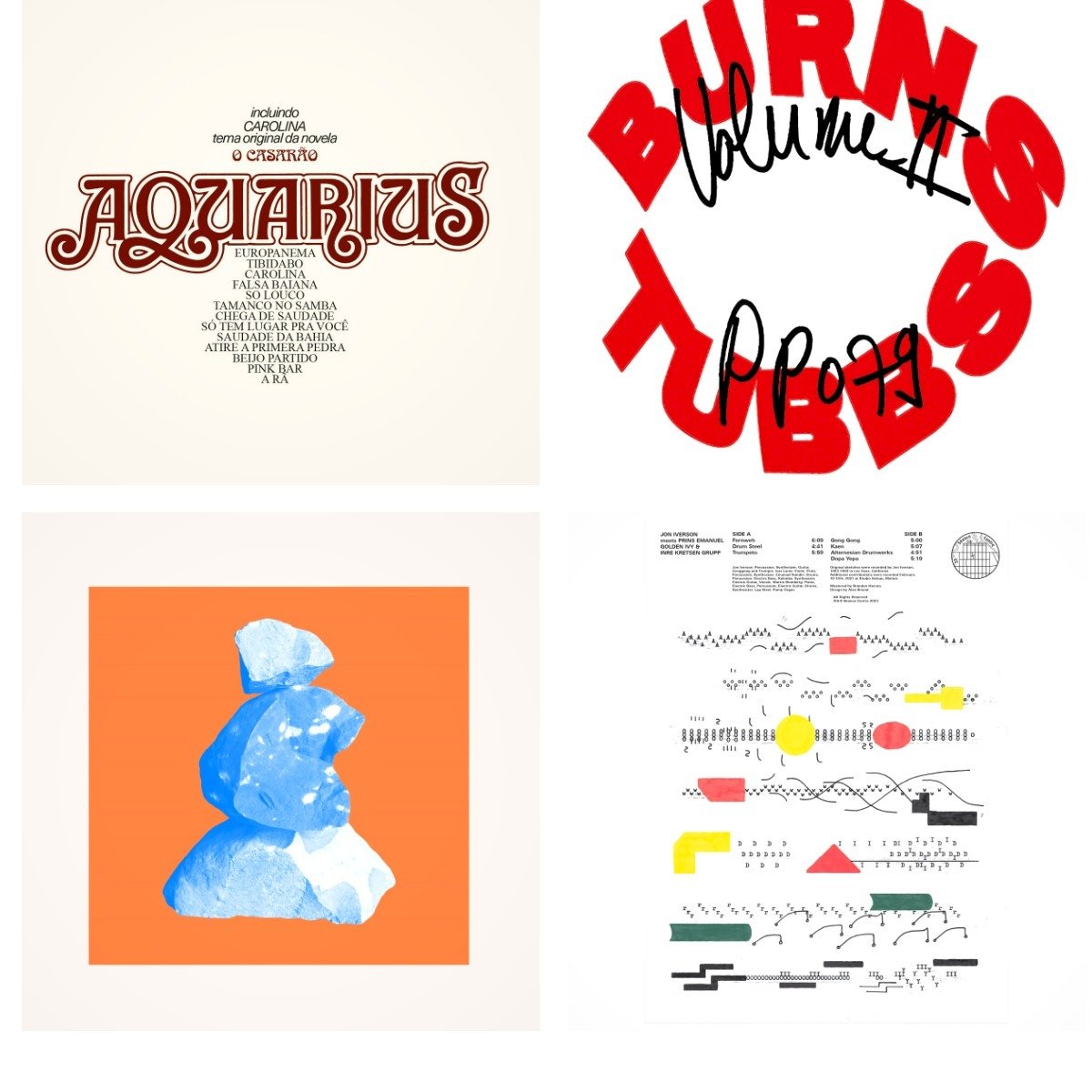 I swear I've been meaning to do some more writing over here this year, but due to a variety of factors, I think this is the first entry I've uploaded on Test Pressing in 2023. That said, I do have a few ideas in the back of my head, so we'll see where I land in that regard, hopefully, sooner rather than later. Anyway, for now, here are four records I've been checking out recently from Aquarius, Burns & Tubbs, Bright & Findlay, Jon Iverson meets Prins Emanuel, Golden Ivy & Inre Kretsen Grupp.
Originally released in 1976 by Brazil's Continental Records, "Aquarius" is a smooth masterclass in
samba funk, MPB, bossa nova and Latin jazz from the brilliant musical minds of Raymundo Bittencourt, Octávio Burnier and Paulo Moura. Thanks to Madrid's Glossy Mistakes label and Vampisoul , you can buy a digital reissue on Bandcamp, or pre-order the first official vinyl repress.
As Paulinho Tapajos put it at the time, "The human voice is more than just a musical instrument; it is ally to the thought. Vocal art is one of the most beautiful forms of musical expression and an endless resource. It's a shame that so few devote themselves to it in our popular music. I would therefore like to congratulate AQUARIUS and CONTINENTAL for the release of this LP, and may it be received by all with the same affection and attention than those who dedicated themselves to making it"

After last year's "Burns & Tubbs" collaborative EP for Munich's Public Possession, New Zealand producer-DJs Eden Burns and Christopher Tubbs reconnect for a second volume. Expect more percussive, dubby house driven by stonking uptempo machine beats, chuggy bass stabs and lush atmospherics. I believe they'll be touring through Europe later in the year, following up on all the well-received sets Eden has been playing across the continent over the last couple of months.
Tom Findlay (Groove Armada) and James Alexander Bright are Bright & Findlay. If you've heard already heard their debut EP for Athens of The North, "Slow Dance", you've got some idea of what to expect. If not, get ready to treat yourself to a rich melange of UK soul, g-funk and synth-boogie. 'Fireflies', a track that embodies all of the above qualities and more, points the way towards their forthcoming debut album. More details on that later on. But for now, I'll leave you with a choice quote from a review on their Bandcamp page. "Oh hell yeah. Shuggie Otis low-riding through Santa Monica, having just picked up a second-hand synth on which to cover 'Cruel Summer'." - Flying Mojito Bros
As the story goes, after receiving a cornucopia of unreleased material from the 80s Cosmic Americana musician, producer and home studio artist Jon Iverson, Séance Centre's Brandon Hocura stuck on the idea of having contemporary musicians transform Iverson's sketches and demos into fully fleshed out compositions and songs. Quickly, a working group sprung up driven by Emanuel Sundin (Prins Emanuel), Ivar Lantz (Golden Ivy) and Martin Blomberg (Inre Kretsen Grupp).
Over a series of intensive studio sessions, the collaborators took Iverson's future-leaning 20th-century rhythms, textures and melodies and expanded them into what Hocura has described as "wide-open 21st Century group-think cosmic music." The result is a series of richly detailed sonic landscapes, equal part textural and rhythmic. Hypnotic and pleasing, "Jon Iverson meets Prins Emanuel, Golden Ivy & Inre Kretsen Grupp" is a true delight. Out now on digital and vinyl.