Roberto De Simone & Nuova Compagnia Di Canto Popolare
Il Coro Delle Lavandaie
Archeo Recordings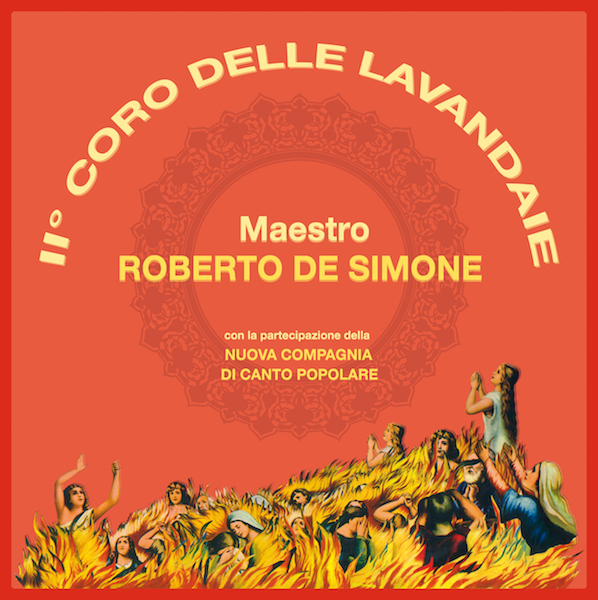 Roberto De Simone is an Italian composer (everything from TV themes to opera) and concert director and pianist. In 1967, while studying at the University of Naples he met and joined the Nuova Compagnia di Canto Popolare (NCCP) a Folk collective committed to combining theatre and popular music. Taking their cues from De Simone`s university research, they began visiting the villages of Compagnia (the Southern region of Italy) with the new goal of recording, preserving, and integrating traditional song into their progressive performances. One such performance, "La Gatta Cenerentola", was presented to audiences in 1976, and it`s from this production that "II Coro delle Lavandaie" has been lifted.
The piece is very probably no stranger to your ears, since it`s been sampled by 3rd Face (a former Weatherall favourite) (1), edited by Public Possession (goes for silly money), and included in a mix put together for us by Aaron from Peaking Lights (3). The lovely Leo Mas (4) sent me a copy a few years back (it blew my mind to finally find out what it was), and it`s Leo and his studio partner, Fabrice, that Archeo Recording`s Manu has enlisted for the remix on this reissue (the original promo 12 goes for 300 euro on the `Cogs).
Not really a dance record in its original form, it is, however, one hypnotic (wash) tub-thumping rhythm. Leo & Fabrice take it down to half-speed, stutter that rhythm in dubwise, add body-shaking bass, and send the female chorus into space. In comes the cowbell from a familiar "Balearic" break (5), and as synths rise like a leviathan rousing in the deep, the track slowly segues into something quite different - a kind of Industrial Go-Go. The Proto-New Beat of DJ Nelo. One for after hours at Glory`s.