Mark Seven
The Fatal Flaw In Disco
World Building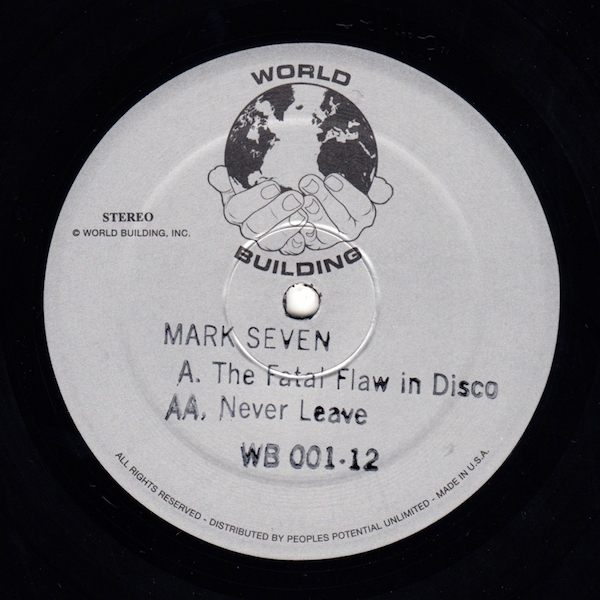 A new label founded by Beautiful Swimmers` (1) Ari Goldman and inaugurated by a 12 from Jus`Wax / Parkway`s Mark Seven (2), the typewriter written press release for which thanks House Master Baldwin, Mike Dunn, Fast Eddie, Roy Davis Jr., Ron Trent, Chez Damier, Cajmere, Mad Mike, and Carl Craig, and to be honest that`s all you need to know. A gospel as true as the preacher Mark`s sampled. These folks, they all be here.
"The Fatal Flaw In Disco", that "Man cannot find ultimate satisfaction by pleasure alone", bangs and swings like a big room classic on Cajual (3). The "U-4-ric" strings reinforcing dreams / memories of brighter days. Dominated by an irresistible sax line, the kind that launched a hundred hits of Italian House, this is for sure Mark`s most hook-laden and direct piece of dance floor dynamite to date, perfectly capturing a point where Chicago, Detroit and NY all collided and peaked with MAW, Power Music, UR`s Happy Records off-shoot, and Prescription, in the early to mid `90s. Techno, in its stabs and detail, like the near subliminal "World Of Deep" (4) chords. The stripped back "Lonely Dancer" version rolls on bottom end piano, a dash of TB-303, and percussion rattle. On "Never Leave" someone who sounds like Robert Owens says "Oh" as more horns get spun in, and Mark takes the keys for a vamp on the riff from "Forever Monna" (5). The mix a tribute to Chez `N` Trent / Moritz & Mark`s "Round`s One" (6) and "Two" (7) in its dubbed-out itch.
Earcave have got it in.