Magic Castles (one of our favourite clothing companies) and producer / DJ Felix Dickinson and Slack have been working together on capsule collections celebrating the Slack parties. If you don't know Magic Castles they have a history of collaborating with musicians, crews and DJs such as Dresden, Shanti Celeste and Slack. They've got a modernist hippy aesthetic that suits the times whilst having designers that understand how graphics can be bent out of shape to suit the now. We thought the new collection was a good opportunity to chat Felix and here's what came from that conversation. Felix cut his teeth carrying the odd speaker and partying alongside the Tonka Sound System (as did many of the Slack crew), which many of you will know. Some of the images you will see are from a fanzine that Slack produced. Over to Felix.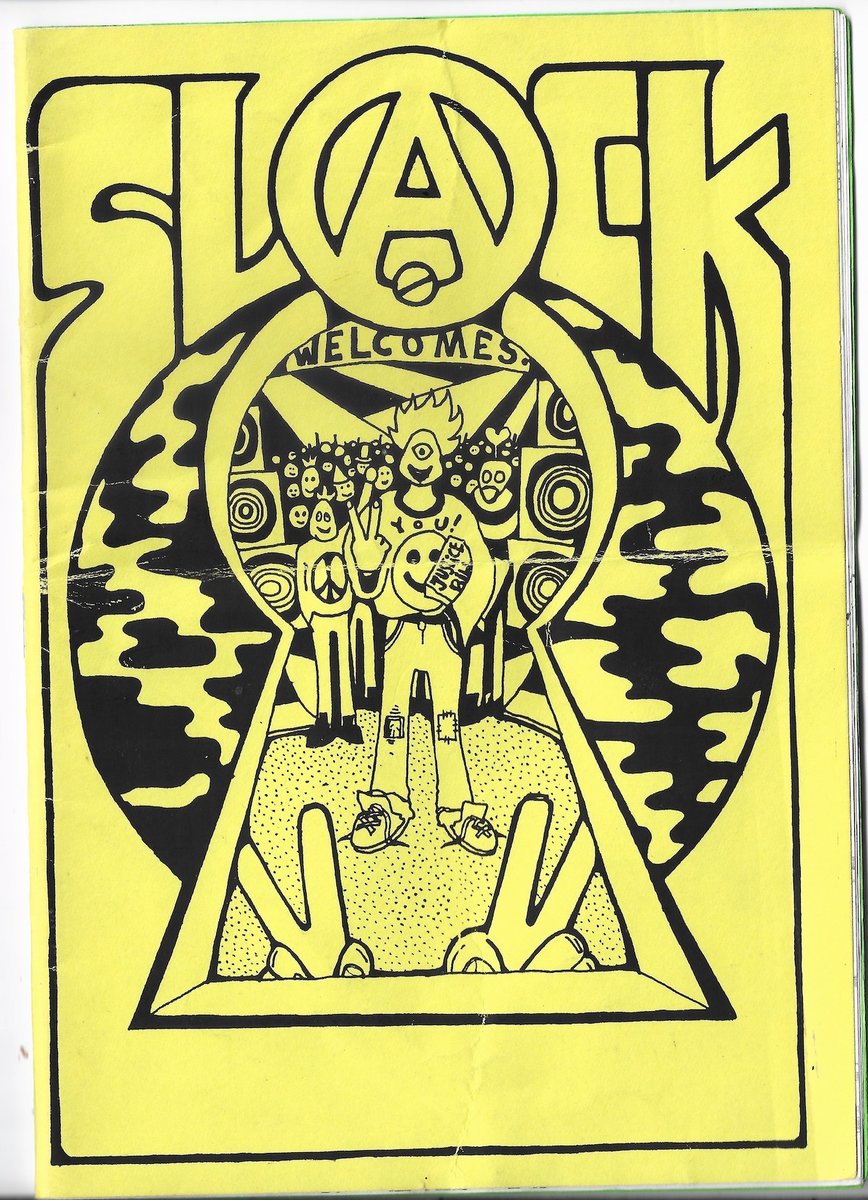 Slack was a party I was involved with back in the early 90's down in Brighton. We did parties in clubs and some free parties. The DJs were Darius, Charlotte, 9 Bob Rob, Nykolai, and myself with a wider pool of friends who would play for our parties and clubs including Nick the Record, Placid, Marco Arnaldi, and some of the D.I.Y. crew. We used to do a lot of parties around Brighton Beach after our club nights, rotating between Black Rock, Shoreham Power Station, and Ovingdean.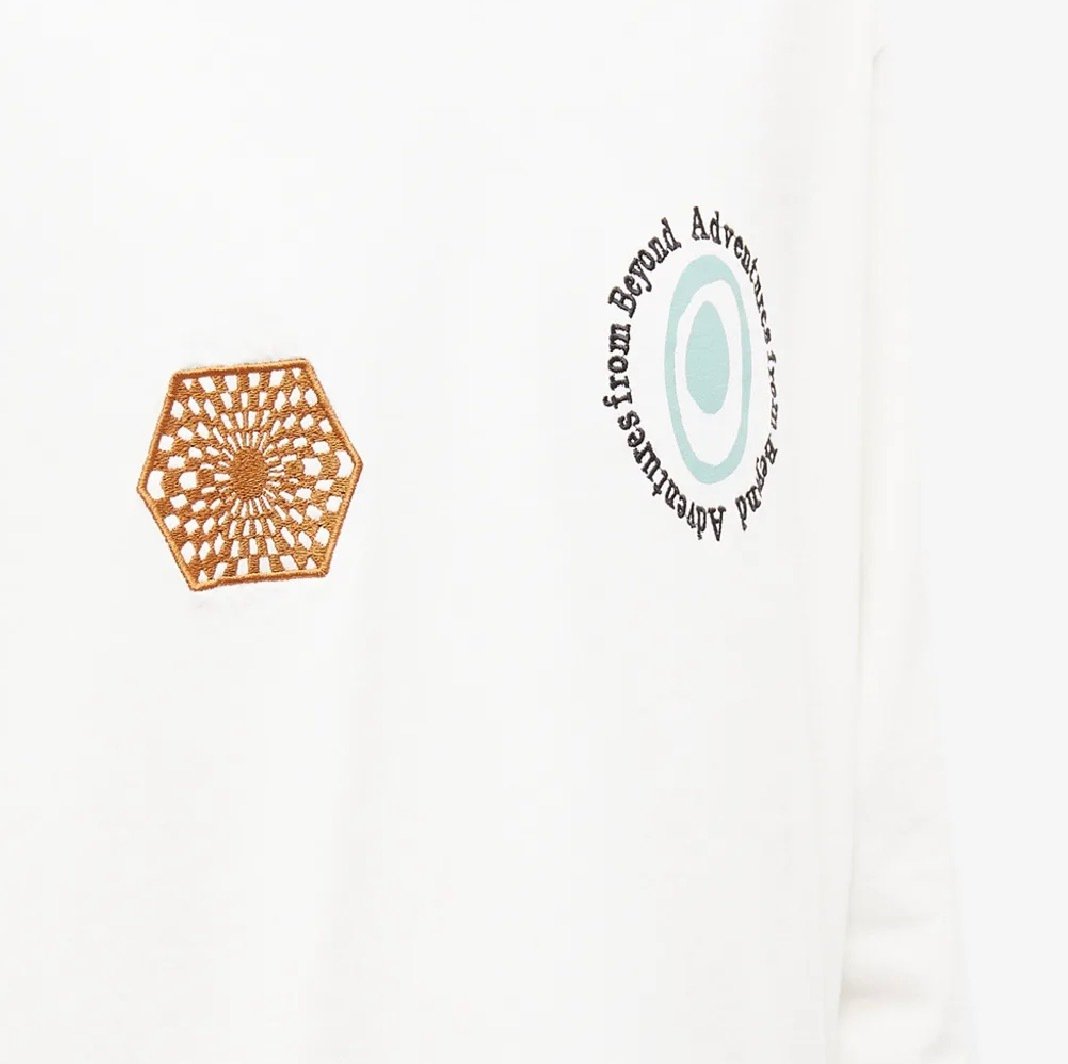 I've got lots of good memories of these parties from being crouched down playing off decks sat in the back of peoples vans or trying to build makeshift shade structures to stop the records from warping in the sun as they were being played. This is a video from one of those Beach parties…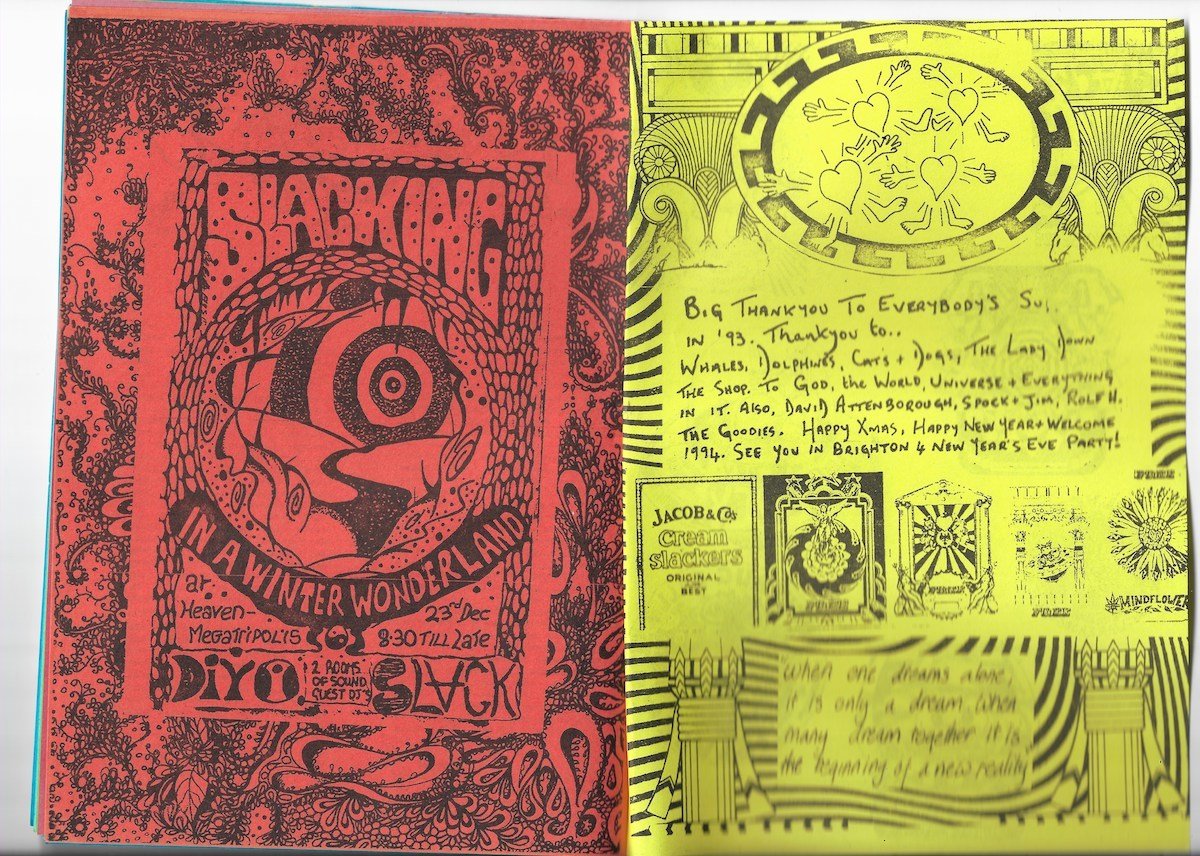 There was a video that made it on to a TV show at the time called 'Charlie Bravo' was of Paul and Rob trying to set up in an old disused warehouse / pumphouse for a Halloween party. If you skip to 2.59 you can see them in action…

In this second clip (skip to 5.07) the police are questioning Ben as to why he has a coffin and a wolf pelt in the back of his van. I think they both used to belong to Psychic TV's Genesis P Orridge but would of made good props for the Halloween party if we hadn't been busted!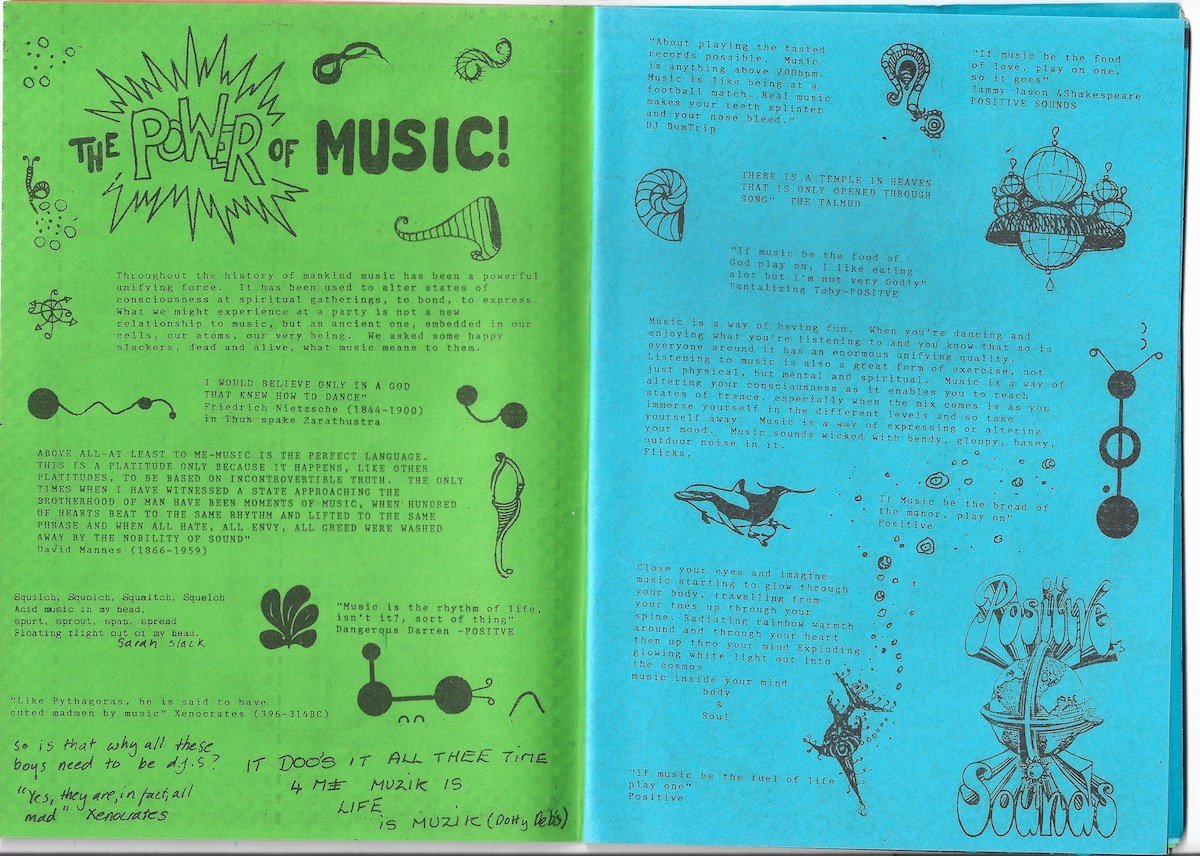 We had a tent at a party that was held in some woods once, I remember Nick the Record playing Fingers Inc. "Music Take Me Up" and that going down particularly well. It was one of those where the police came down but didn't really have the powers to stop anything so were just spectators waiting for someone to do something that was against the law (as raving still wasn't). We had been cautiously friendly with them most of the night, but in the morning were getting a little bored of their presence. I remember finding the officer in charge and thanking him for being there to keep an eye on things throughout the night, and how safe we felt, but asking if he could leave now as it was this time of day that we usually took all our clothes off, and we would like some privacy, he and his colleagues kindly obliged and did one.
(We kept our clothes on).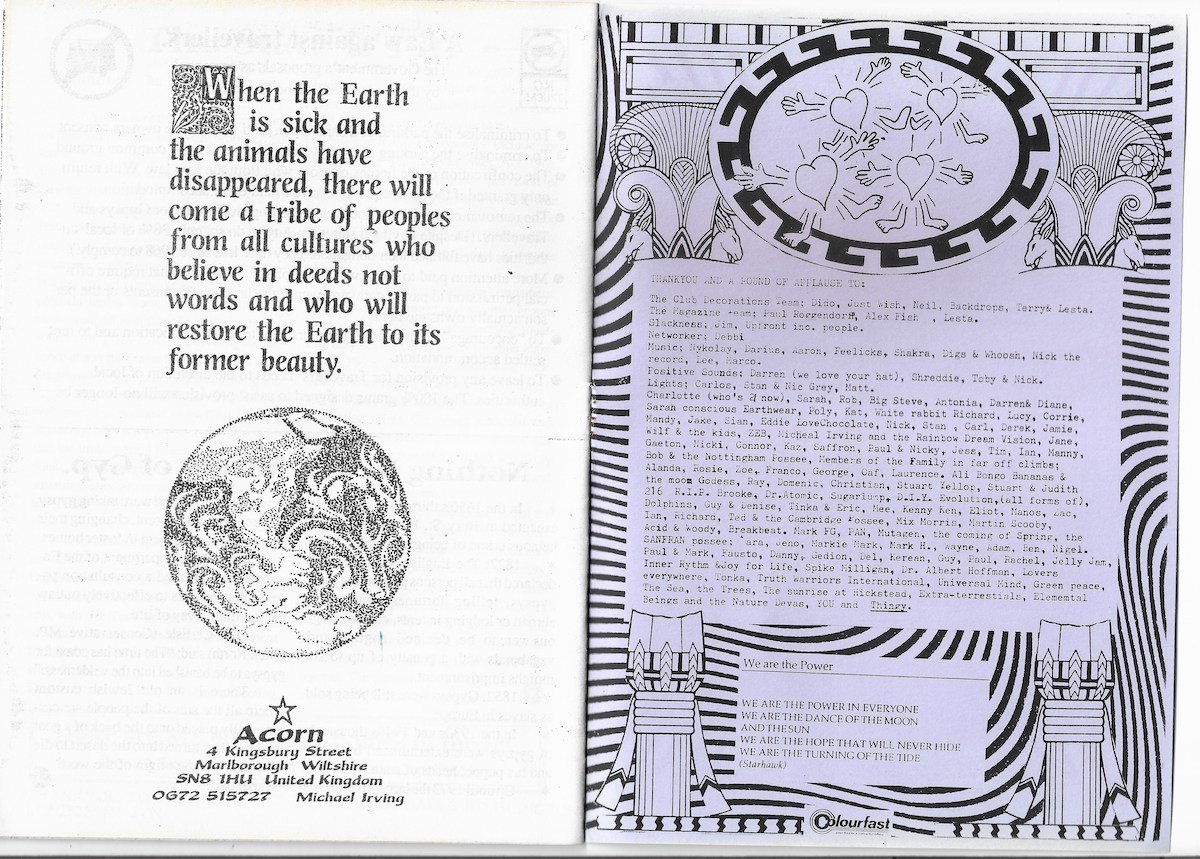 Sometimes when I go back to think about writing about these times and the records it makes far more sense to just listen to the music. I've tried to remember a few stories to sit with some… Good times.

1. Willie Colon - Set Fire To Me
Would this be called disco/not disco or proto house? I don't know, but at Slack we were quite keen to blur the genre boundaries, definitely favouring the more psychedelic and deep sounds.
2. InSync - Storm
Good British 90's techno, although you'd probably not even call it techno now, just good deep house.
3. Master C & J - In the City
4. Mondee Oliver - Make Me Want You (Club Mix)
We were big fans of Chicago house, so the Gherkin and Trax catalogue would get rinsed pretty hard. We all used to love this track and it would get rotated among a few of the DJs.
5. Intruder - U Got Me
6. Connie Case - Get On Down
7. Frequency X - Hearing Things
8. Hugh Masakela - Don't Go Lose It (Dub)
9. Shamen Possible Worlds
Ticked a few boxes this one, massive acid house anthem with some good e-ed up positive vocals, this one used to get rinsed.
10. Choice - Acid Eiffel
11. Instant House - Over
12. Carlton - Do You Dream Part 2 (Can't Pay Won't Pay)
13. Damien Donato - Life Support System
14. Bass Culture Featuring Steve Bayliss – Show Me
Like Acid Eiffel, Ability II and so many other's this is one of those epic long records that I remember mega mixing down on the beach, the sounds and production sound like they're naturally blowing around in the wind.
15. David Brown - Feel Love

I have very fond memories of partner in crime Robert playing this one.
(Below is a playlist of these tracks)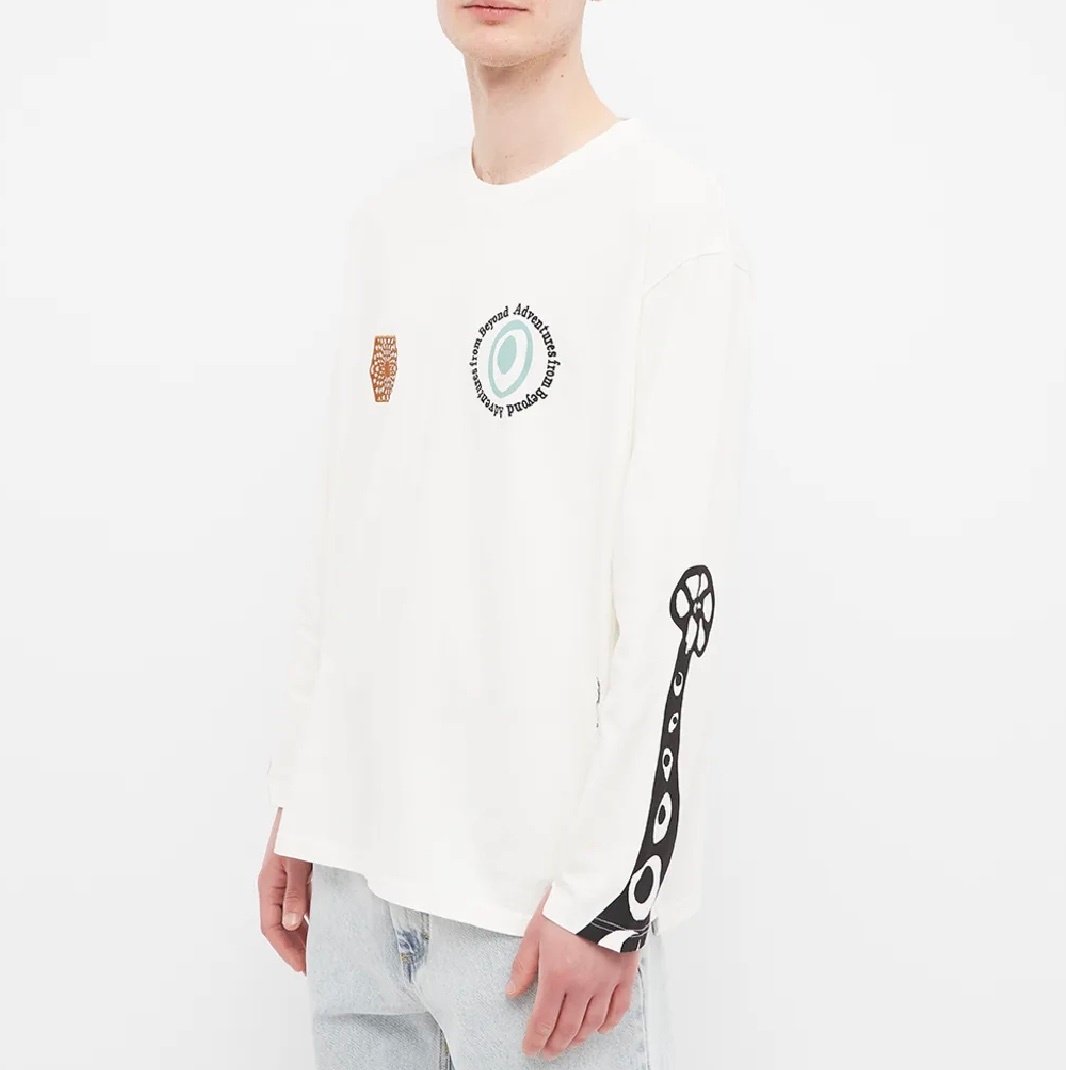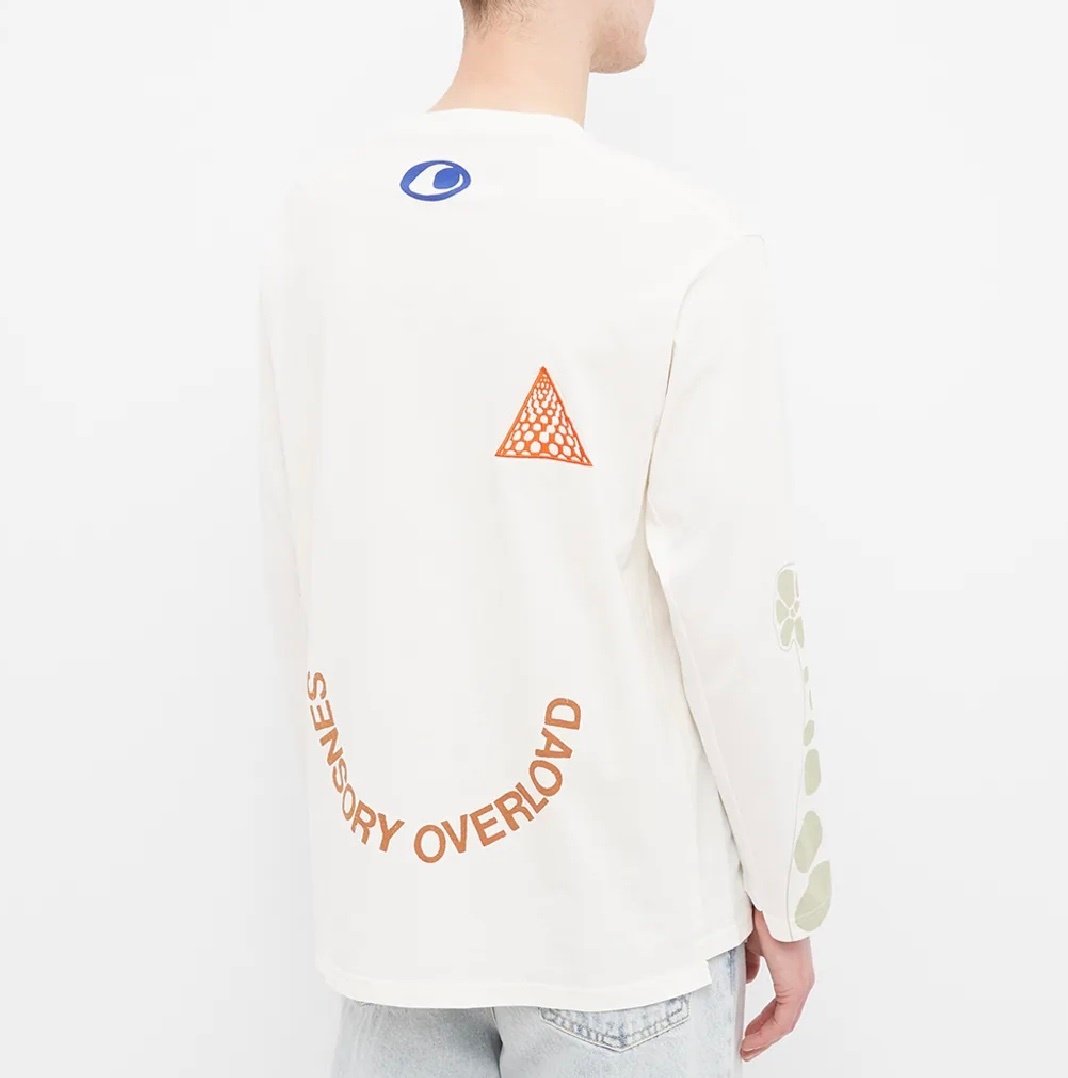 Back to me Apiento... Thanks to Felix for the time. The new Magic Castles X Slack collection is up in the Magic Castles store HERE.