In this instalment of our on-going chat with DJ / Producer Justin Strauss we focus on the legendary New York nightclub AREA. Justin having DJed at the club from its opening year, 1983, until its closure in 1987. Located at 157 Hudson Street, Lower Manhattan, the club`s floor space occupied 13,000 sq. ft., around the size of a city block, and its themed décor was changed completely every month.
A couple of years ago Abrams published a book on AREA, written and complied by siblings Eric & Jennifer Goode, who along with their brother Christopher and friends Shawn Hausman & Darius Azari, formed the collective core responsible for the concept / concepts of AREA and making those concepts a reality. It`s 368 pages, largely photographs, catalogue the life and times of NYC`s most ambitious nightly party.
Initially when looking at the book I thought "this is just taking the excess and elitism of Studio 54 and on a scale of 1-10 turning it up to 11, all be it with a knowing tongue-in-cheek irony". i.e. they were taking the piss. But by the end of the book it was clear that while AREA did do this it was also a whole lot more. Influenced by the Fluxus "Happenings" and Warhol`s Factory AREA served as a "catch-all" home to the city`s considerable creativity. Painting, sculpture, music, performance, movers and shakers of course, they were all there, "cross-fertilising", changing, evolving, every night in a living Arts review, in a nightclub as Art installation.

How did you get the gig at Area?
It was a combination of meeting a few different people and some things falling into place. I knew Chris Goode's girlfriend Jill, and she told me about the club he was working on, and I`d also met Serge Becker through a musician friend who knew Serge from Switzerland.
When did you first play there?
I played there early on, in the beginning, which can be tricky when a new club opens. The club was experimenting with different DJs, so I played for a bit, then took a break and then came back. I was still doing some nights at the Ritz, and started playing Limelight as well (We`ll get to Limelight next time). There was a lot going on in New York club life at the time. And I had residencies at all three of these clubs. Which is now pretty much unheard of.
Did you continue to play at Area until its closure in 1987?
Yes, I was the resident DJ on Saturday nights, and played the final night of the club in March of 1987.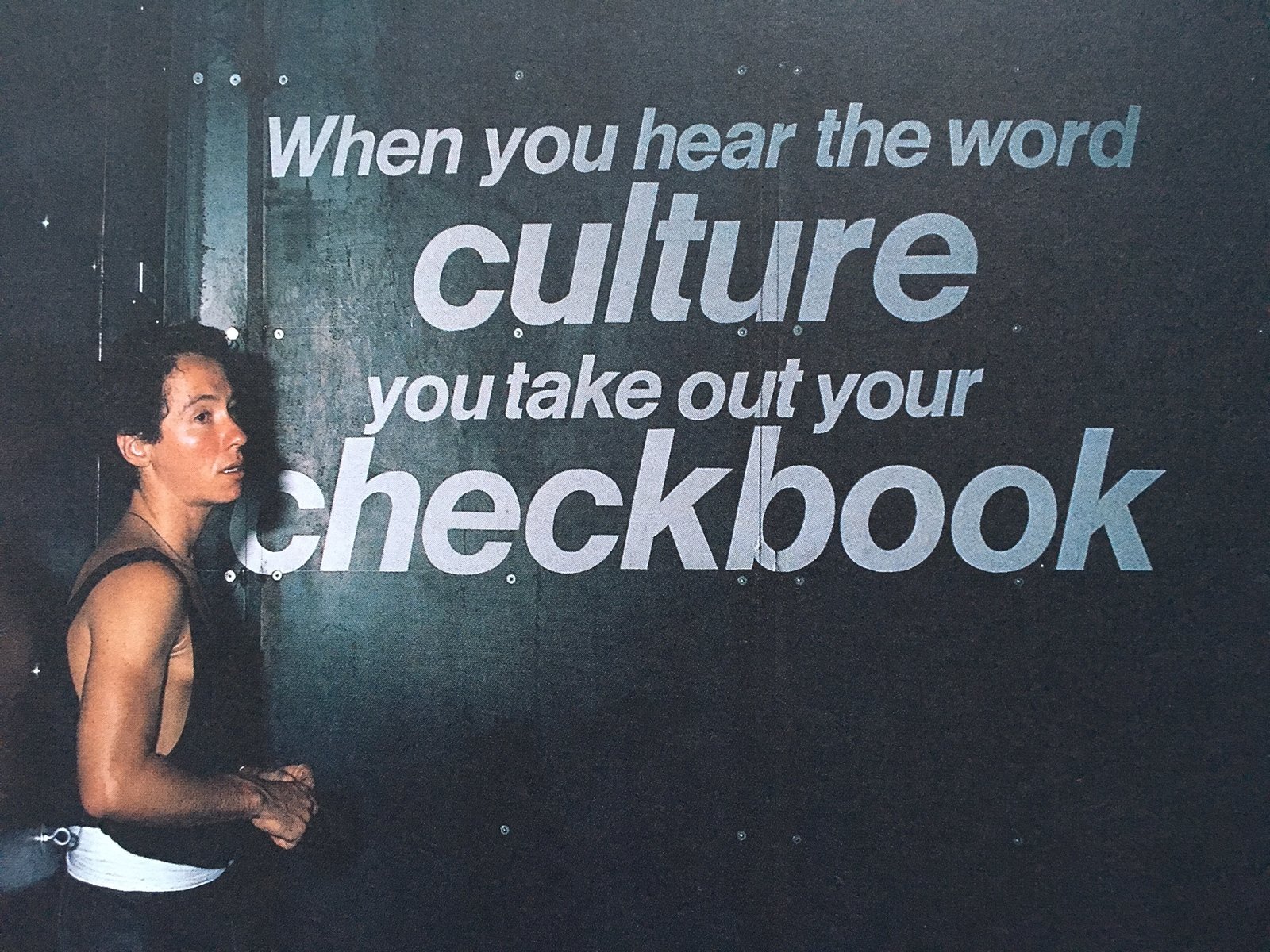 Did you know Eric & Shawn from the Mudd Club?
I didn't know them from the Mudd Club. I`d seen them around, but met them later on, while I was a resident as The Ritz.
Can you describe the "grotto" they created in the Mudd Club`s basement?
I remember that it was being worked on for a long time. It was a Greek grotto. With fountains and all that. And I think they had people walking around in togas and half naked.
Had you been to any of their "Club With No Name" happenings prior to Area?
Yes, I`d gone to a couple. I don't think it was open very long. It was pretty amazing and exciting. It was defiantly a taste of things to come. They changed the interior every week with things they found on the street and such. But I think it was totally illegal, with no licenses or permits. It became difficult to run like that, which led to them thinking about opening a legit space.

Had you been to Area prior to DJing there?
I went to the opening night and a few before I started, but as I said I started playing not long after they opened.
What were your first impressions on visiting Area?
I remember going there for walk through during the construction stage, and I was like "I have to work at this club". I met Eric Goode, Shawn Hausman and Darius Azari on that walk through. The place was huge with this incredible entrance hallway that had four or five big display windows, like in the Museum of Natural History. The window displays were insane. They had Andy Warhol in one, and he would just stand in there for hours. They had a Roxy Music party and recreated the album covers with live models in the windows for it. They put in a Richard Long sound system. The guy who did the sound system at the Paradise Garage. I knew this was going to be special. But didn't realize how special. What they did there was absolutely mind blowing. Looking back on now, it doesn't seem possible. But they did and other than the Paradise Garage, which was a totally different thing, in my opinion AREA was the best club ever.
From descriptions it sounds like a mall-sized art installation (13,000 sq ft). It must have been huge, although the dancefloor sounds as if it took second place to the bathroom and only occupied about one tenth of the venue.
The dance floor was a good size but was often used as part of the installation. But there was always room to dance. The unisex bathroom was huge and was quite a scene. Like a club of its own. They was also a back lounge / bar that was pretty big and they had separate DJs in there.
How often did you play at Area and how long were your sets?
I eventually settled in as the Saturday night DJ, which was fantastic, and played all night, from the first record to the last. Back then thats how it was. Only one DJ a night. Which was great as you can really control the vibe of the night.
Which other DJs were on their roster?
Johnny Dynell, Belinda Becker, Sheba Legend were regulars. And for a while Timmy Regisford did a Sunday night there. They had Jean Michel Basquiat and other downtown people DJing in the back bar.

What kind of music did you play Area?
The music was a mix of things that I was being exposed to by Larry at the Garage and UK sounds like New Order and Depeche Mode-type of stuff, mixed with the Hip Hop out at the time and some Dancehall. Very New York…1983, 84 and 85. Plus the bands 99 Records was putting and a ton of early House which I was in love with. It was just an amazing time with so much new great music coming from everywhere. The crowd at AREA was open to all of it, and it just made sense.

What was it that you loved about those early House records?
What I loved about them was the rawness and how simple they were, mostly just drum machines and bass. Minimal and so effective and sounded killer on a club system. I started bringing a little Casio sampling keyboard SK 1 into the booth while DJing and recording samples as I was DJiing and playing stuff live over these tracks. The sampler had a very short sampling time, but you could do some creative fun stuff. In addition the DJ booth at AREA had three turntables and a Reel to Reel tape machine. I would be getting stuff from friends in Chicago and Timmy Regisford would give me tapes of unreleased stuff which I`d include in my sets.


Did the records you played at Area differ to those you were playing at Ritz?
Yes, in so much as more Rock type stuff was played at the Ritz, and AREA lent it self to more Disco and House. But there were definitely records I played at both places.

Was the crowd at Area all celebrities and money or would you also get music heads like Loft & Garage regulars going?
No, not all. Thing that made AREA and some other clubs like the Mudd Club so great was the mix of people. You had a certain amount of the money and celebrities for sure, but mixed in with the downtown kids, the artists, Hip Hop heads. Then the Garage heads would come. Larry would come and hang sometimes before the Garage. It was the mix of people that made it great and gave it its energy.

In hindsight Area looks a bit like a spoof of Studio 54`s excess.
I wouldn't say that. AREA had its own vision and it was next level. Beyond anything that had been done, or since really in nightlife.
There`s a photograph of you taken in the photobooth which was situated in AREA`s bathroom and you look a bit pissed off. You`ve always been drug free, was this because of the amount of drug-taking that would have been going on around you in the bathroom?
Ha. No I don't think I was pissed off. Being in bands and DJing most of my life I have been around drugs and alcohol always. I just choose not to do that. Never felt the need too, and really wasn't interested. I was interested in music. That was enough for me.

Did you receive one of the blue pill opening night invitations?
I did, but sadly dissolved it. But I do have some of the others still.
Johnny Dynell has said that he used to program at least the first part of his set to match the monthly theme. Did you do the same?

He and I would do that pretty much on the opening nights only. But with the theme like "Disco" we played a lot of that.
Do you know why they closed Area? What did they do next? What did you do next?
It never was intended to stay open as long as it did, which was three years. It was an incredible amount of work to do what they did, and three years later they`d pretty much done it all. And New York was changing and so was the world. AIDS hit the club scene hard in New York. There were a lot of factors, but I just think they thought that they`d done all they could with it and it was time to move on. The last night was incredibly moving for me as I knew we'd never see anything quite like it again. Eric went on to open the club and restaurant MK on 5th Ave and 25th Street, which I DJed at as well. They took over a whole building and the club was in the basement, which was shared by a huge vault. It was also a great place, pretty unique and special.

What was your favourite "theme"?
There were so many great ones, it's hard to pick. "Suburbia", "Art", "Gnarly". I mean really they were all pretty incredible. If you check out the AREA book, it's pretty fantastic to see it all again. I forgot some. Looking at the book I was thinking "Did all that really happen?" It seems impossible today, but it did and I feel so incredibly lucky to have been a part of it.


As you alluded to earlier during the period that AREA was open, from 1983 to 1987, your studio career took off. Between `84 and `86 you remixed the likes of Greg Kihn, Tina Turner and Swing Out Sister, but in 1987 alone you are credited for around 20 remixes. Artists as disparate as Sinead O`Connor, Skinny Puppy, The Christians, Debbie Harry, Red Hot Chilli Peppers and Duran Duran. Can you tell me how / why the remix offers started coming in, and how / why you think you became so in demand?
Remixing was something I was always interested in. I remember one of the first 12" records I bought when it came out, Betty LaVette "Doing The Best That I Can" on West End Records had a 10 minute remix by Walter Gibbons on it which I loved and was fascinated by. I then started to hear more of his work as well as work by John Luongo and Shep Pettibone. Around the time I was DJing at the Mudd Club I`d met and become friends with Francois K., who was working at Prelude Records and doing so many amazing remixes. Which lead me to Larry Levan and his work. But I think hearing Shep's remix of the Pet Shop Boys "West End Girls" was really the one that made me want to get into doing it. I was fortunate enough to be spinning at the best clubs in New York City and had the ear of some people at the record labels who were involved with remixes. Specifically Robin Kravitz at Elektra, Wendy Goldstein at RCA, Bobby Shaw at Warners and then at MCA, Frank Murray at Capitol and Bryan Cronin at Epic among others who were willing to give me and my first remix partner Murray Elias a shot at doing them. After our first "big" hit remix Debbie Harry's "In Love With Love" more offers and opportunities started coming in. As fate would have it we were signed to the same management company that managed Shep Pettibone, This Beats Working (Jane Brinton and Duffy Macri), which was a great place to be at the time.

Where were you doing the remixes?
For the mixing we were mostly doing them at a studio called Soundtrack that was on 21st Street in the city. We worked with some amazing engineers like Andy Wallace, Jay Mark, Hugo Dwyer, and Daniel Abraham, and with editors Tuta Aquino and Chep Nunez. It was an amazing time. We also worked at Soundworks Studio and Right Track Studio. For the over dub sessions we used INS Studios downtown, which was opened by my former Milk n Cookies band mate Ian North, and then at Prime Cuts which was opened by Tuta Aquino and Mark Kamins.
Were you tied to a particular label as a remixer / producer?
No not all. I was always freelance and lucky to work with so many different labels and many genres of music.
How did you find the time to DJ? Eat even?
I would try to book most of my studio work during the week and DJ on weekends, but I was DJing during the week as well. Luckily I`ve never needed much sleep. There were many remix sessions that were 24 hours in the studio. That was hard. By the end of it you weren't sure if you got what you wanted. We mostly did, but there were times we had to go back and correct things if we had the chance. Thanks goodness for the SSL boards we worked on that could recall the mix as you last worked on it.
Do you have any favourites of your remixes from this time? Can you tell me why they are favourites?
Hmm that's the hardest question. I really don't have a favorite. But from this period Tina Turner "Afterglow" was special. That and Debbie Harry`s "In Love With Love" were both breakthrough records for us. Skinny Puppy and Duran Duran and Bill Nelson were some of my favorites, but so are Sinead O'Connor and Swing Out Sister. I feel really lucky and proud to have worked on so many records that still resonate with people today.
"AREA" the book was published by Abrams in 2013. Apiento ran a review of it on here and you can still purchase copies direct from the publisher at www.abramsbooks.com.