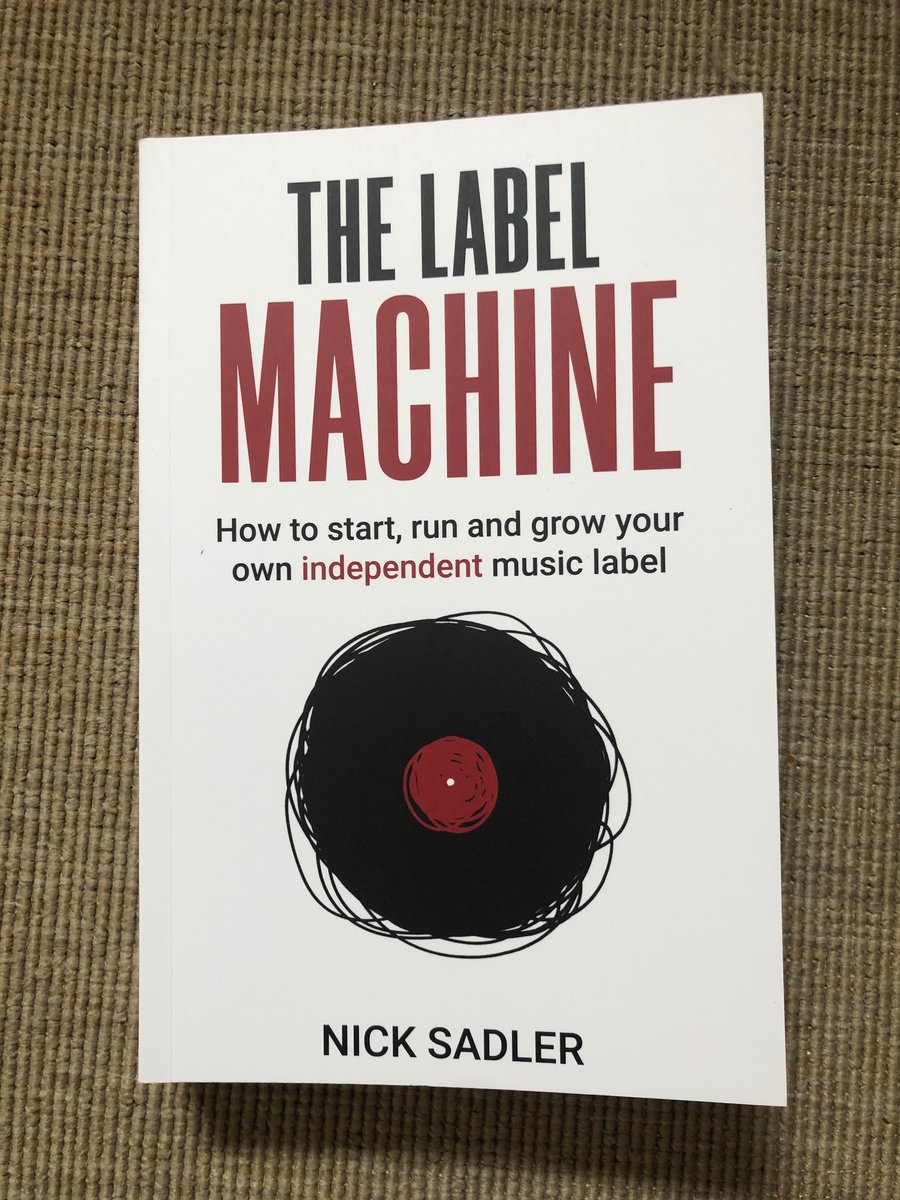 I worked in the music industry for many years and as with most stuff if you do it for long enough you learn how to do (and not to do) things. I was never given a 'how to' guide. You just turned up for work and listened to music and did what you were told and what you had learnt to do. The people above me had obviously learnt how to do things but I am guessing think that was mainly by trial and error and asking people who were older how to do things. Which brings us to this lovely book... I mean it's a book. It's not lovely in that way but what it gives you the ability to do is pretty lovely.
'The Label Machine - How to start, run and grow your own independent music label' does exactly what it says on the tin. It covers all areas of running a record label and is literally a one stop shop on everything you need to know to run an independent record label. If I was to give any advice to anyone starting a record label it would be to account to your artists. It is a long thing to do but these days with all the automated systems in place its super easy to work out how much you owe the people that make the music. Tbh it's why I record with the labels that I do (when I sporadically release music that is) as they account and I know that I'll getting my fair share of the income. I totally trust in them and this process. You know... You make such an effort to get the music right then you just hope that people who release it care about it as much as you do and that it resonates with someone who actually wants to pick that record up and play it a few times and get some joy out of it.
Anyway, we digress... Nick Sadler has literally written a guide on how to do everything that is required to run a record label and these are split into four main categories – The Industry, Music Copyright, The Process and Becoming Established. The book will take you from a natural foundation in how the industry works and what the various roles and areas are within it, to a depth dive into music copyright and how that works, to a deep how to guide and finally the extensions and add ons you can place around your new venture. If you've worked in the industry for a while this book probably won't be for you, though it does have some great contractual information, but if you are relatively new to the game and want to know how to do something this will cleanly unpick it for you.
Personally I really love working with labels but its also fun doing things yourself and these days there is the whole eco system that can go with this - Ihows, parties, merch etc. I know you're not asking but to give you my advice. If I was starting afresh I'd maybe do it all myself and really go for it. We recently launched a new record label with Love International (the festival crew from Bristol headed up by Dave Harvey) and Dave had the idea to release a small collection of merch with each release. Obviously this took funds but working with the artist Fantastic Man and the designer Alex Papoli-Barawati was a real joy. We released a 12" that sold out and made some tees and key-rings and a cap and it was a nice process to go through. I guess it's looking at it differently. What can I do? How can I make it different. Rhythm and Sound 10 inches. Lexx's new sevens label. You get the idea.
If you're making music and feel confident it's good enough to reach an audience and resonate then buy this book and take a look at how easy it would be to get it out there in a serious way. This a very recommended read.
'The Label Machine' by Nick Sadler is available now on Velocity Press.