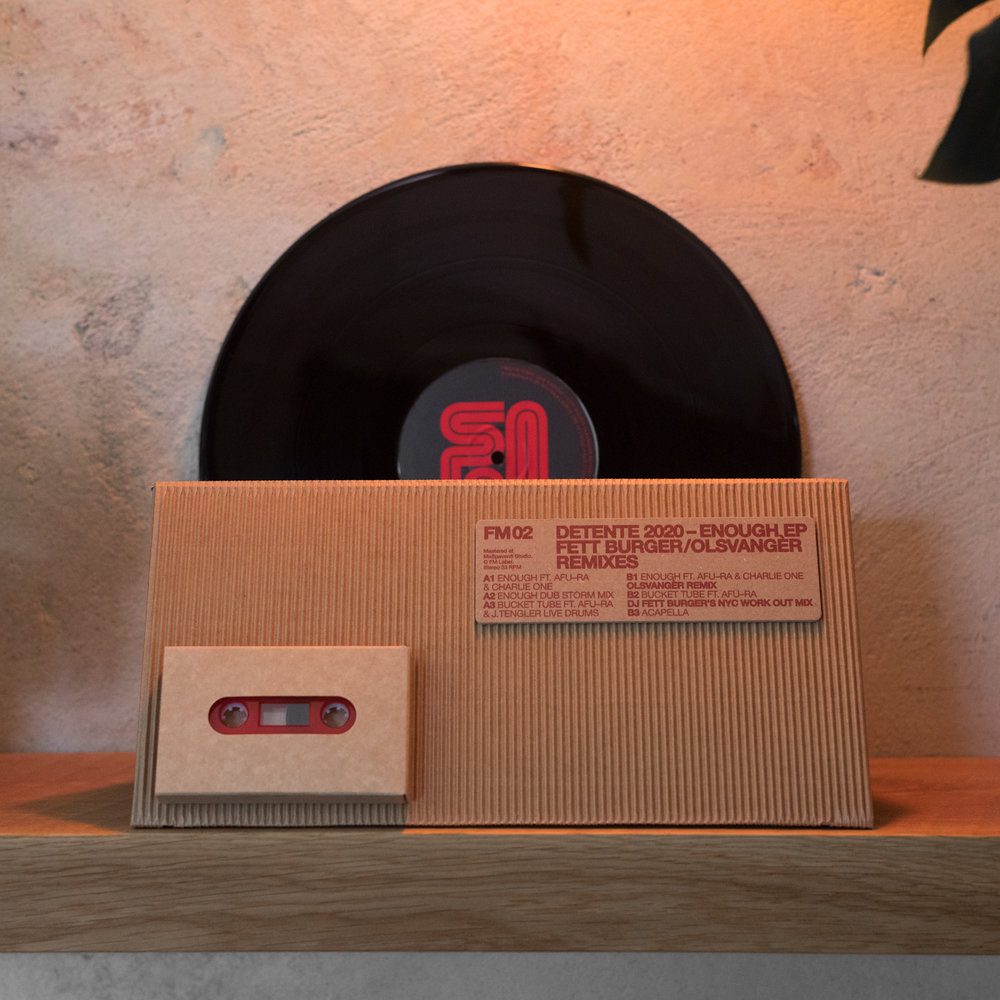 Prague's young FM Label made an auspicious debut last year with Alexander 'Credit 00' Dorn's 'Super Scratch' EP, a loving and sincere homage to early '80s electro-rap that managed to sound both charmingly nostalgic and thoroughly futurist. Funny how what's essentially a syncopated drum-machine pattern can do that, eh? Apparently, the label's leader, Milan Fatty M, is something of a go-getter, as he managed to wrangle a remix for that record from a fellow who knows a thing or two about electro-rap, Egyptian Lover. Now, release number two, this one from the team of Mr. Fatty M and Roman Horinek, is hitting the shelves, and its title track is another salute to hip-hop days gone by. But the label is no one-trick pony — the EP's cuts tend to wander well away the electro template, and are all the better for it.
It seems as though the label has a pretty impressive Rolodex, as it's again roped in some pretty rad guests to aid in the effort: The EP's title track, for instance, features a rap from Afu-Ra, a guy who's been revolving in the Gang Starr orbit since the '90. The cut flashes forward a few years — it's still electro-tinged, but more in the vein of '90s braggadocio-hop, with Afu-Na opining on how he's got ice in his veins like a bottle of bubbly, and perhaps you should allow him to chill it. (The fun factor is upped by vocalist Charlie One's 'enough is enough' interjections.)
Musically, the tune is a beast, all throbbing low end and loping rhythm punctuated with the occasional bleep of a 303. The track's accompanied by a quartet of worthy remixes, including Olsvangèr's angsty house version, DJ Schwa's squelchy acid grinder and Dub Storm's cavernous breakbeat mix, which somehow jams in a bit of didgeridoo without sounding to ridiculous. The best of the bunch might be Oliver Torr's take on the track, which starts off as something akin to ghostly dubstep and ends up as a lovely slow-jam R&B lullaby.
The EP's other cut, 'Bucket,' sees Czech Philharmonic Orchestra drummer Jakub Tengler joining the crew for a lighter-than-air percussion workout, its lack of kick drum contributing to its gently flowing vibe. The ever-reliable DJ Fett Burger takes the track, ups the energy level ever so slightly, adds a forlorn little synth line and — poof! — conjures up a beauty of a remix. It's strong stuff from start to finish, marking another step in a young label's rise.
Detente 2020's Enough EP is available through Bandcamp.