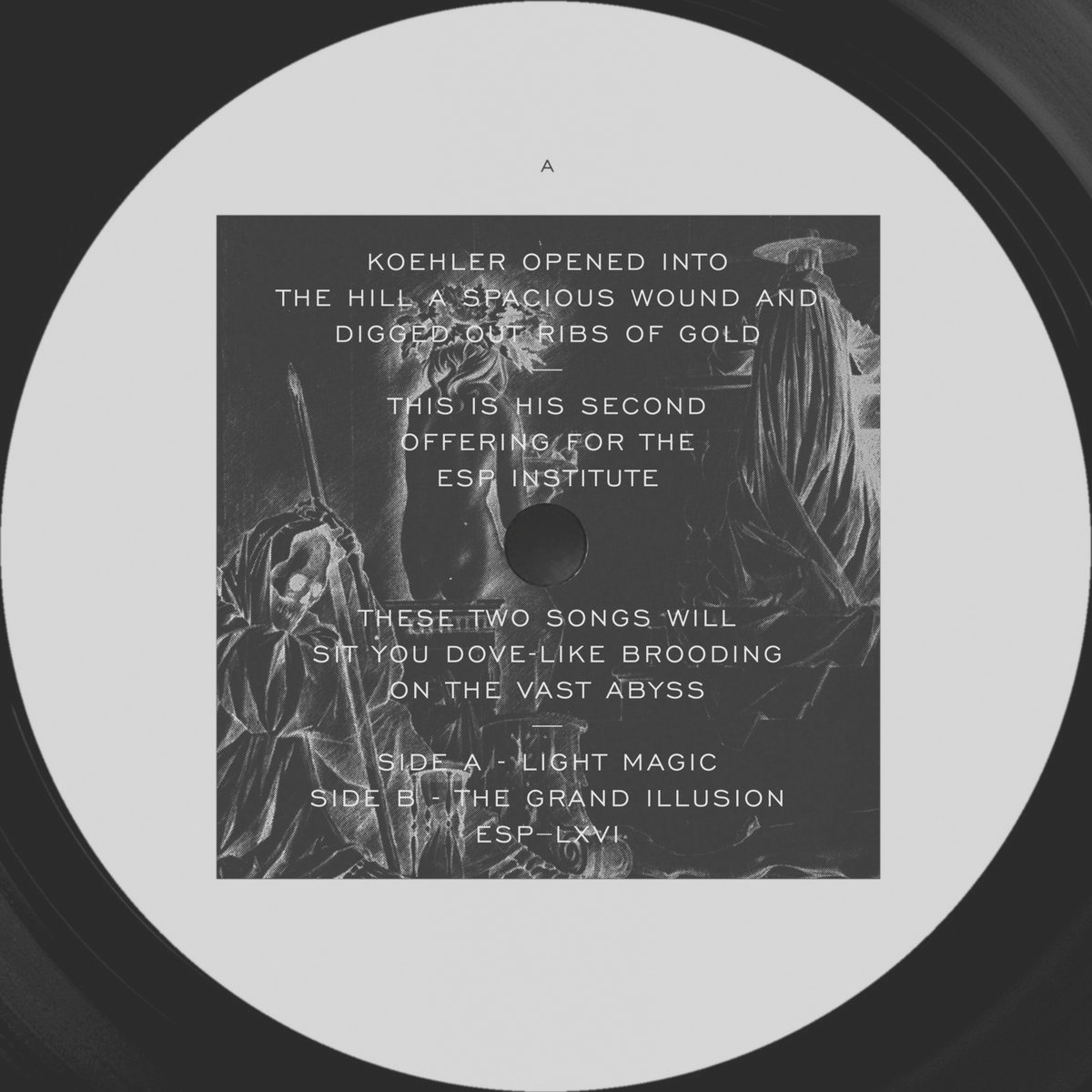 After flooring us over with the hallucinatory pedal steel memoryscapes of Raymond Richards "The Lost Art Of Wandering", Los Angeles excellent ESP Institute label returns with a belting 2-track 12" of industrial psychedelia from the genre-bending producer and DJ Koehler - an explorer who sojourns further towards the edges of sound with every release.
Side A: On "Light Magic", Koehler sets the scene with a kaledioscopic swirl of squelchy, dubbed out synthscapes, before deploying motorized club-tempo drum machines, wordless airy vocal textures and an acidized bassline. Repetition can be a form of change, and after several minutes, you start hearing and feeling subtle changes with Koehler's rusty beat architecture, all complimented by the odd melodic explosion and spoken refrain of "chill". Thing is, by the time you're chilling, you probably won't want "Light Magic" to end. Hopefully the DJ is mixing the right song in next.
Side B: On "The Grand Illusion", Koehler opts for an opener of cinematic percussion and wobbly, computerized melody cubes, soon enough complimented by off-set rhythm machines and cybernetic nature noises (imagine the sound of nature if it was a mechanised machine system). Again, repetition is a form of change, and as Koehler's sonic palette rides the line between real and simulated, arriving in a technonaturistic zone, I'm reminded of the exact moment when you think you aren't high yet, only to realise the walls have just started melting. This is journey music, but it also feels like a chase soundtrack, only it's hard to tell if you're the hunter or the hunted. The best option might be to dance like your life depends on it.
"Light Magic/The Grand Illusion" is out now in digital and 12" formats though ESP Institute (order here)