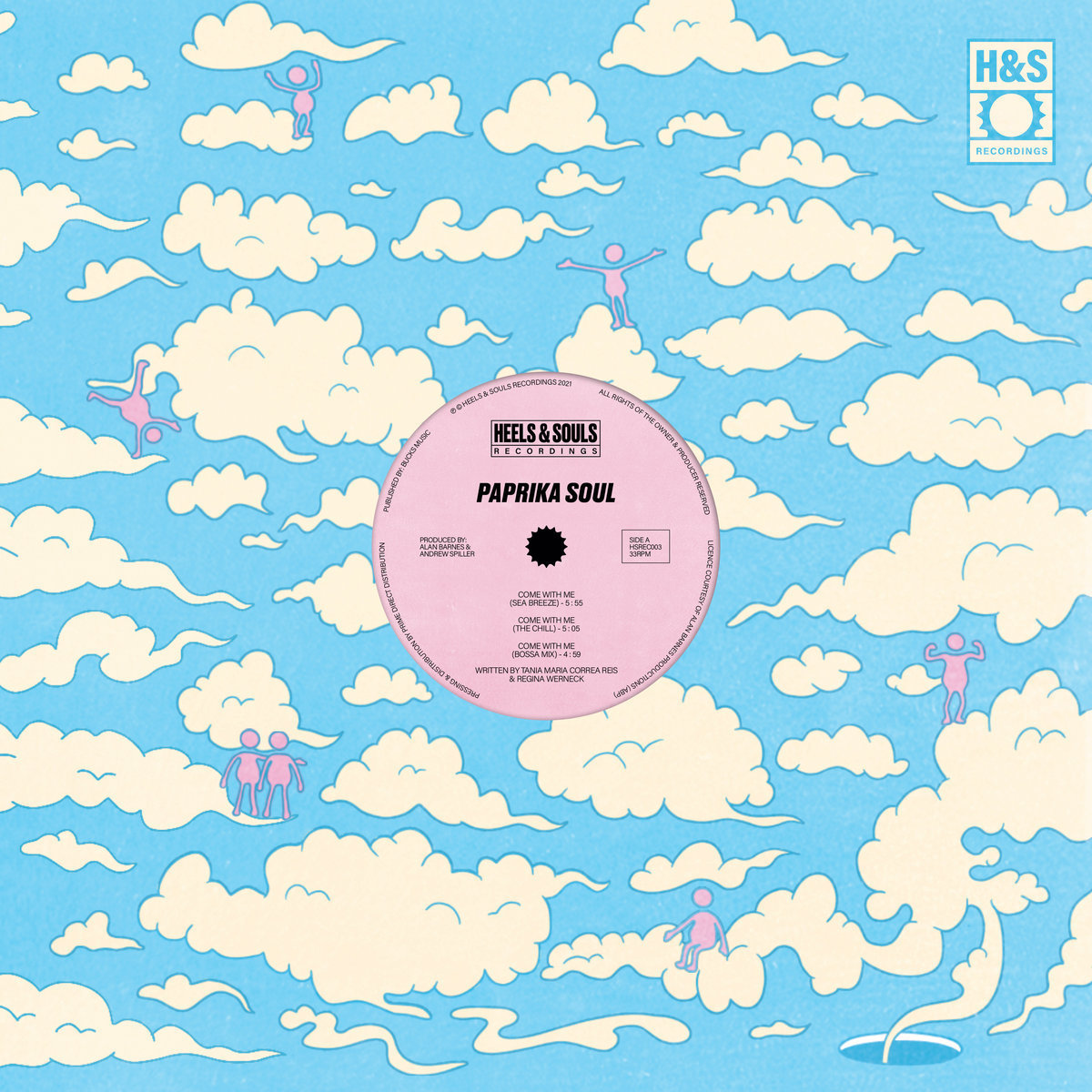 After kicking off with a bang in 2020 with a reissue of UK Street Soul outfit Special Touch's cult album "Garden of Life" and tapping into Frankfurt's eighties electro/nineties breakbeat scenes in 2021 with a 12" from The Soundstealers, London's Heel & Souls Recordings return for 2022. This time around, for HSREC003 they've lined up a split reissue 12" from High Wycombe's Paprika Soul/Soft Sugar (Alan Barnes, Andrew Spiller and Andrew Hughes)
Curated from three of Paprika Soul/Soft Sugar's best EPs, it's - unsurprisingly - a game of two halves. On the A-side, we explore three different mixes of Paprika Soul's and vocalist Sarah Newell's hyper-coastal remake of Brazilian singer and musician Tania Maria's jazz-funk classic "Come With Me" from 1983. On the 'Sea Breeze' mix, Sarah sings in a smoky and sultry modern soul style over buoyantly bubbling synthesisers and crisply suited and booted machine funk, with added birdcalls and gently crashing waves. Up next, on 'The Chill' mix, Paprika Soul redub "Come With Me" in an infectious, toe-tapping UK Street Soul style, before paying their respects to Tania's original with the throwback 'Bossa' mix.
On the flip, we're treated to "Métro (Funk Mix)" and "Swampin (Alternate Mix)" under their Soft Sugar alias. Throughout "Métro (Funk Mix)", a dream house homage to the Parisian train system, old school rave stabs and cloudy pads drift against equally floaty basslines and a straight-ahead 4/4 groove detailed by skipping breakbeats. In a word, it's lush. "Swampin (Alternate Mix)" continues in the same dreamy synth-zone as "Métro (Funk Mix)" but with more of a humid, midsummer mood. Smooth sunset hypnotism set at the pace of 110 beats per minute.
As with past Heels & Souls Recordings releases, a percentage of the proceeds will go to a charity. This time around, 20% of profits from Heels & Souls Recordings and Prime Direct Distribution will be donated to Zaatari Radio – a humanitarian collective working with war-affected communities around the world.
"Come With Me / Métro / Swampin" is due for release on Feb 25 2022 in 12" and digital formats [pre-order here]