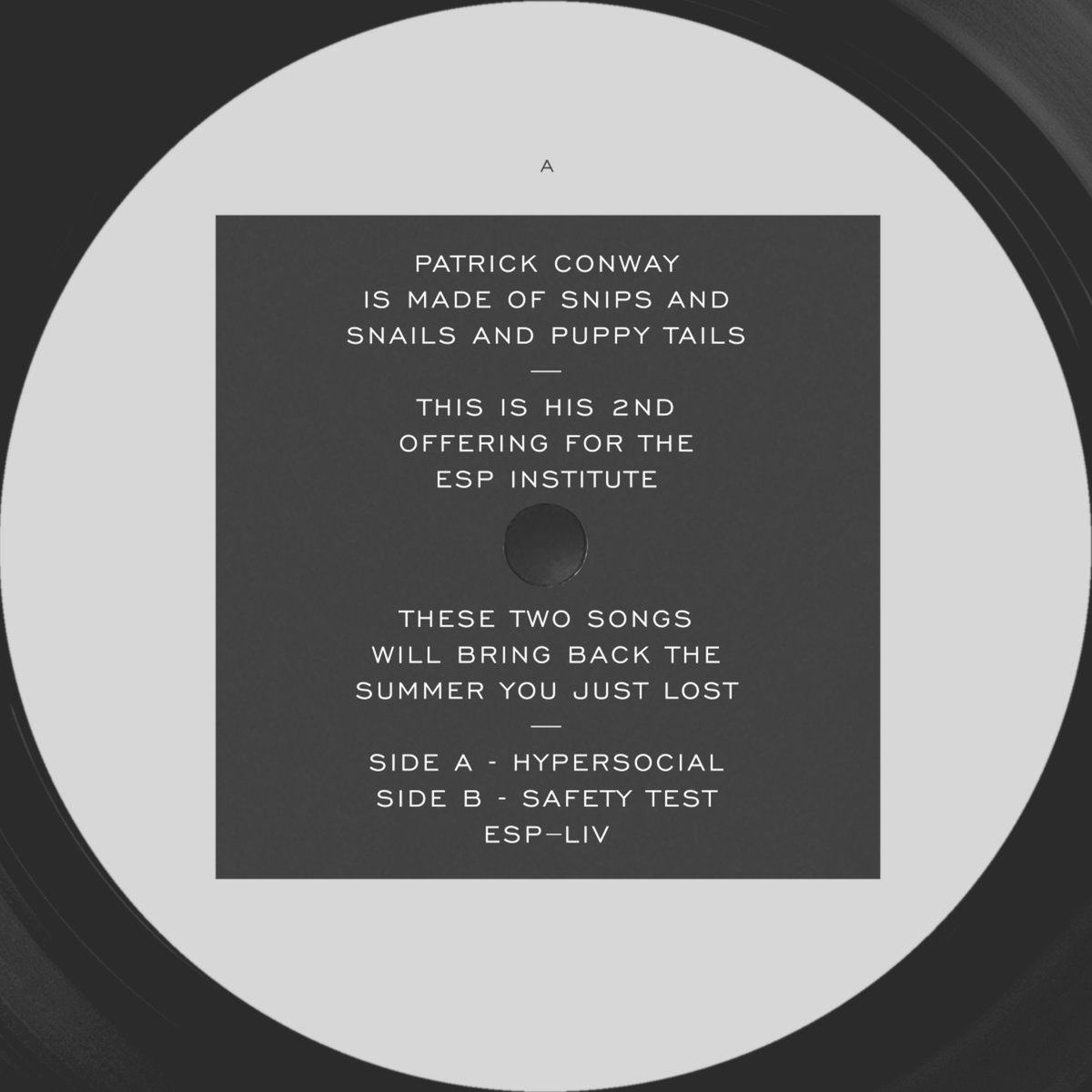 Since his first releases in 2017, Patrick Conway's output has been simultaneously focused and wide-ranging. The general sound could be generally described as 'deep-listening techno' — but his tracks managed to run the gamut of what that could mean, wandering from soothing dub to angular ambience to sawtooth grit. Conway's debut contribution to Lovefinger's ESP Institute label, last year's 'Know The Future'/'Digital Warfare' EP, was slightly more direct in its off-kilter way, with both sides serving as spectral-rave tributes to good ol' hardcore — but his latest two-track contribution to the label sees the Bristol-born, Berlin-based producer back in broad-spectrum mode, its pair of tracks seemingly in direct opposition to each other.
The EP's tagline, to quote the label, reads as thus: 'These two songs will bring back the summer you just lost.' If that's the case, then judging from record's b-side, that summer would have been one for the courageous among us. With its fractured-dancehall rhythm and disorienting array of scratches and whooshes — along with a nursery-rhyme-from-hell melody as the unifying motif, the barest of hooks to hold it all together — 'Safety Test' is basically a four-minute high-frequency freak-out, its frayed-wire nerves exposed to the air. It's actually kind of brilliant in its angst-provoking way.
Flip the disc for a very different sort of tune that harkens back to warm-weather memories of frolicking with friends, hitting the clubs and generally getting lost in the haze of good times. The rounded kick and bass of 'Hypersocial' dance around the outskirts of the dance floor, while hazy chords, luscious strings and come-hither croons swathe the tune in a golden glow of wistfulness. It's almost the mirror image of 'Safety Test'; it's a haven from anxiety, and a reminder of all things that are right and proper in life.
'Hypersocial'/'Safety Test" is available digitally on 4 December; preorder via Bandcamp.