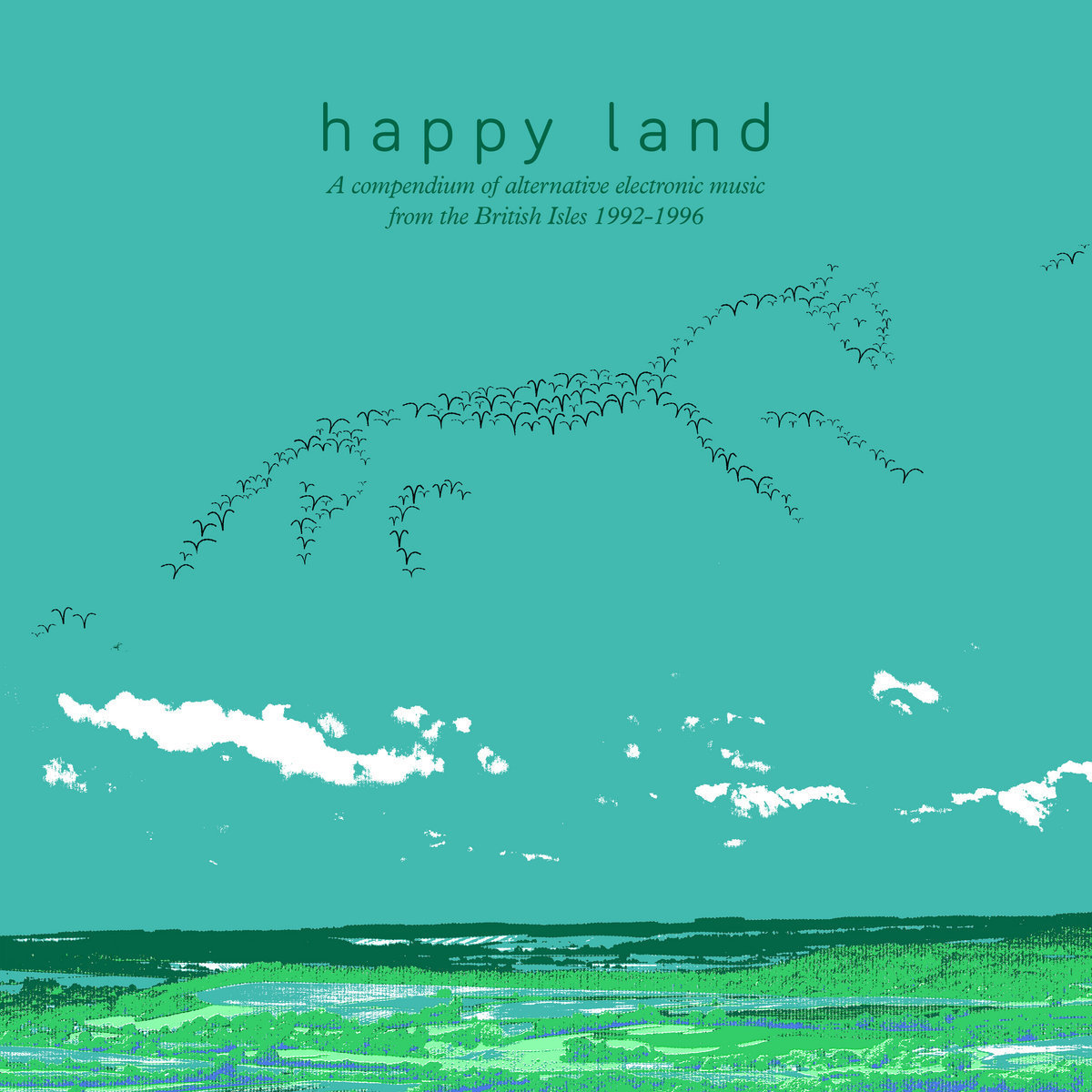 22-29 May 1992, Castlemorton Festival, Malvern Hills, Worcestershire. Scene of arguably one of the pivotal moments in recent UK social history. When the rave 'dream' was brought back to earth with a bump - both literal and metaphorical. The fallout included the 1994 Criminal Justice and Public Order Act which all but closed down the rights of Britain's youth to make a dance as they wanted.
It's at this point that the new compilation from Above Board Projects comes in. Spanning five years of music from across the electronic spectrum and demonstrating a rapidly deepening palette of sounds following in acid house's initial wake.

The reach of 'Happy Land' is satisfyingly broad, with breakbeat laden spoken word pieces from the likes of Cabaret Voltaire on 'Soul Vine' and Thunderhead The Word By Eden doing 'True Romance'. These are matched with early Herbert, whose 'Housewife' is a reminder of his longevity in the pioneer stakes and the heads favourite and UK techno warriors Radioactive Lamb with 'Bellevedere'.
In a more obviously anthemic space, 'Big Decision' by Liquid Son brings the bleep, while Slow Rotor up the ante on 'Space Disco (Dub Edit)' ending with a symphony of electronic noise to provide some necessary hands in the air moments. LIkewise, 'Meditation' by Syzygy is a delightful slice of simple yet effective techno, all throbbing bass intertwined with creeping chords.
Meanwhile, Sandoz make an killer statement with 'Armed Response' which is followed by Black Dog's 'Cost II' which has to go down as one of the best British techno records ever made. There are thoughtful moments too, Xeper lead the procession to head nod territory with 'Carceras Ex Novum', joined by Fretless AZM, whose 'Dreamland' is just that.
Special mention goes to the song that gives 'Happy Land' its title. Put together by Ultramarine featuring the unmistakable voice Robert Wyatt of Soft Machine. 'Happy Land' takes an almost marching beat then adds dub touches and a playful horn interlude. Wyatt's lyrics bely the uplifting backing. He takes a long standing (Victorian?) parody lyric and twists it to the times, cutting to the heart of what 1992, and all that followed, meant for the types of freedoms that until then had been taken as read. "A passport we shall soon require, which by them must be scanned….". Saying that this compilation is worth the price of entry for the Black Dog track alone.
A Happy Land? Maybe once, but if this compilation shows anything, it's that from adversity and defeat, something beautiful and even uplifting can emerge.
'Happy Land' is available via Above Board Projects digitally and actual record shops on vinyl.