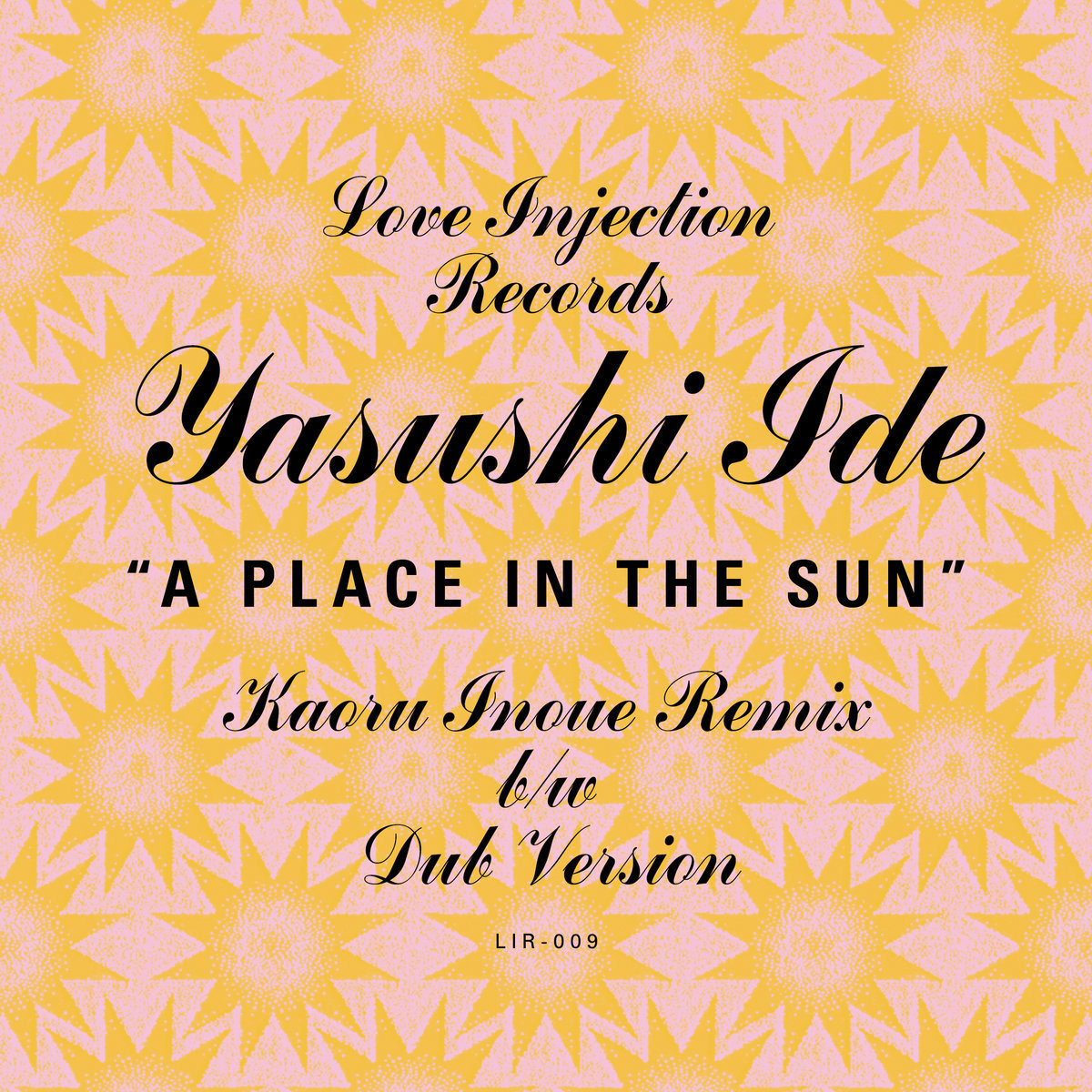 Barbie Bertisch and Paul Raffaele's Brooklyn, NYC-based Love Injection project has been getting some good runs on the board lately, like the successful crowdfunding of "Dope From Hope", their new book that compiles Paul W. Klipsch's cult audio newsletters. Over on their record label side of things, however, I can't get through today without talking about their label's forthcoming new release , Yasushi Ide's "A Place In The Sun (Kaoru Inoue Remix) b/w Dub Version".
As the story goes, Bertisch and Raffaele came across Kaoru Inoue's remix of "A Place In The Sun" as a 1/50 dubplate edition while touring through Japan in 2019. Captivated by the remix's spellbinding atmosphere, they set about making plans to release it to the wider world, eventually culminating in this record (due for release on Nov 17 2023).
Since the 1980s, Japanese DJ, producer and curator Yasushi Ide has been a significant figure within Tokyo's sprawling, open-eared music scene, along the way earning a reputation for being able to synthesise the rich stories of late 20th century/early 21st-century music - be it exotica, punk, dub, jazz dance, hip-hop, house or electronica - into singular, stylistically free-roaming tracks. Along the way, he's worked with the likes of Masters At Work, Tom Verlaine, Don Letts, James Chance, DJ Krush, Pharaoh Sanders, U-ROY, and Bongo Herman, all compelling character references.
Originally recorded for his 2012 album "Late Night Blues", "A Place In The Sun" saw Ide teaming up with an elite cast of players, including Jamaican guitar legend Ernest Ranglin, bassist Takayoshi Matsunaga, Fender Rhodes player Nobuyuki Nakajima, and drum programmer Yoko Ota.
On the remix, Kaoru Inoue (aka Chari Chari) strips things down into a sea of sparkling keyboards, shuffling bossa nova, UK soul redolent hand percussion and firecracker guitar figures, gifting us with a perfect sunset / permanent vacation vibe that just goes and goes and goes. Over on the flip, Yoko Ota dials up the dub on the drums, bringing the Soundsystem culture and body music vibe back to the proceedings. Fittingly, there's a 45 edit as well. You know what to do.

"A Place In The Sun (Kaoru Inoue Remix) b/w Dub Version" is due for release in 7" and digital formats through Love Injection Records (order here)