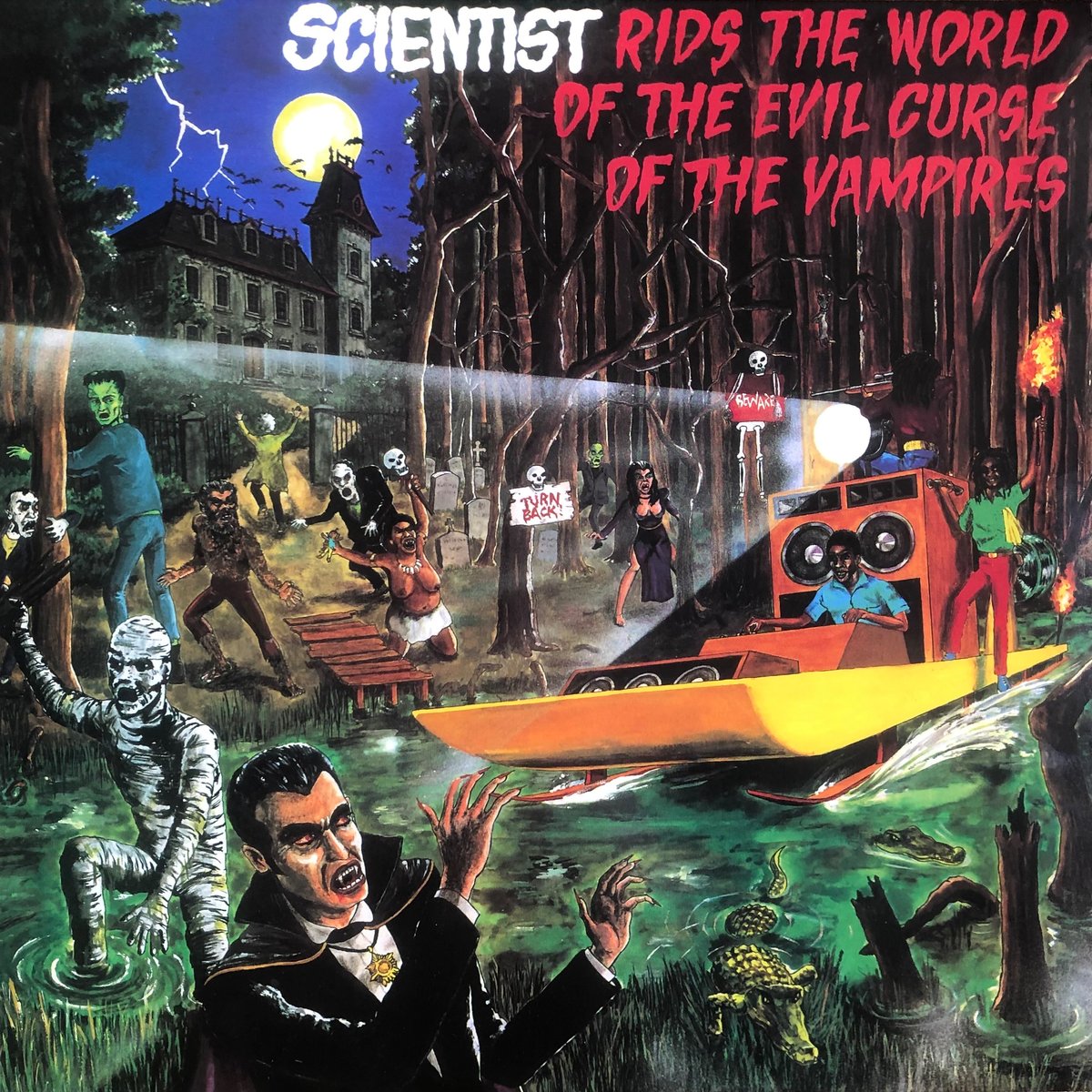 To my ears this is the album that provides the clearest link between the sound of classic Jamaican dub and the bass heavy sound system derived genres that evolved decades later in the UK. It's not just the dark, horror inspired aesthetic but also the stripped back, bass driven minimalism of the music that creates a blue print for what has come to be collectively referred to as 'bass music.'
Like many great dub producers Hopeton Overton Brown, a.k.a. Scientist, started out as an electrical engineer and it was this that initially led him to King Tubby's 18 Dromilly Avenue address in Kingston. However it wasn't long before he was behind Tubby's mixing desk working as the King's apprentice to produce some of the finest dubs that came out of the studio during the late 70's before moving over to Channel One where he worked as their main studio engineer. It was during the early 80's that Greensleeves released a series of albums in the UK containing Scientist's dubs to cater for the growing domestic interests in the genre and these LPs have now gone on to gain cult status, each one based around a themed conquest wonderfully captured in Tony McDermott's distinctive comic book illustrations on the sleeves.
Released in 1981, 'Scientist Rids The World Of The Evil Curse Of The Vampires' uses rhythms laid down at Channel One by the mighty Roots Radics at an interesting point in the evolution of reggae when the soft psychedelic rhythms of roots reggae were beginning to toughen up into the harder more minimalist sound of early dancehall. All great dubs start with a great rhythm and with the Roots Radics on top of their game Scientist had some fantastic material to work with. Their tough almost militant instrumentals were well suited to Scientist's own more stripped back, minimalist and deeply experimental approach to dub that has gone onto become his trademark sound. I can't think of a better example of this in action than on 'Dance Of The Vampires' which is up there as one of my favourite dubs of all time. In Scientist's expert hands Michael Prophet's 'You Are A No Good' becomes one of his heaviest ever dubs delivering a toughly defiant lament on dishonesty and mistrust.
This is followed by 'Blood On His Lips' which turns Wayne Jarrett's 'Love In A My Heart' into a proto-dubstep masterpiece of bass heavy minimalist funk.
Flip the record over for 'Plague Of Zombies' which keeps Johnny Osbourne's beautiful devotional vocals in the intro before delving deep into the echo chamber and coming back with a heavy as hell dub armed with a deadly purring rubbery bassline that would fit perfectly into any classic 90's darkside jungle track.
There are also plenty of other gems to be found such as the surprisingly electro sounding 'The Mummy's Shroud' and the masterclass in low frequency bass manipulation that is 'The Corpse Rises' making it an essential addition to any discerning record collection. It is however worth mentioning that if you do go searching for this (or any other of the Scientist albums in this series) in your local record shop you may confusingly come across some recent reissues that bear no mention of Scientist on the album cover at all with his name instead replaced by 'Junjo' (referring to reggae producer Henry Junjo Lawes). This appears to be the result of an ongoing dispute between Scientist and Greensleeves about which you can hear Scientist's side of the story here. Whilst I'm not an expert in copyright law or royalties, from a purely fan's perspective it is sad to see an artist's achievements forcibly removed from the history books (or record sleeves in this case) and I sincerely hope this does not negatively impact the legacy that Scientist deserves as one of the greatest ever producers and innovators of dub music.