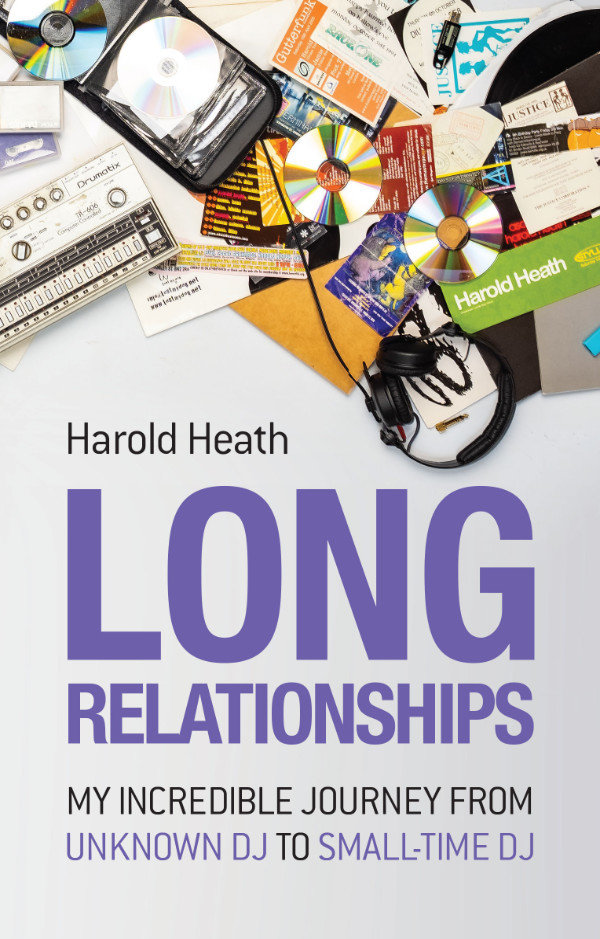 Harold Heath has managed to write the story that will resonate with many reading this site. From the small pub / bar gigs through to the 'this is going off' club gig. The journey of a music fanatic finding his roots and then deciding that a career in music was for him. It's a story I found lots to align with as we are of similar age and listened to a lot of the same music. And it's well told and very funny in places.
Heath first discovered the joys of music via hip hop or electro as it was back then. The sounds of Street Sounds compilations featuring futuristic tracks by the likes of Packman. Davy DMX and The Jonzun Crew. Space was clearly the place back then but Harold liked to backspin his heart out. From there it was a short step via rare groove before discovering house music and well that was it. I remember the moment well as I did the same thing. I collected hip hop for years (on cassette) until one day my best mate Mark came round with this record and from there it was like 'ok this is ittttttt' and we were off… Heath discovered house started going to clubs and hearing the music he loved and life was never the same. An early trip to The Astoria after taking some LSD with his mates clearly proved a pivotal experience.

"...I popped out of acid-bubble of doubt back into where I was: a room full of people, overflowing with joy, going completely fucking primal to some of the best music ever invented."
"It really was nearly too much, but dear old Wolfie was there to help me keep it together and then suddenly I popped out of acid-bubble of doubt back into where I was: a room full of people, overflowing with joy, going completely fucking primal to some of the best music ever invented." That is exactly what I'm talking about. So many people are involved in dance music now that have never got properly lost in it. Heath has. He has done his time in the dark corners of the club and when you combine that with a love of music then there is a an awakening that happens where you realise you want to be doing what the DJ is doing.
This is exactly what happened to Heath. I'm sort of giving you the book here but really it's a very funny tale and there's loads to get lost in. Anyway, he did it. Him and a group of friends formed a club called 'Blow Your Own' (those sorts of names were very much the fashion back then - a little bit saucy as it were) in a student uni bar and they smashed it by all accounts. Loads of people having a great time getting lost in house.
I don't want to go into too much detail as I recommend that you buy the book and read it yourself but from here Heath ventures into making music (check his Discogs for more info) the worlds of (tech) house via releases on Stickman Records and beyond. Along the way the world of DJing turns from two turntables and a mixer (that had to be studiously mastered after hours of practice) to the CDJ turning up and changing the game. As he says, "Dance music and DJs have a strange relationship with technology. On the one hand, we are all committed futurists, with our abstract sounds, our cutting edge genre mutations and our ridiculous sci-fi themed artist names. On the other hand, dance music is oddly conservative, obsessed with its past, constantly looking back to and sentimentalising golden 'old skool' eras." He journeys from small clubs to big clubs via bar gigs and all around.
He makes a point well does Harold. He tackles the business of streaming and the joys of the humble brag. I agree with him on pretty much everything he says (especially on the humble brag as we literally have ended up in a place where someone will say 'thanks to so and so for charting my record' - mental).
This last bit makes the book sound a bit Debbie downer but it really isn't. Heath makes points well with a sort of melancholy humour that makes you smile at how we have ended up here. Serious topics dealt with via a smile. Factor in some ridiculously good records and the fact that he loves Mood II Swing lots and you end up with a book that I ploughed through once I started. Top work.
As Harold has such good taste in house as well as foundations in the original tech house scene (which I know little about tbh) I've asked him to compile us some Top 10s to run alongside this review. They follow in further pieces. You can also check Harold's productions on Spotify if that's your thing. Until then Harold Heath's 'Long Relationships – My Incredible Journey From Unknown DJ to Small-Time DJ' is available now via Velocity Press and other retailers. Nice.