In our very occasional series of interviews with artists / designers on their work we decided to speak to Matt Sewell as he's someone we've known (remotely) for a while. Matt also has ridiculously good taste in music and has just given us a new mix which you can hear here. Matt's work is one of those lovely thing that just exists and translates into various areas as it's just warm and so characterful. For example I went to my mums house and sat on the side was his book on garden birds. So there's the illustration and love of nature and alongside this a very complimentary taste in music and a label - A Crushing Glow - he occasionally licenses and releases music on alongside the good people at Caroline True records. They re-released the gorgeous 'Gayatari Mantri' amongst other things. Anyway, on with the program...
When do you first fall in love with visuals? How old were you?
I can never remember a time when i wasn't in love with visuals to be honest. Some of my first memories are being lost with the artwork of Maurice Sendak when my mam used to read me Where the Wild Things Are and In The Night Kitchen at bedtime. Richard Scarry's books were a big thing also, so much going on and beautifully drawn. I think I got hooked on that feeling of delving deeper within an image from a really early age.
What was the first record or book sleeve that you recall vividly?
We didn't have that many records in the house, but the radio was always on. The first record I ever bought was with some crimbo money, being a 70s kid, it was Adam & The Ants 'Kings Of The Wild Frontier'. The sleeve for that is pretty spartan, my sister's Beatrix Potter and Disney records weren't that inspiring either. But I do remember loving the artwork from my mam's 'Sgt Peppers' and 'Revolver' tape cassette covers.

What did you love to draw as a child?
Yeah i was one of those kids, always drawing, always. My Dad would bring back loads of A4 paper that was printed on one side and always smelt of ham, from the meat factory he worked at, and I would draw Star Wars stuff, birds, trainers, animals and just keep drawing and drawing. Much the same as my kids do these days but they have better pens. I remember my felt tip pens always being dry as fuck. I'd have to wait till Christmas or my birthday for some new Berol wides - cant beat that new pen feeling. New pens!
Who were your influences?
In my pre-teens i was into heavy metal so i spent a lot of time trying to draw band logos. I didn't have that many records but I had a few Iron Maiden posters, 'Somewhere In Time' was particularly brilliant. But when I first really noticing actual design and illustration it would be people I've no idea who they were. From picking up free magazines in Newcastle, buying Suburban Base 12s and trying to copy the graff graphics on them to watching loads of animation on Channel 4. My mam was ace and used to just record any animation she thought I'd dig. I had a clip of the cat-bus scene from 'My Neighbour Totoro' from when i was about 12. It blew my mind and I think it pretty much inspired a love of trying to create a warm buzz and a positive vibe within my work without me even realising. I finally stumbled across it again stoned watching a shit quality pirated 'Totoro', which I had downloaded after I had had my head blown off watching 'Princess Mononoke' around 2005. The magic that is contained in that scene is beyond words.
What inspires you to create?
I'm not really sure to be honest, I've been creating for so long it just feels second nature. If I don't get to draw or do anything creative for a while I get well moody.
Where did you study? Any key memories from those times?
I went to Ipswich 94-97 to do a modular degree in Art & Design. I went to do animation but that didn't start till the second year and I was a complete wreck-head by then so it didn't go too well. It was an amazing time for music and going out though. I was big into going out to techno nights in Newcastle before I left so i thought I was pretty clued up music wise when I got down there but the mates I made quickly gave me a proper education with their record collections.
I was properly schooled in techno and house by Ben, jazz, funk and breaks from Jimi and ''Jungle Matt obvs with the jungle and drum & bass. South Londoner Leo became my raving partner and introduced to all kind of craziness down there... Pirates, squat parties, homemade acid. We went to carnival in '95 - it was all jungle, it was fucking mental. Honestly... It scared the shit out of me and was such a buzz at the same time. Proper peak time for jungle I'm so chuffed I experienced it.
Anyway back to Ipswich... There was a massive free party scene based around there and up into Norfolk and Essex. I still meet people who used to go to them. Paul Arnold of Phat Records and Cert.18 used to put on loads of parties and was always DJing with a good local crew. It was well easy to buy records that went off at those parties as Ipswich had some great record shops at the time. In particular Phunk Chunk for techno and breaks, I'm sure Photek served me one time down there once, or i like to think so anyway, and also Red Eye. It's well good to see them still going strong.

I remember going in there for a copy of 'The Chopper (Shy Fx Remix)' when it first opened and was very much a drum & bass shop. There was so many good nights and messy adventures. But I do really remember a disgusted look on Derek May's face as I gurningly shook his hand after a set... Gutted. Also, Autechre were playing live in some pub there one time. There was hardly anybody there and i went up to chat to them, I was already pretty loose, and as i was going on and on to them about seeing them in Newcastle on time I managed to drop a full pint of lager that bounced up and went all over both of their shiny space age club/hiking gear right before they were to start their set… Oops.
Did you ever think of following a different career path?
There's been countless times such heresy has entered my mind when money is tight and the anxiety is kicking like a mule, but it doesn't last long. I've never been able handle a proper job anyways. I've always mucked about making music but I reckon with enough time dedicated to it then I could maybe of had a different creative outlet. Maybe made a bit of money... Who knows. But to be honest I'm glad it has never been too much of a thing as music still retains that magic for me.
I can listen to music and just go so deep and transcend everything around me. Music has that magic more than any other art form. I know quite a few musicians that say they cant really do that anymore as they just pick apart how the piece was assembled or they spend most of their time just listening to what they have been working on. So thank fuck I still can.
How did your creative process change as digitalisation entered the fray?
I never did anything digital at college... We were just on the cusp. It went mental just as we left really. What I was doing was all completely analogue. Hand-drawn illustrations, spray-paint Futura 2000 rip-offs and stop frame animation. I didn't get a computer with a scanner till about 1999. That's when I properly moved into the illustration world getting jobs for the Big Issue, The Guardian and other mags. As much as I prefer to be analog these days watercolours / spray-paint / hardware and acoustic guitar I would never of entered the professional world without digitalisation.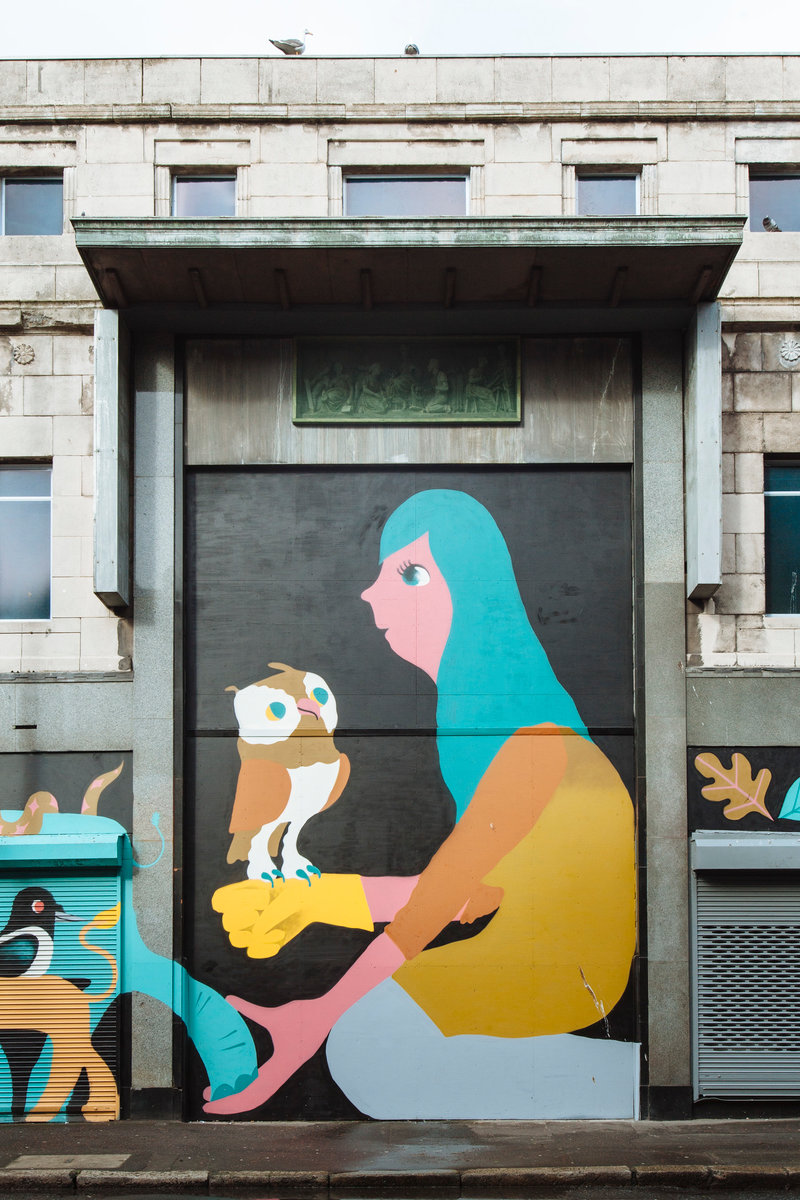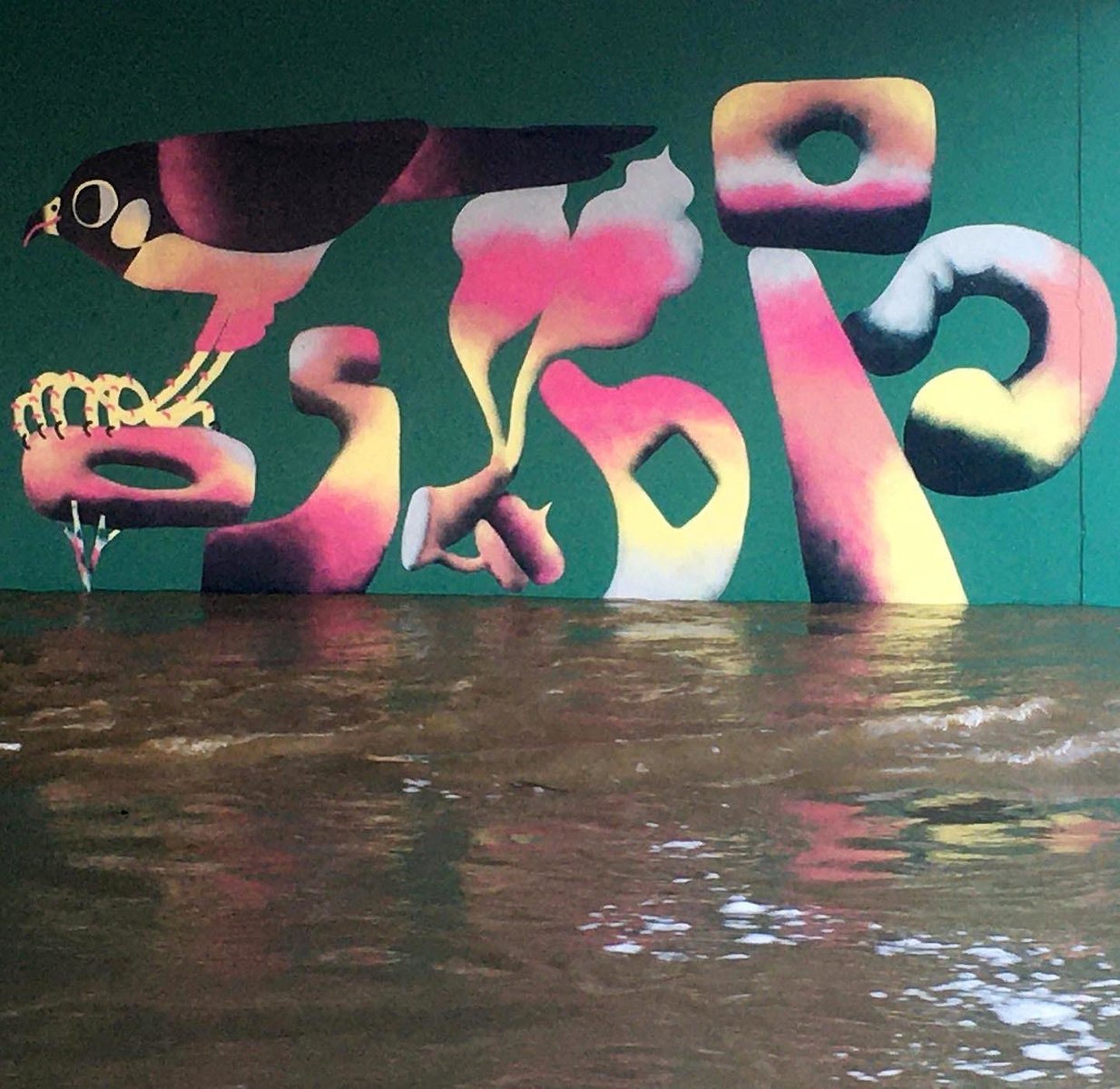 You had an early interest in graffiti? Were you actually 'out there' as it were?
When it came to graff I was, and always have been, strictly Sunday League. It was always part of my visual wonderment alongside comics, record sleeves, animation, book covers etc. I was really intrigued by it as a kid, seeing it in music vids and films based in New York but it wasn't until my mam got me Spraycan Art from our local library that it really carved a groove in me. The Mode2 walls in that book were incredible. Still are. There was no way i was ever gonna recreate that kinda thing. I did a few really really toy pieces, but I have to admit there was nothing in County Durham that I could see anyway aside from a Disney themed wall in Bishop Auckland that was to boost that connection and to get involved with. I had to just be a bystander and view from afar and I only ever saw it as something done by amazing artists in New York, London or Outer Space for a long while.
I did a bit of bombing and painted a few things in the old docks in the mid 90s in Ipswich and a few trackside in Exeter but was far more interested in raving and far too paranoid to get more involved. It wasn't until i got down to Brighton in 2000 that I properly started painting. My letters have always been a bit shit but my characters that I would do next to the pieces always got far more recognition so I thought 'fuck it go with them instead'. I started doing them around town and handily this all coincided with the new thing at the time called "street art" and I managed to get a bit of a name through that whole scene for a little while. I definitely fell out of love with all that though after a couple of years but I still paint pieces every now again in abandoned spot with Raek up here in the Shire.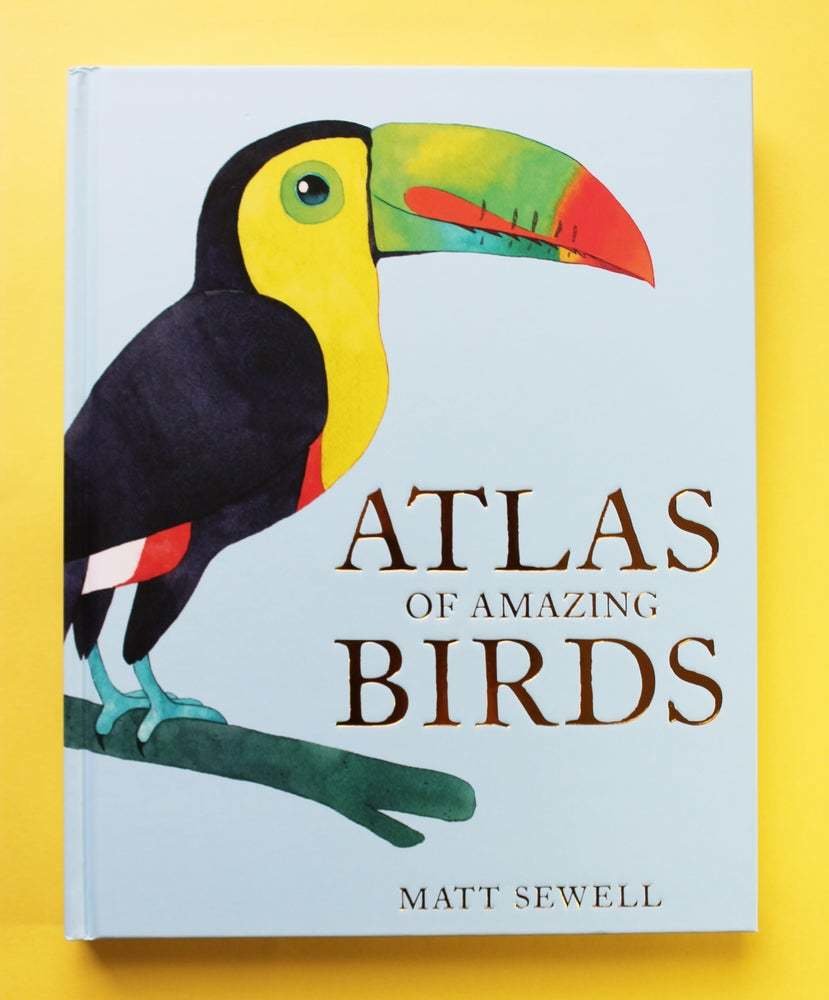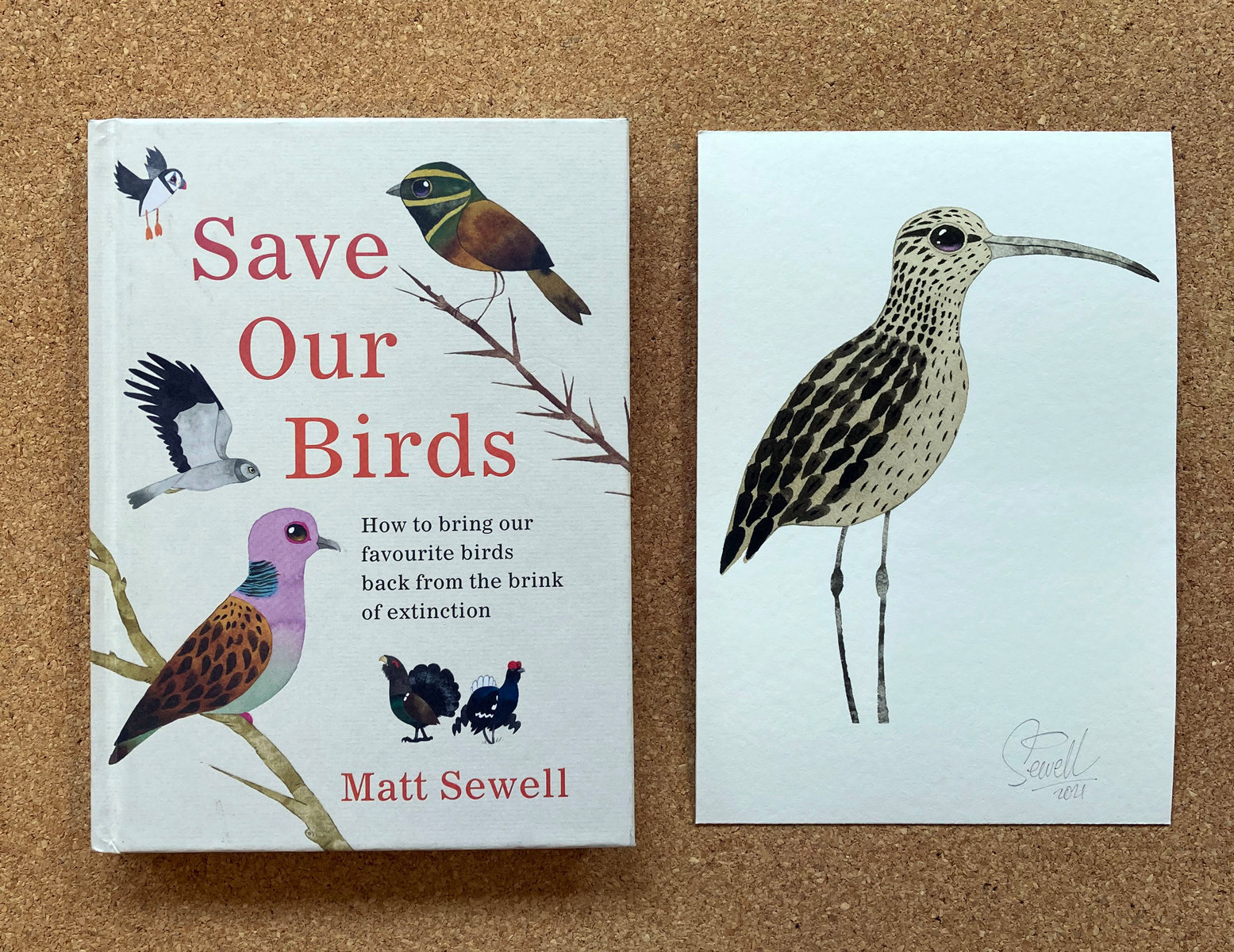 You've published a number of books now. My mum has one that she loves. How did this start to happen to for you?
After a year in Australia and South East Asia with my wife Jess I had a dawning that to be 100% true to myself and to send out the best vibrations into the world I needed to focus my work on something that was truly true to myself and not about trying to impress other people or trying to make money. That thing turned out to be birds. They have always been a part of my life, not that i'm a twitcher or massive birdwatcher or anything, it's just that seeing birds in a day to day way really affected me in a lovely way and I wanted to share this love through my artwork.
So after returning back to a post credit-crunch UK with no money, no clients, not much work on the horizon and a new family on the way I quietly got about producing lots of bird artwork. Luckily around this time I had been doing a logo for Caught By The River and the legend that is Jeff Barrett suggested I did a weekly blog post painting my favourite birds. After painting a blue tit I realised I wasn't getting across how much I loved it so I wrote a couple of lines to go with it.
That's when I realised I wasn't such a rubbish writer after all and I actually really enjoyed writing funny and charming quips about birds. Jeff helped me get my first book - Our Garden Birds, published in 2011 and it all snowballed from then. I've done over 10 books since and they have pretty much gone everywhere and around the world. It's pretty mad really, I never expected it. People just really get it and chime with my love of birds, from little kids to old ladies and loads of mums too!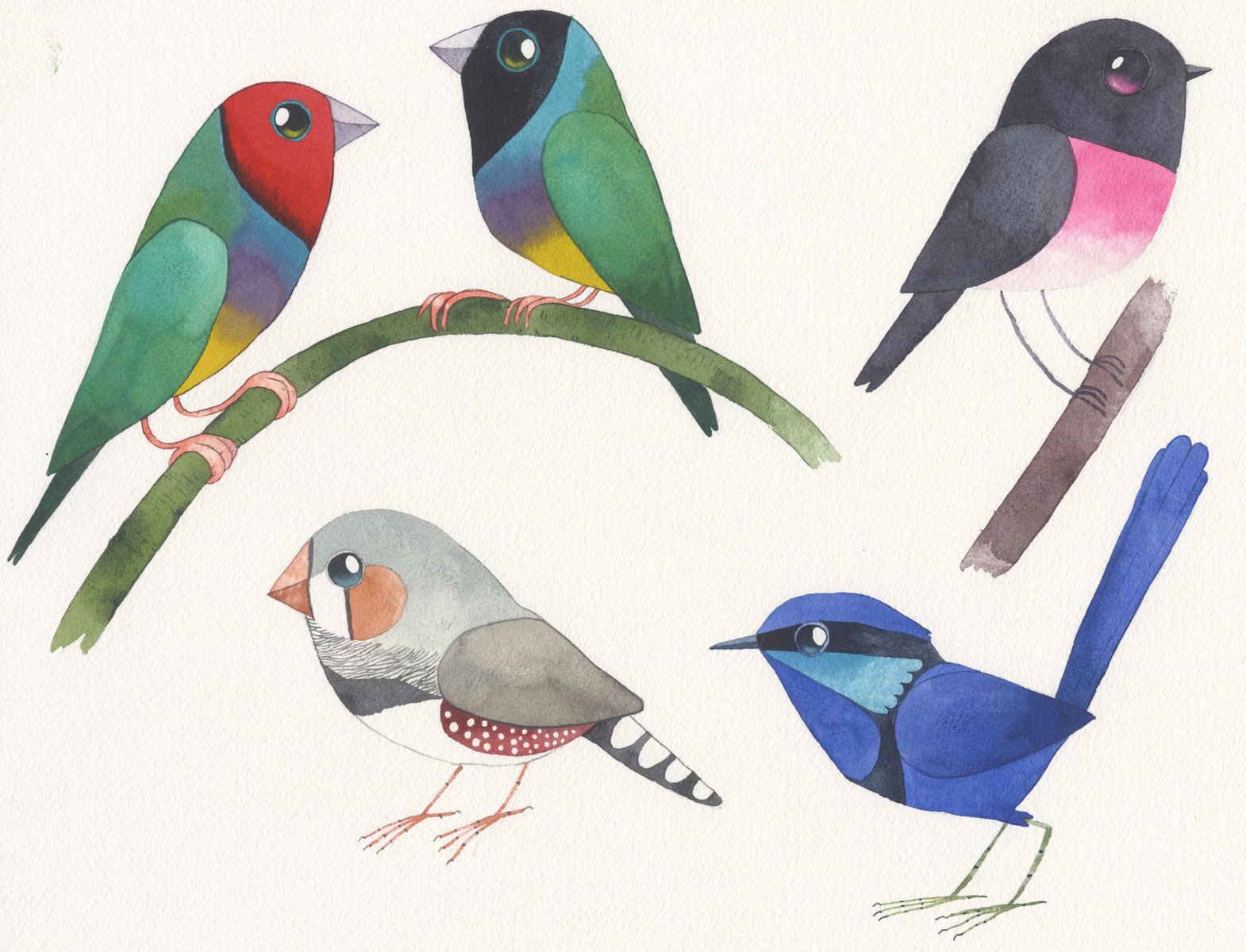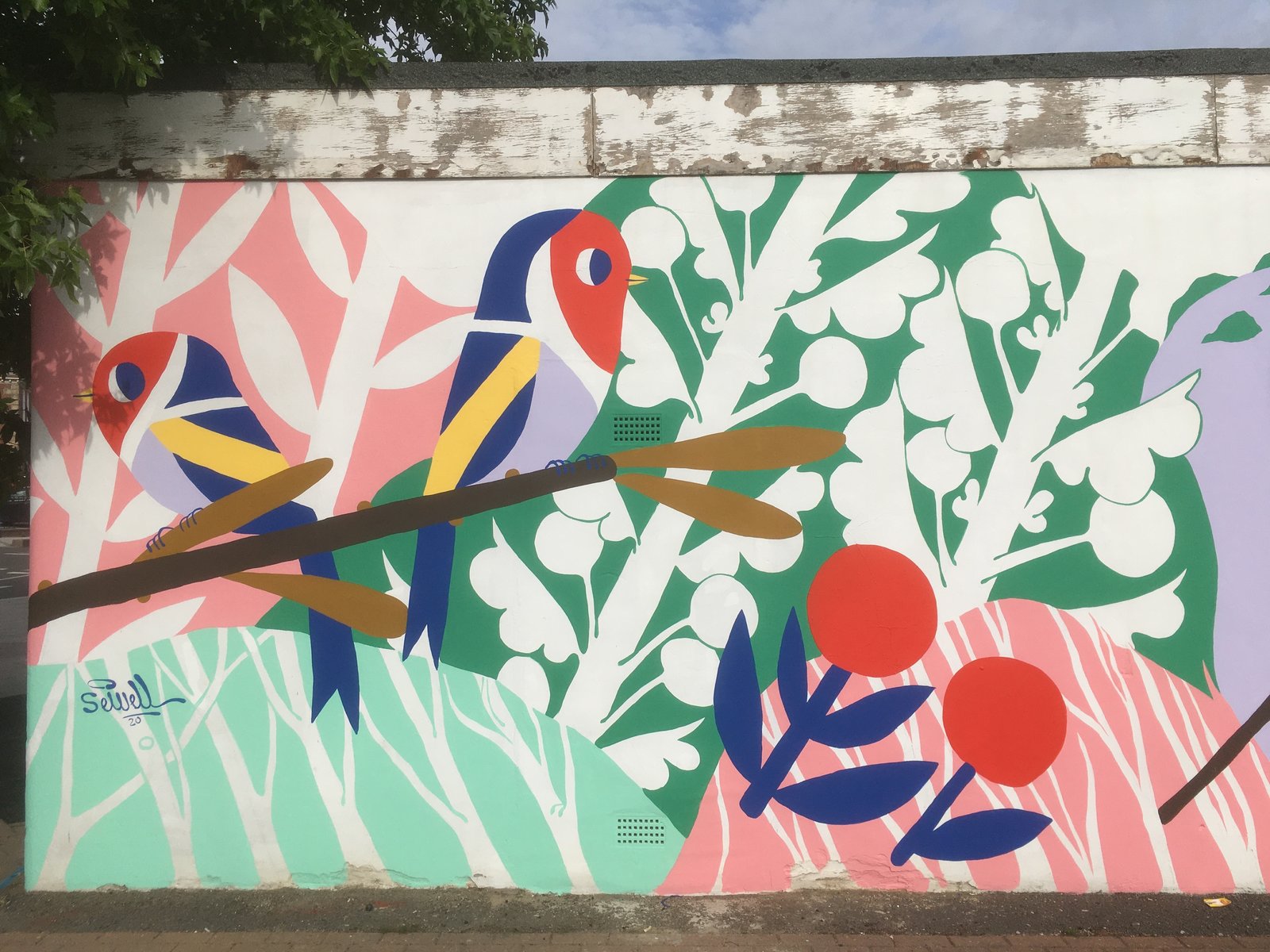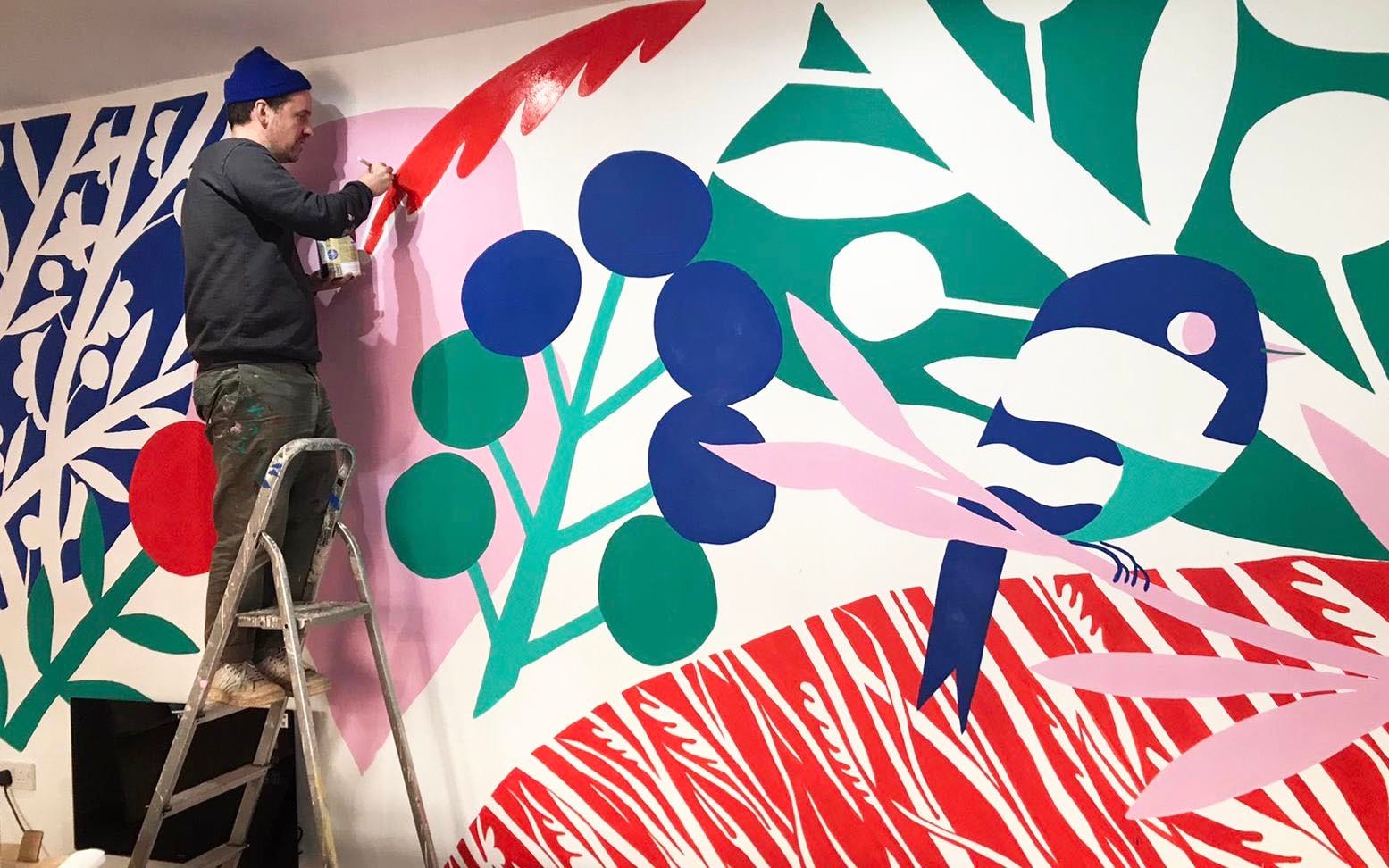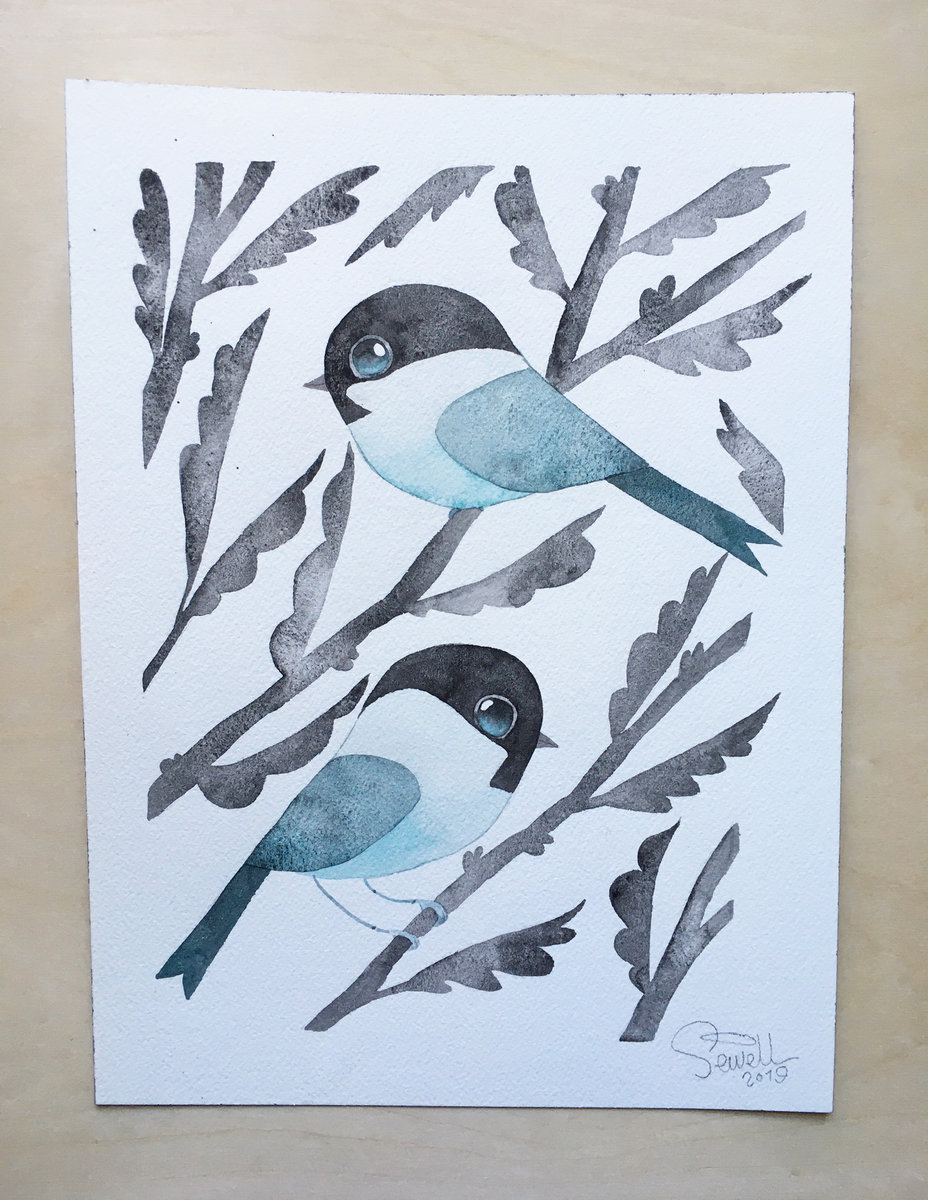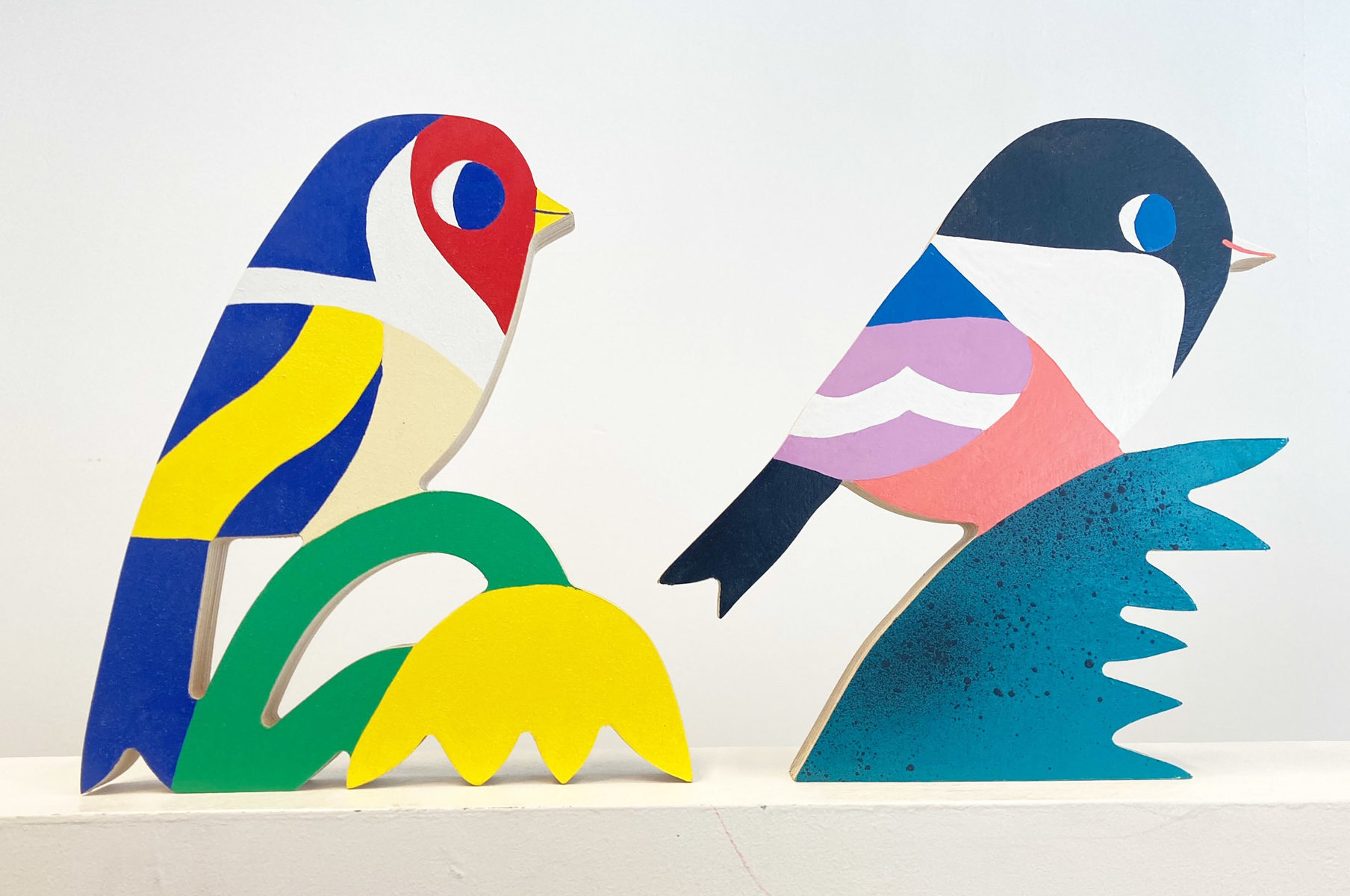 Back to music, if you could choose any album cover to make the artwork for what would it be?
That's a hard one as so much music already has imagery associated with it but I think I would love to do something for 'Can You Feel It' by Mr Fingers. It's got that iconic Trax label but apart from that its an open space and such deep and timeless music would be perfect for me to make something for. I just hope I could do it justice.
Can you describe where you work? What is your studio like?
I've just moved into a new place with my friend at Designed By Country. It's really bright and airy. I cant wait to get it properly set up. i'm planning on doing lots of painting there.
Do you listen to music when you draw?
Yeah man ALWAYS! In the studio NTS is on a lot. Spotify and YouTube are perfect office partners too. I dig and search for the perfect music to paint too - anything that takes me on a journey is perfect.
What time of day do you find is the best to create?
I can only really write first thing in the morning. By 9am I'm done. Seriously... My brain's like "nah mate - i cant do it anymore". But when it comes to drawing / painting I'm down for whenever. I'm pretty much with the regular daytime working hours since having kids and my wife is a nurse so I gotta be on hand to do the school run and that so sometimes I gotta just work when I can.
Where did your interest in music first come from?
Like drawing and searching for visual wonderment it's always been there for as long as I can remember. We didn't have many records as a family but the radio was always on and we had tapes on in the car... Standard 80s stuff really. It was when I got a paper round I could start buying records that I would hear on the radio or read about in mags. Music has alway been my escape, since I was young and still is. I had plenty of mates but always felt like I never really fitted in back home when I was young so digging for music that no one else knew helped me transcend and was a solace for me. I was a bit of a loner for a while, just listening to tunes and drawing – did me alright in the end though.
What type of project gives you the most pleasure?
I love projects where I have to do a bit of research, something where I have to delve a bit deeper into rather than just following a brief. If it's something to do with music then all the better and I'm always looking to collaborate or open to offers.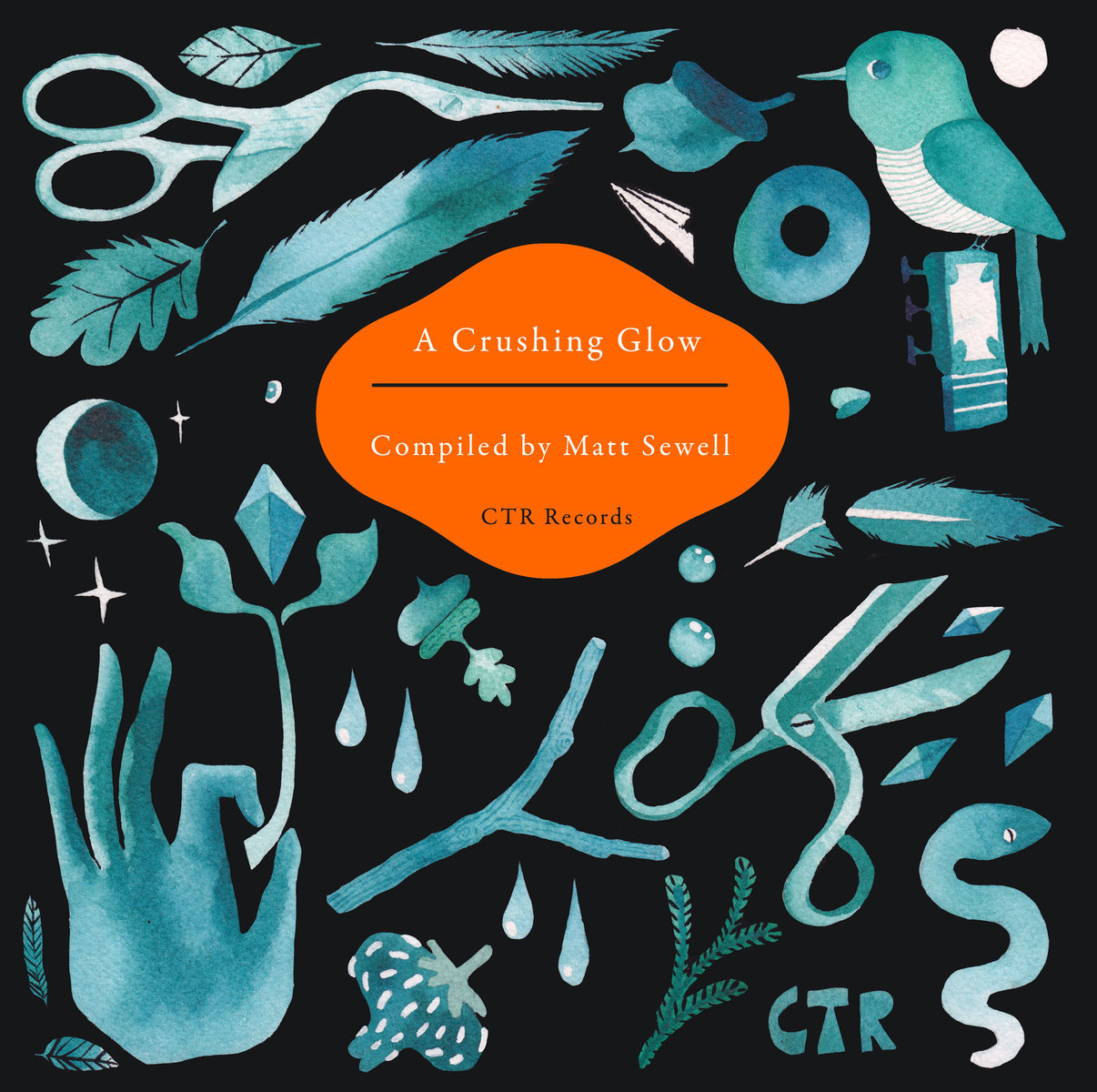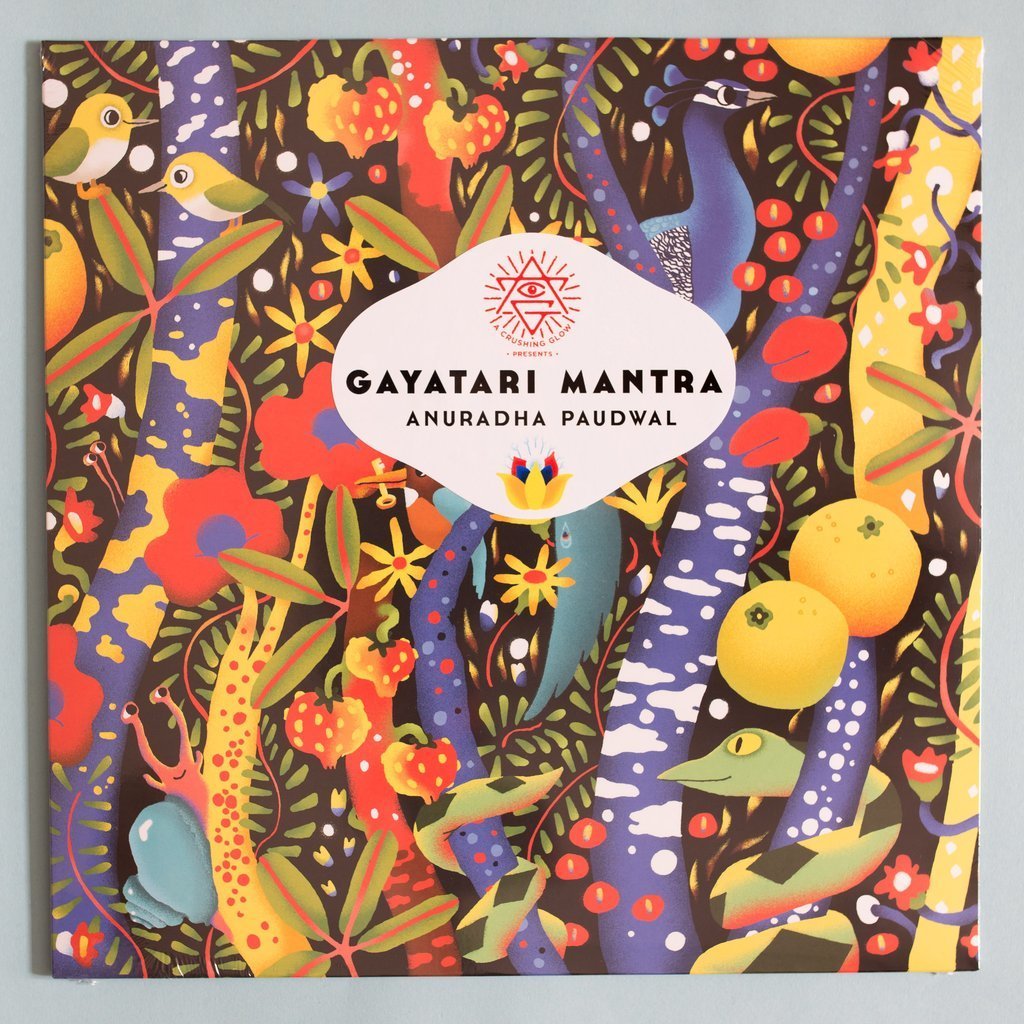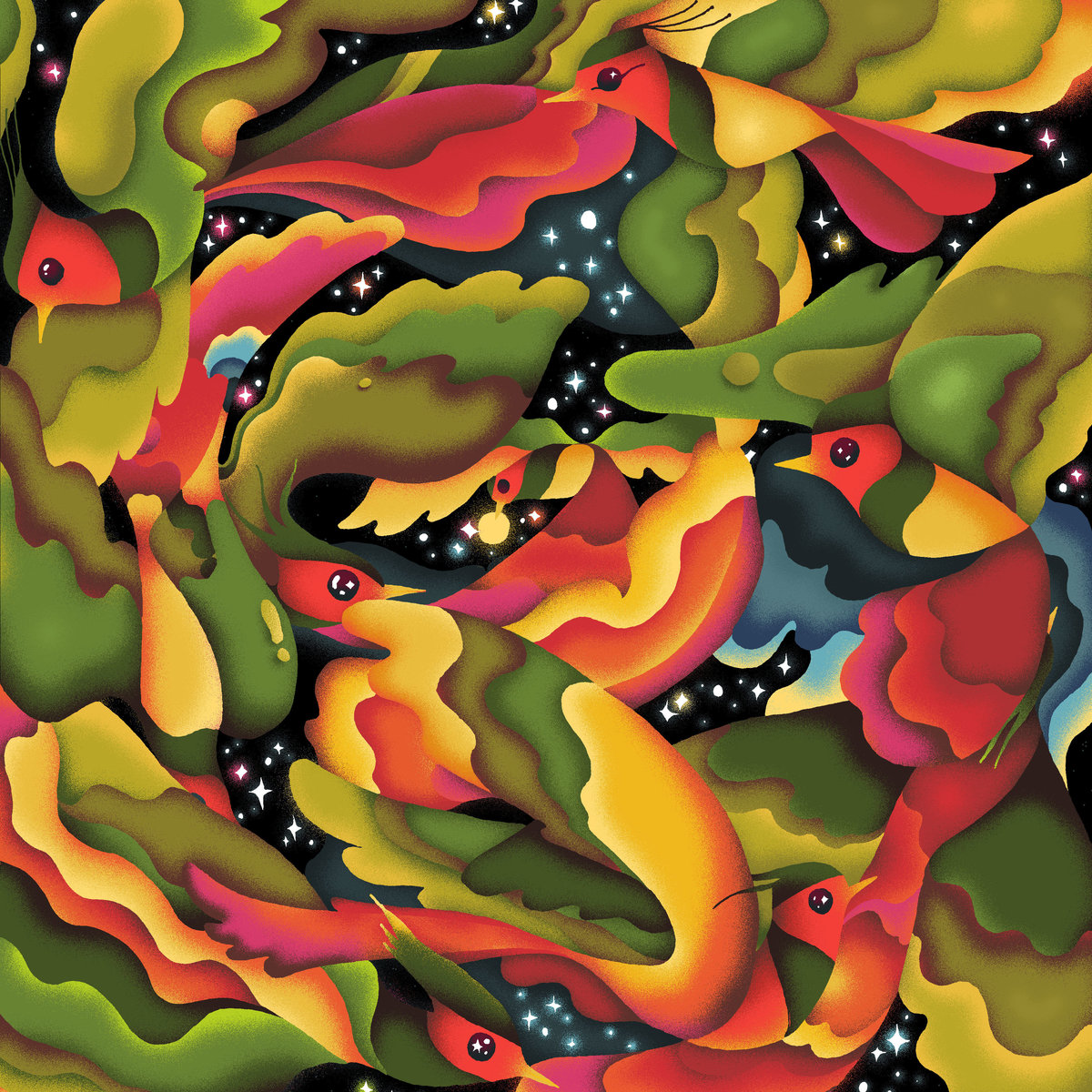 Can you tell us about the Crushing Glow project? How did this come about?
Thats all a complete Shrewsbury thing. We moved here eight years ago or something, never meaning to stay for long but ended up getting quite comfy and with it being easy to get to Manchester, Wales and other nice rural spots it worked out quite nice for us. John Kertland who runs Caroline True Records was based here then and knew of me through Caught By The River. We DJed a bit together and he alway chatted about me doing some artwork for CTR, then one day he turned up at my studio and proposed me doing a comp for his label. I couldn't get my head round what he was asking at first but once I did I was mega buzzing and mega grateful. I mean who on earth doesn't want to make a compilation? It was also an amazing opportunity to extend beyond the artwork. I've always held Mo' Wax in very high esteem not just because of their music and design but also they created a bigger world for themselves. I really wanted to try and extend ACG outwards too so it was great o be able to release the incense burners for the mantra and the phenakistocope for DrumTalk's 12.
The compilation was a perfect summation of a lot of what is good in leftfield music. Is this a good example of all that you're into?
Yeah totally. I tried to boil down lots of my studio music that I would paint to. Things that had an uplifting vibe but not too obvious or chill-out roomy. There are tracks on there that I have loved for years like 'Otis' by The Durutto Column and Ashra's '77 Slightly Delayed' then there's newer finds at the time like Tin Man. Being in a studio working meant I could spend a lot of time sequencing it so it had lush transitions between each song and every side told its own story. But more importantly every song had a certain vibe, an A Crushing Glow vibe.
You also released 'The Gayatari Mantra'? How did this come about?
After the comp went down so well we felt like we should do some more bits and the Gayatari Mantra was just one of those ideas where its seems weird that nobody else had done it before. My wife Jess bashfully played it for me when we first got together. She picked it up on CD in India a couple of years previous and didn't wanna come across all "oh I've been to Indiaaah" but she loved it and as soon as I heard it I loved it too. It is so beautiful and soooo long, it can just meld into your day and raise you up one step at a time, its truly beautiful and it was written by the big man himself.

John from Caroline True dug it just as much and we put it out - a 55 minute mantra repeated 108 times over two sides of vinyl. It was another one of those things of thinking is anybody gonna actually get it and actually like it but they did. It went down amazingly well. You guys gave us a lovely push - thanks for that! I distinctly remember JK texting me that Andy Weatherall (rest In peace you lovely man) had just bought a copy. That's definitely my personal musical highlight right there. It's funny but our Gayatari Mantra 12 had a notoriety in certain venues kind of like 'Rappers Delight'... I was DJing at Spiritland with DrumTalk on the release night of his A Crushing Glow Presents 12" and the owner told us they had to ban the mantra as everybody was playing it for 55 minutes every night and it was doing their heads in!
The artwork was based on a Joseph Franz repeat pattern. I kinda sampled and remixed it adding my flora and fauna, some off my favourite sleeve designers like Barney Bubbles and Designers Republic are those that wear their inspirations on their sleeves and have visual clues for the viewer to continue there journey off elsewhere.

What are the next plans with the project?
It's exciting as Volume 2 is nearly ready. I've got everything crossed on the final bit of licensing for some lush techno that has been integral to me over the years, there some exclusive tracks too. Looking forward to doing the artwork too.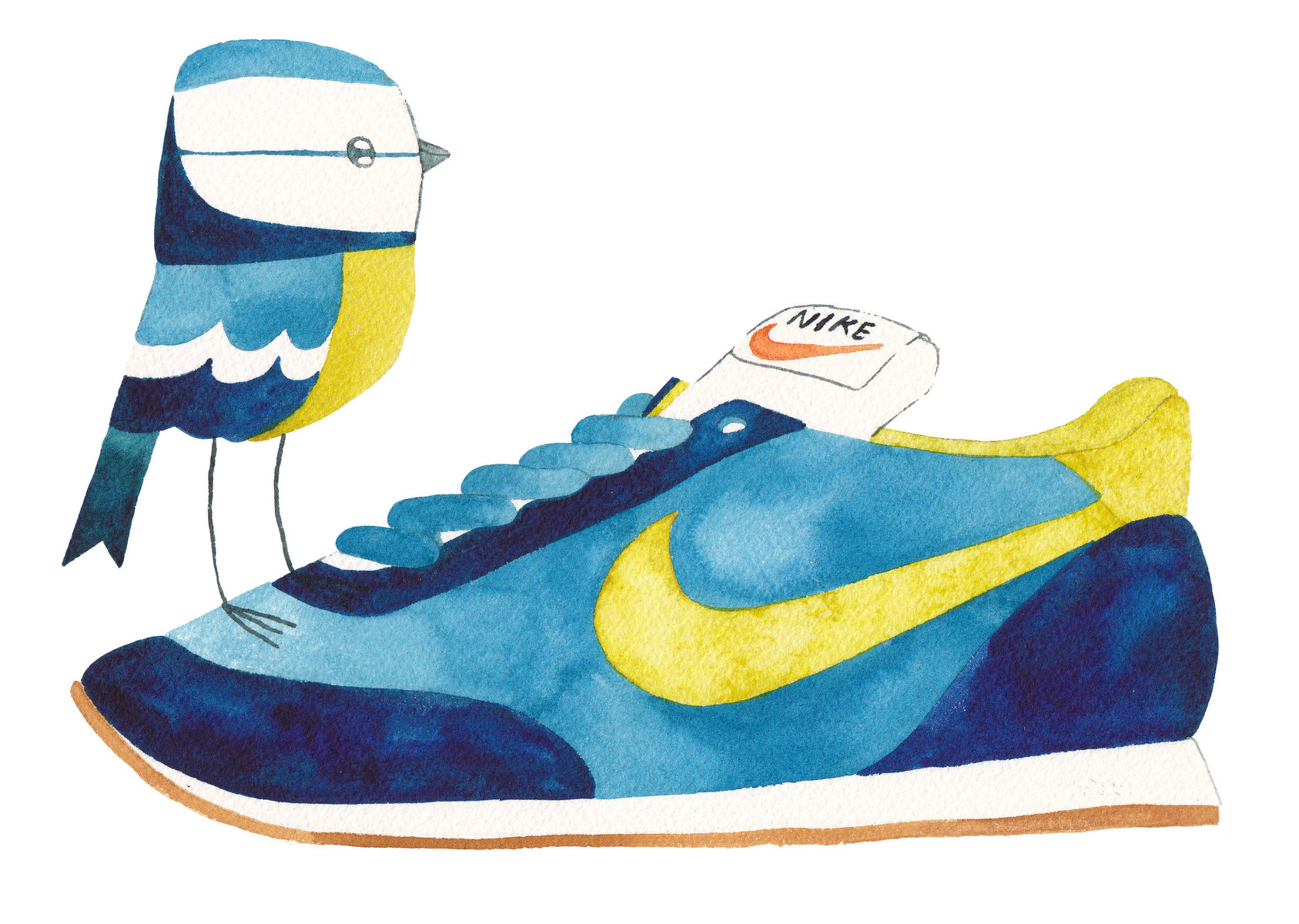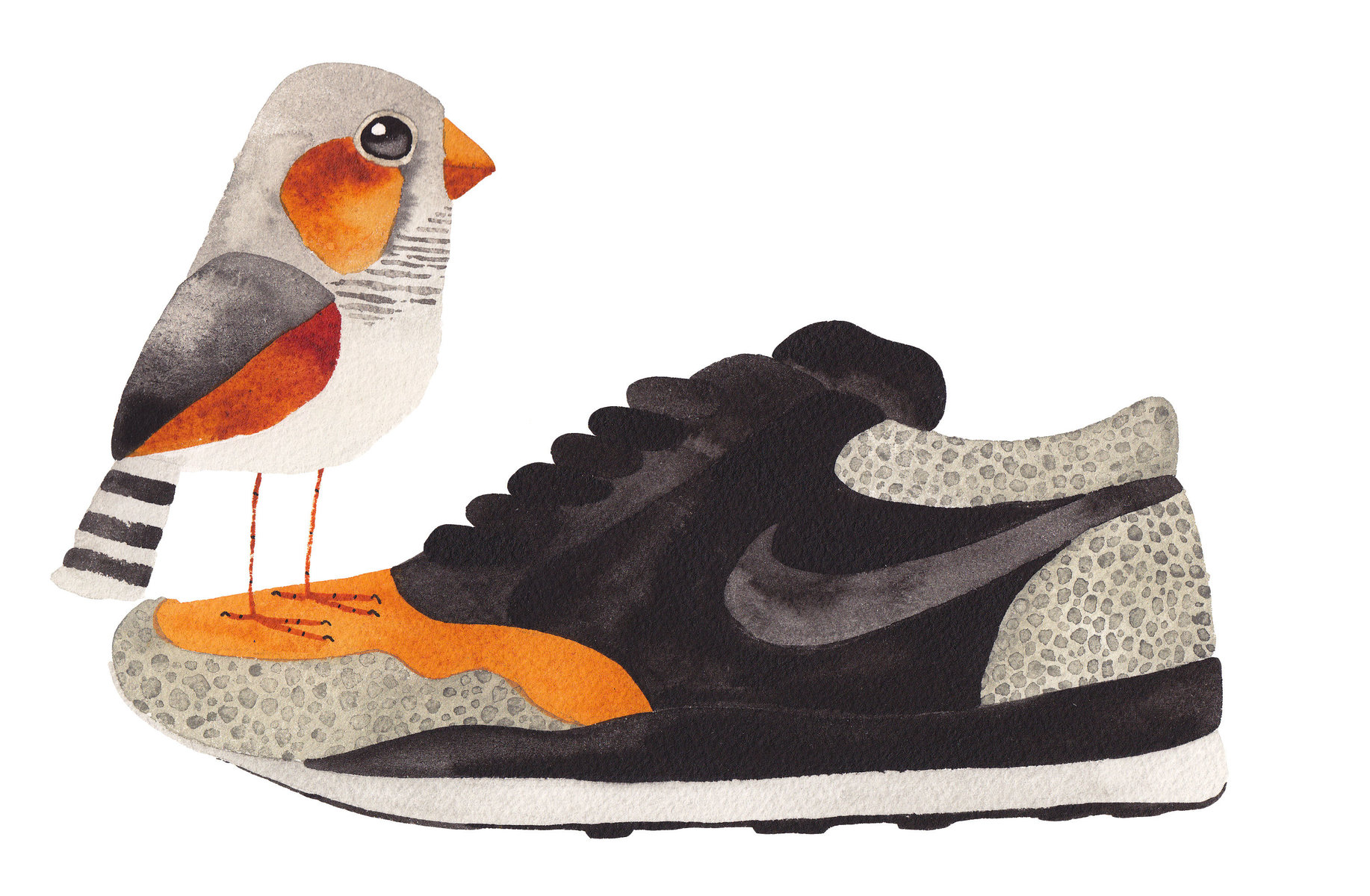 What has lockdown made you realise?
That I really miss my mates and people in general. Like I hinted at earlier I do spend a lot of time alone in the studio which has normally been fine as i'm used to it. I'm always well busy with work and being a dad too I haven't been as social over the last 10 years, but normally I would get to see my mates who live around the country from time to time. But with all that gone and with hardly seeing anyone at all it's really made me struggle.
Have you spent time learning anything / getting a new skill under your belt?
Nah I haven't had time at all... I've just been playing my guitar loads. Just playing myself soothing, looping lullabies. I might record and release some music some day.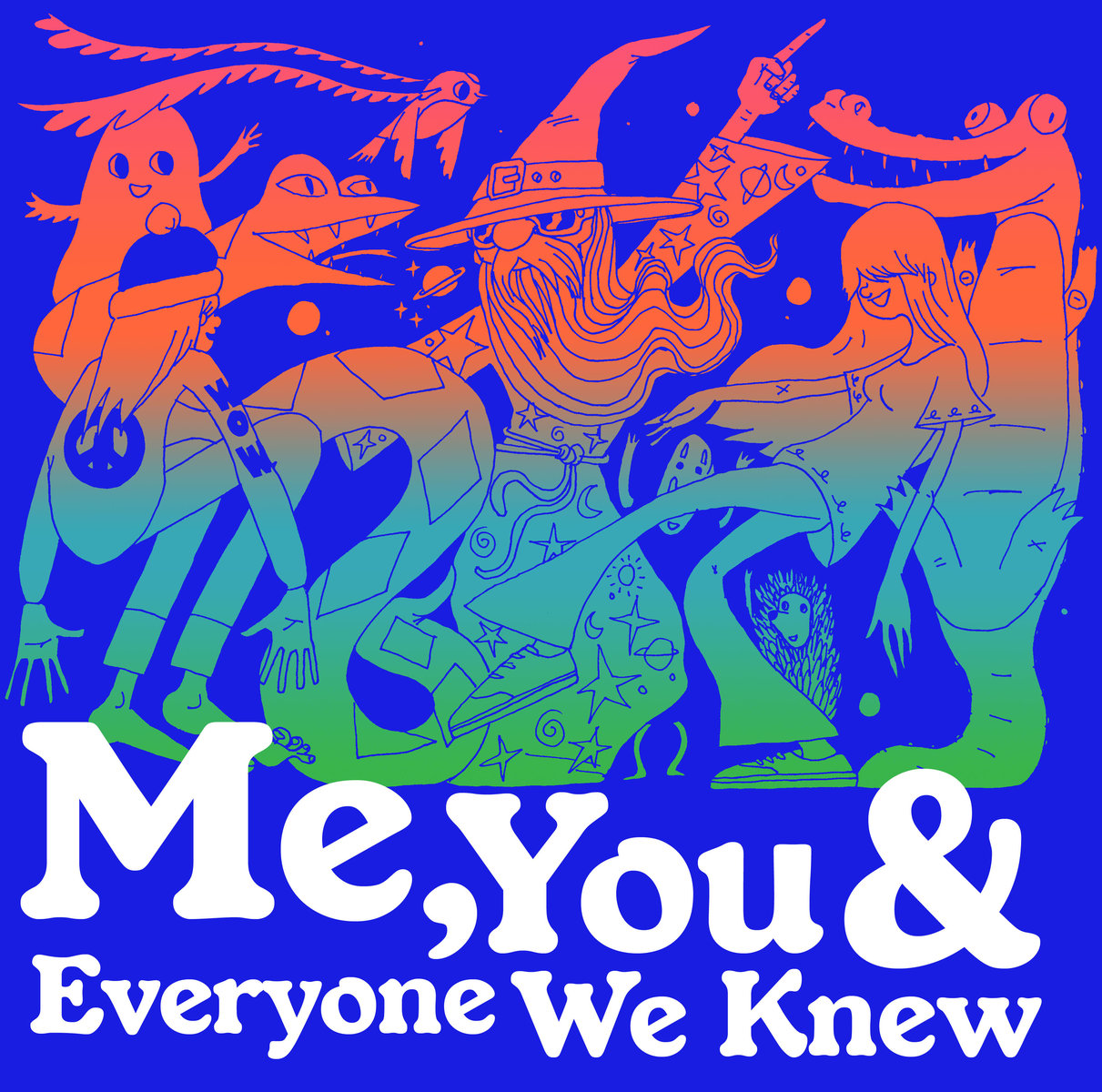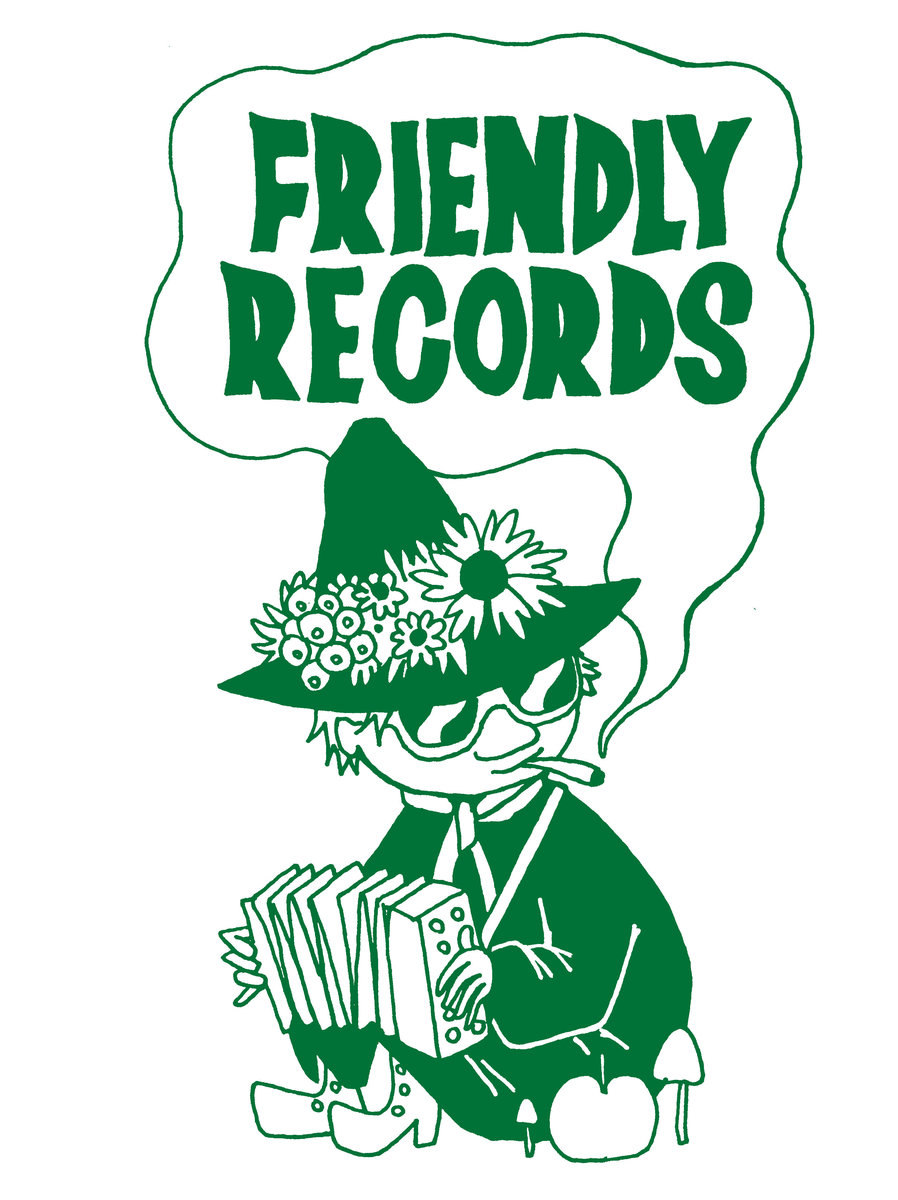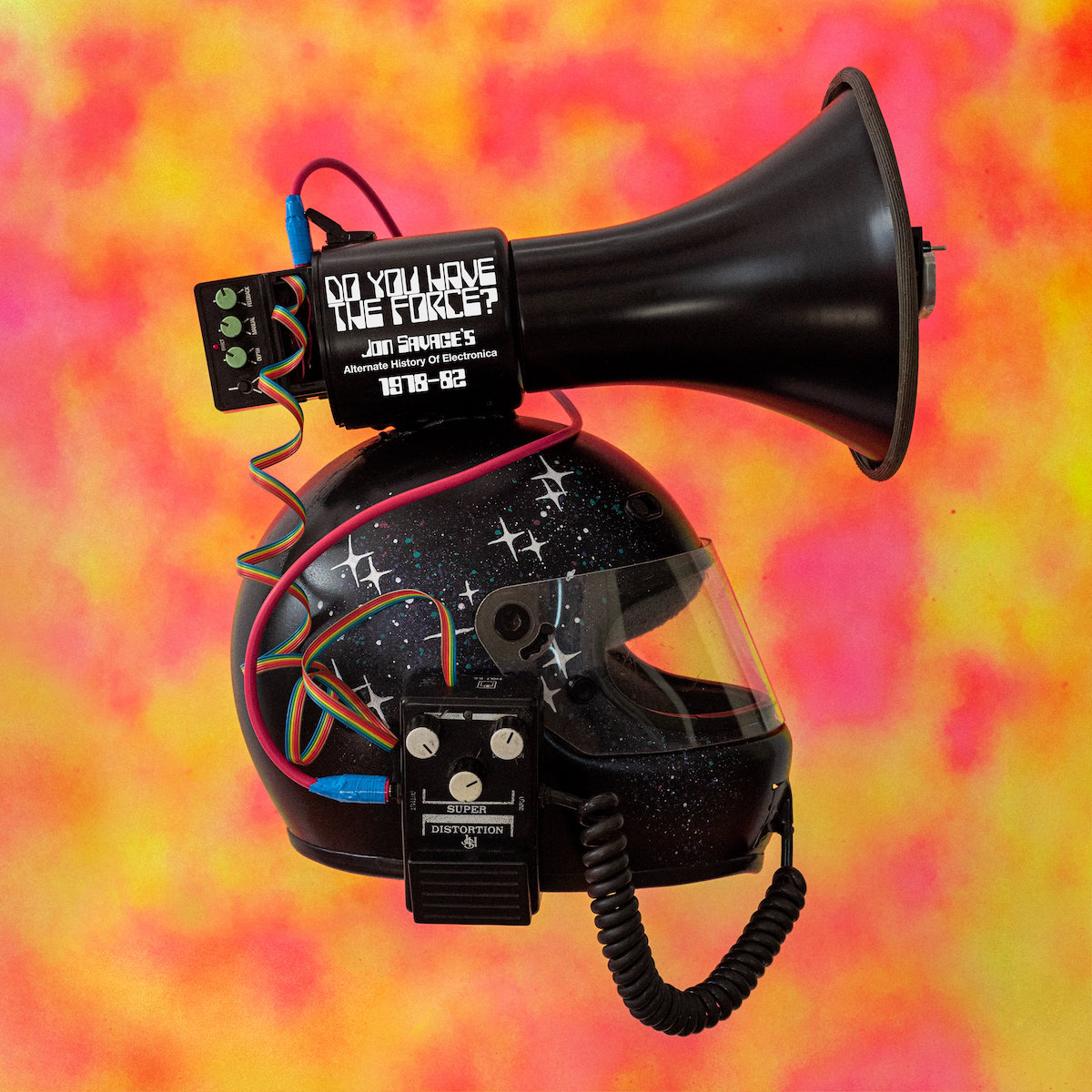 Finally, what else are you up to at the moment?
I'm painting loads of murals at the moment and just about to start the artwork for A Crushing Glow – Volume 2. I've got a new book out in June, 'Save Our Birds', which is about our most endangered birds and habitat loss. It's a subject I'm gutted to be covering but the time is so right for it and nice to think i can use my birds in this educational kind of way.
Good luck with that and keep us in the loop when that happens. Thanks for the time.
No problem. Enjoy.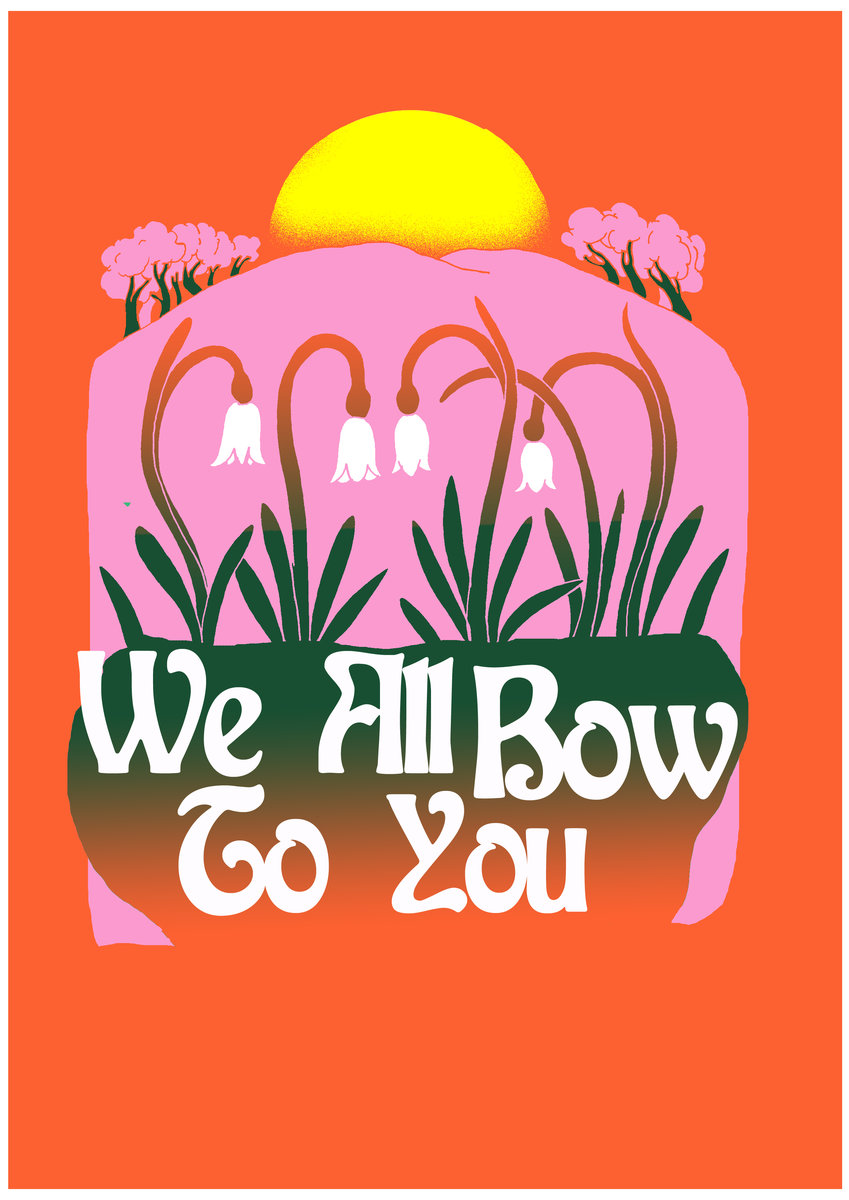 You can visit the Matt Sewell shop here and the A Crushing Glow page at Caroline True Records here. Both contain good things.