Wally Badarou
The Echoes Interview
Barnaby Irish got in touch via our Instagram saying hello and telling us he had a nice interview with Wally Badarou that came as a piece of promo with his version of the Echoes album. It was in German and he has kindly translated it for us. It's a really good summation of what and whom inspired one of our favourite artists here at Test Pressing.

Before we run into the interview here is a nice piece from Red Bull's ever interesting Music Academy where Benji B interviews Tina Weymouth and Chris Frantz on the topic of Compass Point. The video starts with the Compass Point-related parts and also at 59:30 they discuss signing the first Tom Tom album with Chris Blackwell.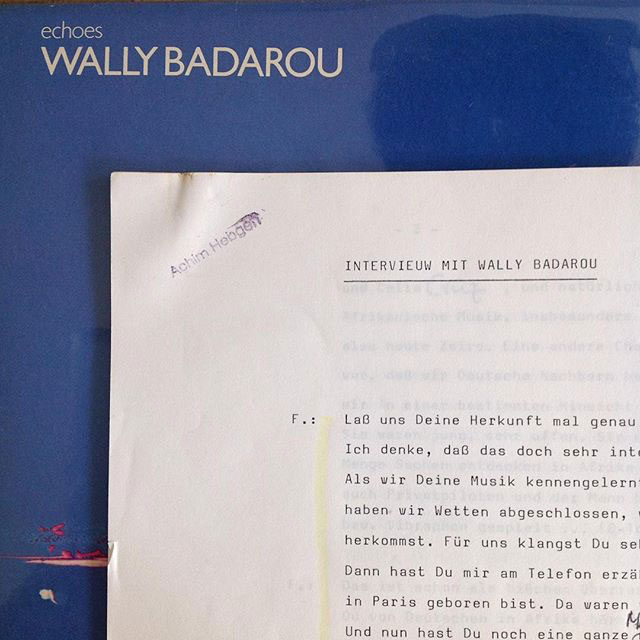 Q: Let's first establish where you're from. I think that's very interesting. As we got to know your music, we made bets about where you're probably from. To us you sounded very Caribbean. Then you told me on the phone that you were born in Paris. We were really surprised. Now you need to tell us some more. So you were born in Paris?
A: I was born in Paris, 1955. I spent a few years here. I think I was 7 years old in 1962 when we went back to Dahomey, which is now called Benin. And then we lived there about 10 years.
That, I think, is the period when everyone hears their most important musical influences.
So from age 7 to 17, and my heroes weren't the Beatles, but James Brown, Otis Redding, Aretha Franklin, so all of these R n B (Rhythm & Blues) and funky people, Jimmy Cliff - Reggae - but that wasn't as significant. Then we had a hell of a lot of salsa - Johnny Pacheco and Celia Cruz, and of course a lot of African music, particularly Congolese, which is Zaire nowadays [DRC in 2017].
Another opportunity we had was that we had German neighbours, who in a way really helped me.
They were young, very open. They made me discover a lot of things in Africa and they were also private pilots and the man played xylophone or vibraphone.
Q: That's a bit surprising because when you hear of Germans in Africa, they're mainly conservative people who'd rather wake up in the morning to Beethoven.
A: It was exactly the other way round. My father was the one who introduced me to classical music - at least as a listener.
Q: So the Germans brought your attention to Jazz and your father introduced you to classical music.
A: (Laughs) Yes - in Africa at the time I didn't pay that much attention. You have a certain distance to it. It just wasn't the music that you were particularly close to.
But it's just a matter of time, nowadays it all comes back as a kind of feedback in my subconscious. That's quite interesting. It depends on what kind of music I'm making. What I make can be a full reflection of my Jamaican - African - James Brown sounds that I heard when I was in Africa - or it could be exactly the opposite in a classic style - two completely different worlds come together inside me.
Q: As I listen to you, I'm trying to remember. For some inexplicable reason, Barkly [Barclay] sent me some records from France. I think it was around the end of the 70s. That was the first time I became aware of you. And I still have a single from the time. The title I've forgotten, but it is a white cover with you on the front...
A: I have my hands like this... - That was in 1979, that was "Back To Scales To-Night". That was the title of the album.
What happened was during my military service, I met a relative of a boss of this record company Barkley [Barclay]. He played bass and we played together in a band.
And then he says, you must meet my father, my father is vice president of Barclay. After my military service I didn't have much to do, and so that was a good job. We had a band that sounded a bit like Genesis. That didn't last very long, but they kept me on as a solo artist and at the time I was totally influenced by Stevie Wonder and Herbie Hancock, and I wanted to sing. And that's when I made this album - I can't listen to it today - it sounds too much - like them! That's not me at all!
People still tell me that the songs were good and my voice wasn't so bad and for me it was just a mistake, but it's just as well that I've been through that. You let it happen and through that you know where you stand. So I made this album for Barclay and from then on music became my life. I played with a lot of musicians from Barclay and other record companies - I began to make a name for myself as a synthesiser player.
Q: You must have mainly done a lot of studio work?
A: Oh yes, - non-stop, 10 times a day - from one studio to another - things that I now no longer do.
Q: Can you give me a few well-known names?
A: With whom I've worked? In Paris I didn't work with too many famous names to be honest. I made a lot of underground stuff. Things that were not necessarily good. That should be released at any time. What happened was I took part in projects outside of France and that was when I worked with well-known people.

Q: The next important step in your career was you somehow had contact with the Caribbean?
A: No, before that I met with M - You know this band M?
Q: Oh, you worked with Robin Scott?, I didn't know that.
A: In a small demo studio at Barclay I met an English bass player Julian Scott, who was the brother of Robin Scott - and he recommended me to his brother. Robin was just working on the 4th version of "Popmuzik" - that was it.
When I did it, initially it didn't affect me. I didn't realise how different this project was from the rest. But later I did. Because Robin Scott is a kind of catalyst. He is a real artist, I didn't really notice it. Because he let me do what I wanted, and he knew exactly how to bring things to the work - I think a good producer works like that.
That was a very important event - why? because it made me very well-known.
Around that time I flew in an airplane for the first time, not just to go home to my parents in Dahomey [Benin] for a vacation but for musical reasons too, and it made me feel very important. Otherwise I couldn't have afforded it. At that time we lived on MacDonalds - Big Macs. And then suddenly we were on "Top of the Pops".
Q: Did you have shares in the royalties?
A.: Yes, and that was really good. At the time, Robin Scott didn't have money to pay the musicians and he promised more shares in the sales instead.

Q: Oh, again that's usually the other way around. Normally you'll just get paid and someone else takes all the royalties.
A: And in those days we did it just for fun. And at the time I just couldn't believe how successful this thing was. I remember that I didn't really want to do it, I was too tired and it was a rainy Sunday and Robin called me and said 'Hey, I've got a great thing here - how much can you do? I don't have much, but you'll get a share' - Jesus Christ ..
Q: When you say that, you didn't have the slightest idea that it would be so successful?

A: Not at all.
Q: It was just an ordinary session?
A: It was a little more than a regular session, we worked a little longer on it. I think that was just because I almost always give the maximum when I participate in any project - after that I was working outside of France really often.
Around that time I worked with the Gibson Brothers. Do you know them? This French - West Indian band. I did a lot of sessions for them and because their record was sold abroad on Island, that was how I got to know Chris Blackwell.
Q: I must explain, Chris Blackwell means Island and Island is a very specialized record label.
I would say for good music in general but especially for Caribbean music.
A: I wouldn't say 'specialised', that would mean ignoring other things he does and he produces a whole range of people: Stevie Winwood, Cat Stevens, Robert Palmer, U2, everything is still Island, but you're right, it is mainly "Jamaica". He has a significant share in the worldwide success of reggae.
Q: Bob Marley, Black Uhuru, that's also very much Island...
A: What he wanted was to mix a European keyboard player with Sly and Robbie. But he knew nothing at all about me. So he got an African European.
Q: So, since it closes a circle in a very special way, I think you need to explain it again.
Reggae is very popular in Africa and it has been for a very long time. And to repeat, Chris Blackwell was looking for a European keyboard player that could be mixed with a reggae rhythm section...
A.: ...And he got me! (Laughs!) It was a big deal. I met up with Barry Reynolds. He played guitar and had written songs with Marianne Faithfull for "Broken English". And we were both the European element in this melting pot. So we went there and this album was an important key moment. I hated 50% of it, I loved 50% of it. At first I hated it more than I loved it. Probably because the first thing that blew me away was - I arrived from Europe and was basically used to things being very organised.
For example if a session runs from 9 til 5 o'clock, then everyone's there at 10am, but that just didn't happen. Everything went extremely slowly. So I got there 4 days before the agreed date, as you should and we did, but when we arrived there was no one there.
Chris Blackwell came a week later, and gradually the others also came and as each one did we said 'Okay we'll start this afternoon at 4 o'clock' - but there was no one there before 8 o'clock in the evening.
Well that was a big stink with the band. I just wasn't used to it, how Jamaicans work. I think it's funny, because of course they're black. There's really a difference between African musicians, who I've worked with a bit. There was a huge difference with West Indian musicians. I got the feeling that they were so into their reggae music that they had absolutely no interest in listening to anyone else. And I think in the beginning they were worried whether Barry and I could keep up with them to play reggae ..
Q: When was the record recorded?
A: I think in 1981, no 1980. We started with Grace Jones. That was when everything came together.
Chris Blackwell called me up for the session, but he didn't ask me for anything specific and I don't think he completely knew what he wanted. Maybe he knew, but he wasn't so sure. He just wanted to try something.
Chris had a cassette with a number of songs that he wanted us to try out. Right after the first two pieces, there was such an exciting atmosphere because the results were so good. It was the same as with "Popmuzik" I didn't realise how big the potential of what we did was. I was almost more annoyed about how things were organised. A few months later I thought it went alright.
Q: If you look back, do you also think that you created something new then, a new rhythm?
A: I guess so. Without being pretentious - because so many things came together again, the personality of Grace Jones, because she was there.
Back then she was not the type that only turns up once everything's already ready to record. Chris Blackwell & Alex Sadkin were there, it was really important.
Our mutual competition, our anxieties and all that; you live on an island and spend all your time together, and that's not because you're a great musician, but it can really be quite difficult to get used to so many new things, to a new way of thinking.
Q: How would you describe rhythms like on "Walking in the Rain" or "Private Life"?
A: It's difficult. I've already been asked that on the radio and I couldn't answer it. One of my main goals was always to be as "clear" as possible. And I'm really happy when that comes across to people. I try to never throw everything in, doing that is quite easy ... So I don't do that. I want everything I'm doing to be exactly in the right place. I'm a big fan of exact dimensions.
That's what makes songs like "Private Life" or "Walking in the Rain" the most fun for me. There's a line that's sitting exactly where it belongs. So if I'm doing something Brazilian, French Yoruba, American, Reggae, it's incidental - what matters to me is that it belongs there, that it matches the picture that I paint. It is ultimately visual. I think Chris Blackwell noticed that I work visually. That's why he also brought me in to do film music later.
Q: Can you describe this "chemical" reaction a little? Since on one side you have the orthodox reggae rhythm section and you, you come from outside with your own special background and are much more open in terms of rhythmic possibilities.
A: I'll tell you, at the beginning we were not clear about what we were actually doing. But after a bit of distance, it became clear to us a few months after we had done the sessions, when we listened to the cassette and compared our music with normal reggae sessions, that we were aware something really special had happened.
And then when I assess the results, and we got back together, then we realised it was time to do more together. The moment will come, I believe, at the point when Robbie Shakespeare and Sly Dunbar are more open to play other things than just pure reggae Rhythms. Sly has always been the one who was particularly inventive and always looking for new horizons.
Q: You've just said it yourself, you conceive your music visually. And to double-check that, these very special and very atmospheric synthesiser sounds on "Private Life" and "Walking in the Rain" come from you. And you described yourself a visual element that you bring to the music.
A: Yes, I do. Great things sometimes stay unnoticed too long. I mean, a few people have noticed what was going on all over the world, such as music students. My brother - who studied at the time in Boston - told me that in some people's seminars they analysed what was actually happening in the Compass Point Studios in Nassau.
In that sense, what's so new. They analysed how the music was structured. That's beautiful, that is, that there's still a few ears that can hear and not just depend on the top 50 or top 100.

Q: What happened after the Grace Jones albums?
A: We made a load of things for Island Records. We came together as a band and Chris Blackwell wanted to make an official group from that: The Compass Point All Stars. That was Sly Dunbar, drums, Robbie Shakespeare, bass, me, Mikey Chung, guitar, Sticky Thompson, percussion.

Q: You made records with Gwen Guthrie...
A: We made Gwen Guthrie together from the American stuff [not sure about this... maybe 'for the American market?']. Then Black Uhuru, but that was a bit different, because Sly And Robbie produced that. Then Joe Cocker.
Q: Yes, of course, Joe Cocker. 'Talking Back to the Night' with a really great synthesiser solo from you. I get goosebumps when I think of it. So you were part of the "Reggae Mafia"?
A: Yes, yes we made Gregory Isaacs. But I wasn't so conscious of it, because it wasn't the only thing I was doing. There was also Level 42.
It all started with M, because the drummer of M was later the drummer of Level 42. That's how we met. And we realised quickly that our Jazz-Rock interests fit very well together. And he introduced me to Mark King, the well-known bass player he knew from the Music School and Mark had also played on the last M album 'Official Secrets Act' and Level 42 actually started as a jazz rock fusion group. We added vocals later, but originally we were Jazz Rock. I was on all the Level 42 albums from the beginning. So I spent a lot of time in other places, not just in Nassau, but I also made a lot of things in England. And a couple of things in France too.
Q: So, we're nearly up to the present. What's missing is a very important thing, we haven't talked about your solo album "Echoes". This record is very subtle. You need to sit down and listen to it properly. That's really what I wanted to ask you, did you not have difficulties with your record label, if they're used to this Top 40 sound, where the melody is brought right to the front, with all the possible studio tricks to create an instant effect and get the tune stuck in your head from the first listen. But you, you don't do anything like this. You make a wonderful groove which very gradually develops. And most listeners would probably skip the needle to the next track. (I know) - Who has patience!
A: No, because that's exactly the kind of quality that I would like to have. I want to be able to listen to something again and again. And then to discover this and that. That's exactly what I would like to make. Not so much to please myself, but because that is exactly right for me. And even if it takes a bit longer for it to get through this way, it doesn't matter. I'm concerned with people who have an ear for it.
Q: But again, I want to insist - if you were in a different situation and were looking for melodies that you could make money with, there would be so many melodies on "Echoes" which, if they were produced in the right way, would have hit potential. And you put 2, 3, 4 of these melodies into a single song. They emerge, as a side effect. Are you conscious of this?
A: Yes, of course, if you listen to classical music, then you'll find that too and what I definitely wanted to create with "Echoes" is a memory. "Echoes" is, for me, echoes of what I heard in my childhood. - Like in a Dream (Dreamy Quality). So this music does not necessarily develop logically - in a dream you start with something and this turns to something else. And you don't understand why. And you can't explain why. That's what I wanted to do.
With my next record, I may be working more in a more defined direction. But I don't necessarily want that.
Q: I want to come back to it again, you say you are a visual musician, can you describe this a little more precisely in the context of your record "Echoes"?
A: When I say I'm very visual, then I believe every time that I'd like to develop or create something specific and always have a kind of image in front of me. But when I say image, it doesn't mean that this is a definite, defined, realistic image; it could be a mood, a color, perhaps a geometric form that I'm trying to describe.
This applies to everything I do, even rhythmic forms - everything has a kind of visual tonality and is three-dimensional, I'm not saying four, I'll say three, that's easier. I believe in this I'm really influenced by Joe Zawinul, the keyboard player of Weather Report.
Q: You took the question out of my mouth.
A: He's as good as a painter, also very visual and has the abilities that go with it. He also has such a diverse background. He comes from (...) from Vienna you can hear that.
Q: And he also has this fantastic visual quality.
A: Yes, that's really strong with him, and even when he tries to do African stuff, which he really likes. That would be quite funny to compare; I'd like to make a kind of Viennese waltz and it'd be quite funny to compare the effect of different approaches on the thing, and then turn it around.
::
Many thanks to Barnaby Irish. Very kind of you sir.