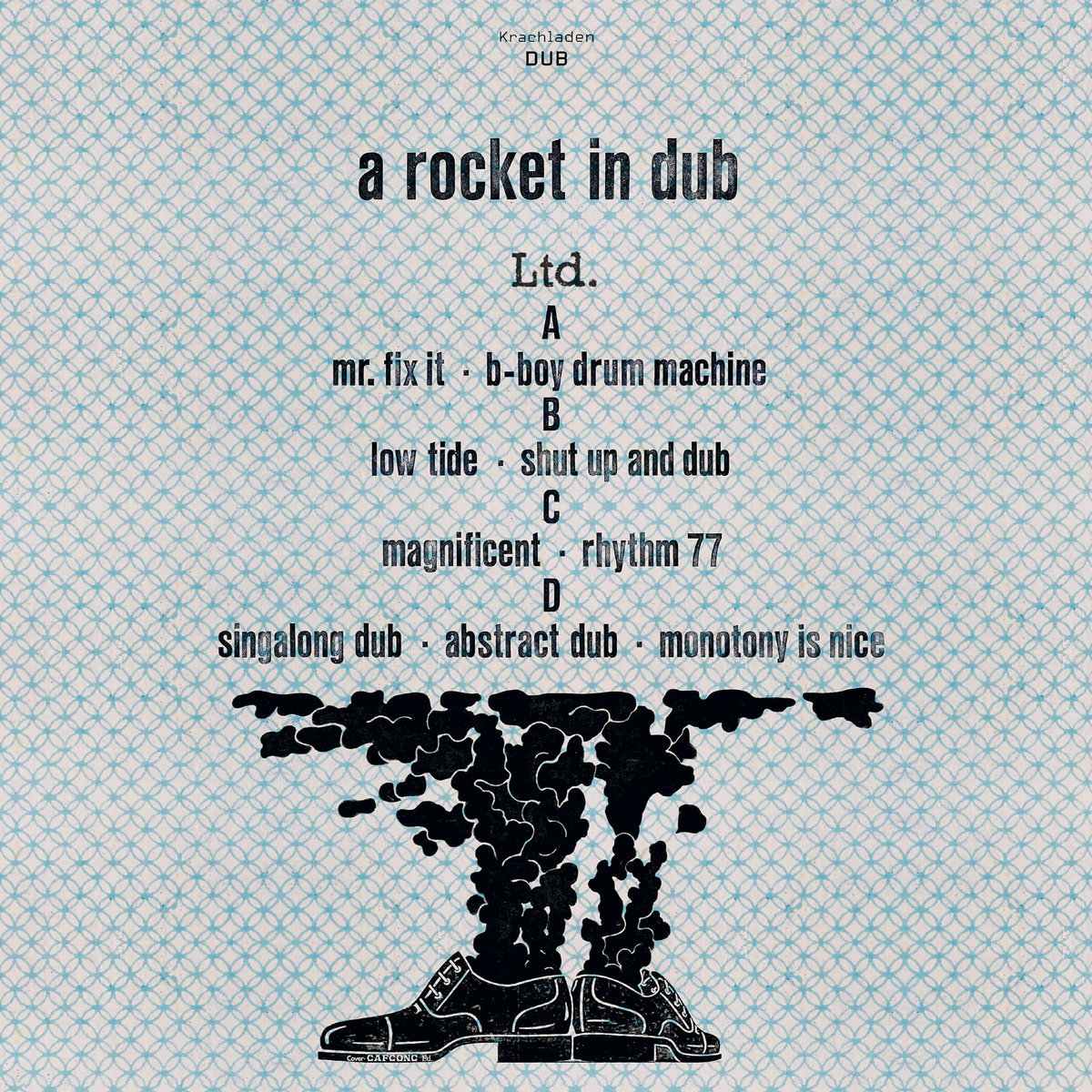 Düsseldorf based producer Stefan Schwander is responsible for a large amount of high quality electronic music produced under a variety of guises, the most famous of which probably being his Harmonious Thelonious moniker. It's a lesser known fact that he's also a bit of a dab hand at producing dub and by bringing his years of house and techno experience into the echo chamber he has created a uniquely compelling signature style that is very much his own and effortlessly bridges these two worlds.
This is his second album length release as A Rocket In Dub (and I would definitely encourage you to hunt down the beautiful 7" box set that preceded it) and as with his recent release as While My Sequencer Gently Weeps it magically manages to sound both comfortingly familiar yet refreshingly otherworldly. The presence of dub is strong throughout and the addition of some lovely horns on a number of the tracks provides a direct link back to the roots reggae tradition but the sound here is always pleasingly progressive and innovative - pulling in influences from house and techno to create music that feels equally at home on the dancefloor as it does on headphones.
Proceedings kick off with the pleasingly off kilter jazzy dub techno of opener "Mr Fix-It" which sets the scene perfectly for the warm melodic deep dub house of "B-Boy Drum Machine" with it's lovely rootsy horns - Yabby You meets Frankie Knuckles at King Tubbys. Things get deeper with the more ambient leaning "Low Tide" that delivers wave upon wave of maternal sub bass that envelopes you like a warm bassweight blanket. "Shut Up & Dub" picks the pace up again with it's playful skippy beats nicely offset by trippy atmospherics which alongside "Magnificent"(and with the help of a familiar sounding melody…) conjures up memories of hazy half remembered dancefloors with both tracks bearing a close resemblance to Stefan's exemplary work as While My Sequencer Gently Weeps.
Things sway back towards the reggae sphere of influence on intergalactic psychedelic stepper "Rhythm 77" which sees the horns return to devastating effect and they stick around to also play a lead role in "Singalong Dub" which, alongside more complex drumming patterns, feels like an update on the classic binghi sound championed by the likes of Count Ossie. We then return to the dancefloor for the beautifully hypnotic and deep "Abstract Dub" which combines some seriously heavy pulsing bass with intriguingly funky drum patterns. Dub techno with added soul and groove. Finally things are brought to close by "Monotony Is Nice" which very successfully offsets some joyful bouncy beats with the addition of darker industrial FX. The result sounds a bit like Fun Boy Three's "It Ain't What You Do" taken deep into the echo chamber – i.e. it's brilliant.
"Ltd" is another wonderful record from Stefan that sits together perfectly in the long player album format and I would strongly recommend you sampling the medicinal effects of immersing yourself in it's dubwise bass-tastic wonders for an hour or two.
"Ltd" by A Rocket In Dub is out now on Krachladen Dub and you can buy copies from the Dubwise Vinyl Shop.