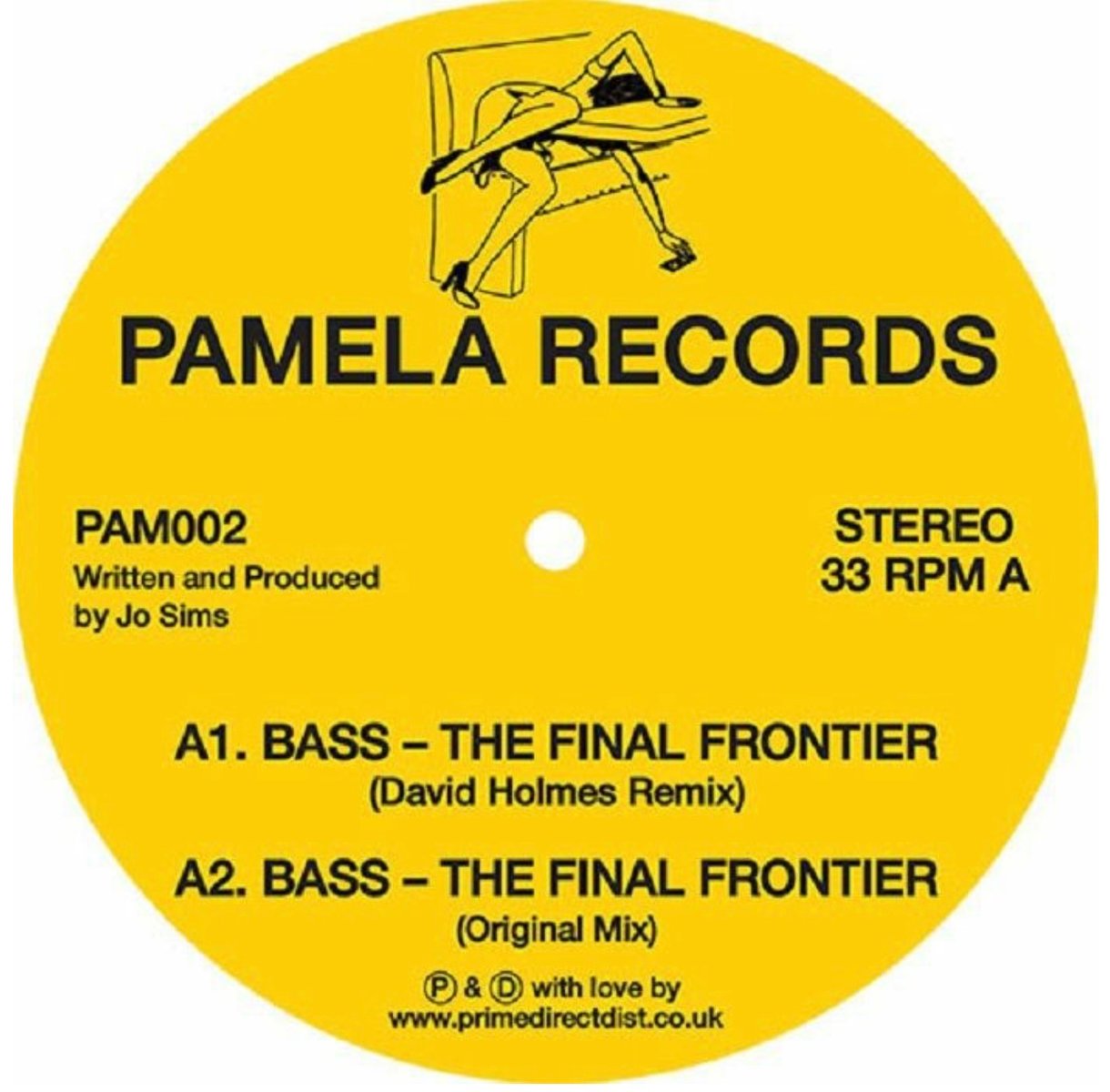 The inaugural release on Dave Jarvis's Moton offshoot, Pamela, was a three track selection of Andrew Weatherall productions in 2020. The legacy and shadow of Andy Weatherall is such that anything associated with him is seen through a different lens. So this second release on the label by Jo Sims has a lot to live up to. Her time as a studio engineering student to Gary Burns of Sabres of Paradise has served her well though. 'Bass The Final Frontier' sonically builds on the foundations of that initial release and takes them somewhere new.
There are four tunes here, with two mixes of the title track. The original starts simply. A lightly throbbing groove keeps things alive while the 'bass' vocal plays on top. As the music progresses, arpeggiated keys then more bass and tougher drums are introduced, giving it a propulsive edge that's balanced by floaty sci-fi FX that interweave with the beat.

Next up, is the David Holmes mix. Does the man need an introduction? Safe to say he brings his cinematic magic to bear wholesale on the production. Panoramic bleepy space effects expand the sound. Then he lays a killer organ line on top of things, that with the vocal sample makes for a widescreen version of the original.
'Demons of Dance' is darker again. Throb levels are increased to give the tune a harder edge than 'Bass'. There are descending, filtered keyboard lines and vibrating spacey drops to lift and shift proceedings in a dancefloor direction. Finally, there's 'Mumbo Jumbo', a spookier, jazz inflected breakbeat affair. The two tracks add to the filmic quality of the release as a whole. 'Mumbo' in particular hits finds that groove with its spoken word sample, seemingly coming from some lost 60s noir. Both tracks demonstrate different shades of Sims' production skill, bringing welcome variety to the release. Variety is good.
This record inevitably comes with some pedigree, it's a heavy duty cast list under a new director but the quality is clear. It's new music with a nod to the past with a soundtrack sensibility mixing the chuggier end of house equating to a satisfying whole.
Who knows if bass is the final frontier, but with this record, on it sails nonetheless.
'Bass The Final Frontier' is released on 16 June and available to pre at Juno and Phonica amongst other establishments. Check the clips HERE.